This post is also available in: Español
The Mexican Pasta Shells recipe was sponsored by Better Than Bouillon® part of an Influencer Activation for Influence Central. All opinions expressed in my post are my own.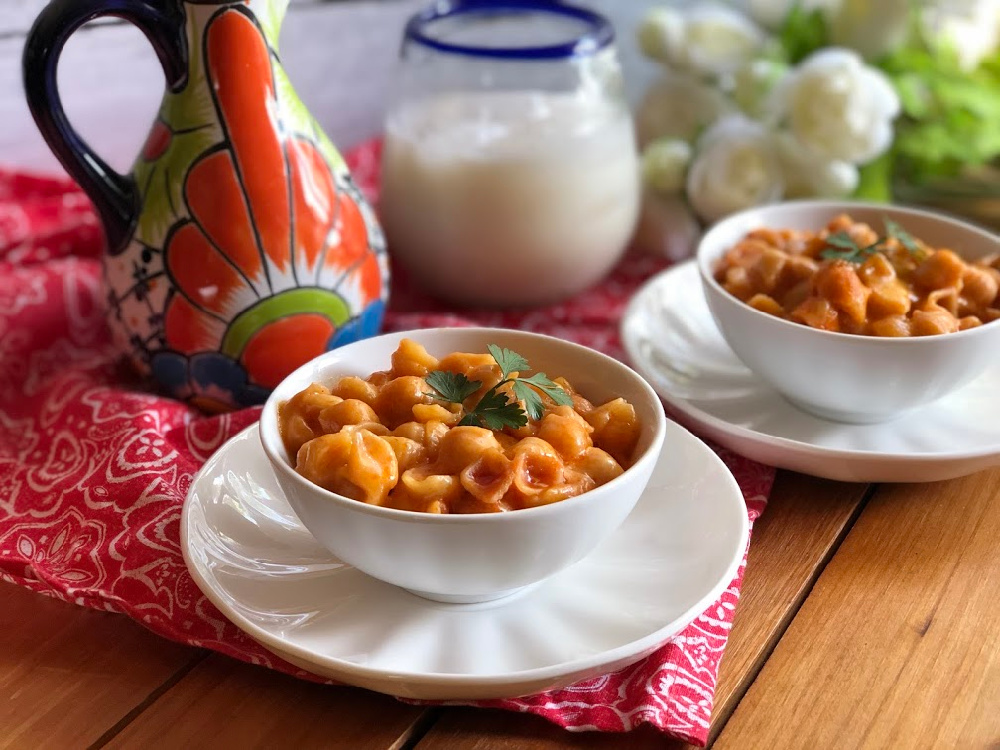 The Mexican pasta shells dish is my mom's recipe!
Mexican home cooking is all about simple ingredients. And a great example is this recipe for the Mexican pasta shells with cheese. I enjoy cooking this dish because it is quick and requires a few pantry staples only.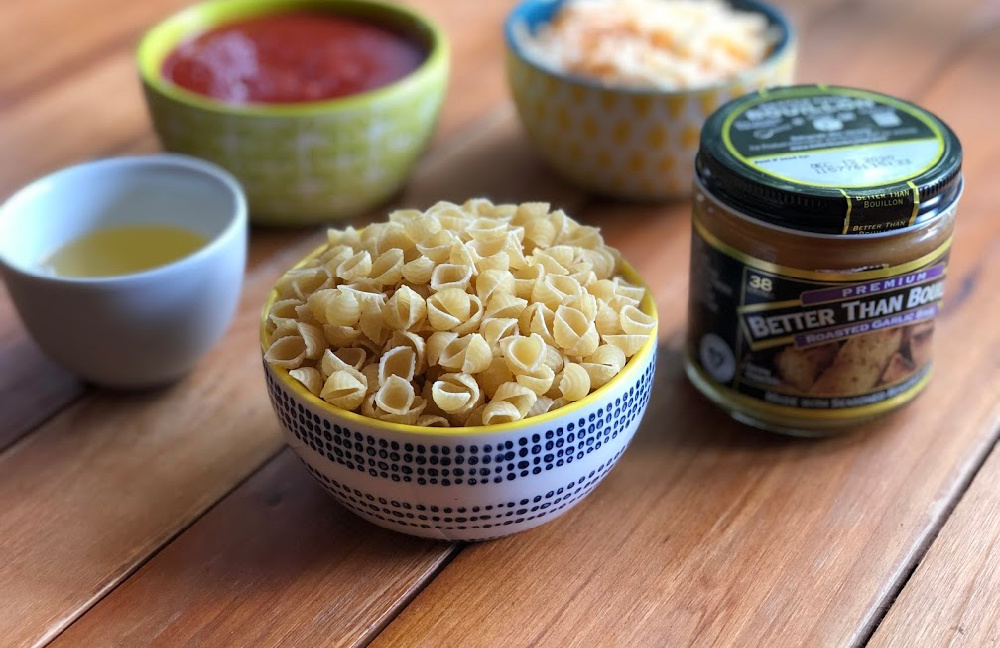 A good pasta soup with chicken broth or a dry pasta with cheese were tasty options that my mom used to include in the weekly menu. My favorites were shells and stars. And my brother's were letters and "coditos" known as macaroni here in the United States.
Kids sometimes can be picky eaters, adding pasta shapes to the meal makes it easy to entice them to eat. The recipe for the Mexican pasta shells is budget-friendly, too—the reason why these homey dishes are menu staples in many households.
Did you know in Mexico we like to fry our pasta?
The difference between a classic Italian pasta preparation vs. a Mexican pasta is that we like to fry the pasta to provide a nutty flavor. Which is so characteristic in Mexican style pasta soups like fideo and these dry pasta shells with cheese.
The ingredients for the Mexican pasta shells include a Mexican style tomato puree with jalapeño, cilantro, and garlic, and Original Better Than Bouillon Roasted Garlic Base for extra flavor.
Why we recommend Better Than Bouillon?
We use Better Than Bouillon in many of our everyday meals, not only the Mexican pasta shells. We enjoy this seasoning because it is a concentrated vegetable paste that is easy to use and enhances the flavor of many of my dishes, giving an extra boost of yumminess.
A lot of my everyday meals incorporate pantry staples. Better Than Bouillon is the perfect addition since pairs well with a variety of the cupboard ingredients and the dry pasta shells recipe too.
Better Than Bouillon is vegan and organic certified. It has a variety of flavors too. Some of our favorites include the seasoned vegetable, roasted garlic, the organic seasoned vegetable base, a vegetarian no beef base, and a vegetarian no chicken base.
Better Than Bouillon boosts the flavor of my food when that "something" is missing. Visit their website HERE for more information and recipe ideas.
We love cooking with Better Than Bouillon!
One of our favorite recipes is the Garlic Turkey Dinner and the Kohlrabi Tacos. The Better Than Bouillon garlic paste adds a boost of flavor, resulting in a tasty meal.
The same thing happened with this recipe for the dry pasta shells. Seasoning with the garlic base gives the dry pasta so much flavor that my family enjoys.
A well-stocked cupboard includes basic pantry staples and seasonings. Having your pantry stocked with the basics makes it easy to prepare everyday meals. The Mexican pasta shells use a few of these panty basics.
I always have Better Than Bouillon in my pantry as it helps me making homemade flavorful dishes no matter what ingredients I have on hand.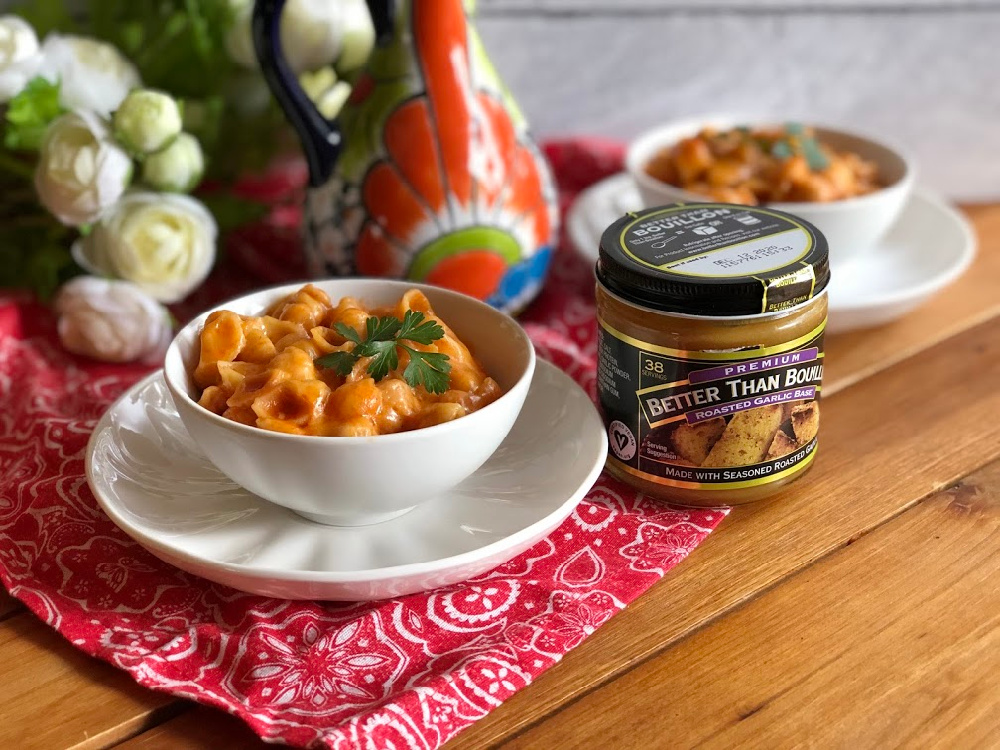 Tips for cooking with pantry staples at home.
Have handy a variety of seasonings like Better Than Bouillon. We like having garlic, chicken, and a vegetarian base.
Many recipes call for condiments such as salt, pepper, oregano, basil, thyme, bay leaves, and paprika.
Your pantry must include canned tomatoes in different presentations sauce/puree and paste, steamed, and cut tomatoes.
Same as canned meats, broths, beans, and vegetables like corn, carrots, chickpeas, beans, and peas, or any other pulses of your choice.
Easy home cooking requires a variety of oils for food and salads, as well as vinegar, mustard, and mayonnaise.
Handy ingredients such as dry pasta in different shapes, rice, dry beans/lentils, and grains.
Do not forget canned milk, flours, honey, vanilla, cinnamon, and sugar too.
Having the basics allows the creation of several meals without needing to visit the store that often. The recipe for the Mexican pasta shells I made with ingredients I already had in my pantry, and you can do the same.
I like to keep a tally of the products in the inventory as well as those that have run out. Having a list makes it easy to purchase or reorder online. That way I can keep the pantry staples available regularly for cooking a quick meal.
Are you ready to cook the Mexican pasta shells?
Check the recipe card below with the step by step instructions. This pasta dish is ready in 15 minutes!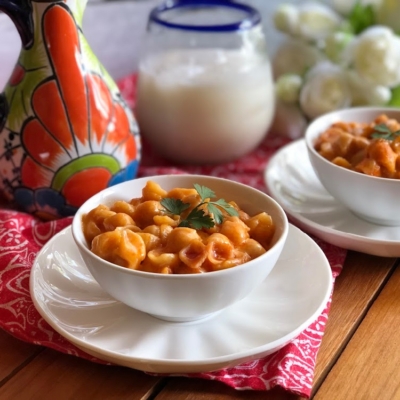 Mexican Pasta Shells with Cheese
The Mexican pasta shells are my mom's favorite recipe because it is a simple, flavorful dish that requires a few pantry staples and Better Than Bouillon.
Equipment
Deep skillet with a lid

Cooking spoon
Ingredients
200

grams

dry pasta shells

1

teaspoon

cooking oil

7

ounces

seasoned tomato puree

1/2

teaspoon

Original Better Than Bouillon Roasted Garlic Base

14

ounces

water

2

cups

shredded cheese
Instructions
In a deep skillet add the cooking oil and let it warm. Fry the pasta shells until golden brown.

Add the Mexican style tomato sauce or sofrito and stir.

Season the pasta with Original Better Than Bouillon® Roasted Garlic Base.

Add the water and cover the skillet with a lid, cook the pasta for 15 minutes.

When the pasta is al dente turn off the stove and add the cheese. Place the lid and cover it again.

The pasta is ready to serve when the cheese melts.
Video
Notes
If you do not have canned Mexican style tomato sauce you can make your own using classic tomato puree. In the blender add one jalapeno without the seeds and one garlic clove. Optional you can add few cilanto leaves for extra flavor. 
Nutrition
Calories:
254
kcal
Carbohydrates:
29
g
Protein:
13
g
Fat:
10
g
Saturated Fat:
5
g
Cholesterol:
29
mg
Sodium:
150
mg
Potassium:
248
mg
Fiber:
2
g
Sugar:
3
g
Vitamin A:
421
IU
Vitamin C:
4
mg
Calcium:
203
mg
Iron:
1
mg
Please join the conversation by telling us what you have currently in your pantry and if you are a Better Than Bouillon fan like us!
Have you tried this recipe? Snap a photo and tag us on Instagram and or Facebook using the handle @adrianasbestrecipes and this hashtag #ABRecipes Happy Eats!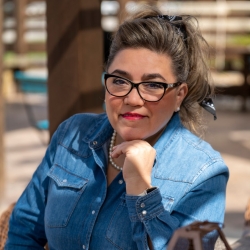 Latest posts by Chef Adriana Martin
(see all)