This post is also available in: Español
Learn how to make the Cactus Salsa also known as Mexican Nopales, a classic Mexican Cuisine appetizer, and a favorite of ours!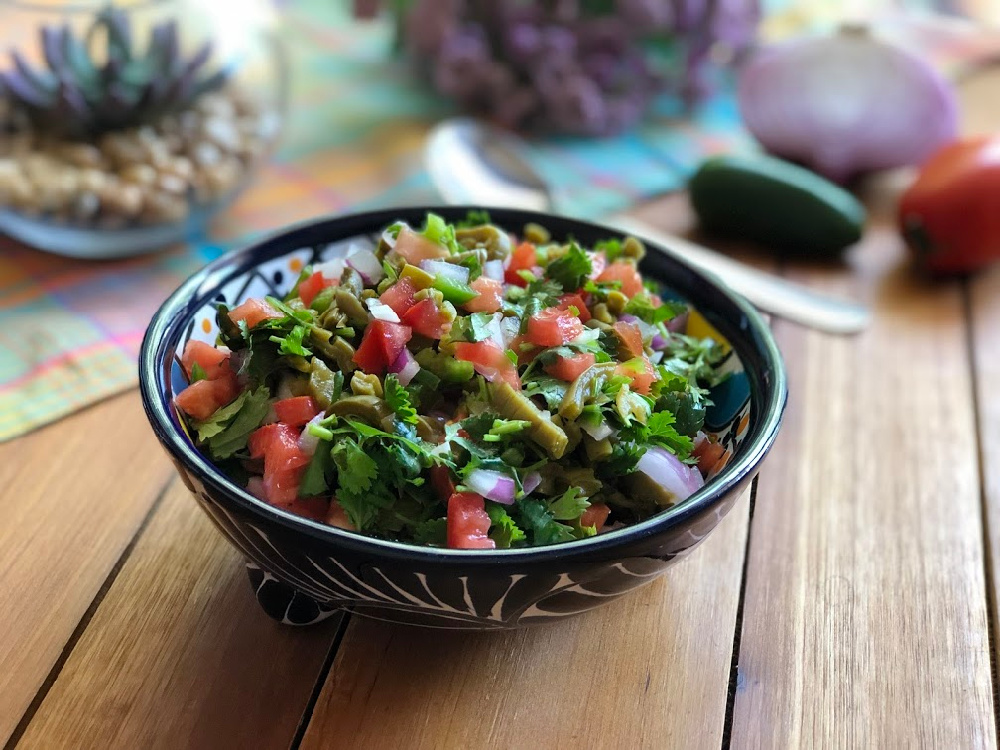 In Mexican cuisine, it is common to find cactus in different dishes, such as nopales salad, grilled cactus with cheese and salsa, with eggs and pork dishes, in smoothies, and even in nutritional supplements.
Inspired by the flavors of the Mexican nopales salad we made a chopped cactus salsa paired with corn chips, a perfect pairing for a light beer, or to enjoy as a garnish for tacos or tostadas.
Nutritional benefits of cactus nopal.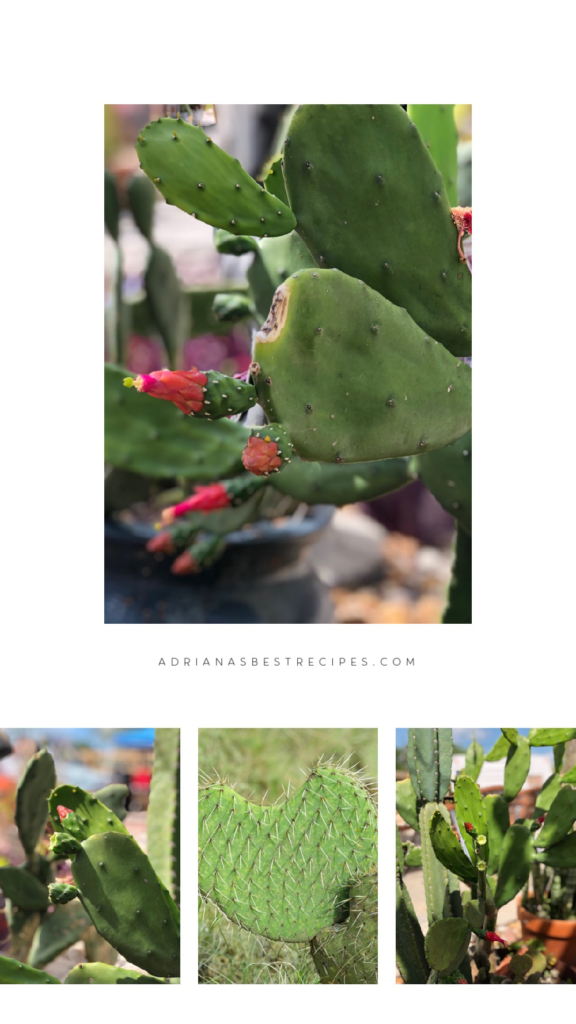 Some believe that cactus or nopales have nutritional benefits, and serve as a replacement for carbs in different applications as well as for weight management. The other day we found a recipe that used the cactus instead of bread on a typical Mexican torta. A bit extreme but sounded pretty tasty.
The cactus salsa is low in calories, and the nopales have fiber that helps with gut health, plus vitamin C & A, calcium, and magnesium. Rich in antioxidants and has anti-inflammatory effects. Cooked cactus is meaty and has a pleasantly sour flavor.
Why we Mexicans eat nopales?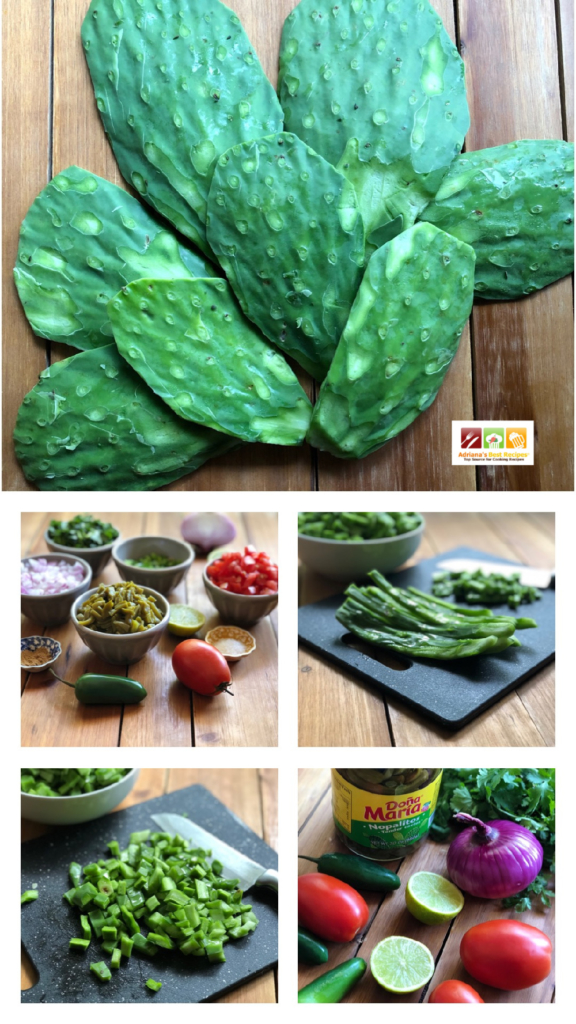 There are many varieties of nopales, all indigenous to Mexico. That is why this ingredient is of everyday use in many traditional recipes. A cookout isn't complete if grilled tender cactus is not part of the menu.
You can find nopales canned, fresh, and in powders. We like to pickle them with serrano peppers, make jams, and jellies too.
We invite you to try this recipe for cactus salsa and chips. It is yummy and an excellent way to introduce new fresh ingredients to the regular menu. I bought the nopales fresh, chopped them, and cooked them. But if you do not find them raw, you can buy them canned here on Amazon.
The canned nopales are tasty and ready to use. Chop and combine with diced tomatoes, chopped jalapeño, purple onion, and cilantro. Use lime juice, cumin, and salt to taste. Mix well and enjoy!
Tips on how to remove the cactus slime.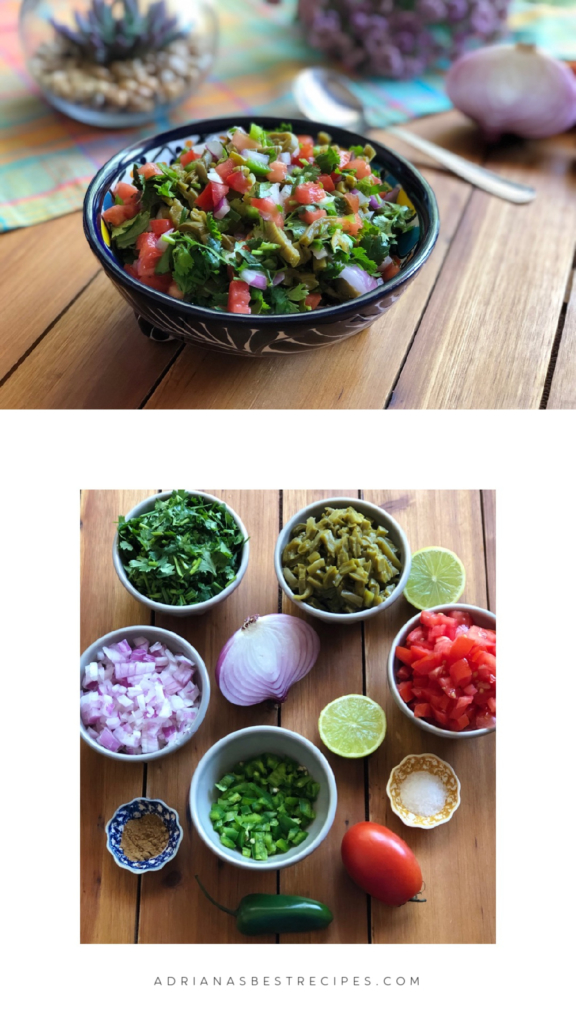 Many do not enjoy nopales because of the gel or slime that this ingredient naturally has and is more prominent while the cooking process — below a few tips on getting rid of that unwanted slime.
Cut the cactus in strips or dice and cover with sea salt. Let the nopales absorb some of the sodium for a few minutes and then rinse with water before cooking.
Cook the diced cactus with tomatillo husks. The peels of the tomatillos remove the slime too.
Add a tablespoon of baking soda when the cactus achieves a full rolling boil. Turn off the stove and mix. Let the cooked cactus rest for a few minutes covered. Rinse with cold water and the cooked cactus will be ready to use.
Cook the nopales covered with water and one tablespoon of salt. Cook for ten minutes. Rinse several times with cold water until all slime is gone.
My great grandmother's tip was to use a copper coin while cooking the nopalitos. Her trick was to use tender young cactus and choose those that are smaller in size.
Make the cactus salsa and chips, follow the recipe below!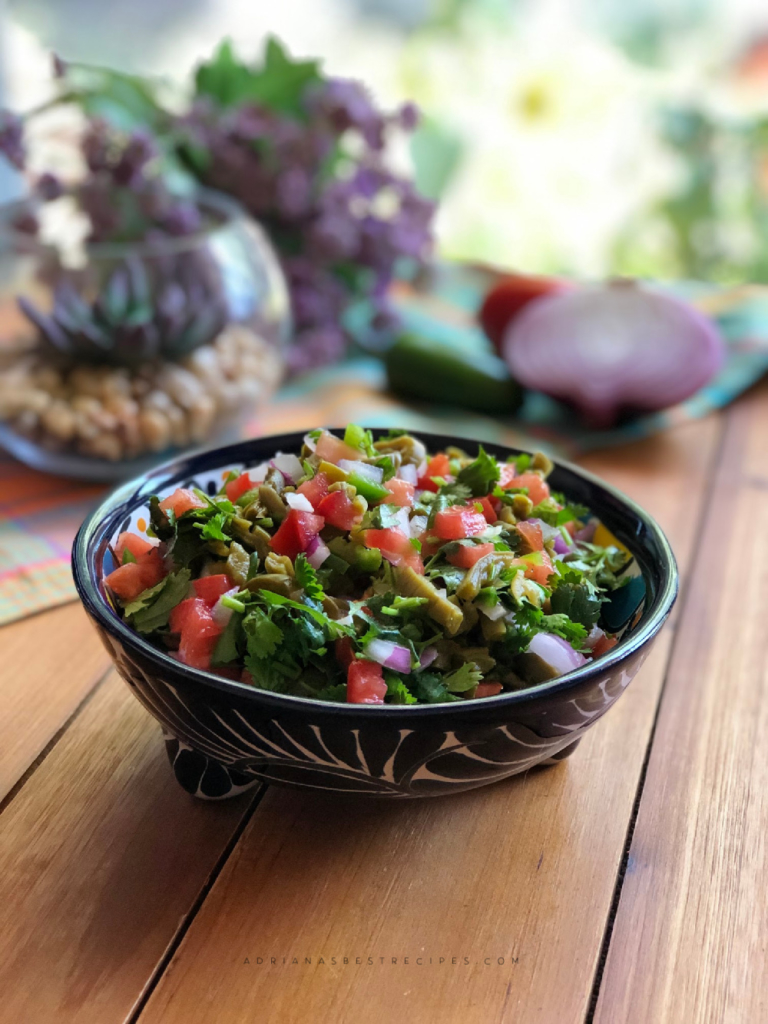 This salsa is refreshing and has minimal calories. It is vegetarian and so flavorful. If you have leftovers, mix the cactus salsa with eggs and eat tacos for breakfast, those are delicious too!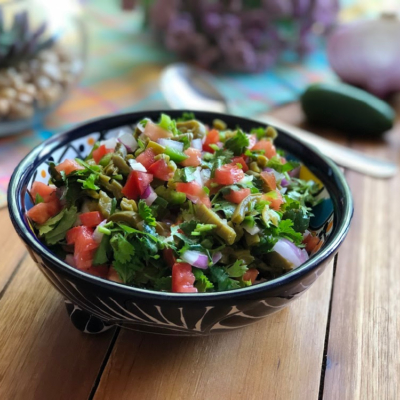 Cactus Salsa
Learn how to make the Cactus Salsa also known as Mexican Nopales, a classic appetizer, and a favorite of ours!. It has chopped tomato, onion, jalapeño, cilantro, lime, cumin, and salt. I am paring it with corn chips.
Equipment
Pot

Chopping block

Knife

Mixing bowl
Ingredients
1

pound

cactus

raw, diced and cooked

3

roma tomatoes

diced

1

purple onion

chopped

2

jalapeño peppers

deveined and chopped

1

cup

cilantro

roughly chopped

1

lime

1

tablespoon

cumin

1

teaspoon

sea salt
Instructions
Clean and dice the cactus. Add the raw nopales and cover with water. Cook with a tablespoon of sea salt for 10-15 minutes covered. When ready remove the water and rinse several times with iced or cold until slime disappears.

Chop all ingredients and mix together with the cooked cactus. Season with sea salt, lime juice, and cumin.

Use the cactus salsa as an appetizer with corn chips or as a garnish for salads, tacos, sopes, or tostadas.
Video
Notes
This recipe allows the use of canned cactus instead of raw.
Choose young tender cactus and preferably those that are the smaller size. 
Remove the cactus slime with tomatillo husks, baking soda, a copper coin, or with sea salt. Rinse the cooked cactus several times to remove any slime or salt residue. 
Use fewer jalapeños for a milder taste. 
Pair the cactus salsa with corn chips, blue and white. 
Nutrition
Calories:
52
kcal
Carbohydrates:
11
g
Protein:
3
g
Fat:
1
g
Saturated Fat:
1
g
Sodium:
614
mg
Potassium:
529
mg
Fiber:
4
g
Sugar:
4
g
Vitamin A:
1261
IU
Vitamin C:
35
mg
Calcium:
219
mg
Iron:
2
mg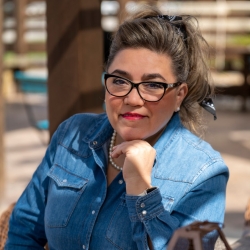 Latest posts by Chef Adriana Martin
(see all)