This post is also available in: Español
Adriana's Best Recipes strives to be your top source for cooking recipes, foodie travels, wine, cocktails, pet fun, and Latino culture.
Site live date June 27, 2011
English: https://adrianasbestrecipes.com/
Spanish: https://adrianasbestrecipes.com/es/
In Adriana's Best Recipes, you will find original content, including recipe development, family stories, food inspirations, special events, foodie travels, and product reviews that are relevant to Adriana's Best Recipes brand.
This recipe site reaches consumers in the United States, Latin America, and Europe. Consumers following this site are bi-cultural adults, moms, and individuals interested in food and its preparation.
A large percentage of visitors that engage with Adriana's Best Recipes are females, have children, and are college-educated. This blog is bilingual; articles and recipes are published in English and Spanish.
About the Author
Adriana Martin is a home chef and founder of adrianasbestrecipes.com. She is a Latina food writer specializing in recipe development influenced by Mexico's culinary culture and European cuisine. Her grandmother taught her how to cook, and now her mission is to inspire others to make homemade meals.
She has a passion for baking Mexican artisanal bread and classic desserts. Adriana also teaches online cooking classes and is a trained food stylist and photographer.
She has published thousands of recipes online and is the author of "The Best of Mexican Cooking – 75 Authentic Home-Style Recipes for Beginners," "The Super Easy Taco Cookbook," and"Taco Obsession: Essential Recipes to Celebrate the Flavors of Mexico."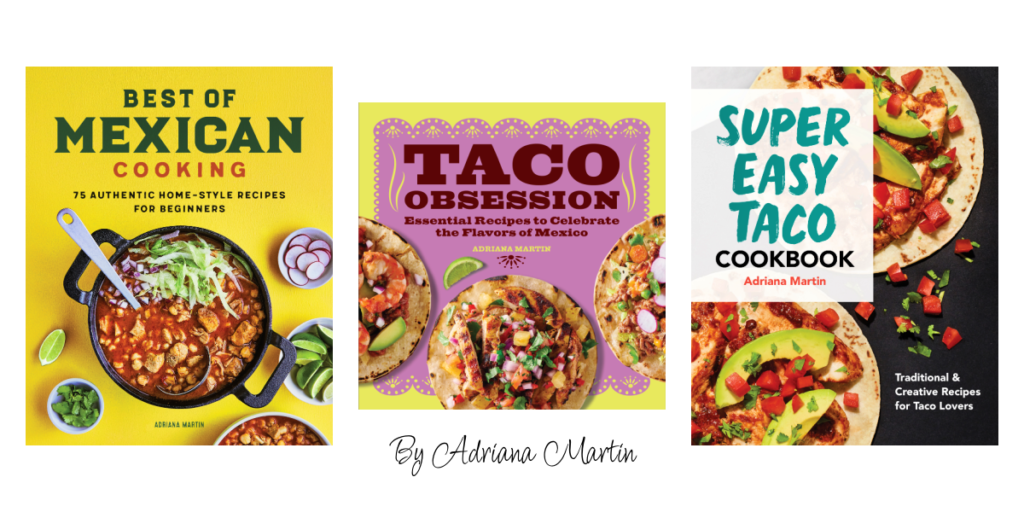 Find Adriana on Amazon cookbooks. 
LATISM has recognized Adriana as one of the Top 100 most influential Latina bloggers due to her contributions to the blogosphere, social media influence, and involvement with the community to raise awareness about child hunger in the Orlando area.
In addition, Hispanicize and Telemundo awarded Adriana with the TECLA Awards under the category of best food creator. The Tecla Awards is a national awards program that honors top multicultural content creators' achievements.
For inquiries or more detailed information, please fill out this form or send an email to [email protected]:
C O P Y R I G H T N O T I C E
All original content and images on this site are protected and cannot be used for personal and or financial gain nor distributed on any platform without prior approval from the author. Copying, reblogging, or "curating" Adriana's Best Recipes' original content and photographs are strictly prohibited, and legal action can be taken if copyright infringement occurs. If you are interested in doing a feature of Adriana Martin's work, buying images, content, or photographs property of Adriana Martin and this site, please use the contact form for inquiries. Thanks for respecting this author's work and creativity.