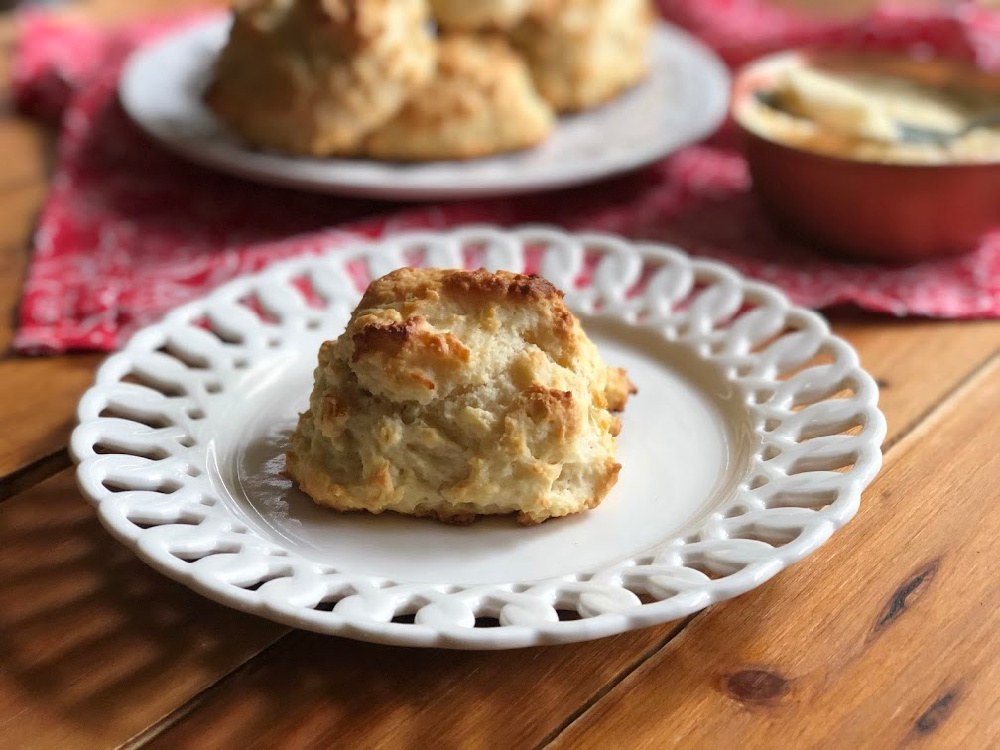 Join the baking season, making the best drop biscuits a no-fail homemade biscuits recipe!
We love homemade biscuits and these drop biscuits recipe is amazing. We have always wanted to make a no-fuss homemade biscuits recipes but had no success until I met my friend from bakerbettie.com.
She is a trained chef and accomplished baking instructor who publishes incredible baking recipes and videos. Thanks to her inspiration to bake at home I made the best drop biscuits ever.
I did some adjustments to her drop biscuits recipe adding less salt and using buttermilk instead of milk. I tried the recipe once and now I have been baking homemade biscuits almost every week.
Who doesn't love freshly baked biscuits for dinner or brunch?
With the holidays and special events, it is nice to have a recipe that you can make at home with no issues. Because who doesn't love a freshly baked drop biscuit to enjoy with dinner or brunch? I have not met a person that isn't happy with a buttery bite like this.
Biscuits have been loved for years, many say the first biscuit was enjoyed in Rome. And here in the United States, the tradition of eating drop biscuits started early 19th century, before the American Civil War. Those biscuits of the past had ground wheat eaten warmed with gravy. That is how the biscuits and gravy started.
My Aunt Julieta's biscuits recipe story.
I am Mexican but many of the southern traditions were adopted by my family who lived in the border, in the state of Chihuahua. The biscuits my aunt prepared at home were different from this drop biscuits I baked today but nonetheless delicious.
I have tried many times to bake the famous Aunt Julieta's homemade biscuits and the results have been a disaster. Her recipe details are much like "add a pinch of this, and a little bit of that". The funny thing is that she was a master baker and her pies and biscuits were the best. I still miss all those treats she was used to baking for us.
When I read Baker Bettie's recipe felt good to try to bake her drop biscuits instead of my family's old recipe. This recipe is simple and includes all the necessary details to achieve success.
Homemade Biscuits Baking Tips for Beginners
Invest in measuring cups and a digital scale. This will allow for accurate measurement when making homemade biscuits or any baked goods.
Use the flour the recipe specifies. If you have doubts about a recipe and the kind of flour used, reach out to the recipe author and clarify.
Using a self-rising flour or whole wheat flour can modify the results when baking the drop biscuits at home.
Mix the dry ingredients first. Incorporate the wet ingredients last. For example, if you want to add spices, include them with the dry ingredients. If you want to add cheese mix it in with the wet ingredients or at the end.
This recipe calls for butter, choose good quality and keep it cold. Cutting the butter helps to easily incorporate into the flour for the biscuits.
Sift the flour for a consistent bake and prevent lumps on the homemade biscuits dough.
Do not handle the biscuits dough with your hands. The temperature in our hands can warm the dough. Cold dough allows for flaky biscuits.
Pre-heat the oven before starting the dough preparation. A hot oven is key for the best results.
Serve the drop biscuits with honey butter, honey or enjoy with a soup!
We love honey butter and local Florida honey. These homemade biscuits pair nicely with honey and why not enjoy with a yummy tomato soup too.
If you live in the Orlando area consider purchasing Honey For Good or Soup For Good from A Spoonful of Hope online store. Your purchase supports education.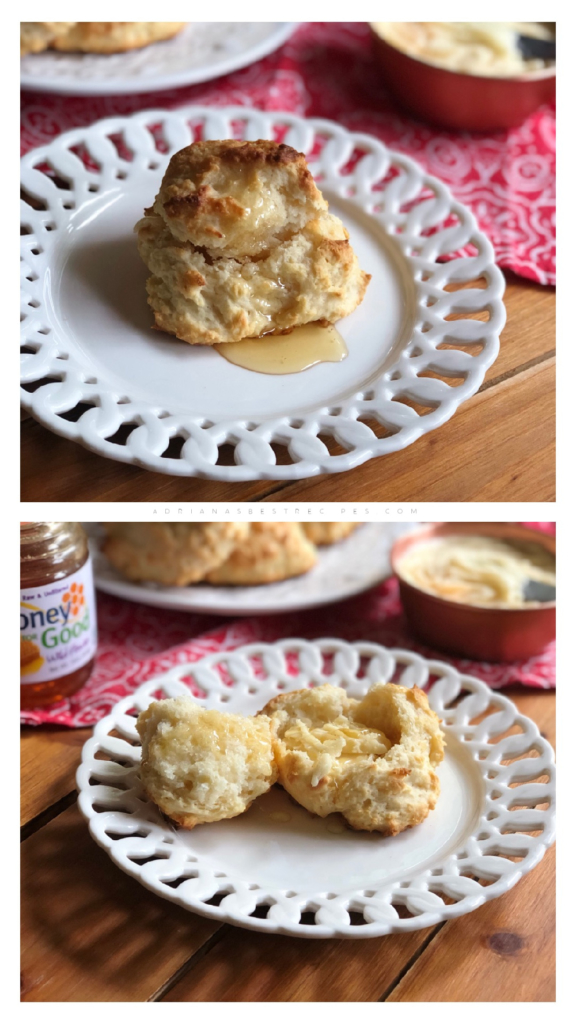 This is a Second Harvest Food Bank of Central Florida program that benefits disadvantaged adults that now are able to graduate from a culinary course at no cost and make a career in the food industry.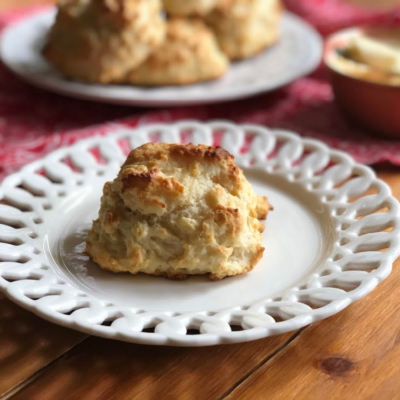 Best Drop Biscuits
Join the baking season, making the best drop biscuits a no-fail homemade biscuits recipe. This recipe has all-purpose flour, butter, and buttermilk as main ingredients.
Equipment
Measuring Cups

Measuring spoons

Sifter

Mixing bowl

whisk

Pastry cutter

Wooden spoon

Baking sheet

Brush
Ingredients
2

cups

unbleached all-purpose flour

240 grams of sifted flour

1

tablespoon

baking powder

14 grams

1/2

teaspoon

salt

1/2

cup

unsalted butter

1 stick or 113 grams of cold butter cut into small pieces

1 3/4

cup

buttermilk

175-240 ml of buttermilk. Can be replaced with cold milk
Instructions
Before starting to preheat the oven to 400°F. Sift the flour using a colander or a sifting device. Add the flour to a large mixing bowl. Add the salt and the baking powder and whisk.

Add the cold butter pieces to the dry ingredients and using a fork or a pastry cutter start incorporating the unsalted butter to the flour. Take your time and make sure all ingredients mix together. You will know this has happened when the flour looks like sand.

Until then add the buttermilk little by little. Start with 3/4 of a cup and mix using a wooden spoon. Then add a little bit more of the buttermilk and continue stirring. The batter has to be wet and not dry. It will look lumpy but that is fine.

Cover a baking sheet with parchment paper. Using a scoop or a cup start measuring the amount of batter per biscuit and drop. This recipe results in six medium size biscuits.

Cook the biscuits inside the oven for 20-30 minutes at 400°F until golden brown. Melt some butter (1/2 stick) and brush each biscuit. If you have leftovers, store the biscuits in a tin or a plastic container with a lid when cold. They will last 2-3 days fresh. Reheat in the oven or the microwave.
Video
Nutrition
Calories:
333
kcal
Carbohydrates:
36
g
Protein:
7
g
Fat:
18
g
Saturated Fat:
11
g
Cholesterol:
48
mg
Sodium:
200
mg
Potassium:
341
mg
Fiber:
1
g
Sugar:
4
g
Vitamin A:
588
IU
Calcium:
178
mg
Iron:
2
mg
Have you tried this recipe? Snap a photo and tag us on Instagram and or Facebook using the handle @adrianasbestrecipes and this hashtag #ABRecipes Happy Eats!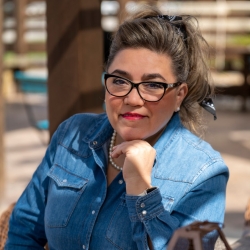 Latest posts by Chef Adriana Martin
(see all)