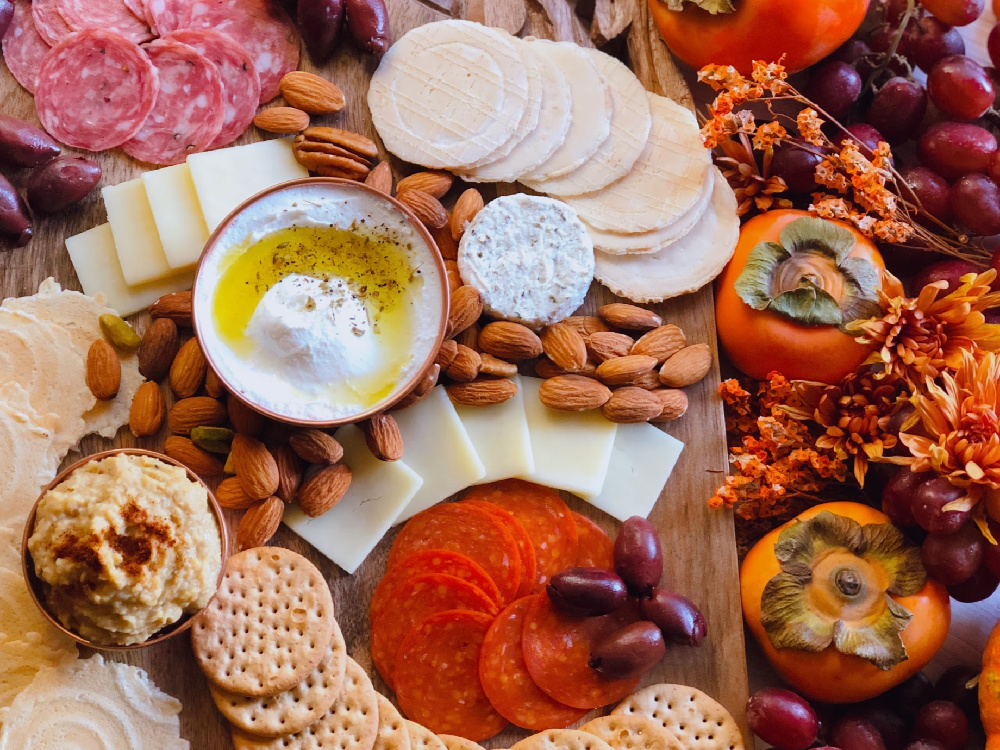 Add to your appetizer table a delicious Thanksgiving Charcuterie Board!
Cheeseboards are very popular for entertaining and the holidays aren't the exception. Inspired by the flavors of the Mediterranean cuisine, we put together a delightful Thanksgiving charcuterie board.
This Thanksgiving charcuterie board includes labneh, garlic hummus, feta cheese with herbs, kalamata olives, almonds, pecans, pistachios, a variety of crackers, dry salami with peppercorns, chorizo de Cantimpalo, Havarti, and fontina cheeses. For sweetness, we have added seasonal persimmons and seedless red grapes.
Include the Thanksgiving charcuterie board on your appetizer table!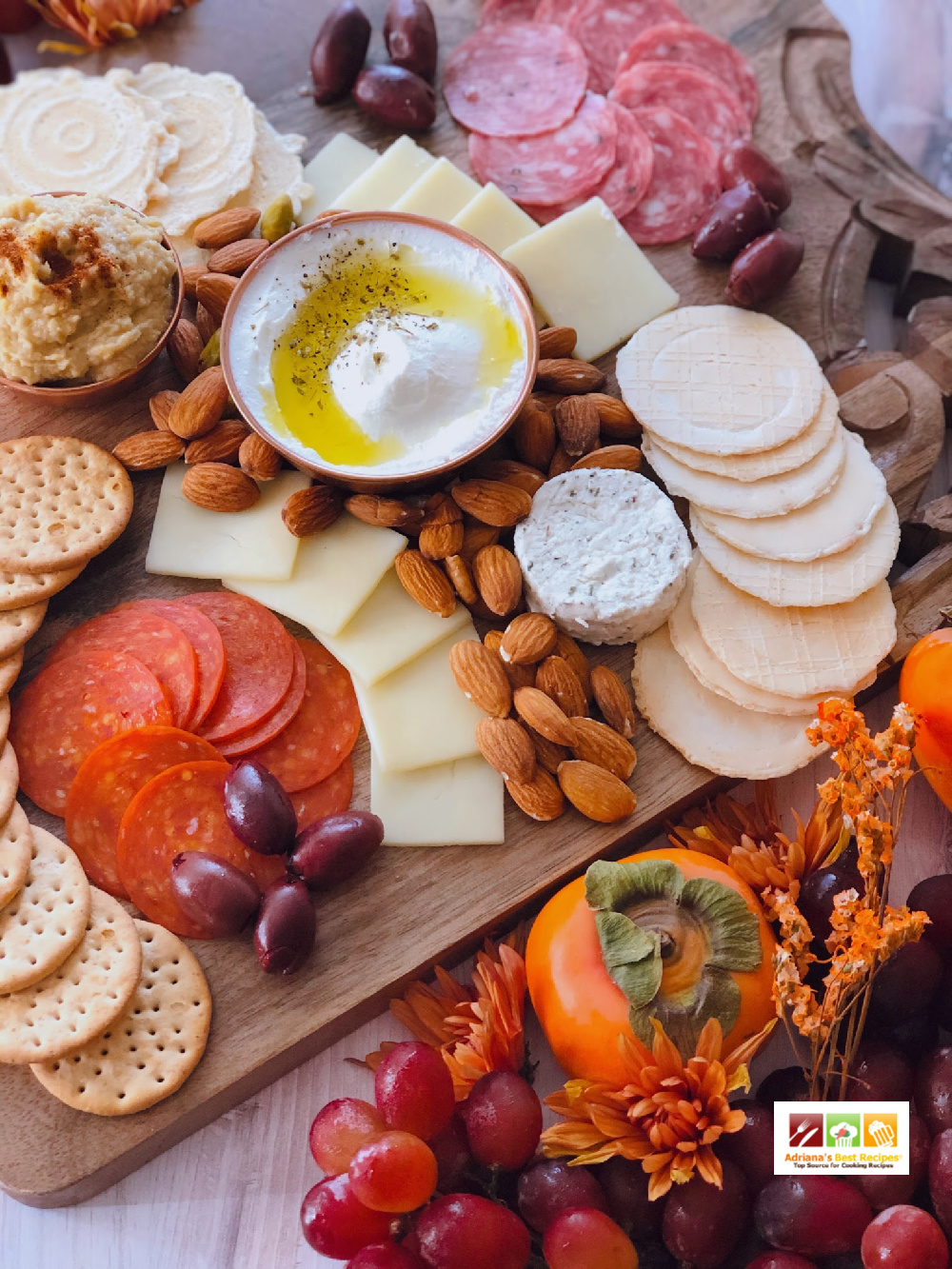 Cheese or charcuterie boards are an excellent addition to the appetizer selection you have for your party. These boards can become an edible centerpiece that everyone will enjoy.
There are only a few recommendations to follow to make the best party cheeseboard for holiday entertaining at home.
Choose a variety of charcuterie cuts and cheeses.
Include spicy, salty, and sweet elements.
Add creamy dips and cheeses.
Olives or pickles and stoneground mustard are an excellent addition too.
Think of crunchy textures and offer a variety of nuts and crackers.
Use seasonal fruits, jams, and honey.
Be creative, and depending on what you have at home and what you can find at the store, create a theme around those elements and have fun while putting together your Thanksgiving charcuterie board.
When creating a cheeseboard, there is no right or wrong. Make sure to include flavors and foods that complement each other and offer different kinds of textures.
Why a Mediterranean theme for the Thanksgiving charcuterie board?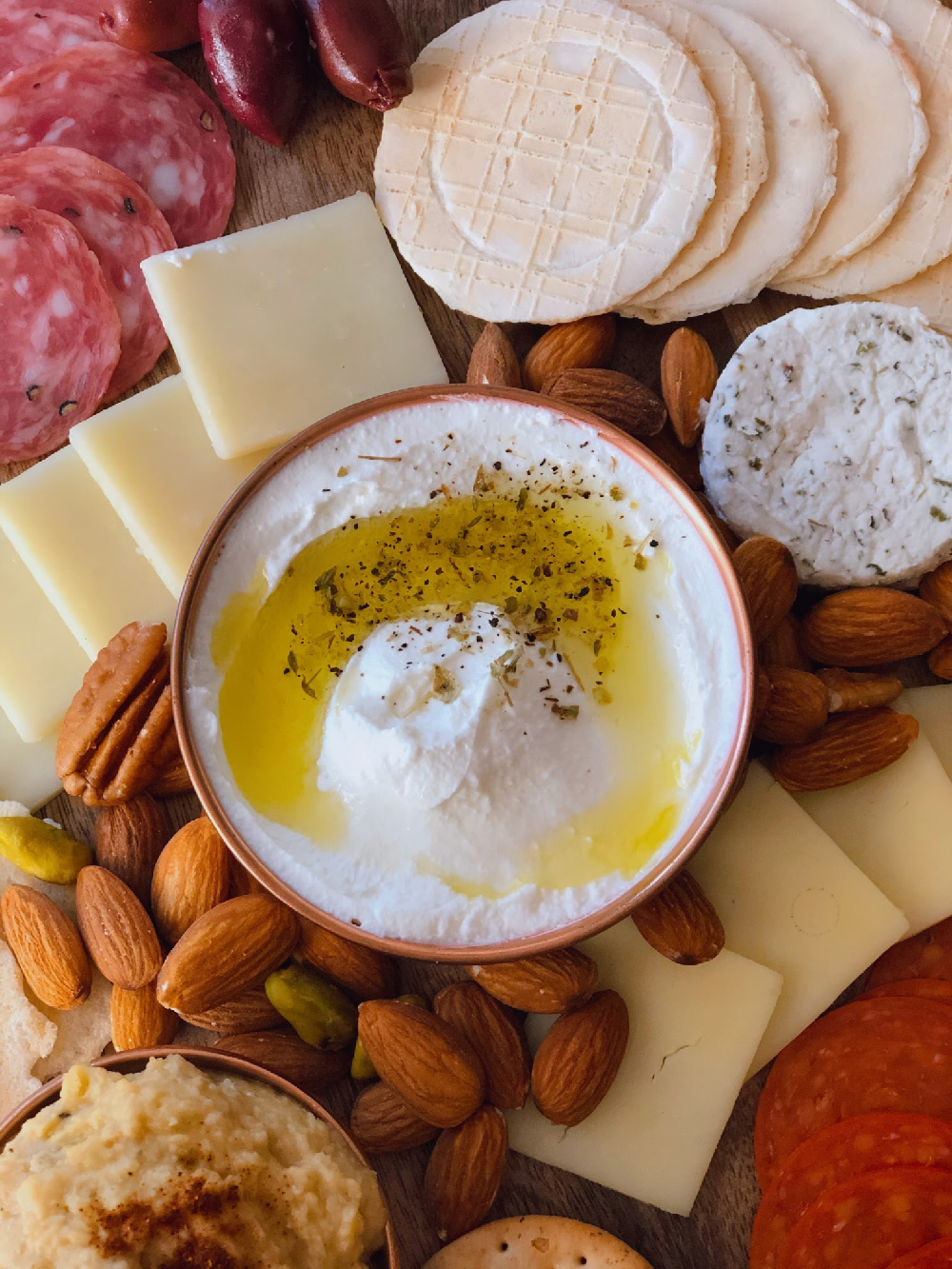 Thanksgiving dinner is expensive, so I wanted to save some money by using what I already had in my fridge and pantry. Adding a Thanksgiving charcuterie board made sense. Not so long ago made labneh, a Lebanese style strained yogurt with cream cheese consistency.
Labneh doesn't taste like cream cheese. It is a creamy sour yogurt. For serving, we added olive oil and Mediterranean spices. It is delicious you need to try it!
Homemade hummus is always available in my fridge. This hummus has garlic and topped with sumac for a tangy lemony flavor.
I chose pitted meaty kalamata olives for a salty-sour note. Plus a mix of raw almonds, pistachios, and pecans. Both ingredients are a staple in my pantry because I use them in salads and other dishes.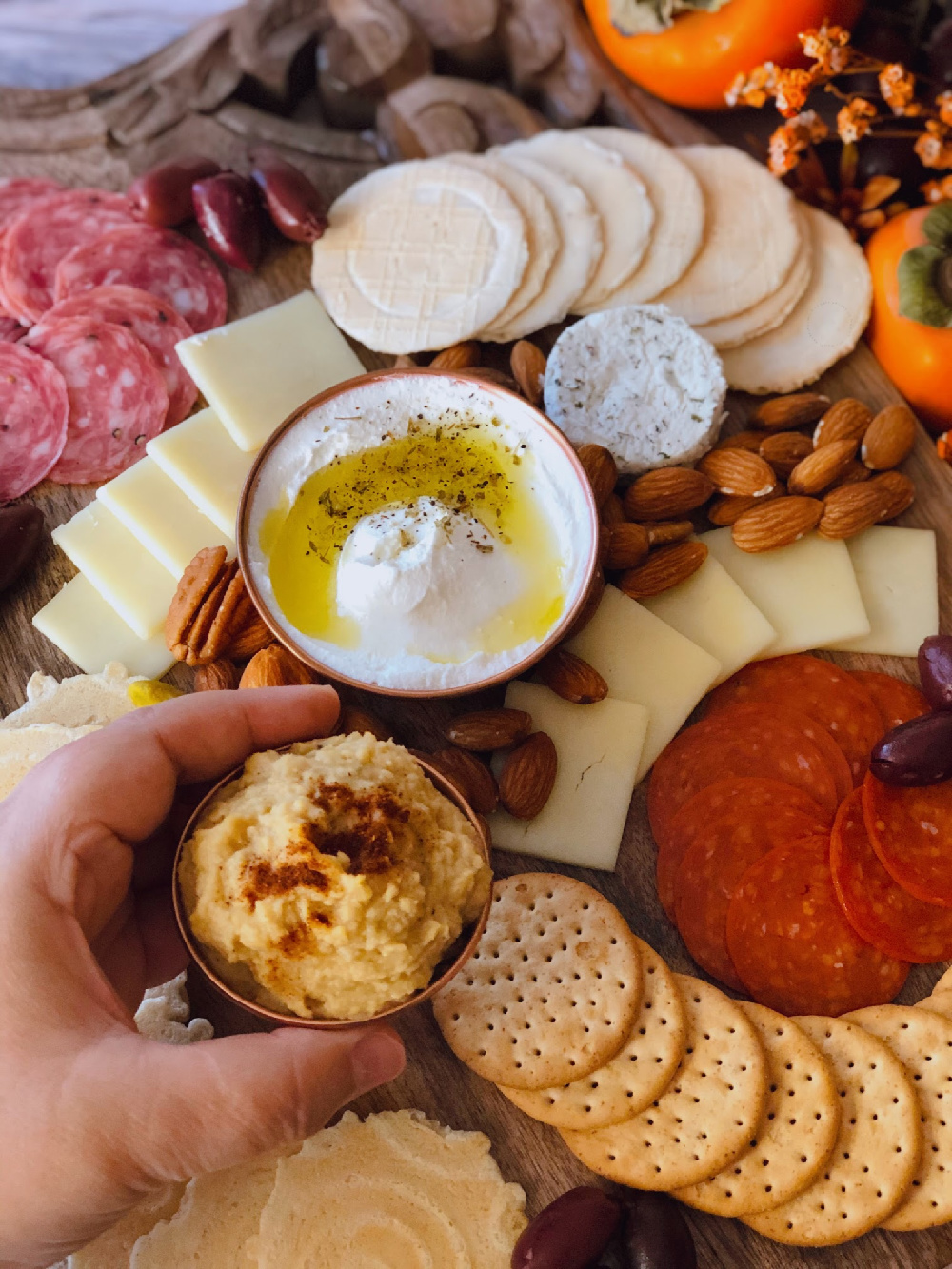 At the deli, I bought a small portion of cold cuts and the cheese to keep with the budget. I love Italian salami and Spanish chorizo. Fontina, Feta, and Havarti cheeses pair well with the cold cuts chosen; thus, I added them to the Thanksgiving charcuterie board.
I had one complete box of these crackers from a prior party, so why not use them? This selection of biscuits does not have an overpowering flavor and is an excellent addition to my Thanksgiving charcuterie board.
The fruit was on sale, so I took advantage of the savings and added the grapes and a few persimmons.
Are you ready to make your charcuterie board using what you have available at home?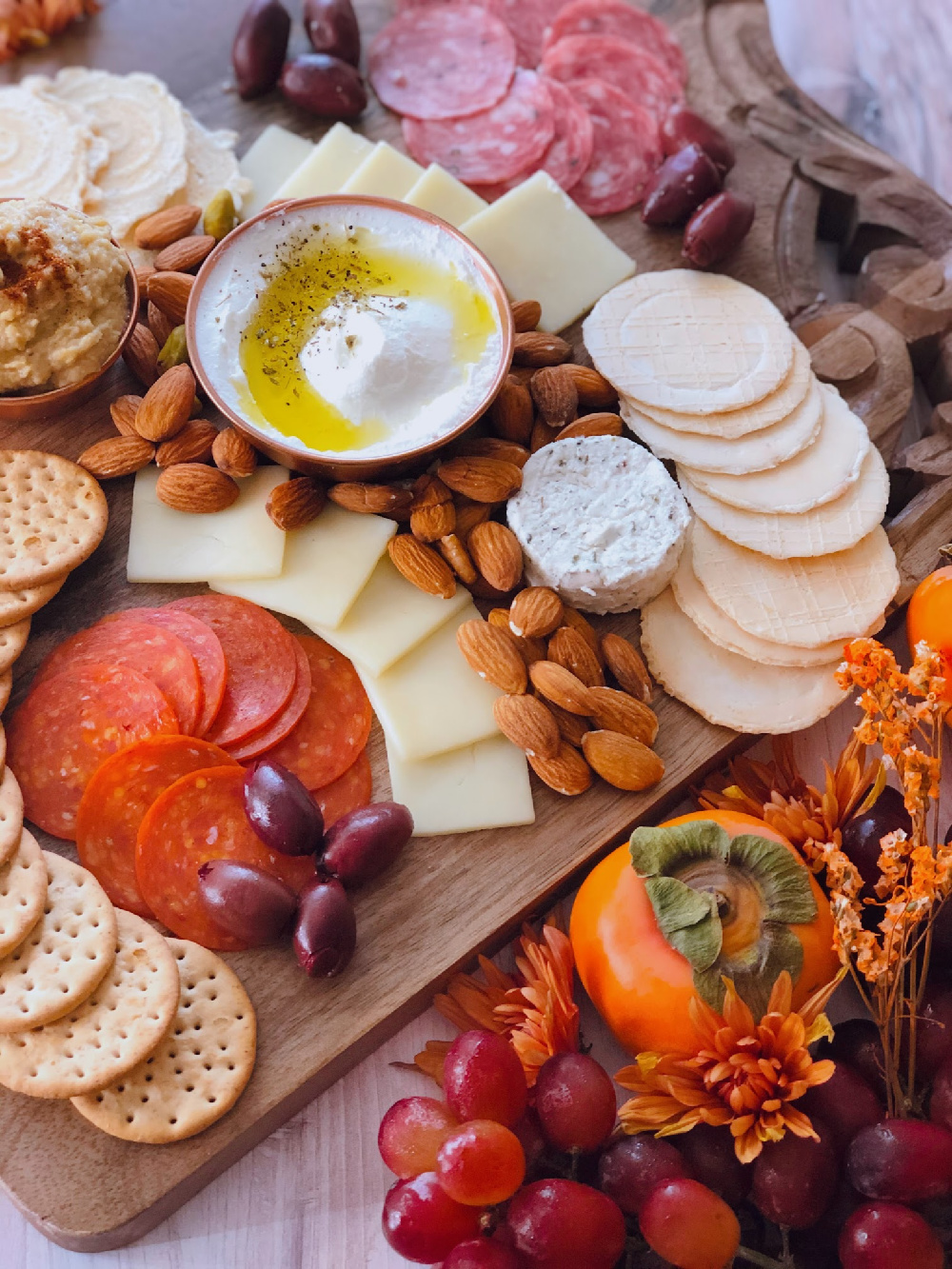 I hope you got inspired by this cheeseboard idea and that you implement something similar to offer to your guests this holiday season.
Have you tried or included this charcuterie board on your appetizer table? Snap a photo and tag us on Instagram and or Facebook using the handle @adrianasbestrecipes  and this hashtag  #ABRecipes. Happy Eats!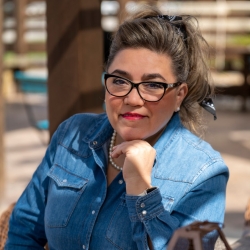 Latest posts by Chef Adriana Martin
(see all)