This post is also available in: Español
European cold cuts like salami and chorizo are among our favorites!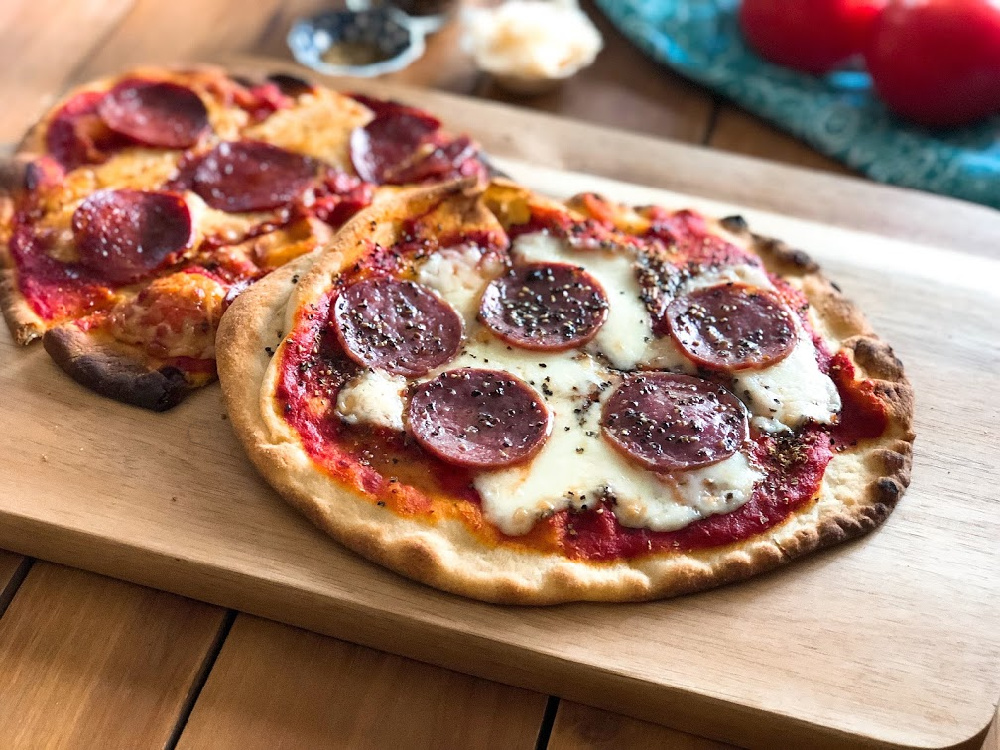 At home, we enjoy European cold cuts such as Italian salami and Spanish chorizo. I buy these cold cuts at the deli and choose those that come cut in small round cuts. Or ask the attendant at the deli to slice those not too thick and not too thin.
The salami has a hint of black pepper and the chorizo has a smokey and spicy tasty flavor. Both can be eaten as part of a cheese board but go great on pizza and flatbreads.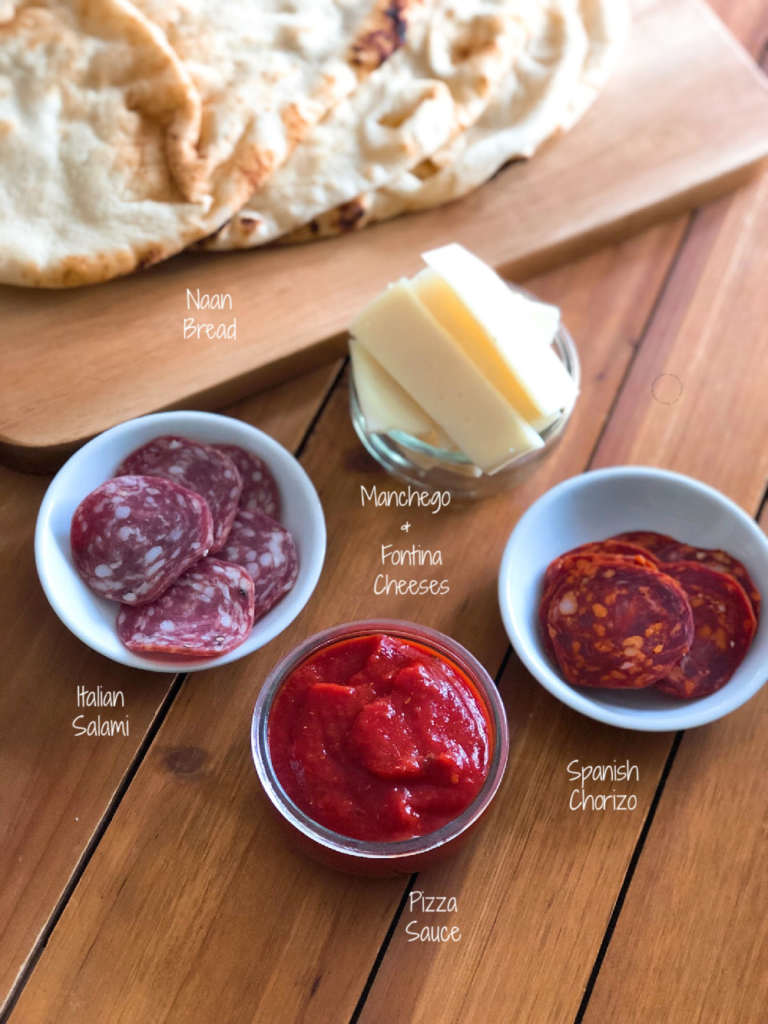 Make pizza flatbreads at home!
It is is very easy to prepare the European cold cuts pizza flatbreads. I am using Indian naan bread, pizza sauce, oregano, black pepper, Manchego and fontina cheeses, and my family's favorite cold cuts: salami and Spanish chorizo.
The pizza sauce I chose is gourmet with quality ingredients. I recommend finding one that you enjoy as the pizza sauce is the foundation of a good pizza.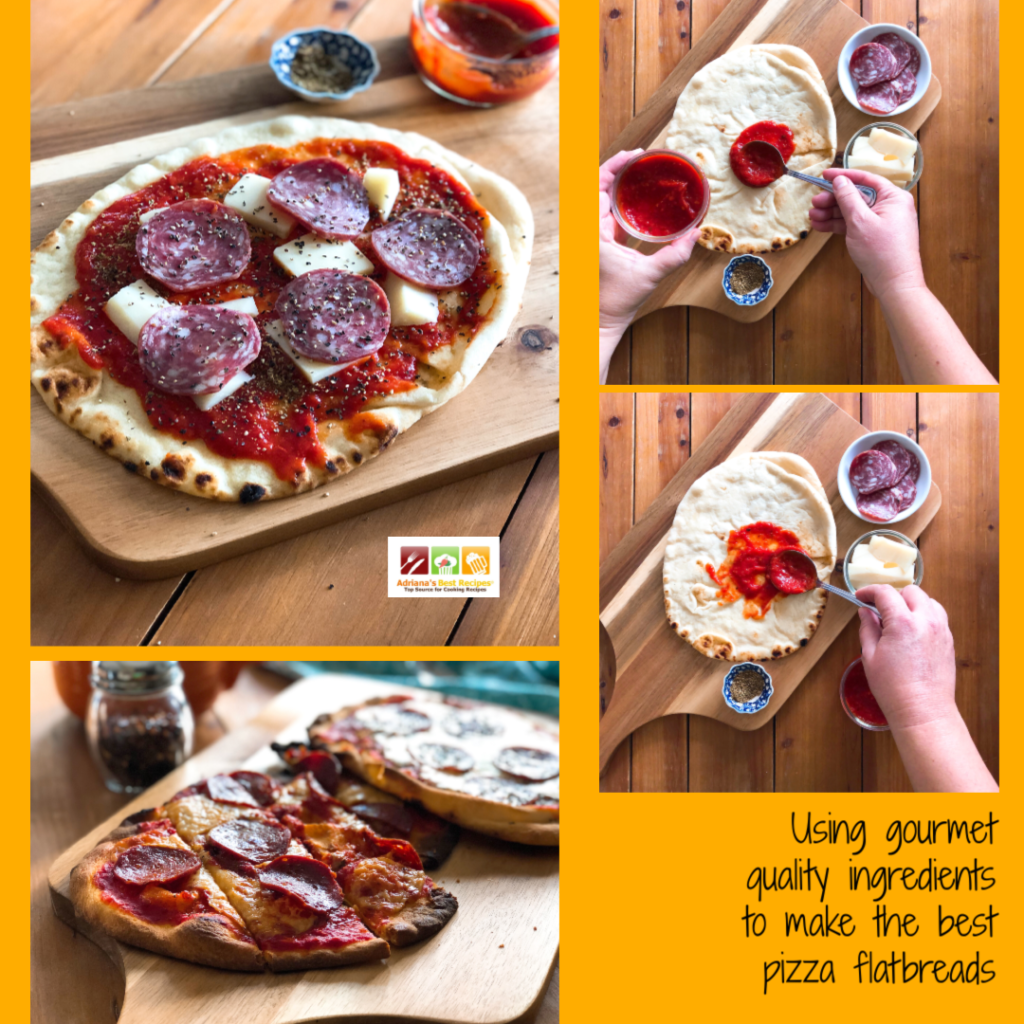 The same situation with the cheese, I am using a Manchego cheese for the chorizo pizza and fontina cheese for the salami flatbread. I like this cheese because it is made with sheep's milk and has a sharp taste without overwhelming the palate and pairing well with the European cold cuts.
If you prefer Italian cheese with chorizo, you can replace the Manchego with romano, a sharp, white English cheddar, or an aged Tomme de Brebis cheese from France.
Host a pizza flatbread party!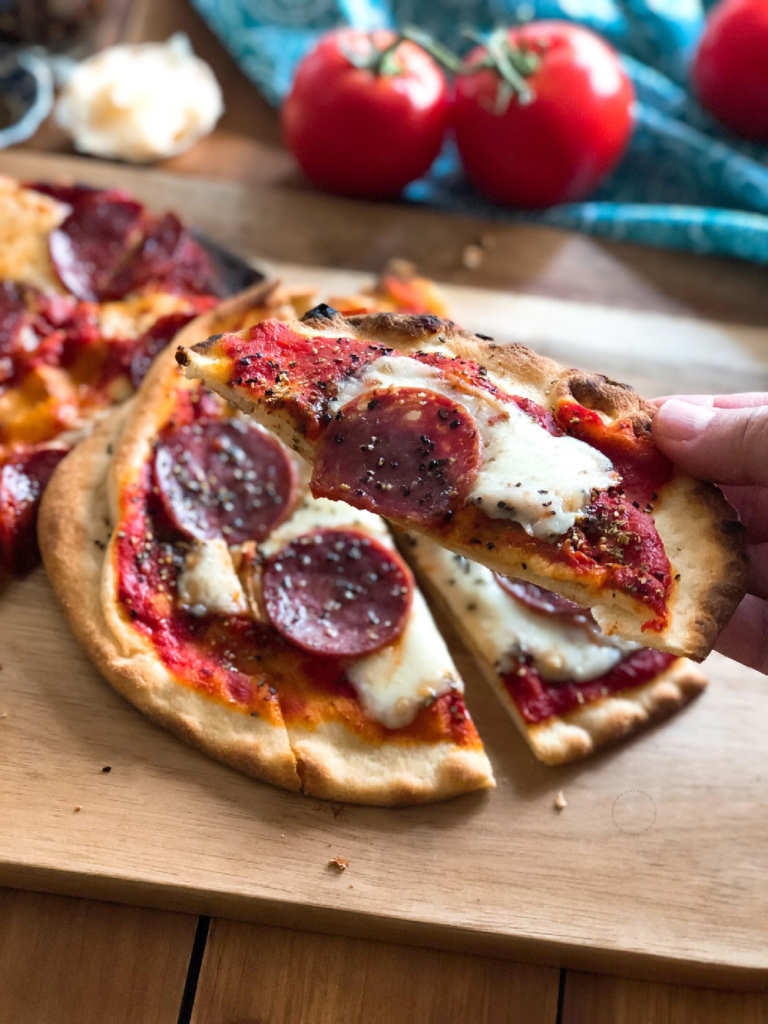 This idea of using naan bread for making pizza is useful when entertaining at home. You can set up a pizza flatbread bar with a variety of ingredients; including sweet and savory. Fire up the grill and let the guests prepare and grill their pizza.
Add to the bar a selection of fresh salads to pair with the European cold cuts pizza flatbreads. Offer wine, beer, agua fresca, and sodas too. I bet everyone will enjoy making their creations while making memories together.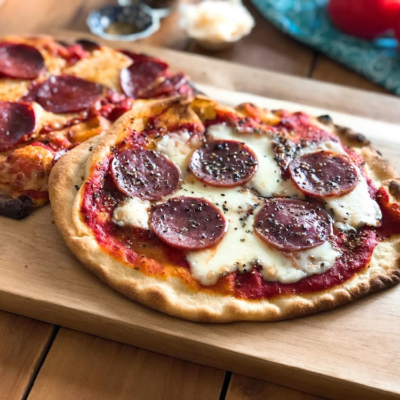 European Cold Cuts Pizza Flatbreads
Make the European Cold Cuts Pizza Flatbreads using Italian salami, Spanish chorizo, fontina and Manchego cheeses, and buttery naan bread.
Ingredients
2

naan flatbreads

2

tablespoons

pizza sauce

1

teaspoon

oregano

5

slices

Italian salami

6

slices

fontina cheese

5

slices

Spanish chorizo

6

slices

Manchego cheese

1

pinch

coarse black pepper
Instructions
Spread pizza sauce on a slice of naan bread. Season with a pinch of oregano.

For the salami pizza, add fontina cheese and slices of Italian salami.

For the Spanish chorizo, add the Manchego cheese and the slices of Manchego cheese.

Sprinkle with coarse black pepper and bake for 6-10 minutes depending on how toasty you prefer the bread to look and taste.

Slice the pizza flatbreads, serve with a side salad and pair with your favorite drink.
Notes
Replace the Manchego cheese with romano, a sharp, white English cheddar, or an aged Tomme de Breb is cheese from France.
Use a good quality pizza sauce, preferably homemade or a gourmet canned option. 
Nutrition
Serving:
0
g
Carbohydrates:
0
g
Protein:
0
g
Fat:
0
g
Saturated Fat:
0
g
Polyunsaturated Fat:
0
g
Monounsaturated Fat:
0
g
Trans Fat:
0
g
Cholesterol:
0
mg
Sodium:
0
mg
Potassium:
0
mg
Fiber:
0
g
Sugar:
0
g
Vitamin A:
0
IU
Vitamin C:
0
mg
Calcium:
0
mg
Iron:
0
mg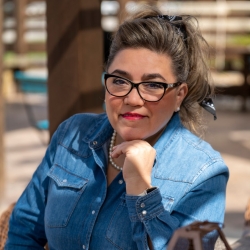 Latest posts by Chef Adriana Martin
(see all)