I absolutely love hummus it is such an easy dip to prepare and it is a great option for entertaining at home. Hummus is a Mediterranean spread made with chickpeas and tahini butter (made with toasted sesame seeds) and blended with olive oil, garlic, salt and lemon juice resulting into a luscious spread that goes well with pita bread, crostini and chips as well as crudites. Hummus is very popular in the Middle East, Morocco and Turkey and here in the United States has become one of the favorite dips because it is considered a healthy option. My heritage is in part Lebanese so I grew up enjoying hummus and many of the Middle Eastern favorites like sumac spice, a condiment with a lemony flavor that comes from the berries of a shrub and tagine spice a combination of paprika, ginger, turmeric and black pepper. Both condiments that are very traditional in the middle eastern cuisine and used to garnish hummus. The basic recipe for hummus can be transformed into different flavors by adding ingredients like cilantro and jalapeños, piquillo peppers, roasted chesnuts and olives. You can become very creative and develop your own flavors but today I want to share with you my recipe for jalapeño hummus, not spicy but full of flavor.

INGREDIENTS
2 cups or one can of chickpeas
1 cup of Tahini paste
1 cup of olive oil
2 cups of roughly chopped cilantro
2 or 3  jalapeño chiles deveined and cleaned
2 yellow lemons juiced
Sea salt to taste
1 teaspoon of tagine spice or sumac
A jalapeno round and a cilantro sprig to garnish
Preparation time: 20 minutes. This recipes makes 2 – 3 cups of hummus. Cost per cup is less than $4.00 dollars. You will need a food processor, a measuring cup, a  lemon squeezer, chopping block, a spoon, a knife and a serving  bowl.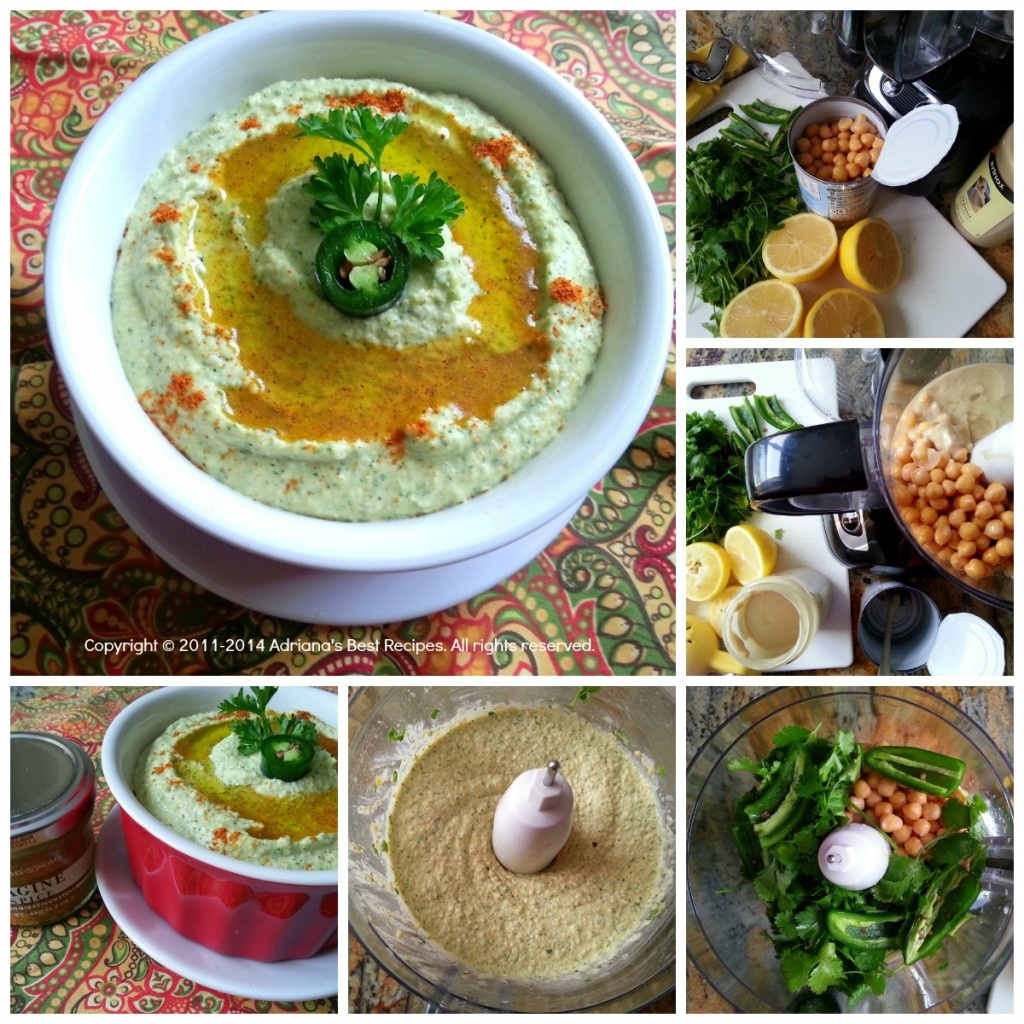 Preparing this  Jalapeño Hummus is very easy. Pour the chickpeas, the tahini paste, the olive oil and the lemon juice in the food processor and blend. Then add the deveined jalapeños, and the roughly chopped cilantro. Turn on the food processor again to incorporate these ingredients to the paste. If you feel you need to add a bit more of lemon juice or olive oil to thin the paste you can add at your discretion just make sure to season with salt and do not add too much since the paste needs to be somewhat thick but velvety.

Serve on a nice bowl and garnish with olive oil, tagine spice, a round of jalapeño and a cilantro floret. You can eat with tortilla chips, warm pita, crostini o pita chips.
Enjoy!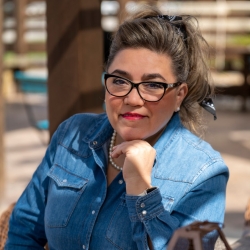 Latest posts by Chef Adriana Martin
(see all)