This post is also available in: Español
The blue corn tlacoyos or corn cakes are part of the vast culinary culture of Mexico.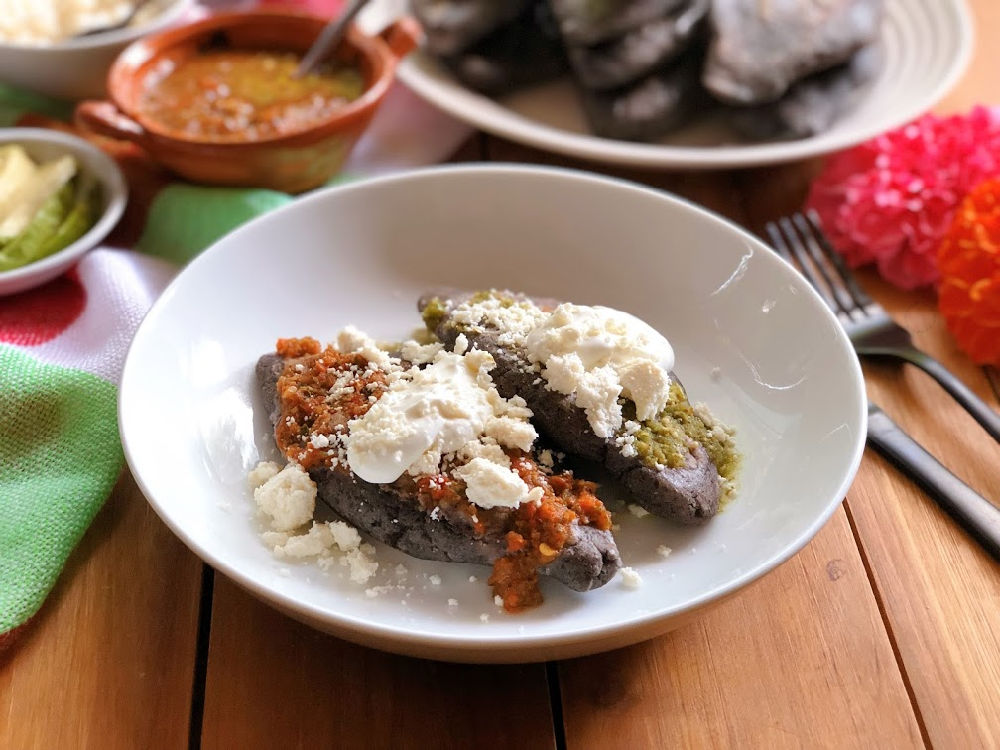 Many of the food options that we Mexicans grew up with have origin in the prehispanic cuisine. And a great example of the Aztec culinary legacy is these blue corn tlacoyos. Commonly sold in the farmers market in an area called Tlatelolco. Located a few minutes from downtown Mexico City.
On those days, the tlacoyos, either made with white or blue corn, were stuffed with beans, pork rinds, lima beans, ranchero cheese, or refried beans. Eaten as a light meal, and in modern times, these corn cakes have become a meatless meal enjoyed during Lent or as an appetizer in parties.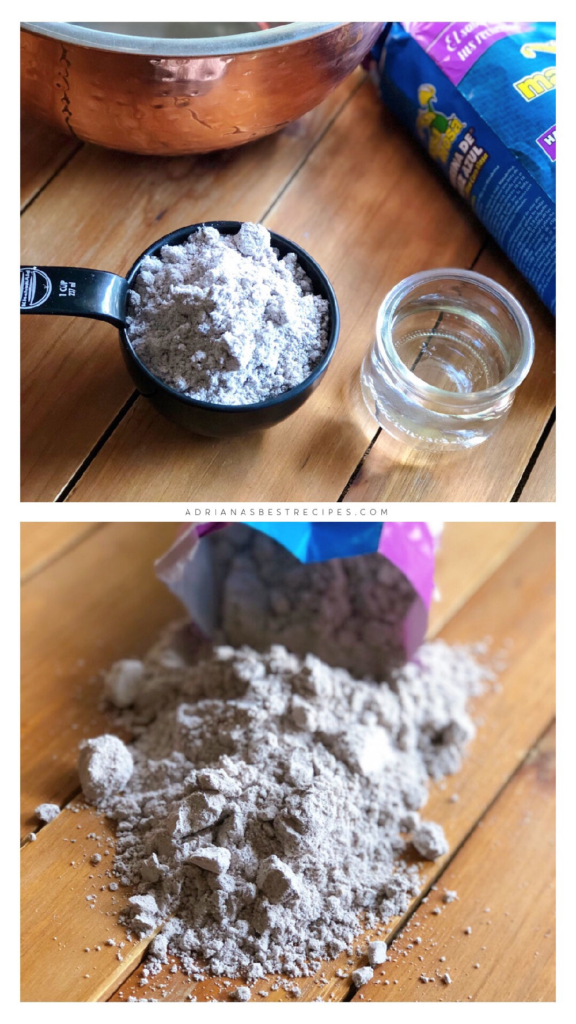 These Mexican corn cakes or tlacoyos inspired other dishes, such as sopes, huaraches, and the gorditas. All made with corn masa as the base and topped with green or red salsa, cream, cheese, chicken, carne asada, or shredded pork.
Mexican cuisine and blue corn have a long history.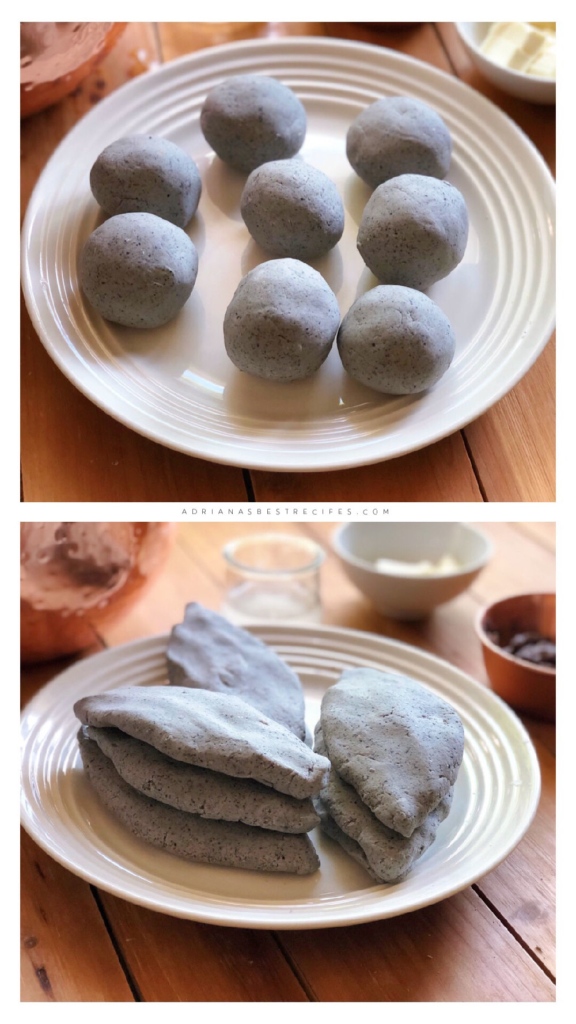 There are many varieties of corn. Most popular ones are yellow and white, but blue corn is a favorite in many Mexican dishes and ground for masa to make tortillas too.
The corn crop developed in Mexico around seven thousand years ago, there is not a precise timing of when or how crop was discovered. When it first appeared had a form of a grass called "teosinte". However, it didn't look like the common corn ears we know today.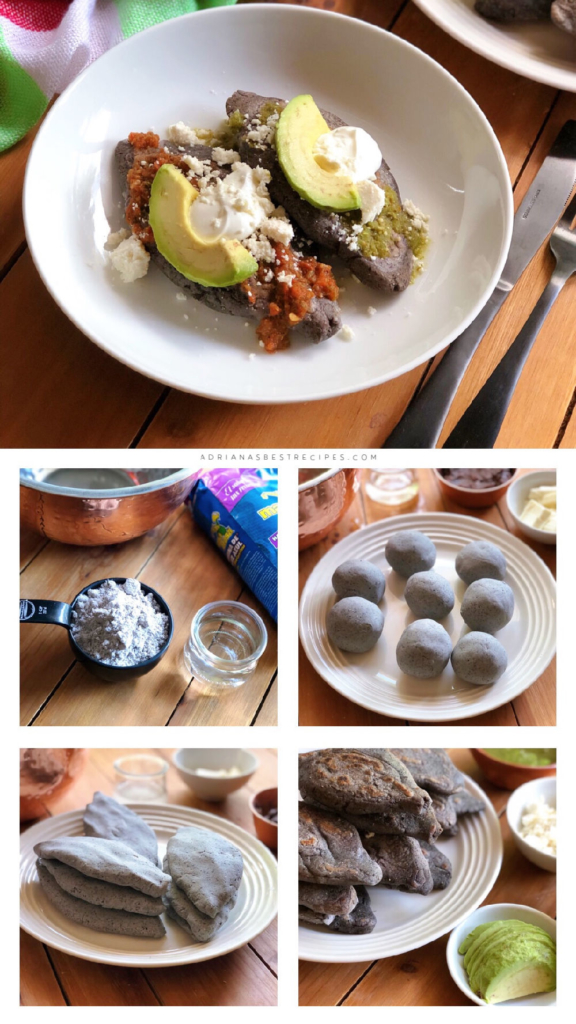 This corn grass has small kernels but rapidly became an essential ingredient to many prehispanic dishes, such as tortillas and tamales. As time passed and the corn became more prevalent in the diet, a process called nixtamalization came about.
This process is necessary for making maize masa, and it consists of soaking the corn kernels in alkaline water and then peeled. Making the corn softer and easy to grind.
Make the blue corn tlacoyos at home!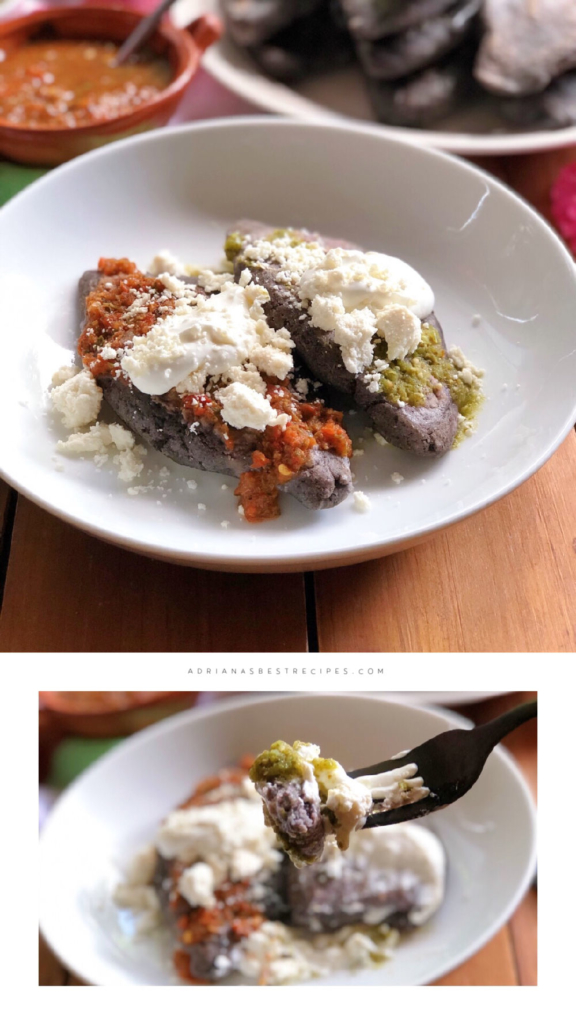 If you are a fan of Mexican dishes this prehispanic dish you have to learn how to make and enjoy at home. Below a few tips on how to achieve success while making the Mexican corn cakes with blue corn masa.
Purchase blue corn masa at the supermarket. Typically found at the international foods aisle.
Use lukewarm water and add slowly, otherwise, you will need to add more cornflour since this dough has to be soft and workable.
Keep a small pot with water to damp your fingers. This will allow the corn masa to keep its moisture.
Take your time to work the dough. The more you work it the softer will become. The perfect texture is when it feels like playdough.
Typical stuffing is refried black beans but can use cheese, mashed potato, lentils, pork cracklings, or lima beans puree.
Use a comal or an iron skillet to cook the tlacoyos. Add some oil to avoid sticking.
The corn cakes will be ready when toasted on both sides.
Garnish the tlacoyos with green or red salsa, Mexican cream, and queso fresco or queso cotija.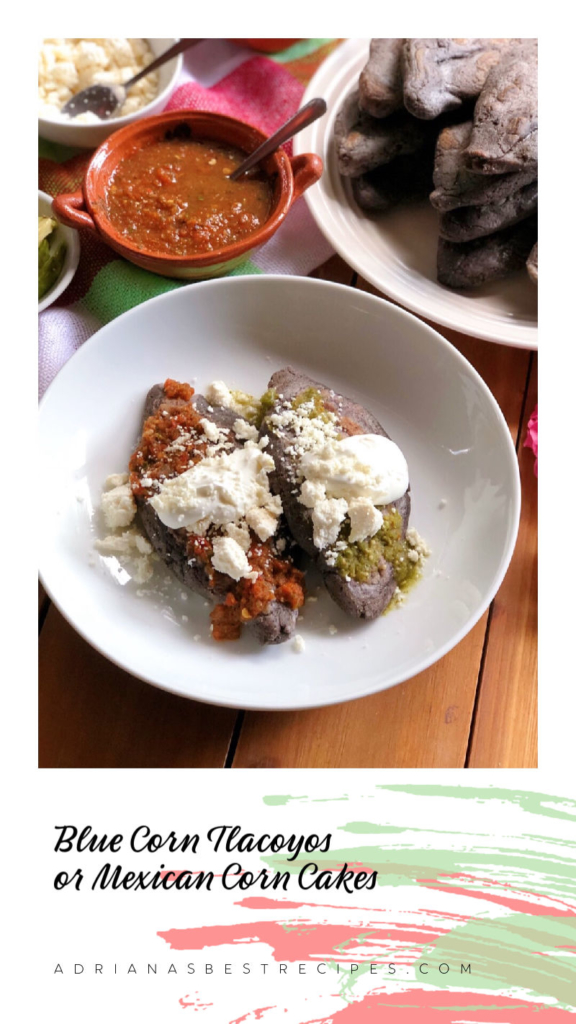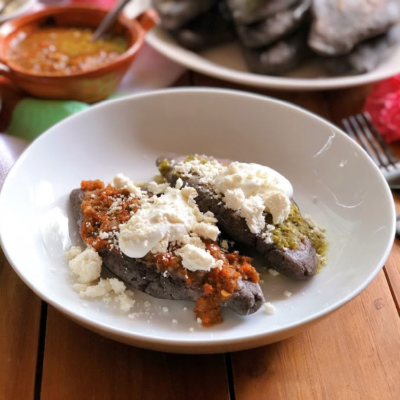 Blue Corn Tlacoyos
The blue corn tlacoyos or corn cakes are part of the vast culinary culture of Mexico. The dish has corn masa, black refried beans, cheese, cream, and salsa.
Equipment
Measuring cup

Mixing bowl

Iron skillet or comal
Ingredients
3

cups

blue cornflour

2

cups

lukewarm water

1

cup

refried beans

1

cup

crumbled queso fresco

1

cup

salsa verde

1

cup

salsa roja

1

cup

Mexican cream
Instructions
Prepare the blue corn masa in a mixing bowl. Start adding the lukewarm water slowly and integrate the flour with the water using your hands.

Add as much water as necessary. We ended up using two cups of water. Just be careful in not adding too much water as the consistency of the masa has to be like playdough.

Have a small bowl with water to damp your fingers, this will allow to keep the moisture and have a workable masa. Form eight balls of masa and set aside.

Take a ball of masa and press with your hands forming a small tortilla. Stuff it with refried beans and close forming the tlacoyo. It to look like a diamond shape. Keep moistening your fingers with the water to achieve the correct tlacoyo form.

Make eight tlacoyos and place the skillet in the stove. Add some oil to the skillet to prevent the tlacoyos to stick.

Cook on both sides and when toasty they are ready to eat. Garnish with your favorite salsa, cream, and crumbled queso fresco.
Video
Notes
Have you tried this recipe? Snap a photo and tag us on Instagram and or Facebook using the handle @adrianasbestrecipes and this hashtag  #ABRecipes Happy Eats!
Nutrition
Serving:
8
servings
Calories:
326
kcal
Carbohydrates:
54
g
Protein:
6
g
Fat:
9
g
Saturated Fat:
2
g
Cholesterol:
26
mg
Sodium:
265
mg
Potassium:
77
mg
Fiber:
2
g
Sugar:
6
g
Vitamin A:
657
IU
Vitamin C:
2
mg
Calcium:
145
mg
Iron:
1
mg
Follow us on Instagram @adrianasbestrecipes we publish yummy recipes every day!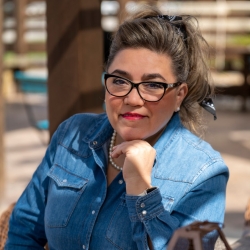 Latest posts by Chef Adriana Martin
(see all)