The roasted garlic turkey and the garlicky gravy recipes were sponsored by Better Than Bouillon as part of an Influencer Activation for Influence Central and all opinions expressed in my post are my own.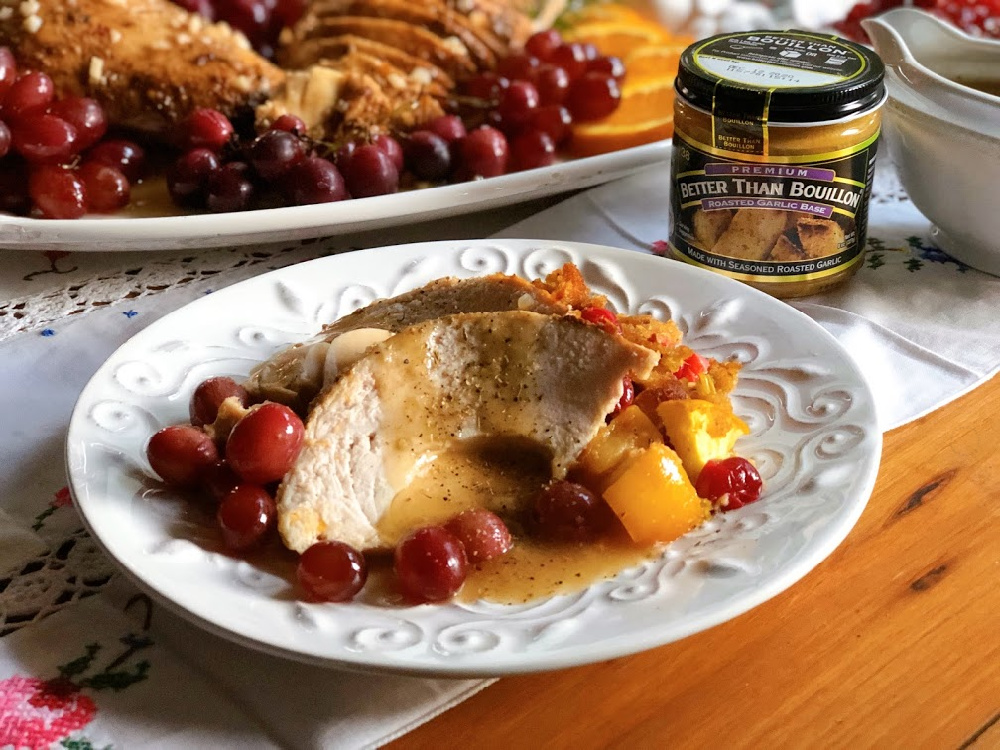 My favorite time of the year is Christmas time. Because of all the yummy food that we can enjoy with those we love. Plus all the wonderful gatherings and time together with friends and family.
Cooking delicious dishes like this roasted garlic turkey dinner is possible thanks to Better Than Bouillon.
Better Than Bouillon is my partner in the kitchen because saves me time while taking my holiday meals to the next level. This paste concentrate adds "cooked all day" flavor equivalent to a bouillon cube or broth but without spending much time in the kitchen.
The holiday time is busy for me. And I bet you have that same concern I have spending all day cooking, ending exhausted and not taking full advantage of the holiday fun. The reason why I recommend to try my roasted garlic turkey dinner with garlicky gravy.
Why I love Better Than Bouillon Roasted Garlic Base?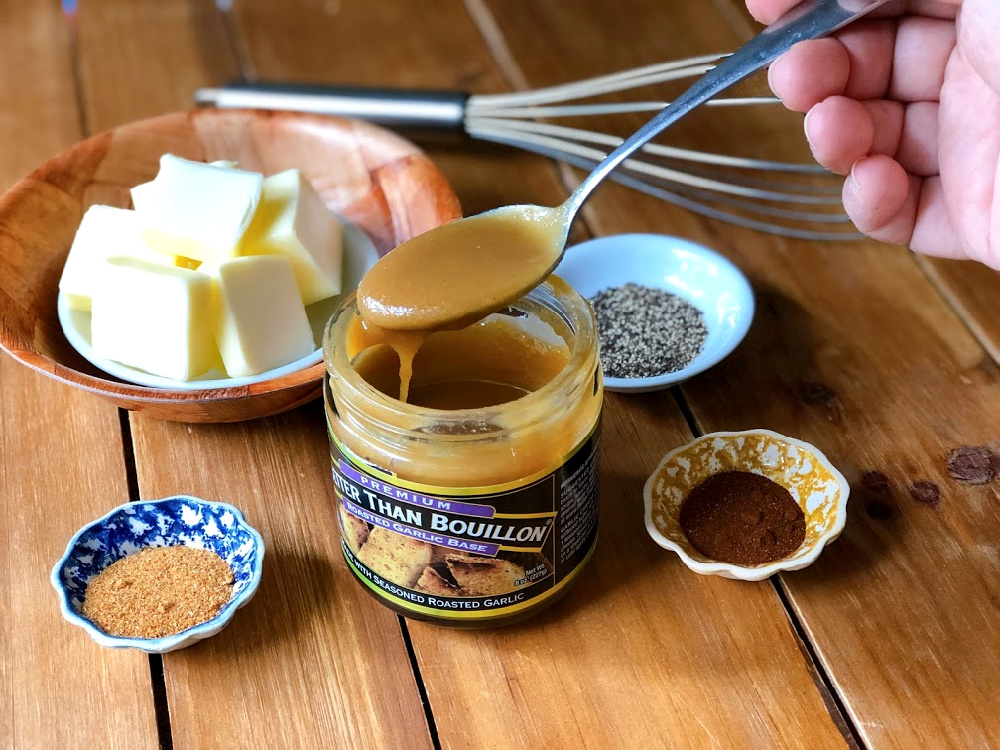 This base gives a more robust flavor than ordinary bouillons or soup stocks. I spoon it out of the jar and use it for marinades, slow cooker dishes, chicken, turkey, pork, soups, sauces, gravies, and vegetables.
But before we start below a few recommendations on how to cook white turkey meat instead of cooking a whole turkey.
Roasting a whole turkey requires time. That is why using the turkey breast is a good step to save time while cooking for a crowd. But since the turkey white meat is bland and can dry easily there are certain steps we need to follow to achieve a juicy roasted garlic turkey in less than 2 hours.
Brining the turkey breast is key for a juicy turkey white meat. I prepared a simple brine with white vinegar, water, salt, garlic, and spices and allow the turkey to marinate inside the fridge overnight.
Using a butter base adds moisture to the lean turkey breast. For that, I prepared a butter rub using clarified butter, garlic powder, paprika, black pepper, and Better Than Bouillon Roasted Garlic Base.
I used a roasting bag too. Which allows rapid even cooking and prevents the turkey to dry. It is recommended to follow the safety recommendations on the package as baking bags could become a hazard when not properly used.
And finally, I made a turkey garlicky gravy using the turkey jus, sauteed fresh garlic, Better Than Bouillon Roasted Garlic Base, black pepper, and cornstarch for thickening.
Celebratory meals call for an appetizing presentation and side dishes!
For a festive meal plating, I roasted red grapes using olive oil and sea salt. The roasting is easy and takes less than 7 minutes. Plus using seasonal produce is a good option too.
I garnished the platter with the roasted grapes along with orange slices, and fresh rosemary from my garden.
The menu includes side dishes such as bread stuffing and homemade cranberry sauce. Both complement the roasted garlic turkey and make it a complete dinner with all the fixings.
We like eating roasted garlic turkey for Christmas!
My family has this tradition of eating turkey for Christmas. For Thanksgiving, we eat rotisserie chicken as we host a smaller gathering. But for Christmas eve we prepare a feast.
Which includes a pork roast and Spanish classics to celebrate our Spaniard heritage. Not to mention a complete dessert table with traditional sweets and cakes.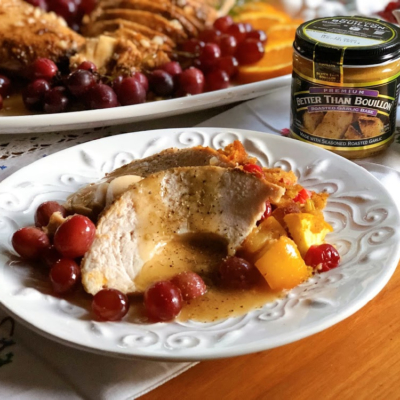 Roasted Garlic Turkey Dinner
Flavorful roasted garlic turkey dinner with all the fixings, including garlicky gravy, homemade cranberry sauce, bread stuffing, and roasted grapes. We are using Better Than Bouillon Roasted Garlic Base for a "cooked all day" robust flavor.
Equipment
Roasting pan (2 inches deep)

Oven bag and ties (large size)

measuring cups and spoons

Scissors

Knife

Cutting board

Mixing bowl

Basting brush

whisk

Thermometer

Baking sheet

Parchment paper

Saucepan
Ingredients
For the brine
1/2

cup

white vinegar

3

garlic cloves

6

quarts

cold water

1

teaspoon

salt

1

teaspoon

whole cumin

1

teaspoon

whole oregano or thyme

3

bay leaves
For the roasted garlic butter
1

stick

unsalted butter

1 1/2

teaspoons

Better Than Bouillon Roasted Garlic Base

1

teaspoon

paprika

1

teaspoon

dried roasted garlic

1

teaspoon

black pepper
For the turkey and the grapes
4

bunches

red grapes

2

tablespoons

olive oil

1

teaspoon

salt

7

pounds

turkey breast

thawed

1

tablespoon

flour

1

teaspoon

poultry seasoning

optional
For the garlicky gravy
1

teaspoon

butter

or cooking oil

1

teaspoon

garlic

chopped or paste

1/2

teaspoon

Better Than Bouillon Roasted Garlic Base

2

cups

cooked turkey jus

could be 1 cup of turkey jus and 1 cup of chicken broth

1

tablespoon

cornstarch

diluted in a 1/4 cup of water
Instructions
Prepare the brine by combining the vinegar with the salt and the spices. Place the thawed raw turkey breast in a 6 quarts tub and top it up with cold water. Place the lid and keep inside the fridge for twelve hours.

Prepare the roasted garlic butter using one stick of clarified butter. Add this melted butter to a bowl and mix with the paprika, the dried roasted garlic powder, the black pepper, and the Better Than Bouillon Roasted Garlic Base. Mix well using a whisk.

Remove the raw turkey from the brine and tap with paper towels to remove the water. Open the oven bag and add one tablespoon of flour. Then place the turkey breast inside a baking bag and using a roasting pan of at least 2 inches deep. Baste the turkey with the roasted garlic butter covering the whole bird. Finish sprinkling poultry seasoning of your choice (optional).

Close the oven bag with the tie and cut a few slits on top to allow the steam to escape. Place the bird inside the oven making sure the bag is not touching any of the heating elements, racks or the oven walls.

Cook the turkey breast at 350°F for 2 hours or less. The turkey will be ready when reaching an internal temperature of 155°F. Start checking after the first hour and keep checking the temperature every 15-20 minutes.

When the turkey is ready let it rest for fifteen minutes slicing. That way the juices will lock and the meat won't be dry.

Prepare the gravy by sauteing the garlic on butter or cooking oil. and then add the jus of the cooked turkey. Season with half of a teaspoon of Better Than Bouillon Roasted Garlic Base, and black pepper. When boiling add dissolved cornstarch and cook until the gravy thickens.

Roast the grapes on a baking sheet covered with parchment paper. Drizzle the grapes with olive oil and sea salt. Roast on high for 5-7 minutes until blistering happens.

Slice the turkey and plate alongside the roasted grapes, orange rounds, and fresh rosemary. Include a saucer with the garlicky gravy too.
Video
Nutrition
Calories:
601
kcal
Carbohydrates:
15
g
Protein:
87
g
Fat:
22
g
Saturated Fat:
9
g
Cholesterol:
150
mg
Sodium:
450
mg
Potassium:
1142
mg
Fiber:
1
g
Sugar:
10
g
Vitamin A:
619
IU
Vitamin C:
7
mg
Calcium:
101
mg
Iron:
3
mg
Have you tried this recipe? Snap a photo and tag us on Instagram and or Facebook using the handle @adrianasbestrecipes and the hashtag #ABRecipes Happy Eats!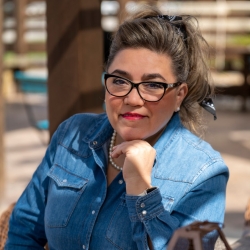 Latest posts by Chef Adriana Martin
(see all)