This post is also available in: Español
Fall Pasta for the Thanksgiving Menu
Thanksgiving is almost here and we are suggesting to make an easy fall pasta. Made with pumpkin and spinach pasta that has been formed into nice fall patterns. This is a seasonal favorite and you can find this pasta at any specialty store that sells gourmet cooking ingredients.
Using pasta made with pumpkin and spinach!
This fall pasta dish that I am suggesting has roasted butternut squash, toasted pumpkin pepitas and the base is a garlic marinara sauce with chipotle. To finish the dish queso fresco.
This ingredient adds creaminess and pairs very nicely with all the ingredients. Each bite of this pasta bursts in your mouth with flavor and yummy textures.
Thanksgiving menu here in the South of the United States traditionally includes turkey, stuffing, sweet potato and green bean casseroles, potato salad or buttery mashed potatoes. All are great options but my family likes to incorporate a pasta dish. Every year I prepare a different pasta to add to the feast.
And this fall pasta has all the necessary ingredients that almost everyone will enjoy. The dish is ready in no time, less than fifteen minutes. The sauce I am using is Prego Farmer's Market Roasted Garlic.
It is a tasty sauce that you don't have to add anything else but a tablespoon of chipotle for some spicy kick. The butternut squash already bought precut to safe time.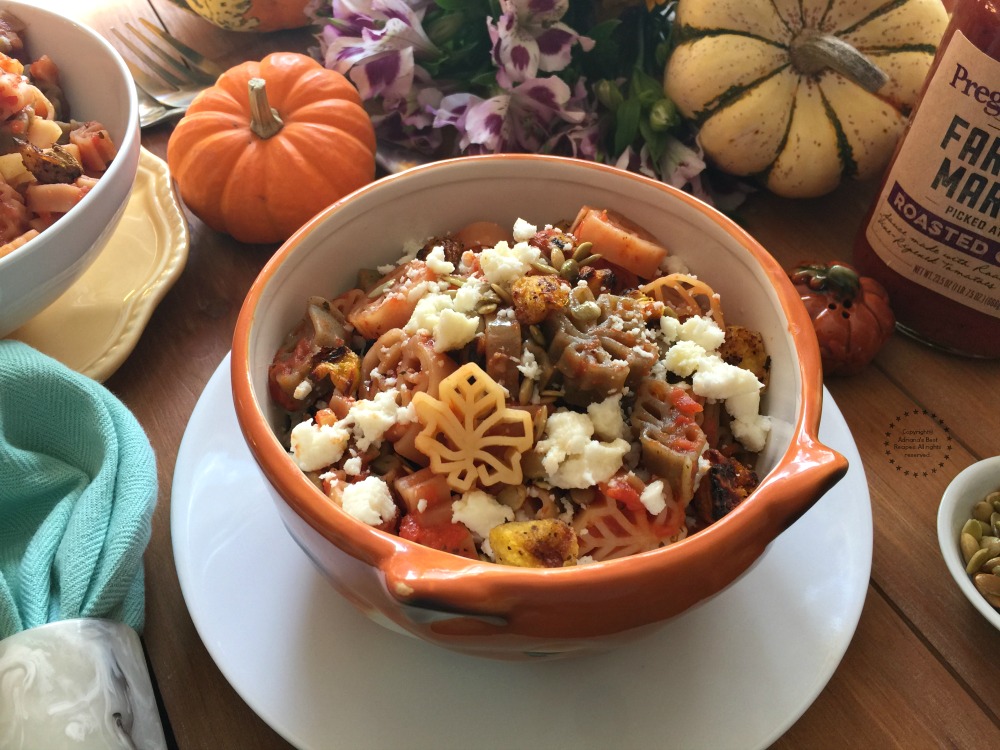 The fall pasta is ready in less than 15 minutes!
During the holiday season, it is appreciated to have easy cost-friendly recipes that not only are ready fast but are tasty and include seasonal ingredients. This fall pasta dish is also a good idea to bring to a potluck. You can make it the day before and just reheat using a microwave oven
Easy fall pasta made with roasted garlic marinara sauce, butternut squash, chipotle, pepitas, and queso fresco.
Having a dish that does not include meat is also a good idea to include in the celebration menu. In that manner, if you have guests that don't eat meat this pasta will be a good dish for them to eat. When we organize parties at home it is important to consider the diverse tastes and preferences.
Have you tried this recipe? Snap a photo and tag us on Instagram and or Facebook using the handle @adrianasbestrecipes and this hashtag  #ABRecipes Happy Eats!