This post is also available in: Español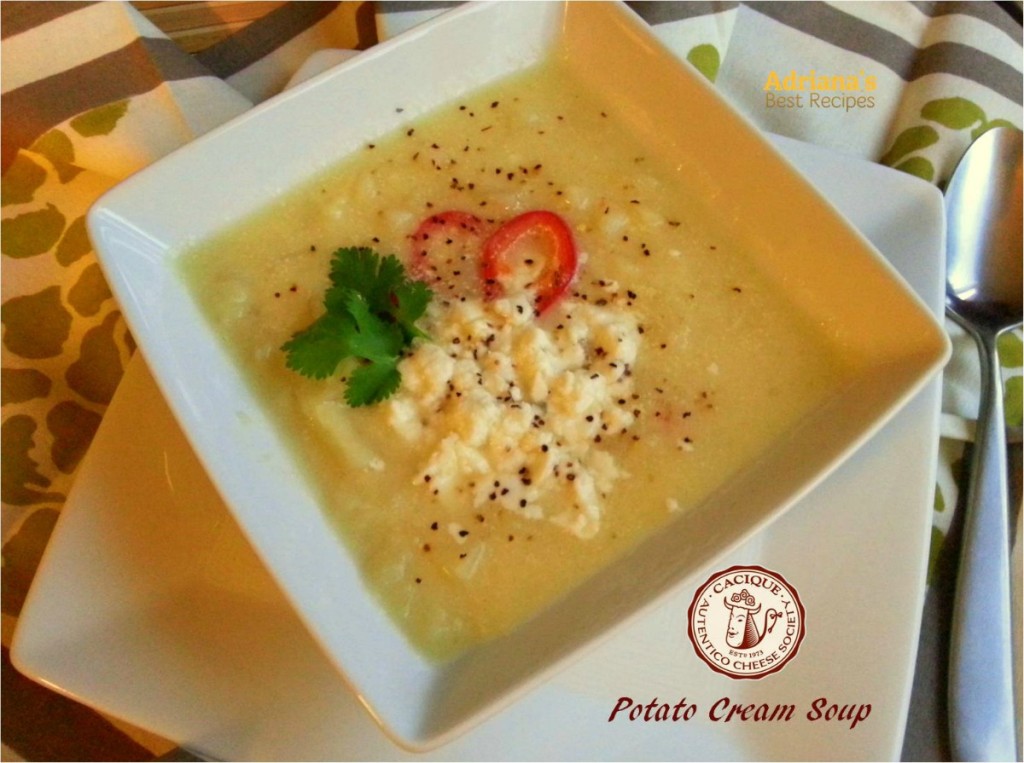 Potato Cream Soup with cheese!
The potato cream soup with cheese is a compensated campaign in collaboration with Latina Bloggers Connect and Cacique, all opinions are my own.
This time of the year, when temperatures drop, and we crave for comfort food, there is nothing better than potato cream soup to satisfy our hunger and warm our hearts.
A hot bowl of soup is so comforting really makes me feel at home. I am a big fan of potatoes. They are satisfying and nutritious, and the Russet potatoes go very well with this recipe, they are velvety and fluffy when cooked and pair nicely with the Cacique queso fresco and Mexican-style sour cream or Crema Mexicana.
Two of my favorite ingredients to cook with that is why today I want to share with you my recipe for preparing Potato Cream Soup.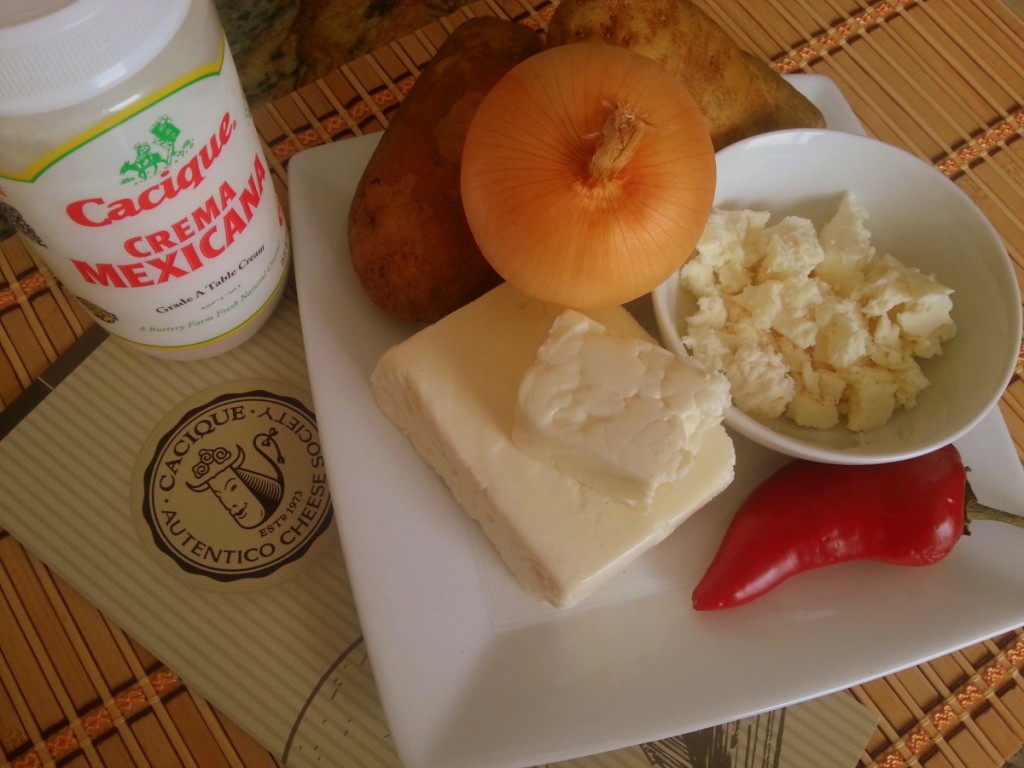 Ingredients to prepare a comforitng soup with Cacique Queso Fresco and Crema Mexicana
4 russet potatoes
1 vidalia onion chopped
1 aji or red pepper cut in rounds
2 cups of Cacique Crema Mexicana
2 cups of crumbled Cacique Queso Fresco
1 teaspoon of olive oil
6 cups of water
Salt and pepper
Cilantro florets to decorate
Preparation time: 45 minutes. Serves 4-6 guests. The approximate cost per person is $2.00, depending on the cost of the ingredients at your local supermarket.
You will need a chopping block, a chef's knife, two soup pots with lids, a potato masher, a potato peeler, a spoon, and a ladle, along with soup bowls for serving.
Start by cleaning the potatoes very well with running water and soap. You can even use a vegetable brush to clean them well and remove any dirt. Then peel the potatoes, cut them into quarters, and place them in the soup pot.
Add the water, making sure the potatoes and completely covered, place the lid on the pot and cook at medium flame until the potatoes are tender. 
In another soup pot, add the olive oil and the chopped onion, saute the onions in the oil and then add the cooked potatoes. 
Mash the potatoes until getting a chunky consistency, and slowly add 4-6 cups of the water where the potatoes were cooked. Season with the aji cut in rounds, salt, and pepper, and let the soup simmer for a few minutes.
Then add the two cups of Cacique Crema Mexicana and stir. Serve the soup in a bowl using a ladle, garnish with crumbled Cacique Queso Fresco and decorate with fresh cilantro leaves.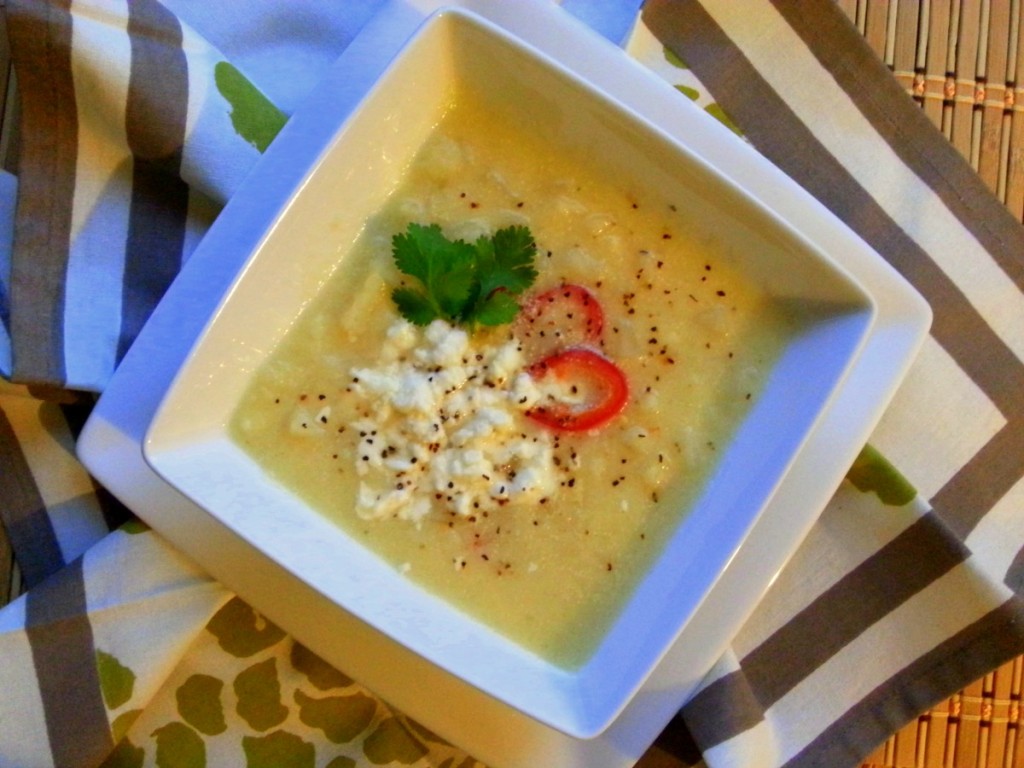 Cacique is a family-owned company that was started over 40 years ago, offering unique products to satisfy the demand for Latino flavors and ingredients.
One of their most important products is the "Queso Fresco" produced with very high-quality standards that have allowed Cacique to become the number one brand in the United States, producing high-quality Hispanic cheeses.
This year Cacique is celebrating its anniversary, and to commemorate this special milestone, they have launched the "Auténtico Cheese Society" for all of us foodies that seek culinary discovery and cultural exploration of new flavors.
Being part of the Auténtico Cheese Society also gives you access to a monthly members-only newsletter that highlights product attributes, usage ideas, and recipes for the "Cheese of the Month".
I am part of the Auténtico Cheese Society, and I am already enjoying the benefits. I invite you to join us today because there are very few spots!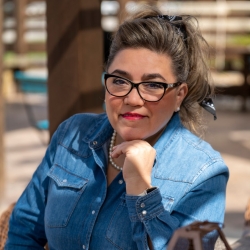 Latest posts by Chef Adriana Martin
(see all)