This post is also available in: Español
The roasted Carolina Reaper Salsa is the hottest. If you love extra hot sauce, you will fall in love with it!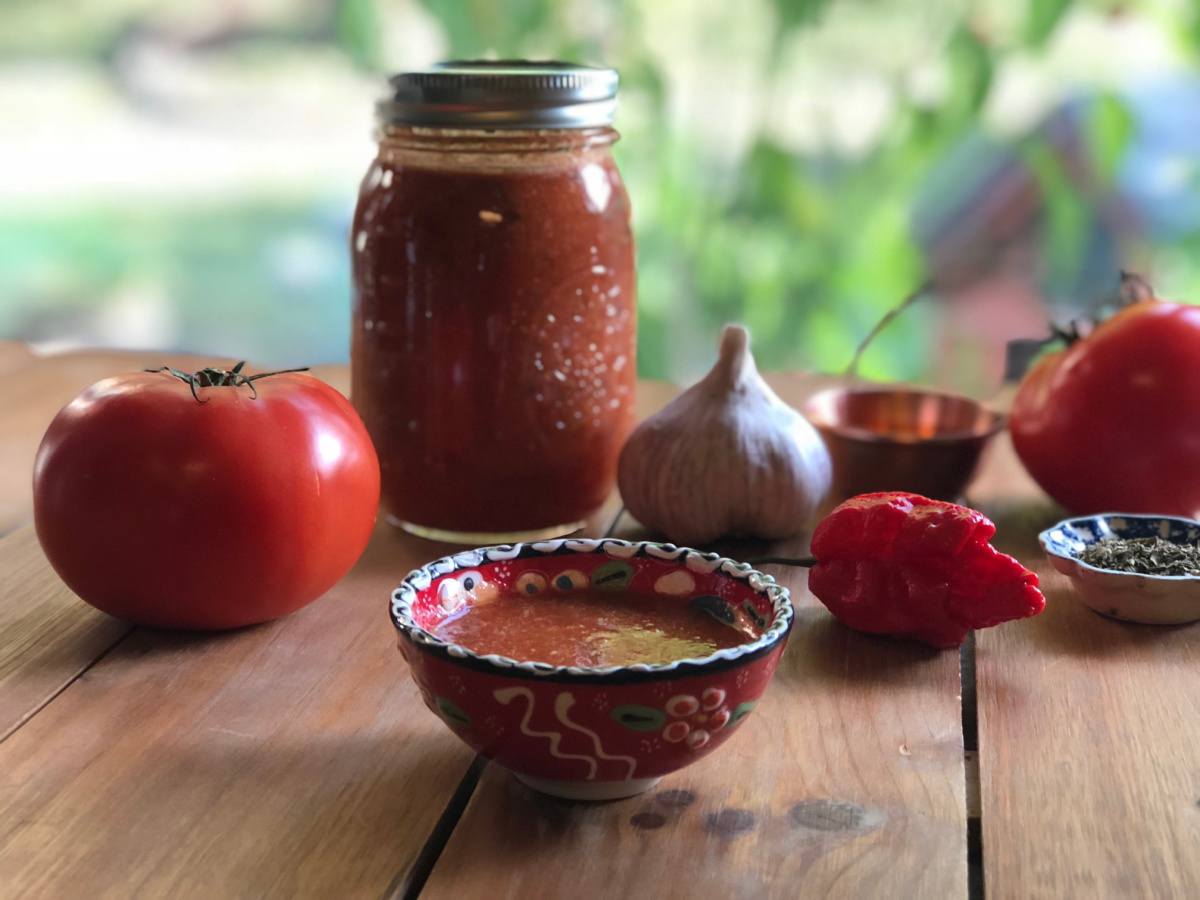 The Carolina reaper is considered one of the hottest peppers in the world. Spicier than a ghost pepper and habaneros. However, correctly using it makes delightful salsas that you can enjoy on tacos, chips, and almost everything. This recipe has tomatoes and garlic, aside from vinegar, oregano, cumin, and sea salt to taste.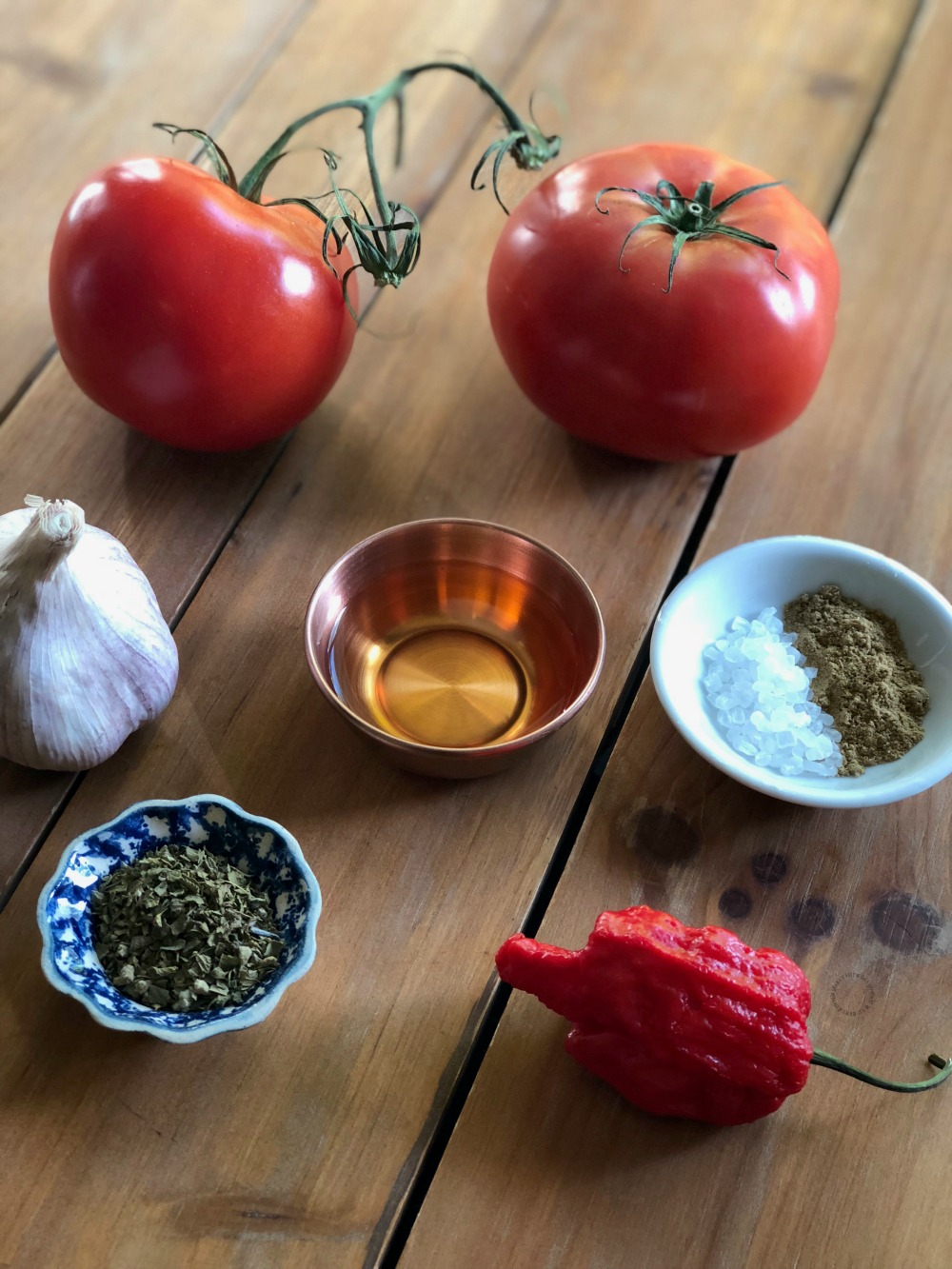 The roasted Carolina Reaper salsa gets the characteristic smoky flavors due to the roasting and toasting of the hot peppers along with the tomatoes and the garlic. Many Mexican hot salsas have this commonality. The vinegar is necessary to use in this hot sauce to give a balance and enough acidity to counteract the spiciness of the peppers.
What is a Carolina Reaper Pepper?
You can recognize the hot pepper because of its small pointed tail and deep red color. This pepper is considered the hottest chile in the world!
The Carolina pepper was originally named the HP22B. It is a cultivar of the Capsicum chinense plant. The pepper is red and gnarled, with a small pointed tail.
The pepper results from breeding a Pakistani Naga pepper with a Red Habanero. It was bred in South Carolina and tested at over 2.2 Million Scoville Heat Units by Winthrop University.
This crop has the official Guinness World Record heat level of 1,569,300 Scoville Heat Units–100 times hotter than a jalapeño.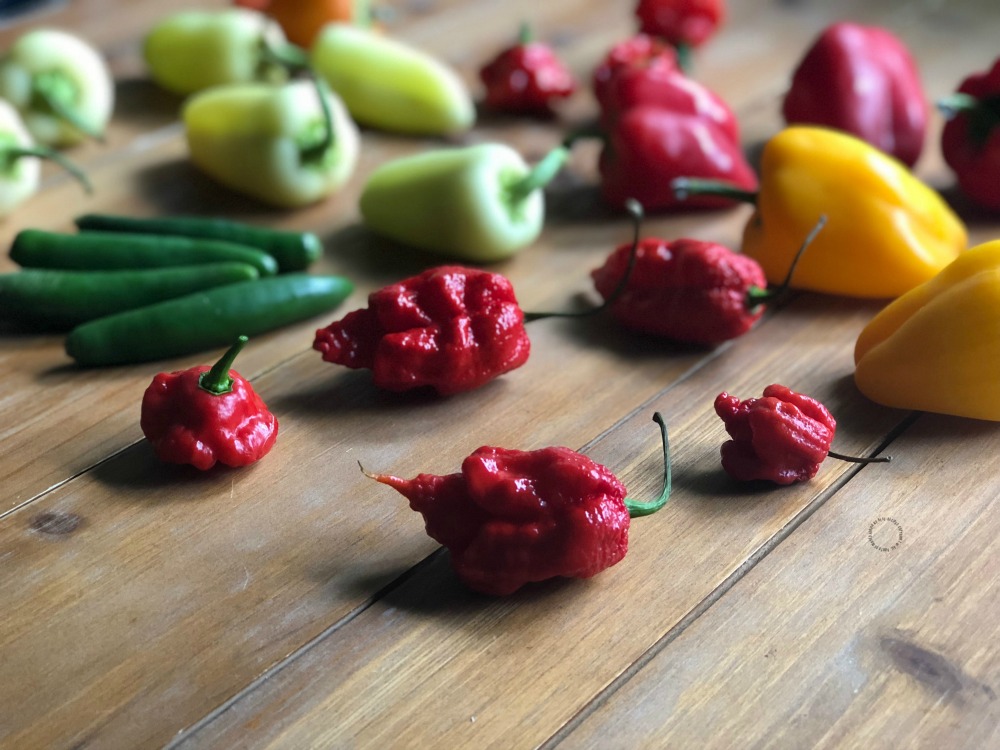 These hot peppers can be grown at home and provide harvest year-round. Commercially, you can find them fresh from June through November only. Typically Frieda's produce is who sells them in supermarkets like Whole Foods and Winn Dixie.
I grow them in my backyard. It is easy to take care of and likes the Florida weather. If you live in warm weather, this is a crop that you can grow at home easily.
Scoville heat units on other popular peppers.
I am providing information about other peppers to compare the heat level and decide which is the pepper you want to try and compare the heat level with this South Carolina favorite crop.
Jalapeño peppers. Also known as "cuaresmeños." These peppers are a mild heat level, which averages around 5,000 Scoville Heat Units—typically used raw for chopped salsas and guacamoles and cooked sauces with either tomato or tomatillos.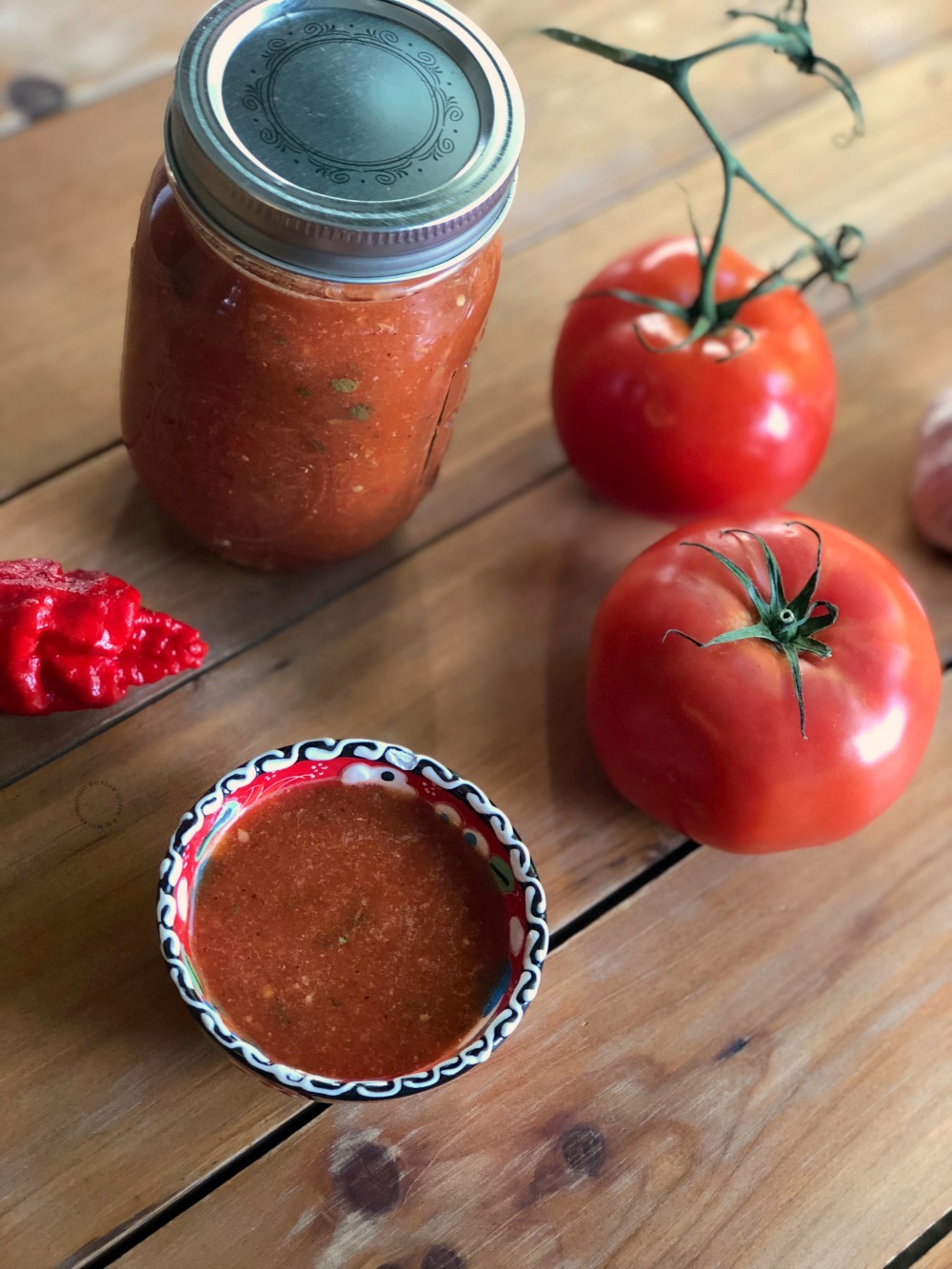 Chipotle peppers. The heat level on chipotles ranges from 2,500 up to 8,000 Scoville Heat Units. Chipotles are also known as meco and morita. You can find many salsa recipes on this site that include chipotles as the main ingredient.
Chile de Arbol. These hot peppers are also known as Bird's beak and Rat's tail. This pepper is six times hotter than a jalapeño between 15,000 and 30,000 Scoville Heat Units. The Chile de Arbol is a typical ingredient in hot salsas for tacos and vinegar-based chile sauces.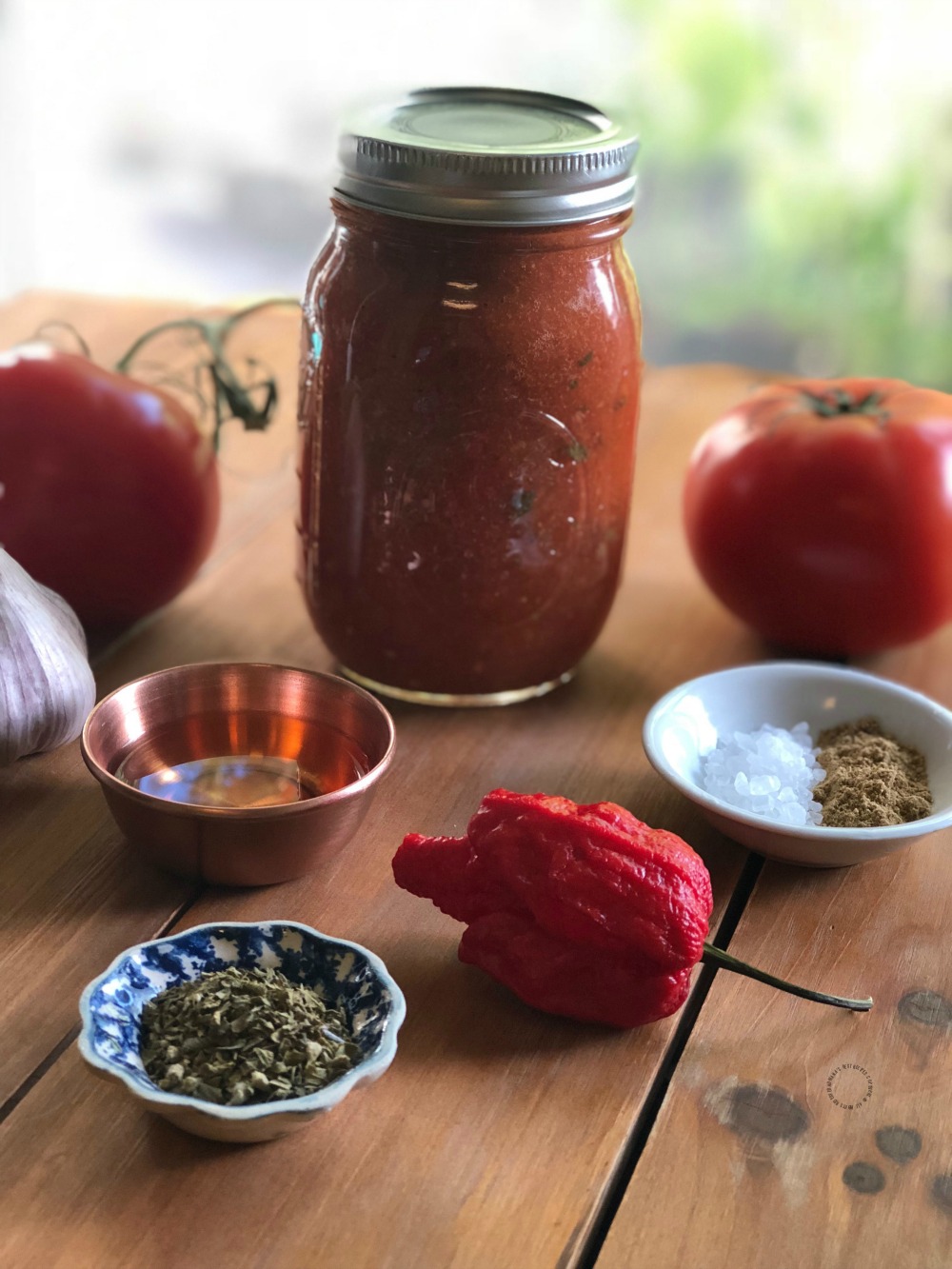 Where to find the Carolina Reapers?
In the United States, these peppers are cultivated in Rock Hill, South Carolina, by "Smokin" Ed Currie, proprietor of the PuckerButt Pepper Company in Fort Mill.
You can find them in specialty stores branded with Frieda's label, a specialty produce company, or on Amazon.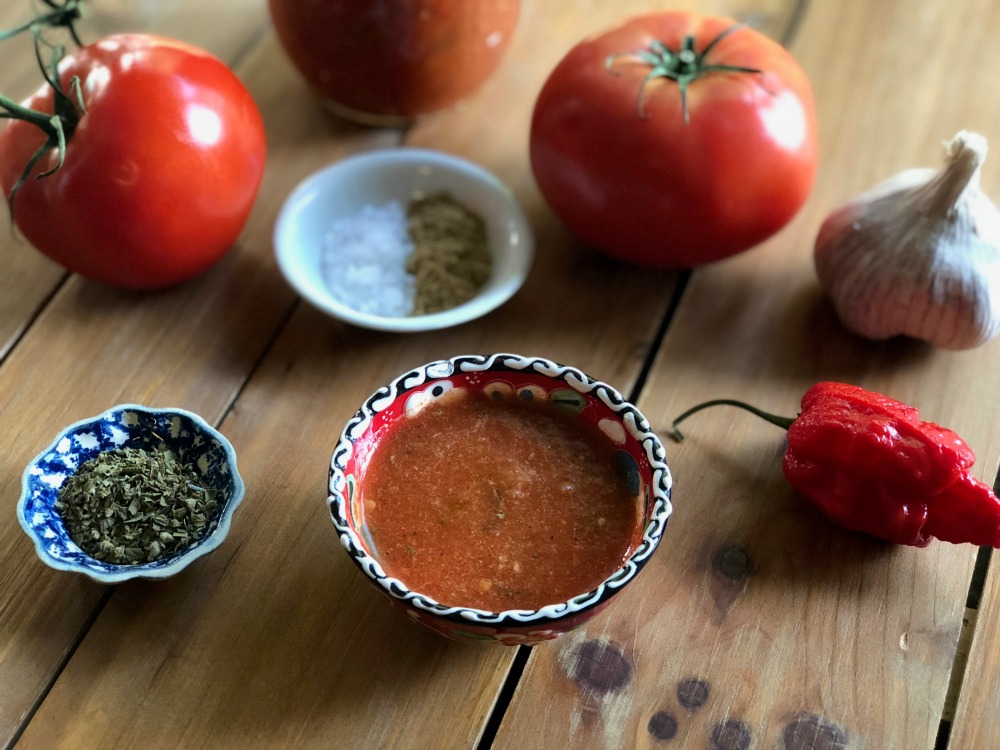 A fiery hot sauce, you need to try it!
This roasted sauce recipe is perfect for pressure canning and to include in gourmet gift baskets for those that are hot salsa lovers. Nothing like a gift made in your own kitchen, right? Just be mindful when preserving must use the pressure canning technique, NOT a water bath.
Tips for making the best roasted Carolina reaper salsa.
The Roasted Carolina Reaper Salsa is hot but tasty. Make sure to use half pepper to get the flavor and the kick but not excessive hotness.
Remove the seeds and the vein carefully. When handling hot peppers, make sure to use gloves and do not touch them with your bare hands. Use utensils for cutting and managing.
Roast the tomatoes, peppers, and garlic in a skillet until completely blistered or showing brown spots. That is where the great flavor comes from. The roasting is done on a skillet at medium-high heat for 7-10 minutes.
If you prefer to roast on a grill, use direct flame. Or oven roast on a baking sheet using the broiler option. This process of broiling or grilling could take between 3-7 minutes.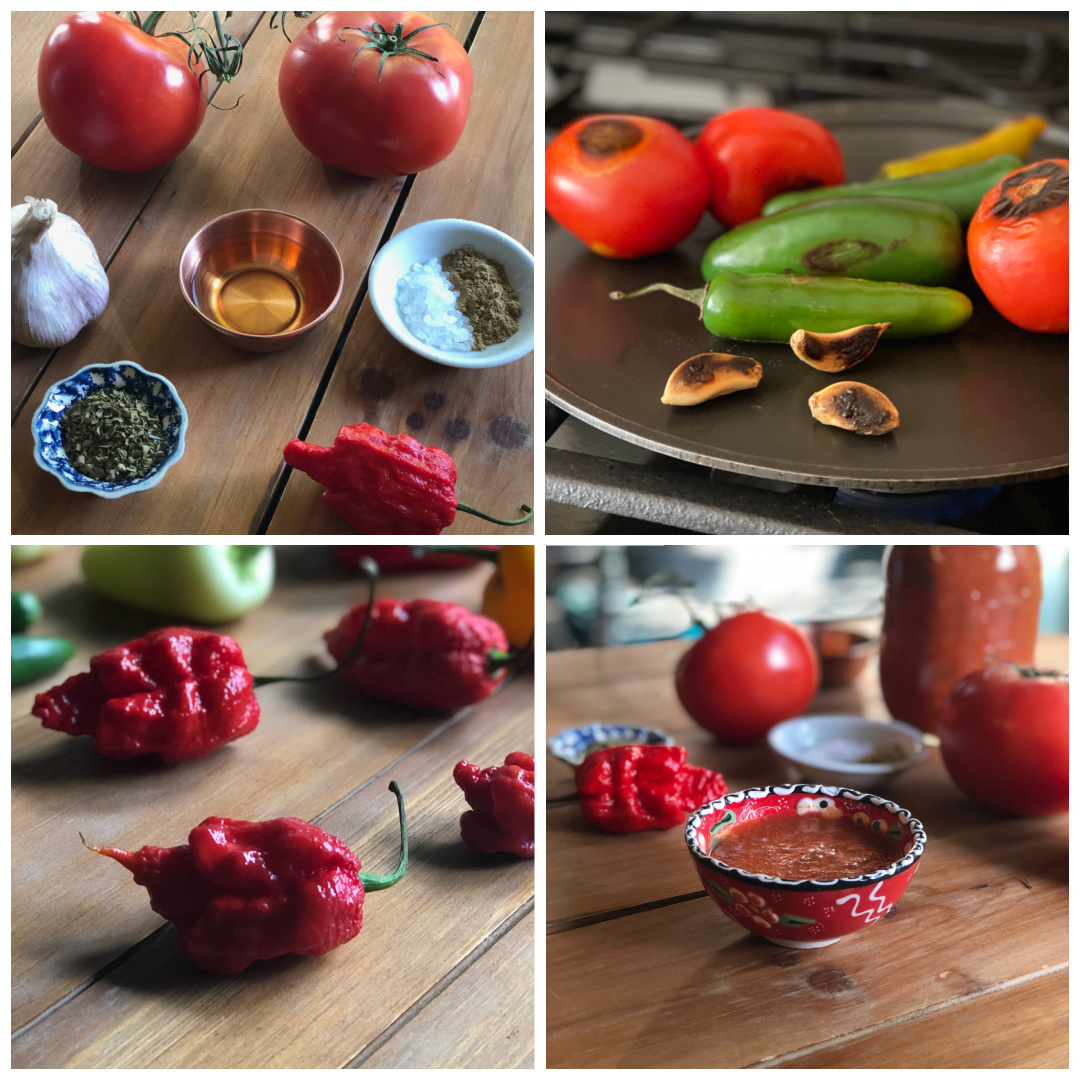 Adding vinegar to the hot sauce is important to achieve that perfect balance. The vinegar also allows the salsa to preserve longer in the fridge. We recommend apple cider, but you can use white vinegar too.
Use a blender or a food processor to puree the salsa. If the salsa is watery, the tomatoes had too much liquid, or you used smaller tomatoes.
For a chunky salsa, make sure to use medium-sized tomatoes that aren't watery. Add some tomato paste to correct if necessary.
If you do not have access to fresh tomatoes, replace them with canned steamed tomatoes. The Italian tomatoes work the best. Or use chopped fire-roasted that come canned. We like the Hunts brand.
Make sure to choose Mexican oregano. This kind is more fragrant and has a deeper flavor than the Italian or Greek oregano.
This is a good recipe for using the pressure canning technique, NOT a water bath. Otherwise, keep the roasted hot sauce inside the fridge in a proper container, such as a mason jar or a plastic container with a lid.
Hot peppers are a great addition to pickled veggies. I like to add one hot pepper inside the jar to add enough kick to my pickles.
We use this hot pepper sauce to garnish tacos as a garnish when cooking stews, to add a spicy note to soups and broths, with chips and snacks, and much more.
Make the Roasted Carolina Reaper Salsa; it is easy and a fantastic way to add zing to your food favorites!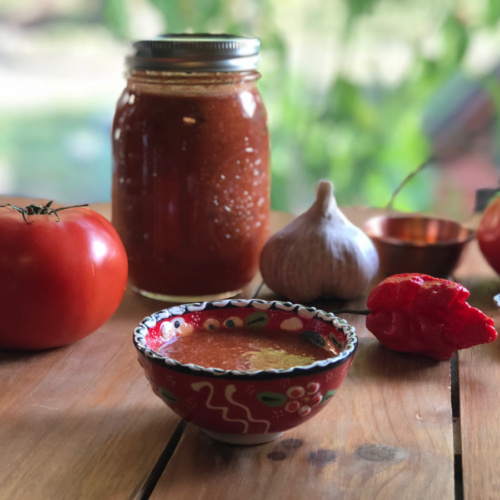 Roasted Carolina Reaper Salsa
The Roasted Carolina Reaper Salsa recipe has tomatoes and garlic and vinegar, oregano, cumin, and sea salt to taste. This salsa recipe is perfect for pressure canning and in gourmet gift baskets for hot salsa lovers.
Equipment
Blender

Comal or skillet

Knife

Tongs

Mason jar

Food processor
Ingredients
2

tomatoes

2

garlic cloves

1

tablespoon

Mexican oregano

1

teaspoon

coarse sea salt

1

teaspoon

ground cumin

1/4

cup

apple cider vinegar

1/2

Carolina Reaper pepper
Instructions
Start by roasting the tomatoes, the garlic cloves, and the Carolina Reaper pepper uisng a skillet. Set the falme at medium to high heat.

The tomatoes will be ready to peel after the roasting process is done. Removing the skin allows for a better-looking salsa.

Using a fork and a knife, remove the vein and the seeds of Carolina Reaper pepper and use it whole or half, depending on how spicy you want the salsa. 

Add all the ingredients in the blender until salsa has a luscious consistency. 

Pour salsa into a mason jar or a plastic container with a lid, and enjoy with all your meals. 

Keep the salsa refrigerated. This is a good recipe for using the pressure canning technique, NOT a water bath.
Notes
The Carolina Reaper peppers are considered the hottest pepper in the world.
Be mindful of how much you use and use gloves and utensils to handle. 
Do not use bare hands when handling this pepper.  
This salsa is perfect for gifting and preserving using the canning technique. 
This is a good recipe for using the pressure canning technique, NOT a water bath.
Nutrition
Serving:
0
g
Calories:
48
kcal
Carbohydrates:
9
g
Protein:
2
g
Fat:
1
g
Saturated Fat:
1
g
Polyunsaturated Fat:
1
g
Monounsaturated Fat:
1
g
Sodium:
553
mg
Potassium:
411
mg
Fiber:
3
g
Sugar:
4
g
Vitamin A:
1187
IU
Vitamin C:
34
mg
Calcium:
71
mg
Iron:
2
mg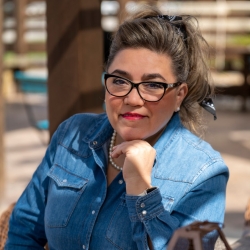 Latest posts by Chef Adriana Martin
(see all)