This post is also available in: Español
Fiery Roasted Carolina Reaper Salsa, you need to try it!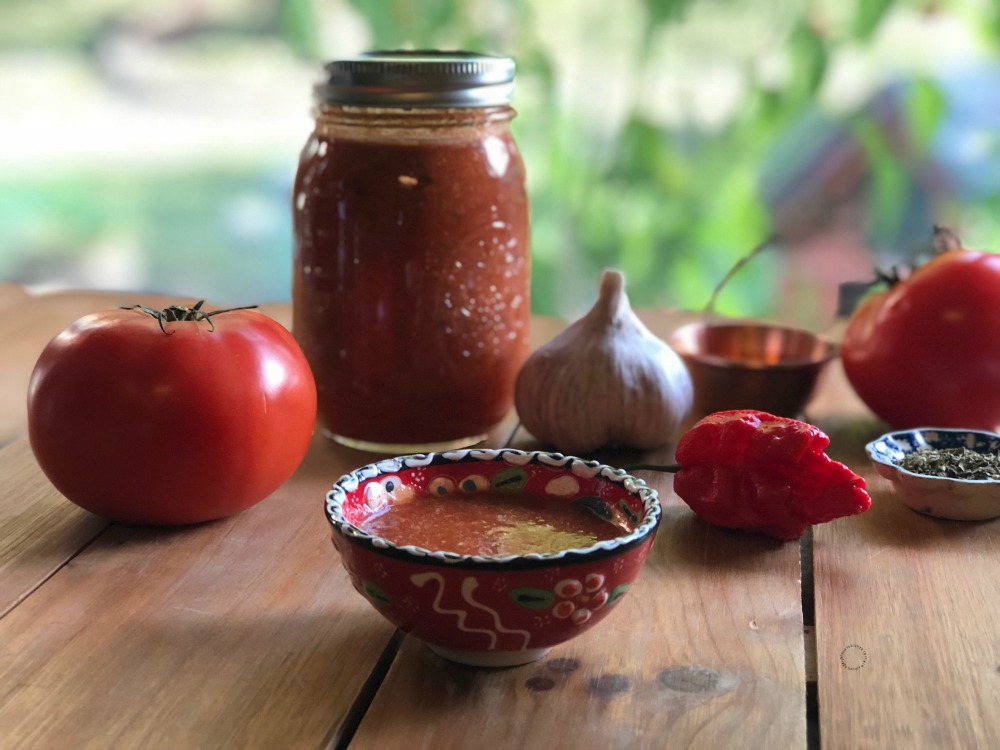 Carolina reapers are considered one of the hottest peppers in the world. Spicier than a ghost pepper and habaneros. However when using it correctly makes delightful salsas that you can enjoy on tacos, chips and almost everything. This Roasted Carolina Reaper Salsa recipe has beefsteak tomatoes and garlic. Aside from vinegar oregano, cumin, and sea salt to taste.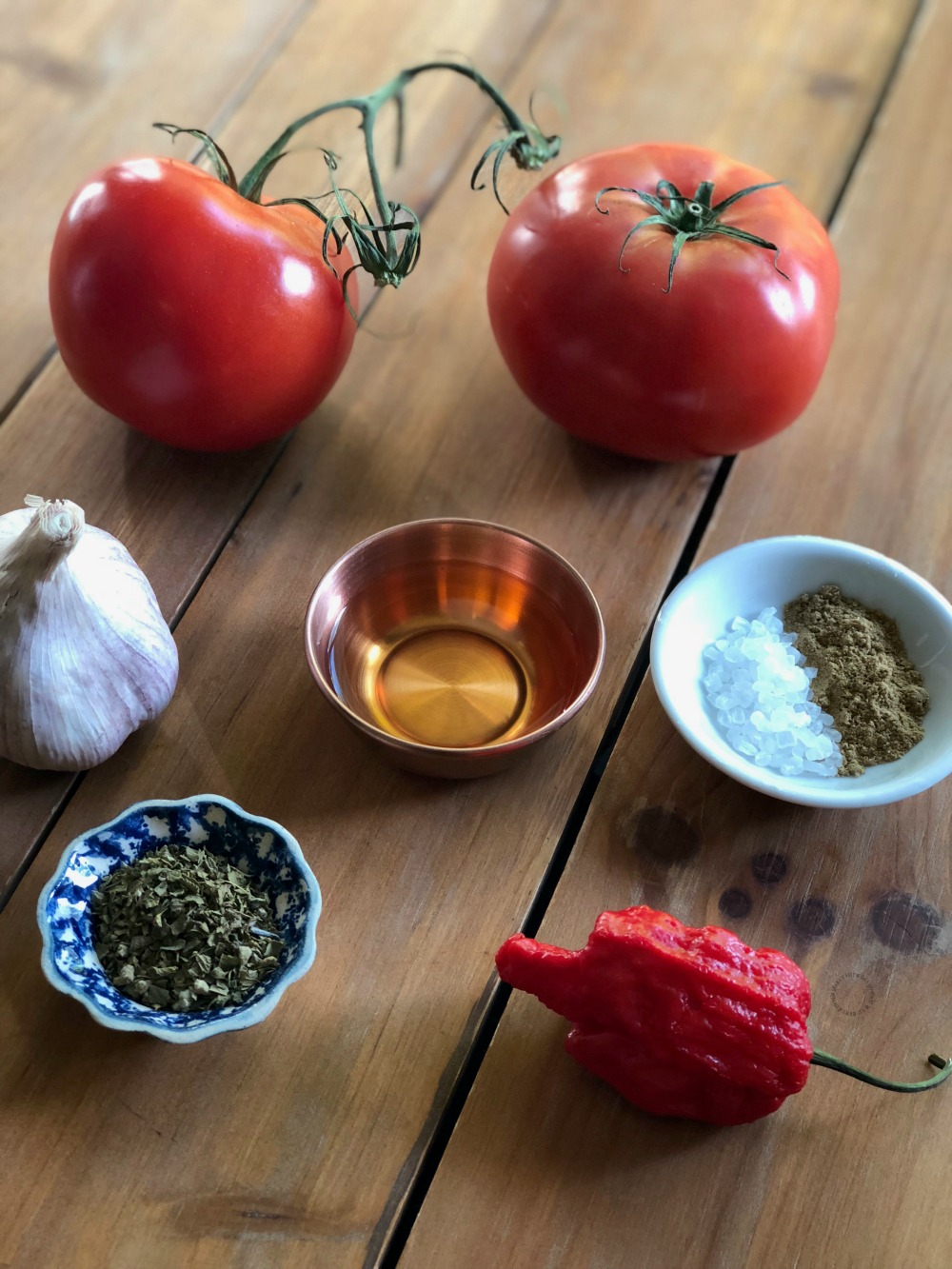 Roasting the Carolina Reaper peppers along with the tomatoes and the garlic provides a pleasant smoky note a characteristic flavor on hot Mexican salsas. The vinegar is necessary to use in this salsa to give a balance and enough acidity to counteract with the spiciness of the Carolina Reaper peppers.
What is a Carolina Reaper Pepper?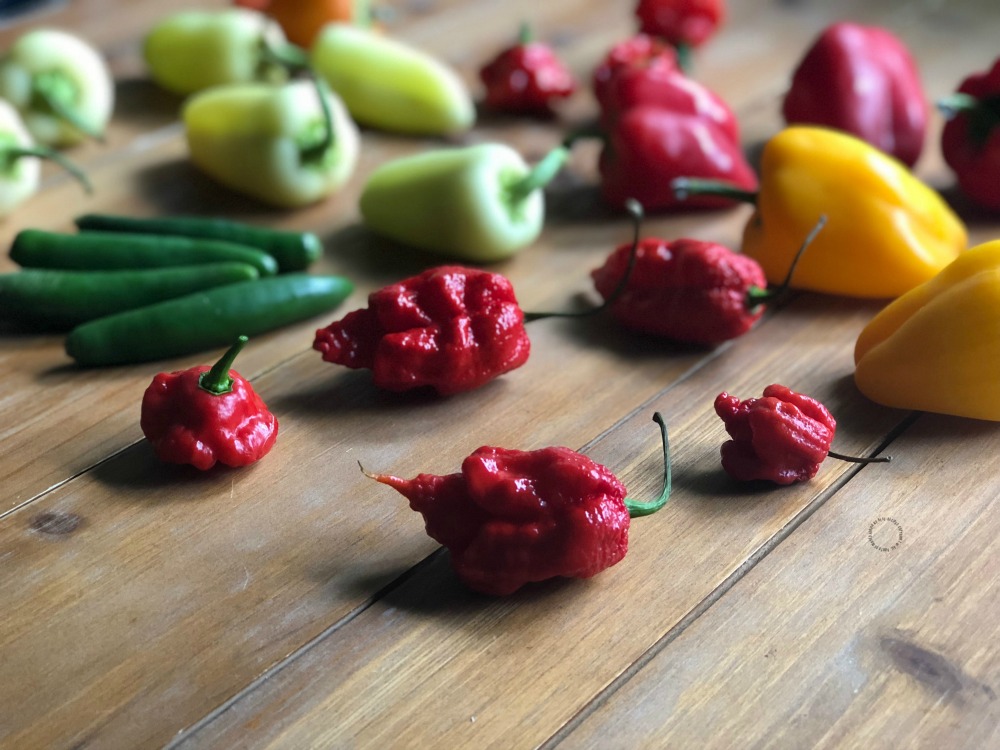 The Carolina Reaper originally named the HP22B, is a cultivar of the Capsicum chinense plant. The pepper is red and gnarled, with a small pointed tail. The official Guinness World Record heat level is 1,569,300 Scoville Heat Units–that is 100 times hotter than a jalapeño. These peppers can be grown at home and provide harvest year-round. Commercially, you can find fresh Carolina Reaper peppers from June through November only.
Where to find the Carolina Reapers?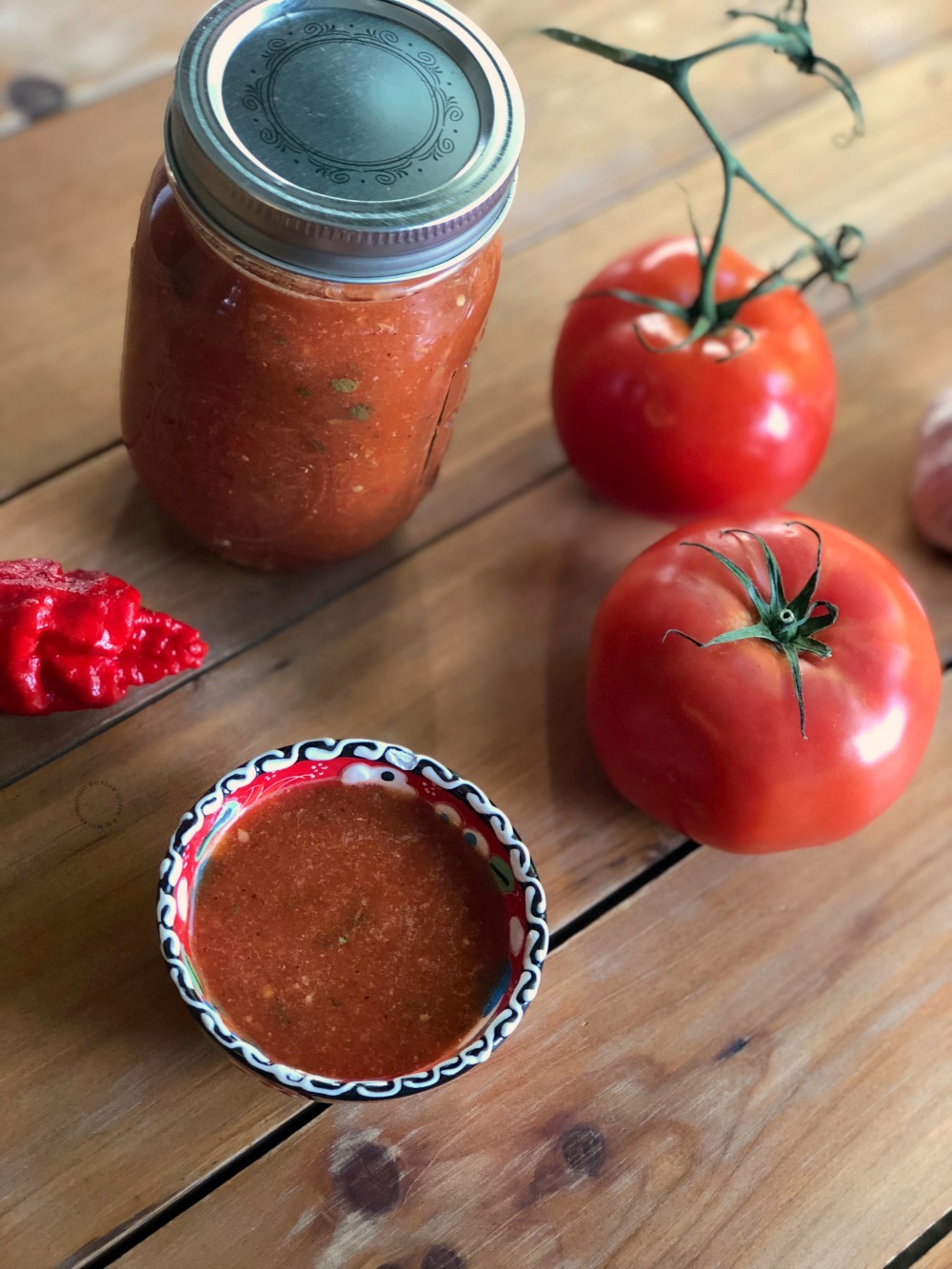 In the United States, the Carolina Reaper peppers are cultivated in Rock Hill, South Carolina by "Smokin" Ed Currie, proprietor of the PuckerButt Pepper Company in Fort Mill. You can find them in specialty stores branded with Frieda's label a specialty produce company or here on Amazon.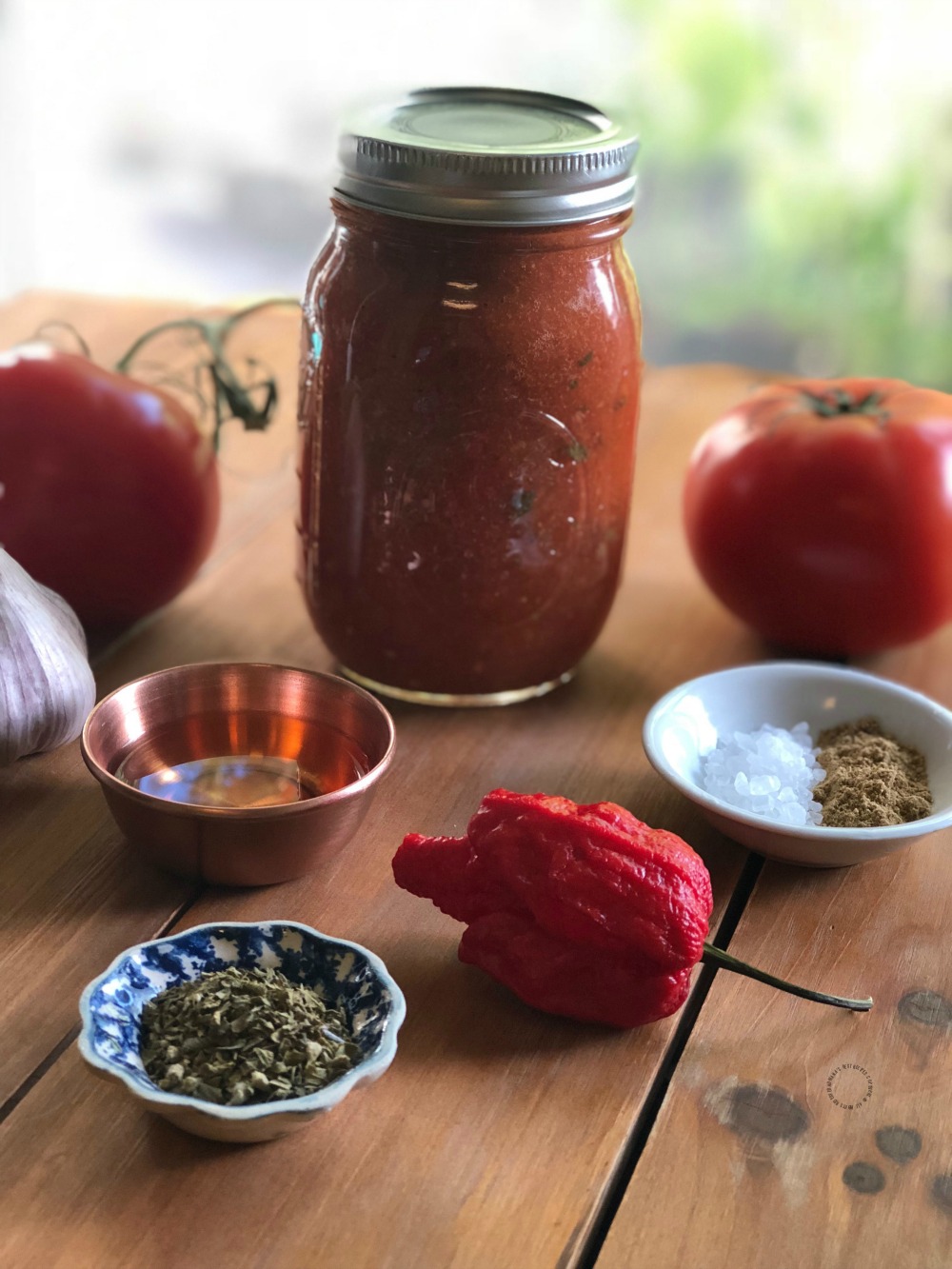 For the Roasted Carolina Reaper Salsa, we are using half of a Carolina Reaper pepper and removed the seeds and the vein carefully. When handling hot peppers make sure to use gloves and do not touch with your bare hands. Use utensils for cutting and managing.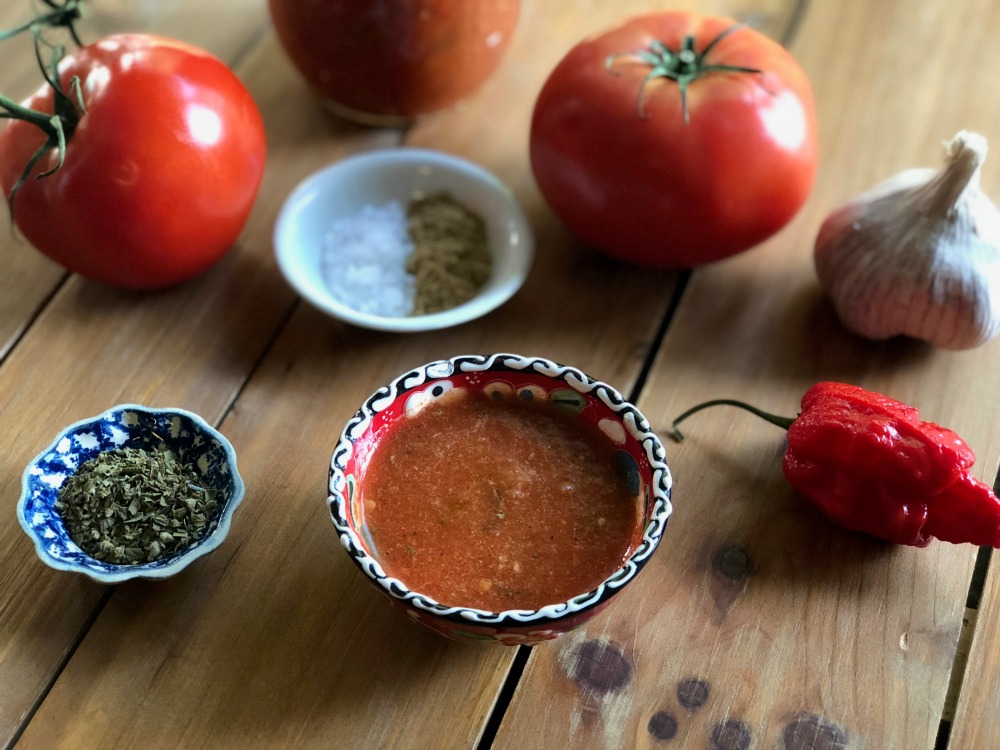 This salsa recipe is perfect for canning and to include in gourmet gift baskets for those that are hot salsa lovers. Nothing like a gift made in your own kitchen right?
Make the Roasted Carolina Reaper Salsa and add zing to your food favorites!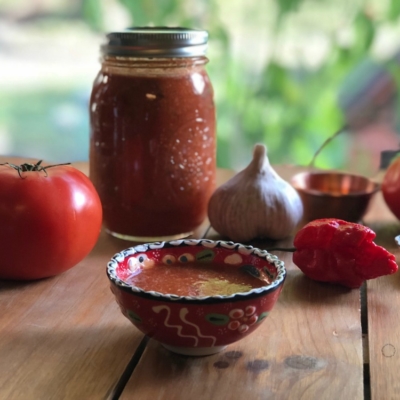 Roasted Carolina Reaper Salsa
This Roasted Carolina Reaper Salsa recipe has beefsteak tomatoes and garlic. Aside from vinegar oregano, cumin, and sea salt to taste.

Ingredients
2

tomatoes

2

garlic cloves

1

tablespoon

Mexican oregano

1

teaspoon

coarse sea salt

1

teaspoon

ground cumin

1/4

cup

apple cider vinegar

1/2

Carolina Reaper pepper
Instructions
Start by roasting the tomatoes, the garlic cloves, and the Carolina Reaper pepper.

The tomatoes will be ready to peel after the roasting process is done. Removing the skin allows for a better-looking salsa.

Using a fork and a knife remove the vein and the seeds of Carolina Reaper pepper and use it whole or half depending on how spicy you want the salsa.

Add all the ingredients in the blender until salsa has a luscious consistency.

Pour salsa to a mason jar and enjoy with all your meals.
Notes
The Carolina Reaper peppers are considered the hottest pepper in the world.
Be mindful on how much you use and use gloves and utensils to handle. 
Do not use bare hands when handling this pepper.  
This salsa is perfect for gifting and preserving using the canning technique. 
Nutrition
Serving:
0
g
Carbohydrates:
0
g
Protein:
0
g
Fat:
0
g
Saturated Fat:
0
g
Polyunsaturated Fat:
0
g
Monounsaturated Fat:
0
g
Trans Fat:
0
g
Cholesterol:
0
mg
Sodium:
0
mg
Potassium:
0
mg
Fiber:
0
g
Sugar:
0
g
Vitamin A:
0
IU
Vitamin C:
0
mg
Calcium:
0
mg
Iron:
0
mg
Products from Amazon.com
2