This post is also available in: Español
Spooky Moon Drop Grapes to Trick or Treat your tastebuds!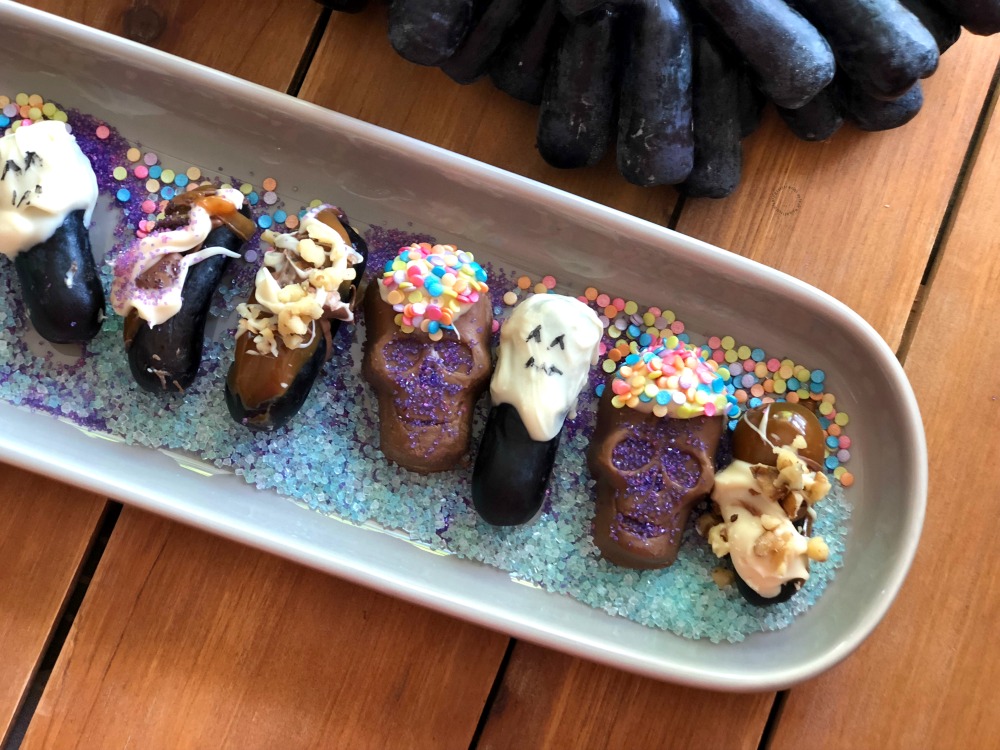 We found these fun grapes called Moon Drop® in the supermarket and decided to play with them to make Spooky Moon Drop Grapes. These grapes were developed by The Grapery® in Bakersfield, CA, and are non-GMO. They are a seedless black grape of the botanical classification Vitis vinifera with a nice crunch and intensely sweet grapey flavor, making them a perfect treat to enjoy anytime.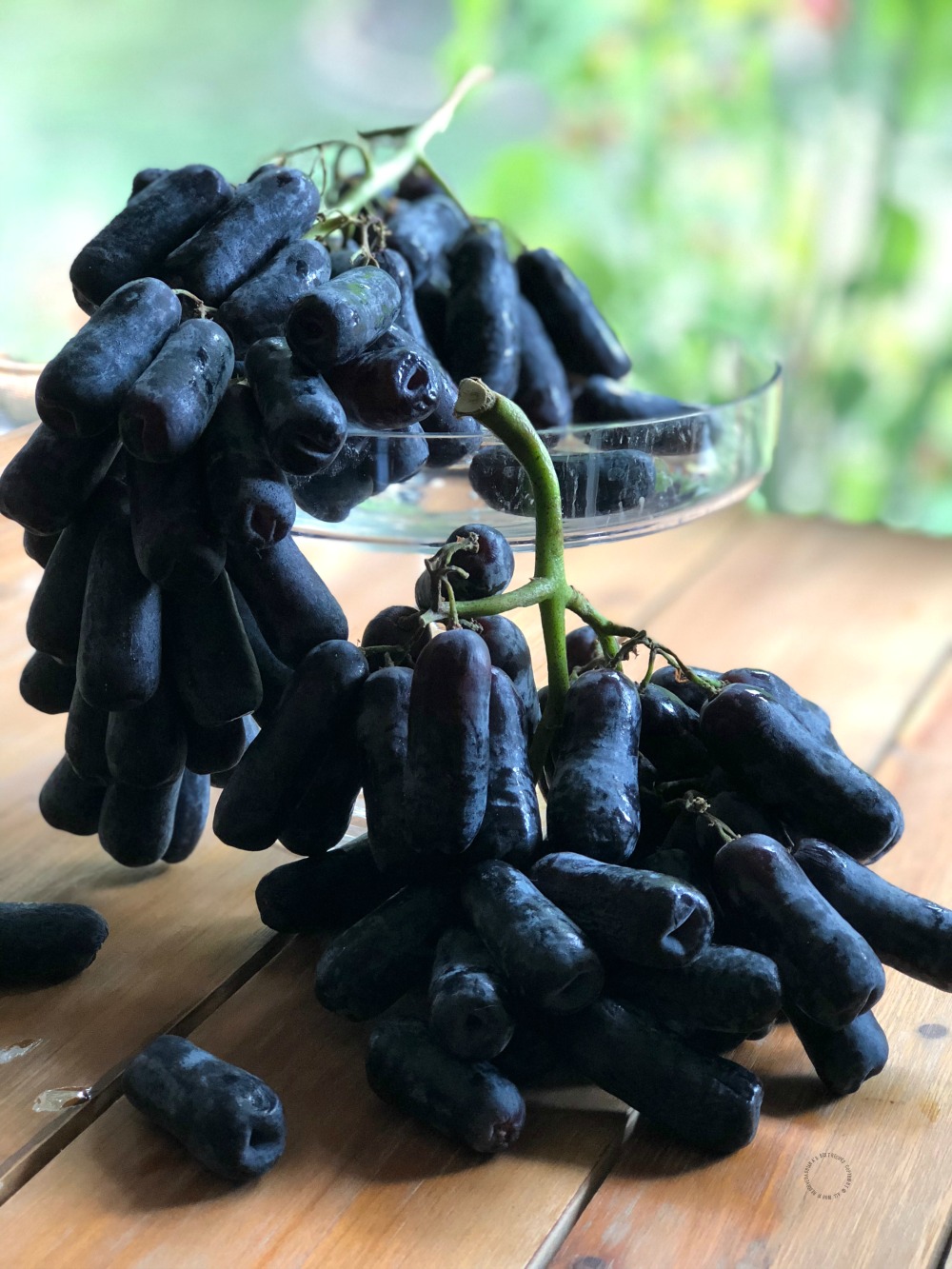 The finger shape these grapes have is peculiar but fun and also allows for getting creative in the kitchen preparing ghoulish treats for Halloween time. I tested few pairings and the grape sweetness and acidity goes well with 
caramel and chocolate.
Prepare the Spooky Moon Drop Grapes and let the kids help you in the kitchen!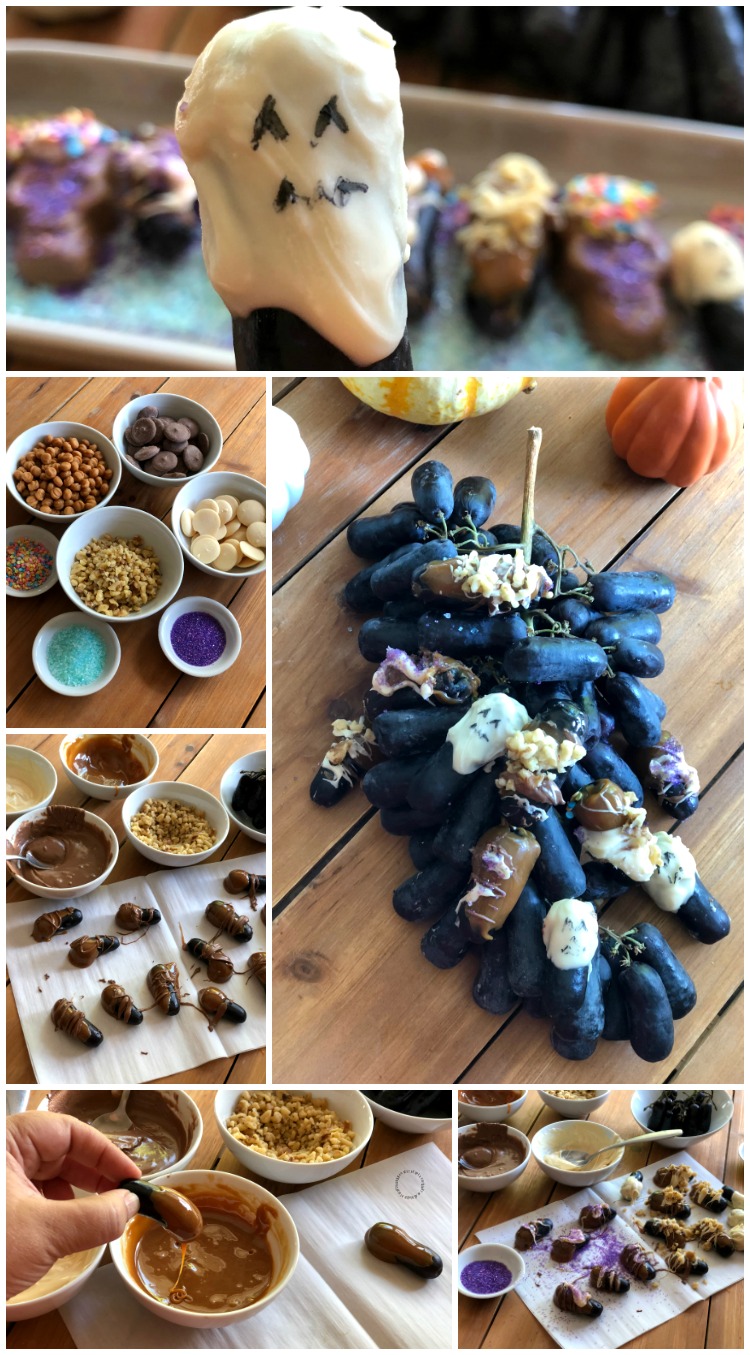 Every year I try to bring something new to the table that is fun and that uses produce. Children sometimes get tantalized to try new things when they play with their food. And that is exactly what we are doing today. You can play along with us by having ready a bunch of Moon Drop® Grapes, soften caramel, white and milk chocolate. Chopped walnuts, purple and blue sugar, and an edible ink marker. Let your creativity flow and enjoy the process.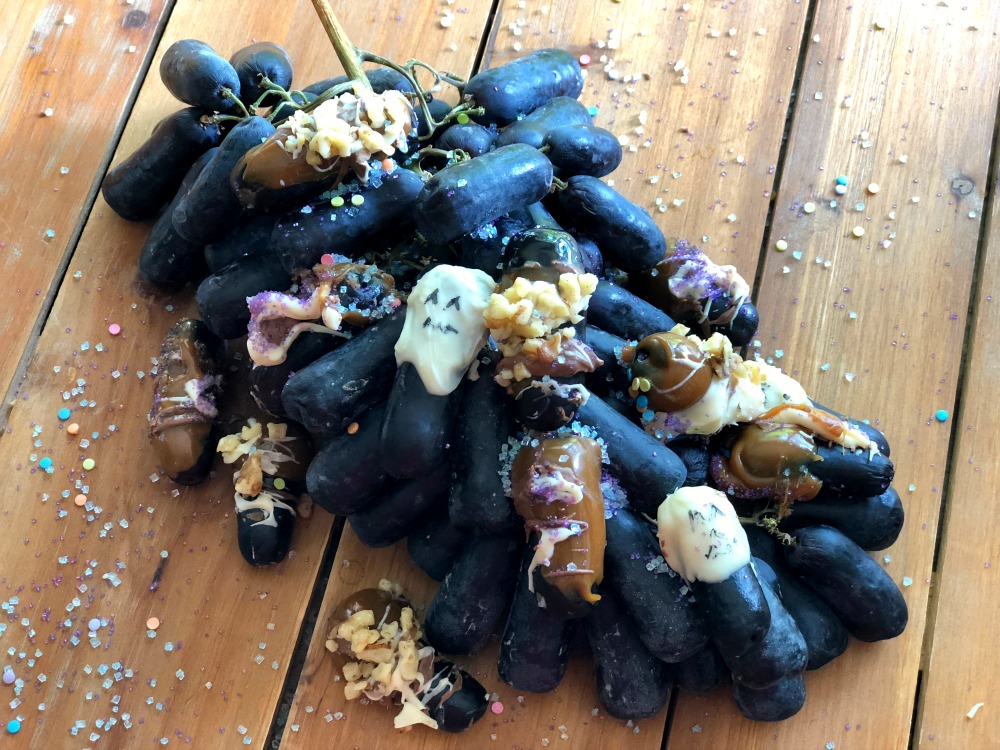 This Spooky Moon Drop Grapes are a statement edible piece to add to the table. You can plate them in different ways or use the actual grape bunch to place the treats. If you are planning an adult party this grape treats pair well with wine, preferably a Merlot or a Shiraz. When entertaining at home it is good to have many options for the guests to choose from. I like to set up a dessert table where I offer several different desserts and sweet small bites making this Spooky Moon Drop Grapes a good addition to the menu.
Celebrate Halloween with yummy treats like this Spooky Moon Drop Grapes!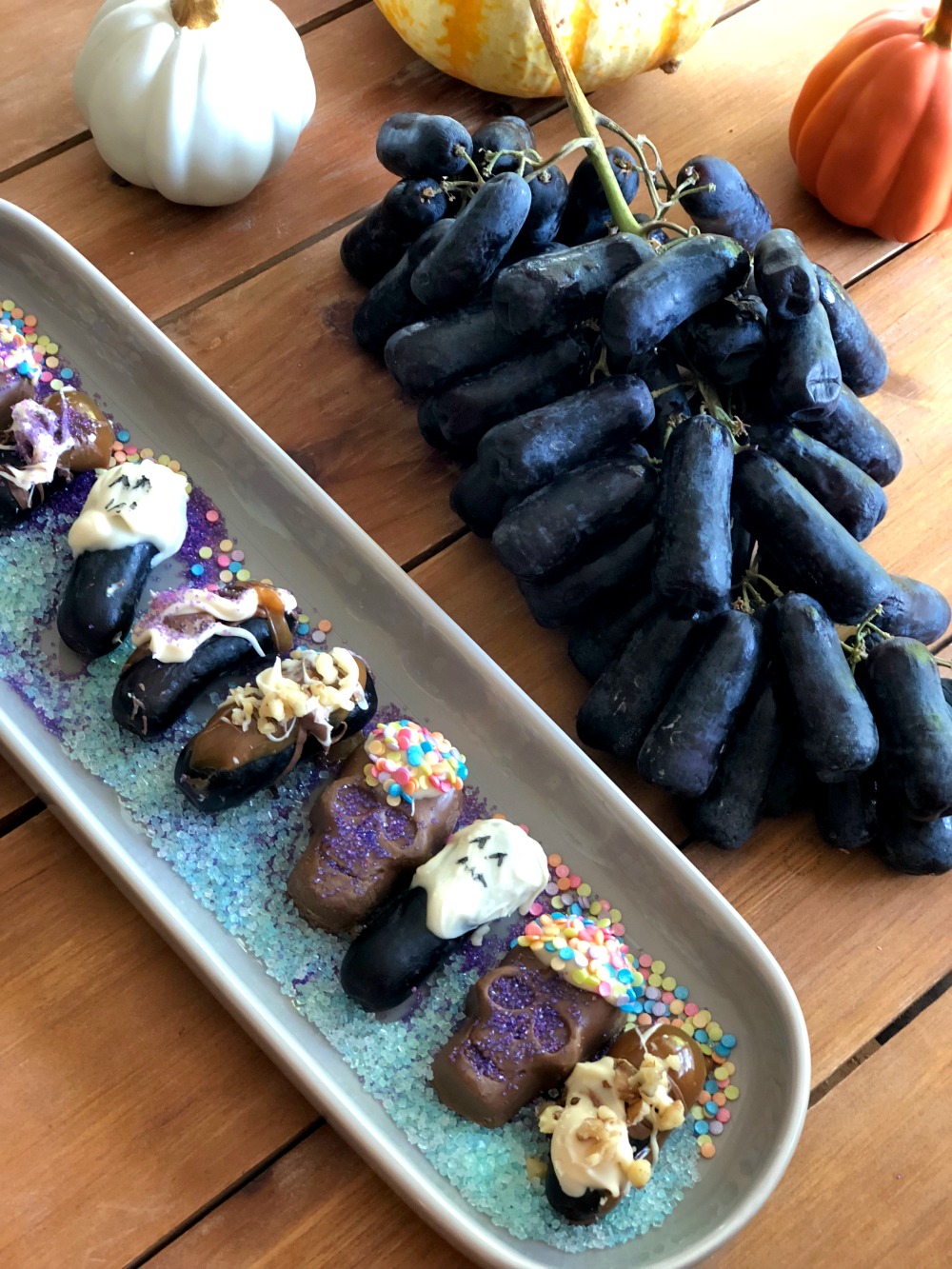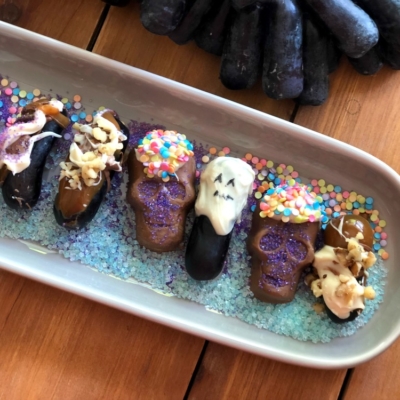 Spooky Moon Drop Grapes
Made with a bunch of Moon Drop® Grapes, soften caramel, white and milk chocolate. Chopped walnuts, purple and blue sugar. Optional an edible ink marker to paint spooky faces.
Ingredients
1

bunch of Moon Drop® grapes

1/2

cup

melted caramel

1/2

cup

melted milk chocolate

1/2

cup

melted white chocolate

1

tablespoon

purple sugar

1

tablespoon

colored sprinkles

1/4

cup

chopped walnuts

6

skull chocolates

optional
Instructions
Start by cleaning the grapes with running water and dry flat on a paper towel. Remove any excess water with a paper towel gently rubbing each grape by hand.

Melt the caramel and the chocolate. Keep warm. Place a parchment paper sheet on a board and start dipping the grapes. First with caramel, then with chocolate and garnish with walnuts, colored sugar or sprinkles.

Some of the grapes cover only on white chocolate to make little ghosts. Use an edible ink pen and draw the ghost face.

Serve on a plate and pair with chocolate skulls, purple sugar and or sprinkles. The grapes can be served using the whole bunch and placing the caramel and chocolate covered grapes randomly.
Notes
This recipe is a lot of fun and allows for creativity. Having the kids participating is a good idea. Just make sure they wash their hands, and that safety in the kitchen is observed always having the presence of an adult and never allowing kids to manage sharps knives or cook near the flame. 
Nutrition
Serving:
0
g
Carbohydrates:
0
g
Protein:
0
g
Fat:
0
g
Saturated Fat:
0
g
Polyunsaturated Fat:
0
g
Monounsaturated Fat:
0
g
Trans Fat:
0
g
Cholesterol:
0
mg
Sodium:
0
mg
Potassium:
0
mg
Fiber:
0
g
Sugar:
0
g
Vitamin A:
0
IU
Vitamin C:
0
mg
Calcium:
0
mg
Iron:
0
mg
Products from Amazon.com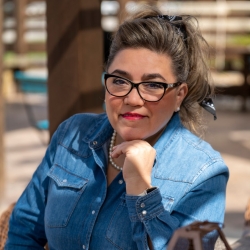 Latest posts by Chef Adriana Martin
(see all)