This post is also available in: Español
The recipe for the Chocolate Swiss Roll is a sponsored collaboration with James Avery Artisan Jewelry. All opinions are only mine.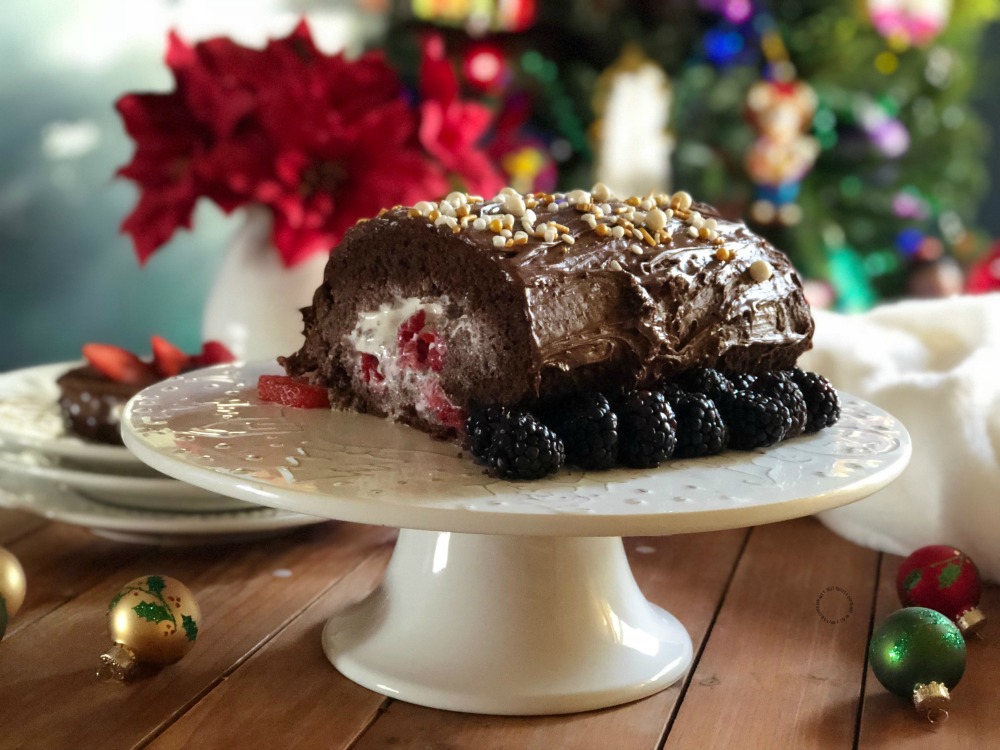 A Chocolate Swiss Roll with vanilla ice cream and berries is what my mom and I were used to bake together during Christmas time. My mom was a lover of good food and she enjoyed baking. She was used to bake for us so many good desserts and even attended culinary school to perfect her craft.
Watch the video and learn how to make this Chocolate Swiss Roll made easy!
In Mexico, the Swiss Roll is known as Niño Envuelto. In Spain it is called Brazo de Gitano. My mom was used to make it in many different versions. I am not the best baker nor an expert as my mom but I do like to bring to life the family desserts that evoke so many sweet memories specially during the holidays.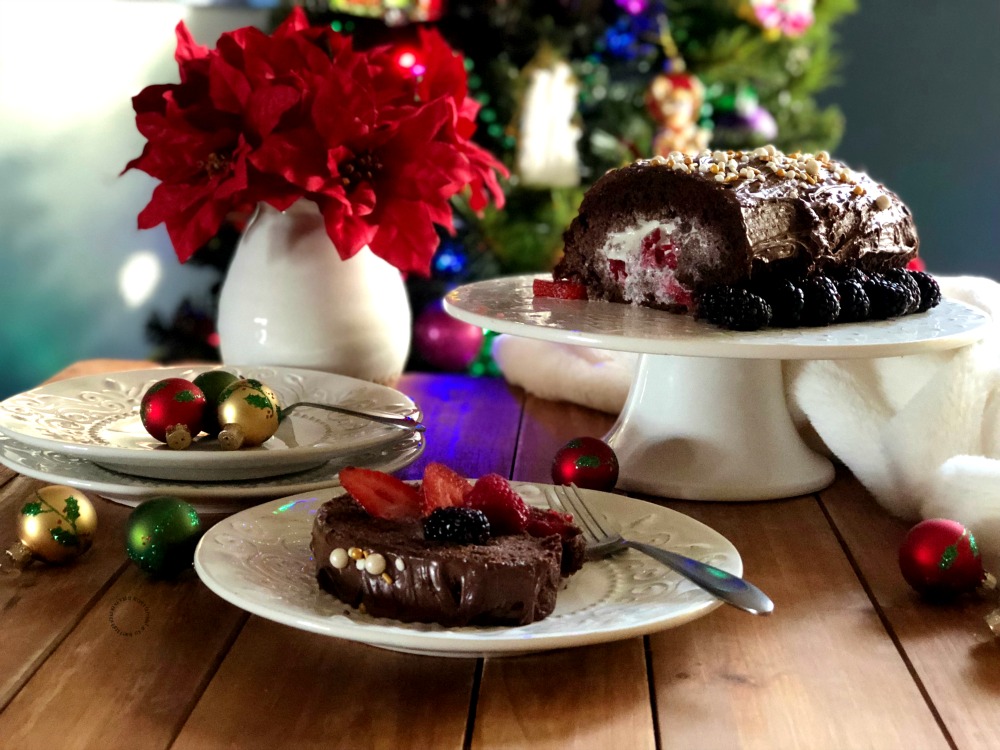 One of my treasures is my mom's very own recipe book handwritten by her. Many of the recipes I publish here are either inspired on those dishes or are the actual dishes and desserts she was used to cook for us at home. In my life there are four women that became the most important role models and inspiration for the person I am today. My Mamá Grande Carlota, Mamá Licha, Rosa Elena my mother and Minita, my great aunt that was like my mother when growing up and even in my adulthood. All of them live close to my heart and I keep them present by making homage to their special dishes and recipes.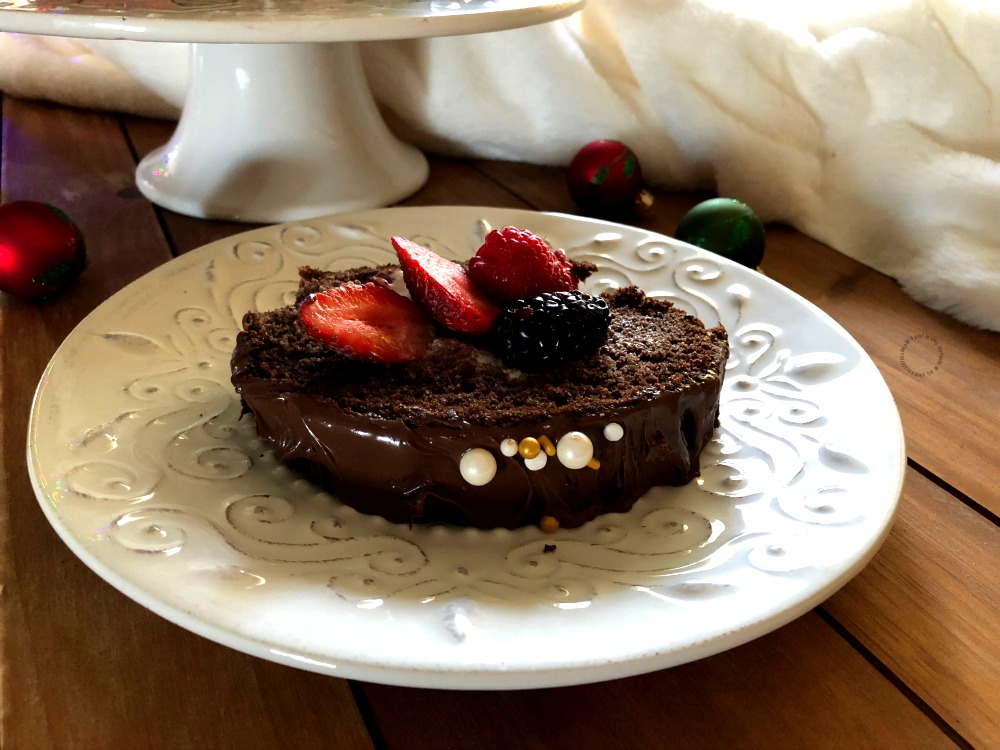 The Chocolate Swiss Roll recipe is a perfect example on how I can honor my heritage and my beloved that have departed by preparing a special sweet treat made with so much love. A lot of the tools I use to cook now were part of my grandmother's and my mom's kitchens. When I left Mexico to come and marry my husband the stand up mixer that once was at my grandma's is now in my own kitchen. And the same thing happened to grandma's pressure cooker where she was used to cook the beans. Now it is the gadget I use to continue the tradition and her legacy for good food.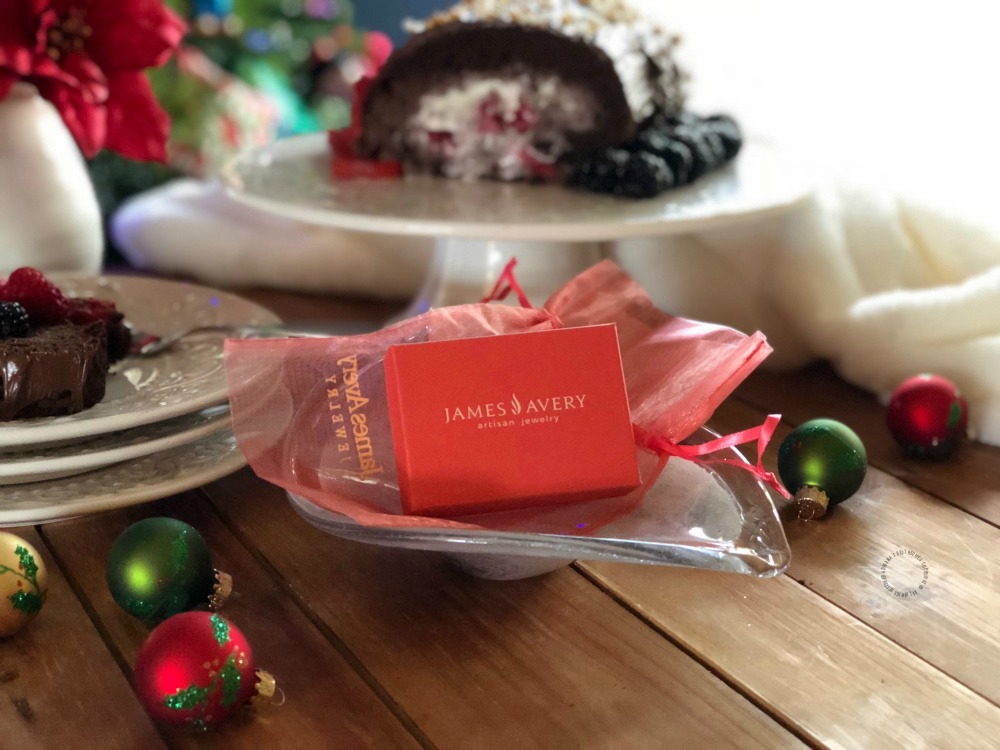 Aside from honoring my family making their special dishes and this Chocolate Swiss Roll cake, this year I wanted to have something very special be made. And that is how I found James Avery Artisan Jewelry. While I was browsing through the gallery of charms on their site I found a few that tell my story. I actually became teary eyed as many of the charms reminded me of my mom, my grandmother and my aunt Minita.
The letter "A" for Alicia, the letter "E" for Rosa Elena, the letter "M" for Minita. The Virgin Guadalupe, part of my faith and my Mexican culture and a stand mixer that resembles my grandma's very own stand mixer that was handed to my mom and when my mom passed away it was given to me. My mom passed away from leukemia and her favorite color was rose pink. The mother's love finial charm represents very well my mom's essence and spirit.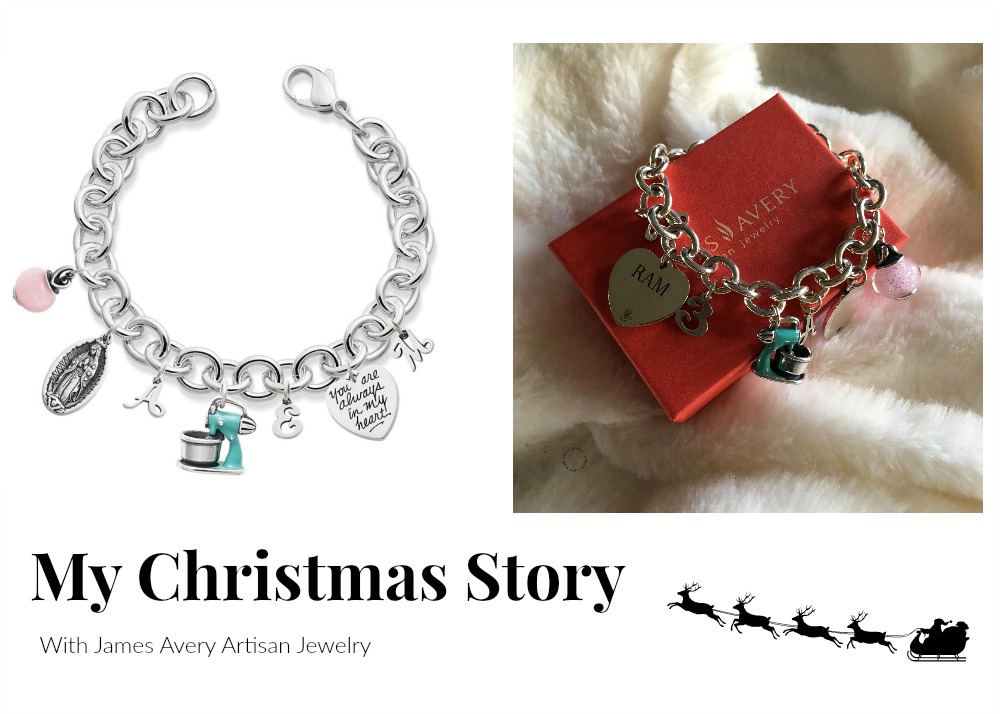 And to make it more special I also eyed a heart shaped charm that has the legend "You are Always on my Mind". The great thing is that James Avery Artisan Jewelry offers full service including laser engraving. I ordered a monogram using the three letters of my beloved on the back of that heart shaped charm.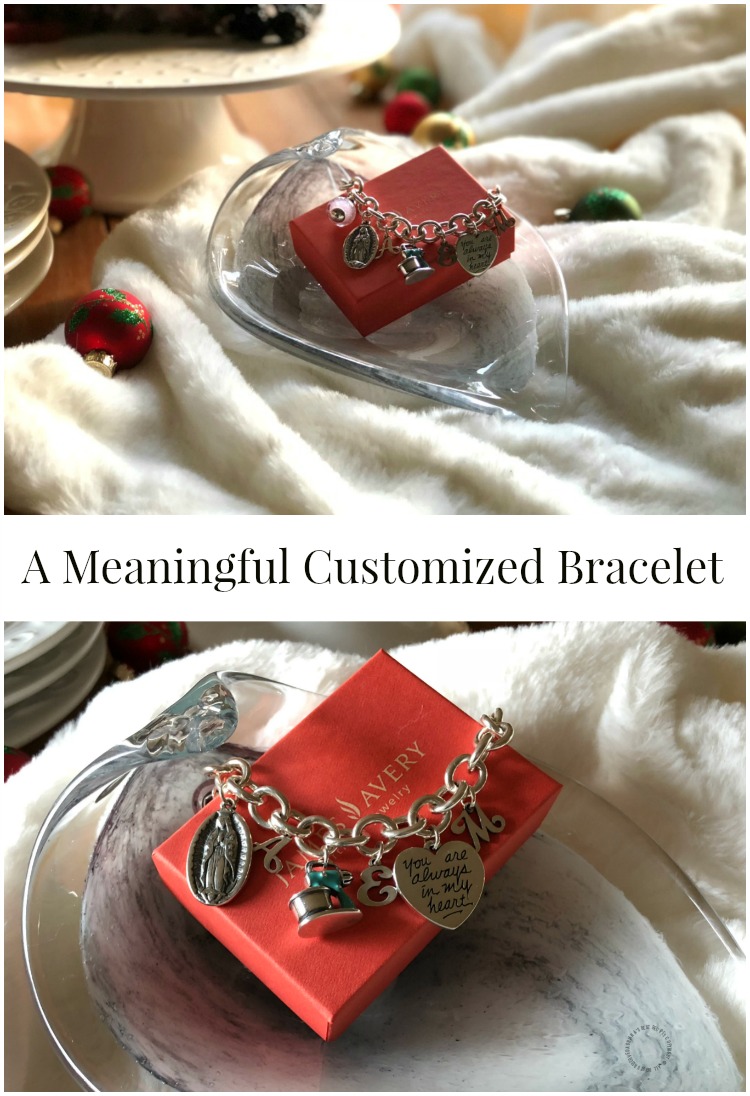 Wearing this bracelet helps me keeping the memories alive while I continue making homage to this important women in my life. With James Avery Artisan Jewelry this Christmas will be one to remember as I will be wearing a custom jewelry piece that has so much meaning for me.
We all have a family story to tell, I invite you to visit James Avery Artisan Jewelry. Click HERE for inspiring James Avery stories and the jewelry that helps tell them.
You can share your own stories with #MyJamesAvery and #ACharmedChristmas on social media for a chance to receive a piece of James Avery Jewelry to commemorate your special holiday memory.
Make this Christmas one to remember with James Avery Artisan Jewelry.
Start a new tradition by serving my mom's favorite Chocolate Swiss Roll with vanilla ice cream and berries at your family table too. One bite and everyone will ask for this dessert not only during the holiday time.
Now tell us, what's your Christmas story?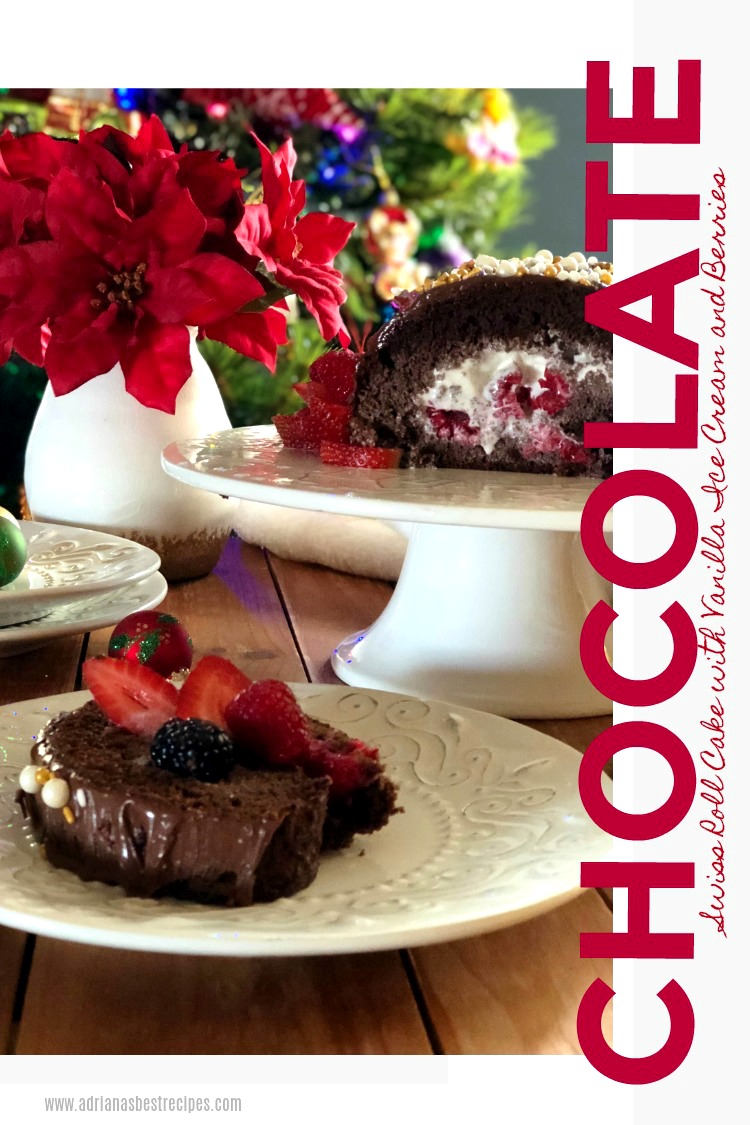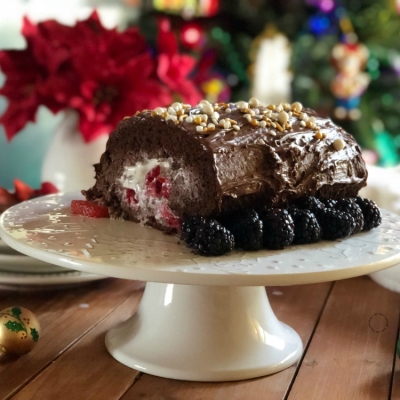 Chocolate Swiss Roll
A Chocolate Swiss Roll made easy with cake mix and stuffed with vanilla ice cream and seasonal berries. Then covered with chocolate hazelnut spread and festive sprinkles.
Ingredients
1

box

cake mix

chocolate flavor

3

eggs

1 1/4

cup

milk

1/2

cup

corn oil

3

cups

vanilla ice cream

1

cup

raspberries

1/2

cup

hazelnut chocolate spread

1/2

cup

sliced strawberries

1/2

cup

blackberries

1

tablespoon

sugar pearls

or festive sprinkles
Instructions
Heat the oven at 350 degrees Fahrenheit. Prepare the chocolate cake mix combining all the ingredients and mixing.

Spray the silicone jelly mold with baking spray, pour the chocolate cake batter and remove bubbles. Bake the cake for 20-30 minutes.

When ready takeout of the oven and cut the top and the edges. Roll using the silicone jelly mold and transfer to a damp cloth. Let it get cold.

Unroll and stuff with vanilla ice cream and the raspberries. Roll again, wrap in parchment paper and keep in the freezer until ready to enjoy.

Plate and cover with hazelnut chocolate spread. Decorate with sprinkles and add sliced strawberries and blackberries.
Notes
You can separate the whites from the yolks and whip the whites separately. Fold into the batter. This will help achieve a sponge cake if desired. That will make it easier to roll. And avoid breakage.
Products from Amazon.com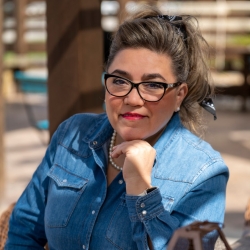 Latest posts by Chef Adriana Martin
(see all)