This post is also available in: Español
Top ten Amazon kitchen gadgets you must have to save time in the kitchen without breaking the bank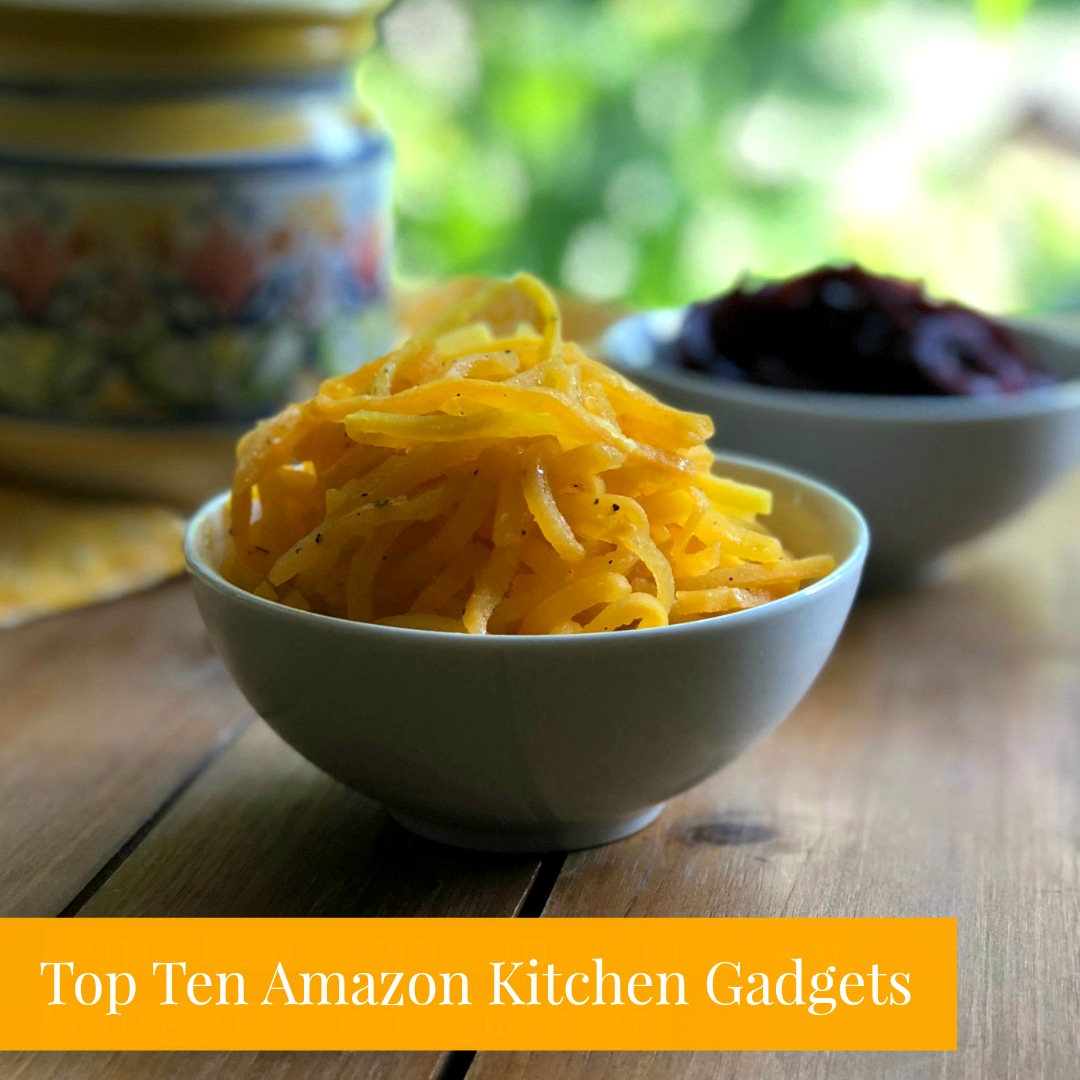 When cooking having appropriate tools is a necessity for best results and delicious meals. That is why we wanted to share our top ten Amazon kitchen gadgets picks. All of these tools we use to cook all the recipes we publish on this site. And we are sure you are going to love them all. But the best thing is that you can take action and buy our top ten Amazon kitchen gadgets recommendations right here. Shopping online is so convenient and even more when having Amazon Prime.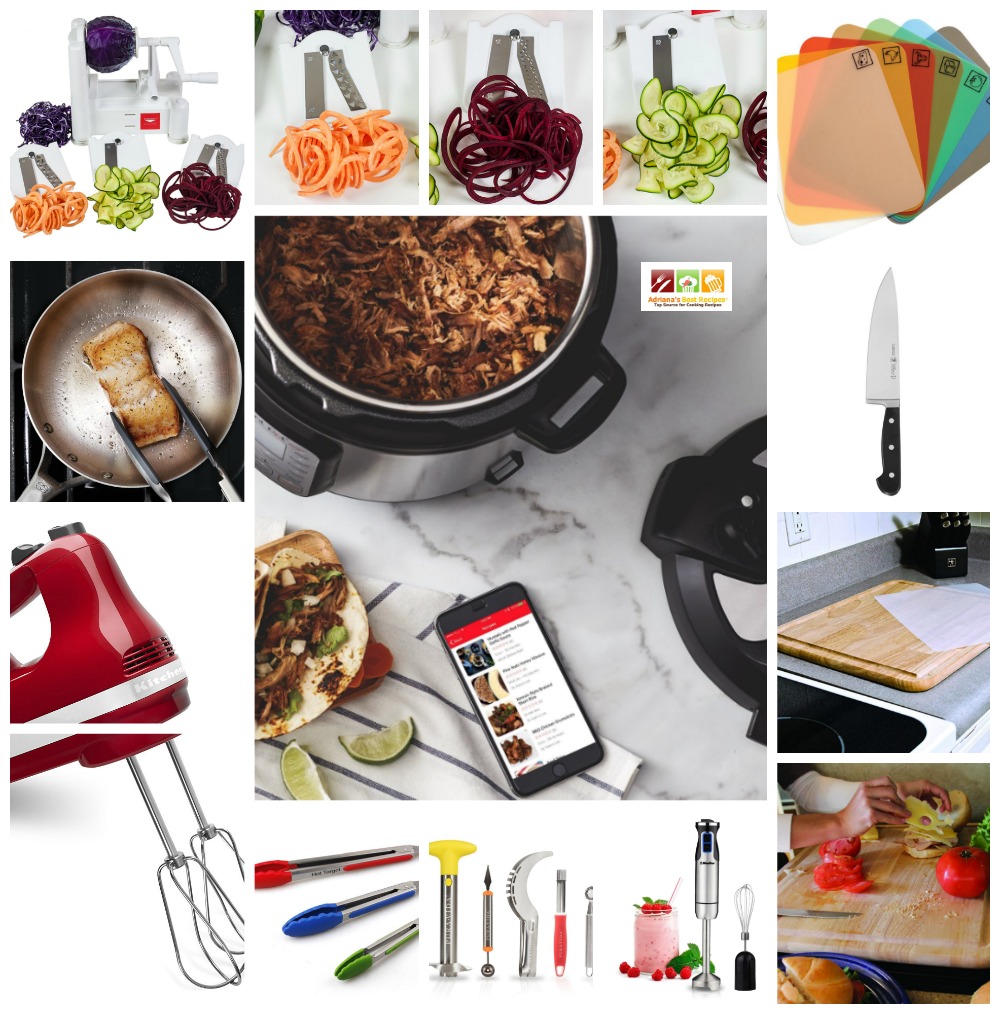 These are the ten best kitchen utensils in Amazon that you need in your kitchen!
A good knife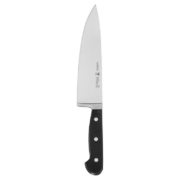 Having a good knife for chopping and cutting is a must have. You do not need to buy a whole set of knives. Focus on buying a chef's knife preferably 8″ or 10″ inches. And a pairing knife for small jobs. Any home chef or professional chef owns a good knife. In fact becomes the most used tool in the kitchen and an extension of their hand.
A good quality chopping block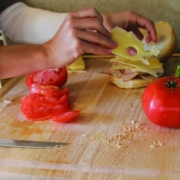 There are many kinds of chopping blocks we like those made of walnut wood. But you can choose a bamboo cutting board. If you are worried about the cost you can opt for a good quality plastic chopping board. Just make sure to buy one for meats and one for vegetables and fruits. We never use the same chopping block for everything to avoid cross-contamination.
A hand held mixer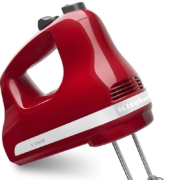 Nowadays you can find hand held mixers that are inexpensive and do such a good job. We have a big professional mixer but sometimes prefer to use the smaller one for quick jobs. Such as mixing cake batter, or when making beer batter for seafood, for hot cake and waffle mix, and even when trying to make the perfect omelet.
An immersion blender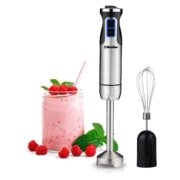 These blenders are so easy to use and a lifesaver without to have to use the bigger blender. Works really nice for making hot salsas, soups, quick smoothies, and much more. The immersion blender is a gadget that saves time and it is so easy to clean.
The Spiralizer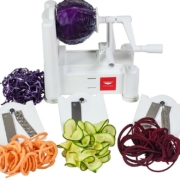 The spiralizer is so fun to use and allows to cut vegetables like zucchini, beets, butternut squash, sweet potatoes, potatoes, and carrots in spirals to use on salads, for pickling, replacing carbs and so many yummy options. If you are looking to add more veggies to your meals this is a winner.
A set of fruit cutters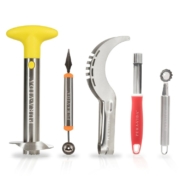 If you love fruit like us having a complete set of fruit cutters to remove the pineapple and apple core, make melon balls, hull strawberries, peel vegetables and fruits and cut fun forms this is a set that you need to include in your list. You will make the most beautiful fruit bowls and salads with it.
Kitchen Tongs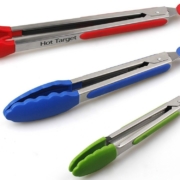 We love to use kitchen tongs to move, rotate and turn the food with delicate precision. We use them to serve spaghetti, when grilling, for seafood, meats, removing slices of bread from the toaster or anything we do not want to touch with our own hands to avoid getting burned or simply to make it easy for us to manage the ingredients or the food we are cooking.
A good quality skillet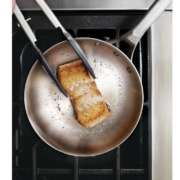 Any cook needs to have a high quality skillet to cook meats, fish, eggs, and veggies. An important characteristic of a good quality skillet is that should be stainless steel and with a minimum of five layers of metal to provide even heating and precise temperature control. This is very important when trying to achieve the best results when cooking dishes at home. You can enjoy a perfect omelet using the proper skillet.
A set of stainless steel cooking utensils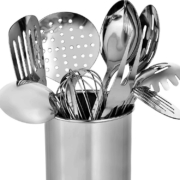 Using good quality cooking utensils is important. You want to avoid cooking with utensils that could transfer other flavors due to the material they are made of. We like stainless steel utensils because those are not only pretty but are made of food safe stainless steel. This cooking tools won't absorb stains or flavors, will not crack, and will effectively resist dents and chips. All important features when selecting kitchen utensils that will do the job.
An Instant Pot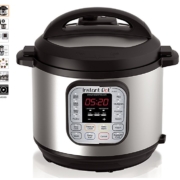 You might think an Instant Pot is an expensive gadget but in fact it is not. One gadget replaces a rice cooker, a slow cooker, and a pressure cooker. Three gadgets in one and you can even use the Instant Pot for baking and making homemade yogurt. We recommend buying the 6 quarts to feed a family of four. If you cook for two you will have leftovers for the next day. This gadget is so versatile and cooks fast dishes that sometimes requires a long time. Such as beans made from scratch, a meat stew, chili, and other favorites. I use mine every day. Look for Amazon specials sometimes you can find reduced price Instant Pots. That is how I purchased mine.
Find all the purchasing options below, and acquire my top ten Amazon kitchen gadgets!
Products from Amazon.com
Adriana's Best Recipes is a participant in the Amazon Services LLC Associates Program, an affiliate advertising program designed to provide a means for sites to earn advertising fees by advertising and linking to Amazon.com. As an Amazon Associate, we earn from qualifying purchases.
*Amazon and the Amazon logo are trademarks of Amazon.com, Inc., or its affiliates.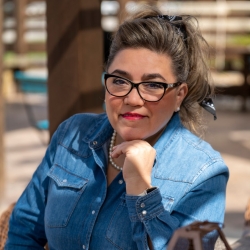 Latest posts by Chef Adriana Martin
(see all)