This post is also available in: Español
Indulge on Pork Tacos al Pastor this summer!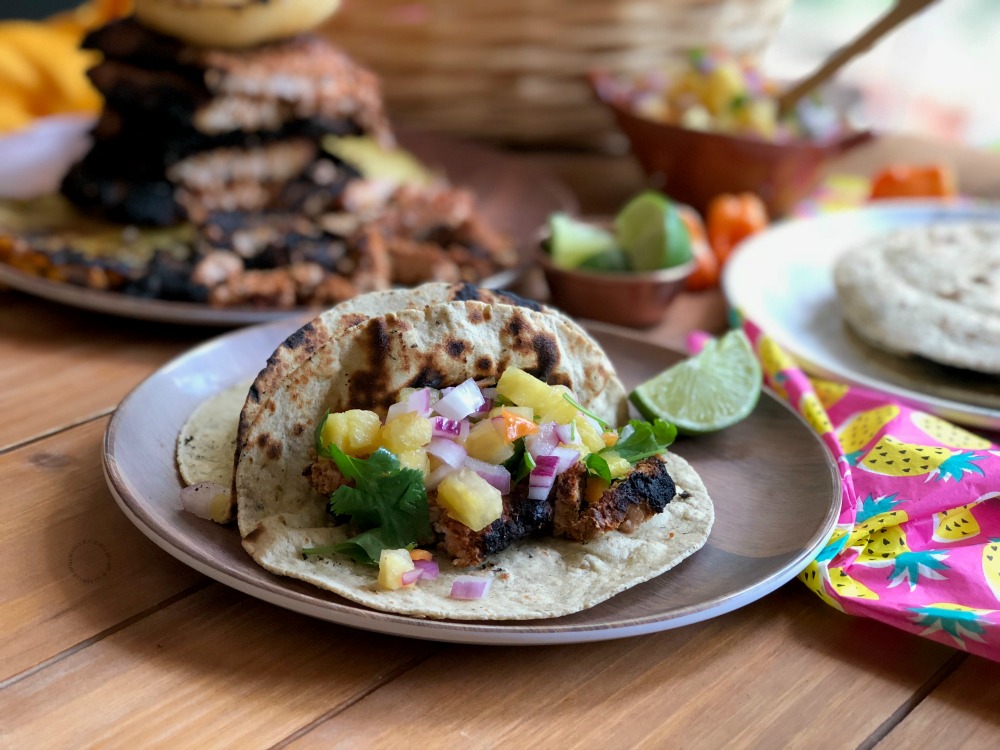 I am honored to partner with the National Pork Board to share delicious and healthy new recipes like these pork tacos al pastor, a perfect option for grilling season. Pork is a flavorful protein that allows for creativity in the kitchen, as it is available in a variety of cuts and it doesn't require a lot of seasoning to make mouthwatering dishes.
Pork is flavorful, accessible, convenient to cook and easy to prepare!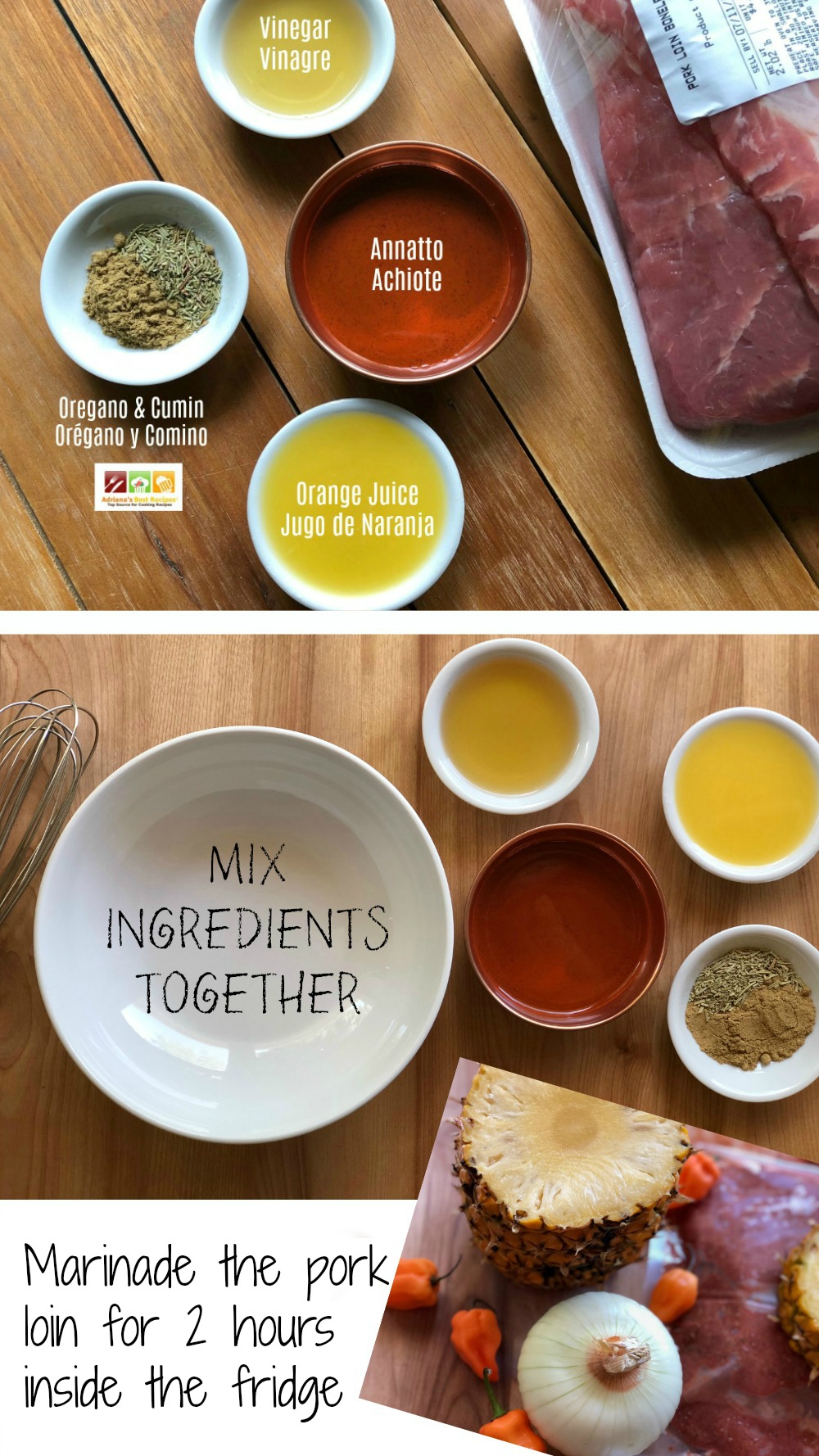 Mexican cuisine embraces the numerous cuts of pork, which can be cooked in many different ways to achieve succulent dishes, such as these pork tacos al pastor. Perfect to offer at a family get-together and a parrillada.
Learn about the National Pork Board's "Pork Es Sabor"
Did you know that the National Pork Board has kicked off this grilling season with "Pork Es Sabor"? The objective behind this effort is to generate awareness about the key health and flavor benefits of pork.
A new research study conducted by the National Pork Board revealed that sales and consumption of pork will continue to increase. It also indicated that lean protein is the meat of choice in Hispanic and African American households. We can understand this because pork is tasty, and an excellent option to serve for our weekly menu and when entertaining.
Include Pork Tacos al Pastor in your grilling menu!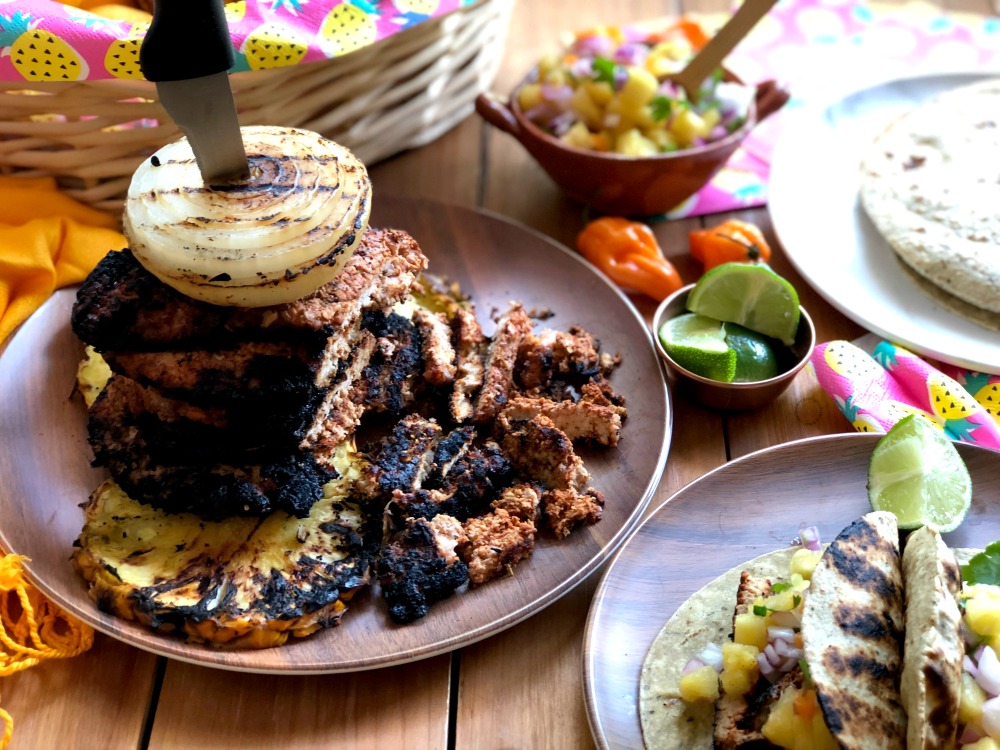 Stack the grilled pork loin steaks for a traditional tacos al pastor experience.
Since we love pork, we decided to use pork loin roast for our pork tacos al pastor because it is tender and a lean cut of pork. We asked the butcher to cut the loin in steaks for tacos. Traditionally, the tacos al pastor are cooked on a "trompo" or so called shawarma, a vertical rotisserie or grilling device that allows the stacking of pork loin steaks. But we decided to use a charcoal grill instead.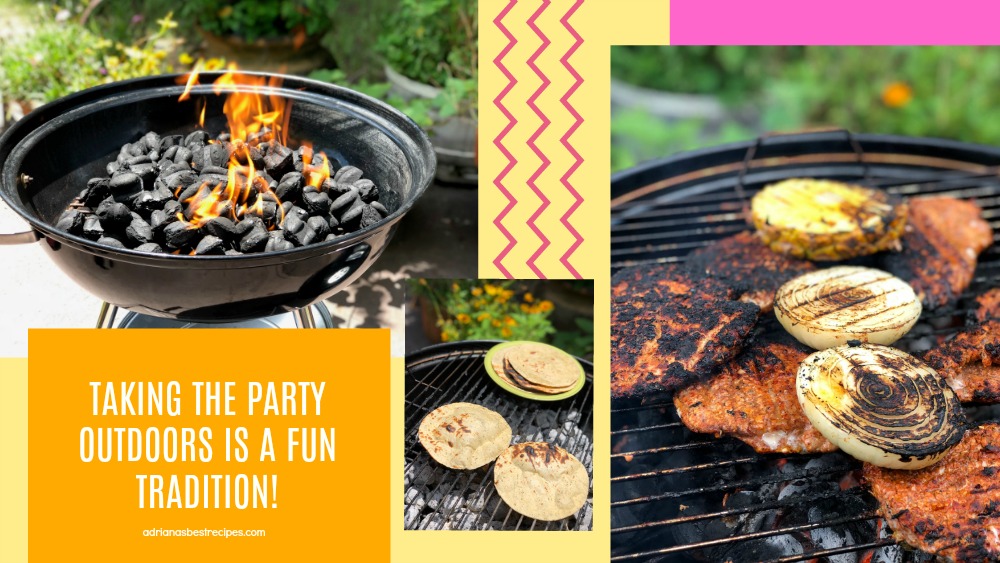 The pork loin steaks are seasoned with a pastor sauce made of annatto paste, orange juice, vinegar, cumin, and oregano. Then marinated, vacuumed sealed, and placed to rest inside the fridge for at least two hours. Packing the pork properly, when transporting in an icebox, helps to keep it fresh as we are starting grilling season with a picnic and cooking outdoors.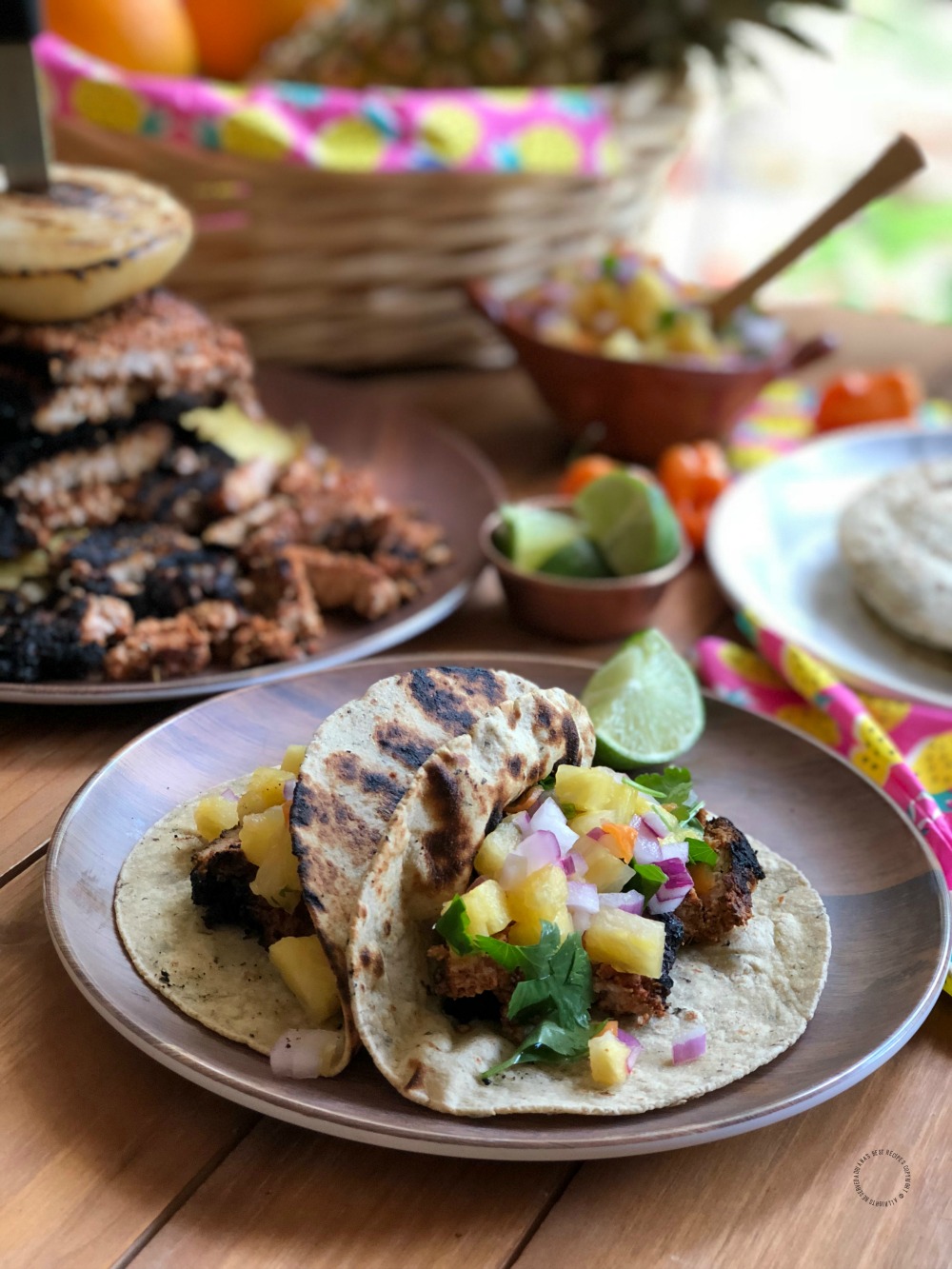 Pair the tacos with habanero pineapple salsa.
I have found that bringing the party outside is fun and has become a tradition. And summertime is perfect to enjoy pork tacos al pastor garnished with fresh spicy habanero pineapple salsa.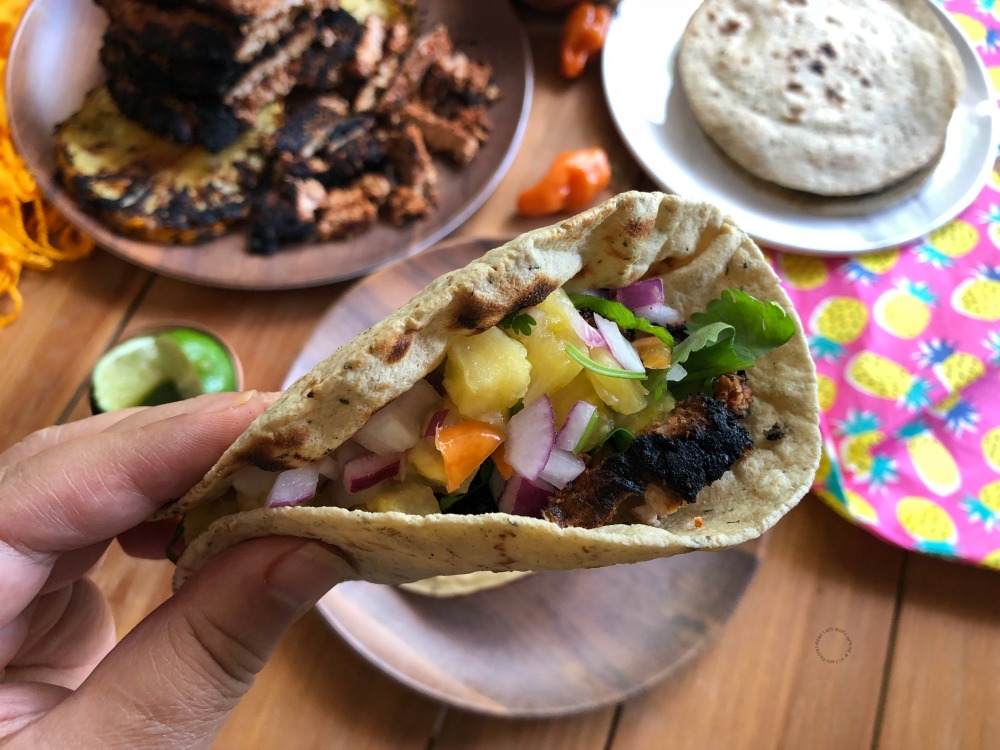 Are you ready to try these tacos al pastor? You will fall in love at first bite!
There are many ways you can enjoy pork's delicious flavor and nutritional benefits. For recipe ideas and more information, please visit ​PorkEsSabor.com and ​follow​ along on social media at @PorkEsSabor on Facebook​, ​Twitter​, and Instagram​. ​Join​ the conversation using #PorkEsSabor.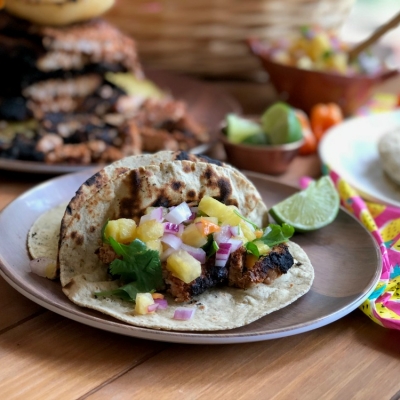 Pork Tacos al Pastor
Made with pork loin steaks seasoned with al pastor sauce made with achiote paste, orange juice, vinegar, cumin, and oregano. Cooked on the charcoal grill and served with warm corn tortillas and spicy habanero and pineapple salsa.
Ingredients
1/3

cup

achiote paste

1/4

cup

vinegar

1/4

cup

orange juice

1

teaspoon

Mexican oregano

1

teaspoon

cumin powder

1

pound

of pork loin

cut into steaks
Instructions
Combine all the ingredients for the traditional sauce al pastor sauce using a bowl and a whisk

Place the pork loin steaks in a bag for vacuum sealing and add the sauce

Seal the bag and marinade the pork inside the refrigerator for two hours

Prepare the grill following the safety rules. When the charcoal turns white and with orange tones, the grill is ready to cook

Place the pork loin steaks and cook on both sides. The pork will be ready when reaches a minimum temperature of 145 ° F

Remove from the grill and let stand a few minutes. Stack the pork loin steaks and cut finely to make the tacos

Serve with spicy habanero and pineapple salsa
Video
Notes
Pork is flavorful, accessible, convenient to cook and easy to prepare!
Nutrition
Serving:
0
g
Calories:
26
kcal
Carbohydrates:
1
g
Protein:
4
g
Fat:
1
g
Saturated Fat:
1
g
Cholesterol:
11
mg
Sodium:
9
mg
Potassium:
74
mg
Fiber:
1
g
Sugar:
1
g
Vitamin A:
5
IU
Vitamin C:
1
mg
Calcium:
3
mg
Iron:
1
mg
Have you tried this recipe? Snap a photo and tag us on Instagram and or Facebook using the handle @adrianasbestrecipes and this hashtag #ABRecipes Happy Eats!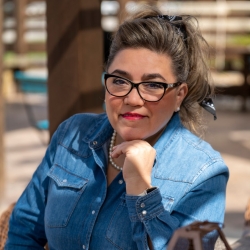 Latest posts by Chef Adriana Martin
(see all)