This post is also available in: Español
This shop has been compensated by Collective Bias, Inc. and its advertiser. All opinions are mine alone.
#DonVictorHoney #CollectiveBias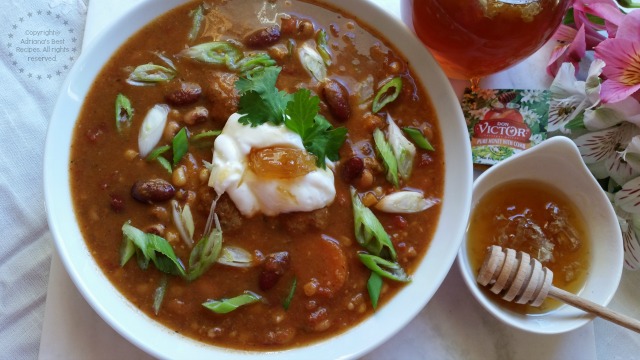 I believe that honey is an ingredient you can use for many dishes including savory like this Spicy Honeycomb Chicken Chili that combines the flavors of India with curry spices and cinnamon and the flavors of Mexico with chipotle and cumin. And who knew honeycomb can be added to your meals too. It is perfectly edible and has many nutritional properties aside from the fact that gives a special texture and the sweet flavor of the honey to this comforting Spicy Honeycomb Chicken Chili that I want you to try at home.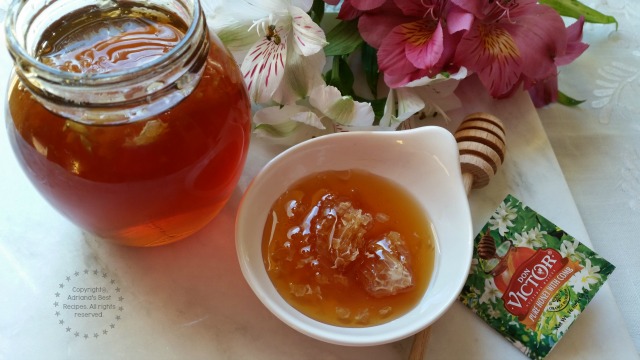 INGREDIENTS
1 pound of lean ground chicken (could be only chicken breast)
1 teaspoon of cumin
1 teaspoon of garlic powder
1 teaspoon of rotisserie chicken seasoning
1 teaspoon of olive oil
1 cup of trinity mix (red and green bell pepper, white onion and celery finely chopped)
2 chopped garlic cloves
2 cups of red kidney beans
2 cups of black-eyed peas
3 cups of frozen carrots
1 teaspoon of chipotle powder
1 tablespoon of cumin
1 tablespoon of Indian curry
1 teaspoon of cinnamon powder
4 cups of chicken broth
Salt and pepper to taste
For garnishing:
8 teaspoons of sour cream
1 cup of chopped green onions
1/2 cup of chopped cilantro
8 small portions of cut honeycomb preferably Don Victor Pure Honey
Preparation time: 45 minutes. Serves 8 bowls. Cost per serving is less than $3.00 depending on the cost of the ingredients at your local supermarket. You will need a large soup pot, chopping block, knife, measuring cups, a mixing bowl and a cooking spoon.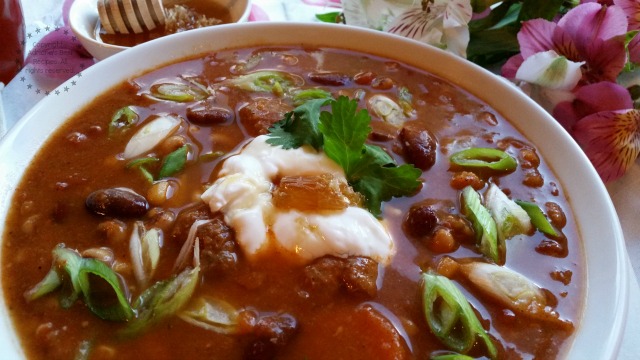 To start the process for preparing this Spicy Honeycomb Chicken Chili place the ground chicken meat in a bowl and add the cumin, garlic and the rotisserie chicken spices. Mix well using a fork and then make small meatballs and place them in a plate. Wash your hands with soap and water and place the big soup pot on the stove. Add the olive oil and sauté the trinity mix and the chopped garlic cloves. Stir and add the rest of the ingredients of the list and let the chili cook until broth is very hot. One by one start dropping the chicken meatballs you prepared previously and place the lid. Let the chili to cook for other 15 – 20 minutes and taste. If you think needs more salt add to taste.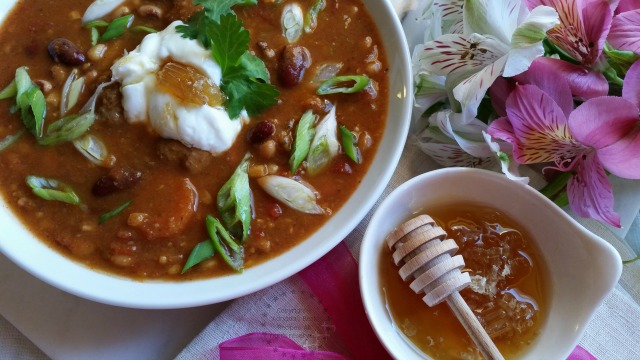 Serve the Spicy Honeycomb Chicken Chili hot and garnish with a dollop of sour cream, chopped green onions, cilantro and add a small cube or portion of the honeycomb on top and enjoy!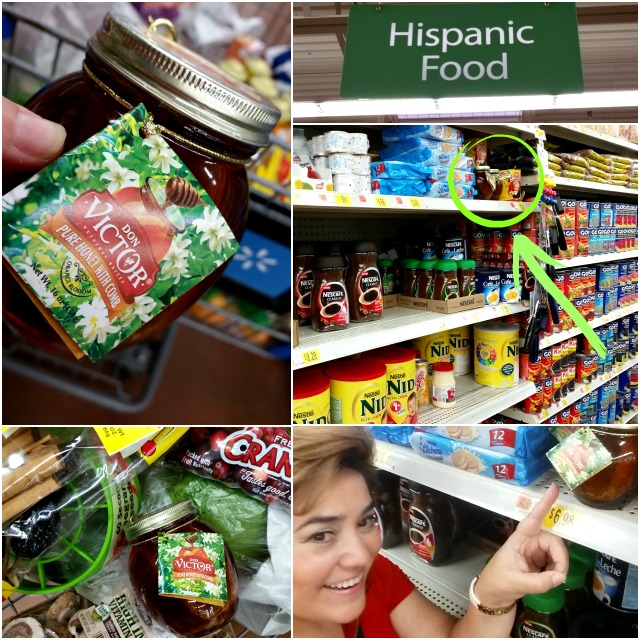 Honey and specially the one that has honeycomb can be found at your local Walmart where I purchased the Don Victor Honey to prepare this delicious Spicy Honeycomb Chicken Chili. Just one thing to keep in mind when looking for this very special gourmet honey search on the Hispanic aisle that is the location where to find Don Victor Honey products.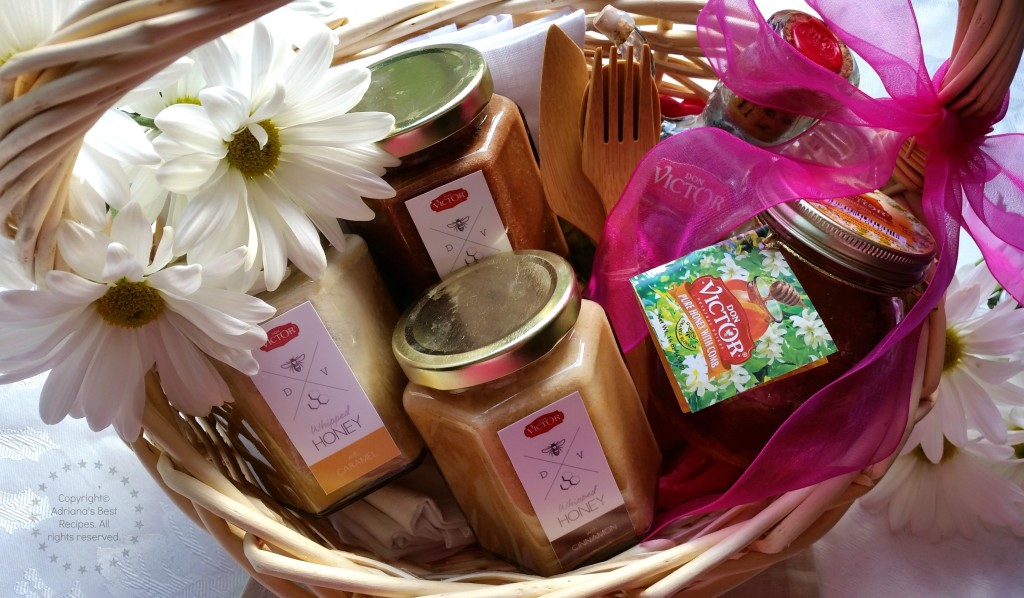 One of the favorite gifts I like to give to family members and friends are baskets with goodies and gourmet products. Sometimes I even personalize depending on the taste of the family I am gifting adding something special for everyone in the family. I think that when you gift something that is made by you is very special that is why I wanted to furnish a very special basket for my mother in law, she loves honey and olive oil so decided to make a honey and olive oil basket for her using the new line of products that Don Victor has available.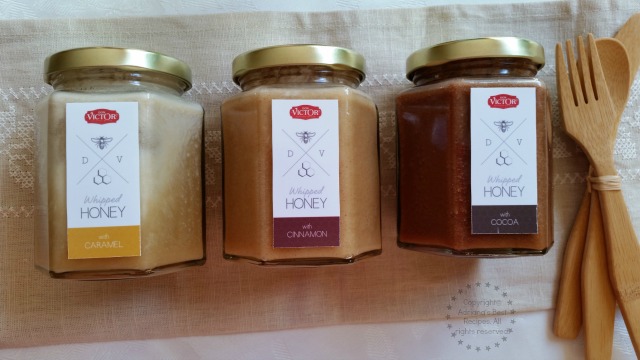 This new line which includes gourmet whipped honey with caramel, cocoa and cinnamon is 100% natural, made in the USA and it is delicious. You can use it as a spread for breads and pastries and on pancakes and waffles.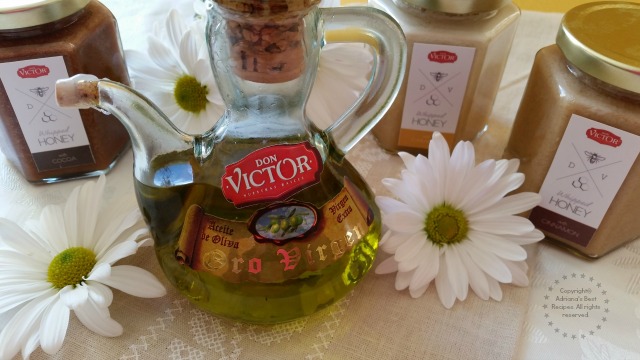 And a very special olive oil that comes in a very nice heavy glass cruet. The Don Victor Extra Virgin Olive Oil which is cultivated and harvested from the fields of Jaen, Andalucia in Spain making it a gourmet grade. I am sure my mother in law will be happy with this gift for among other smalls presents we have for her as special surprises since we always like to pamper her just because. Learn more about Don Victor and their products visiting their site HERE. Many of my fellow foodie and latina bloggers are posting recipes and DIY projects on their social media channels. I invite you to follow the hashtags #DonVictorHoney and #CollectiveBias to not miss a bit on social media and get inspired with so many great ideas and recipes being shared on Twitter. Facebook, Instagram, and Pinterest on how to use honey and the honeycomb.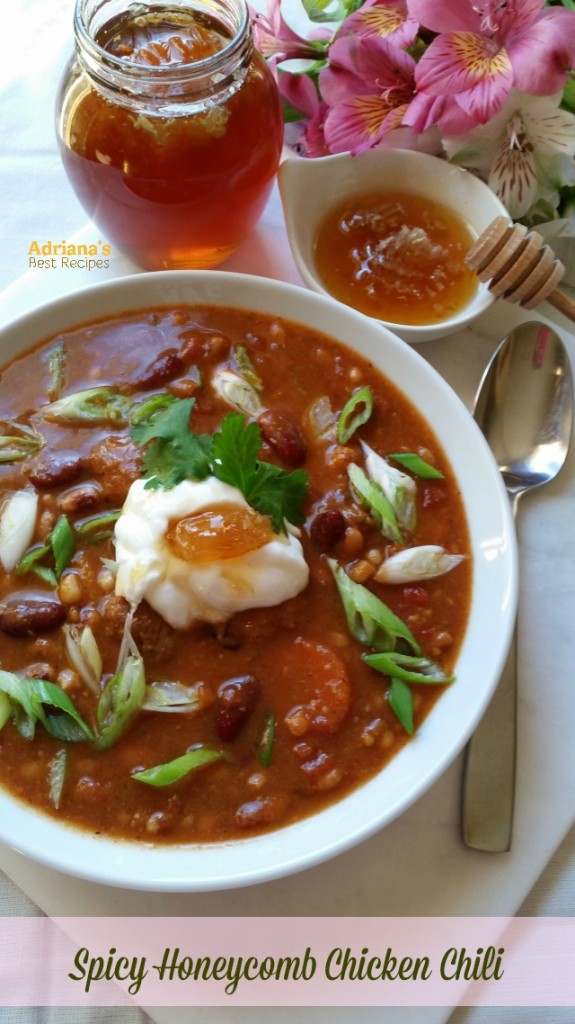 Happy honey dishes!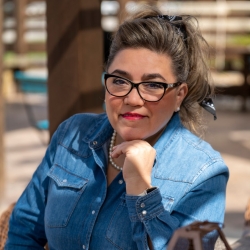 Latest posts by Chef Adriana Martin
(see all)