This post is also available in: Español
This is a compensated campaign in collaboration with Kikkoman and Latina Bloggers Connect.The opinions and text are all mine.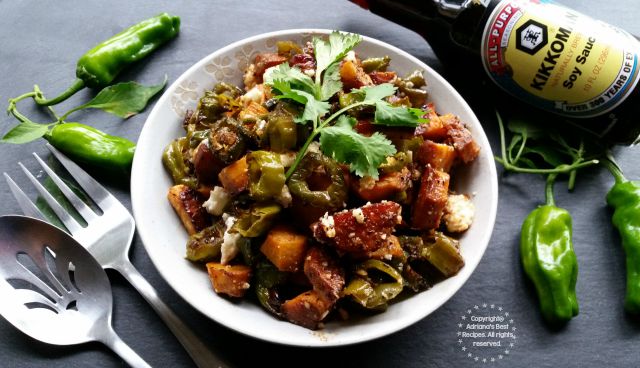 A fabulous main dish deserves a savory side seasoned with Kikkoman Soy Sauce and this Roasted Yams and Shishito Peppers Hash is the perfect addition to any meal. In my years of cooking I have learned that roasting veggies is the way to go to enhance the flavor of the produce. My Family loves to eat their veggies because when roasting and seasoning with Kikkoman Soy Sauce provides the yams and the shishito peppers a smoky flavor without the need of adding salt.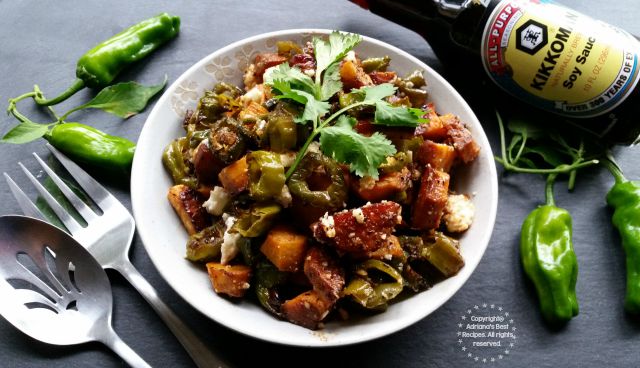 Roasted Yams and Shishito Peppers Hash
A main dish deserves a savory side seasoned with Kikkoman soy sauce and this Roasted Yams and Shishito Peppers Hash is the perfect addition to any meal.
Ingredients
4

in

yams peeled and cutcubes

6-8

in

shishito peppers cutrounds

1

in

jalapeño pepper cutrounds

1

tablespoon

of cumin powder

1

teaspoon

of ground black pepper

1/2

cup

of olive oil

2

tablespoons

of Kikkoman Soy Sauce

1/2

cup

of crumbled ranchero queso fresco and cilantro to garnish
Instructions
Follow these step by step instructions to prepare the Roasted Yams and Shishito Peppers Hash

Place the yams, shishito peppers and jalapeños in a roasting pan.

Sprinkle the cumin and the ground black pepper.

Drizzle the olive oil and add the Kikkoman soy sauce.

Bake the casserole inside the oven covered with aluminum foil for 15 minutes at a 410 degrees Fahrenheit. Then uncover and grill until achieving the browning desired.
Kikkoman soy sauce for me is a great partner in my kitchen, it is a versatile ingredient that goes really well not only with Asian inspired foods but with many cuisine types including my latino flavors.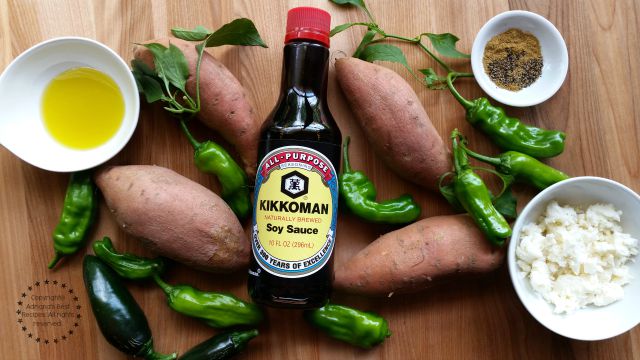 I use Kikkoman soy sauce on spicy salsas like Salsa Macha a favorite in my table with roasted serranos and garlic. Last year that I had the chance to visit the Kikkoman Headquarters in San Francisco, and learned that Kikkoman soy sauce is traditionally brewed and like a fine wine, is aged for several months to develop its characteristic rich, yet mellow flavor, appetizing aroma and distinctive reddish-brown color.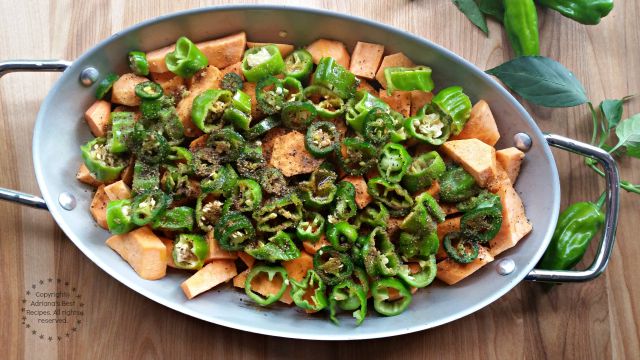 Kikkoman soy sauce enhances the flavor of my dishes and it is excellent to use as a browning sauce in your meal preparation like I did with this Roasted Yams and Shishito Peppers Hash recipe.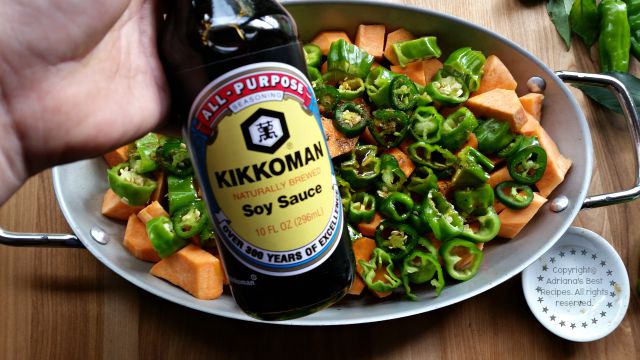 The inspiration behind this Roasted Yams and Shishito Peppers Hash are the southern flavors and my own vegetable garden where I grow fresh shishito peppers and this summer my harvest has been exploding so I have been using these peppers in many of my dishes.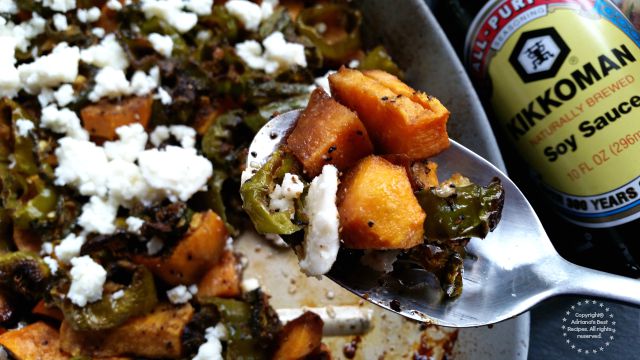 These Japanese peppers aren't hot and have become a trend. Many restaurants like famous Nobu in New York serve them as an appetizer with soy ginger sauce. Shishito peppers are a traditional tapa dish in the Japanese cuisine and served in sushi or yakitori restaurants grilled and seasoned with sea salt.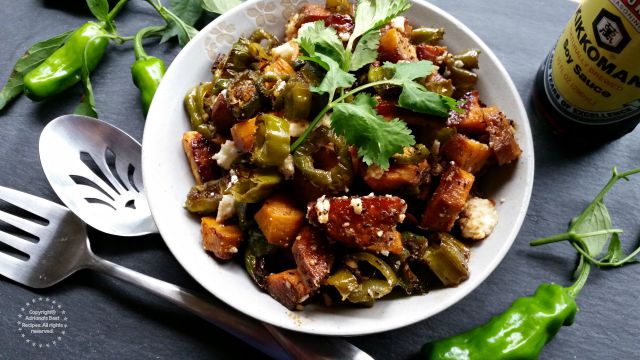 The peppers can be blistered or grilled and roasted in the oven. These small wonders have a mellow flavor in my opinion like a sweet pepper yet many say that every 5 in 10 peppers could be hot. Haven't found one hot shishito pepper yet. Locally it is difficult to this ingredient yet you can grow them in your garden they are pretty easy to take care of and grow like any other pepper.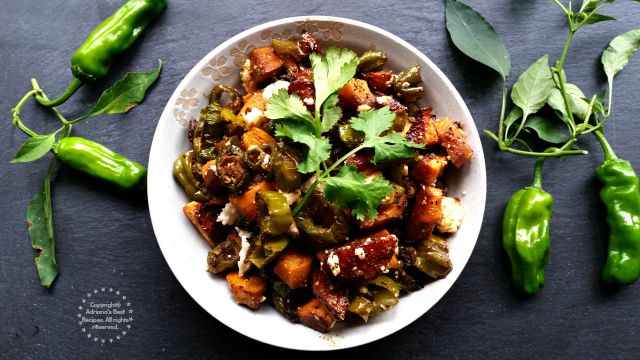 Since the shishito peppers aren't spicy my recipe for Roasted Yams and Shishito Peppers Hash includes some jalapeño slices that go very well with the sweetness of the yams, the peppers and the smokiness of the soy sauce and the cumin finishing the dish with creamy crumbled queso fresco ranchero style to give that latino flair to a very interesting side dish that you can serve in your upcoming BBQ party alongside grilled beef, chicken or fish.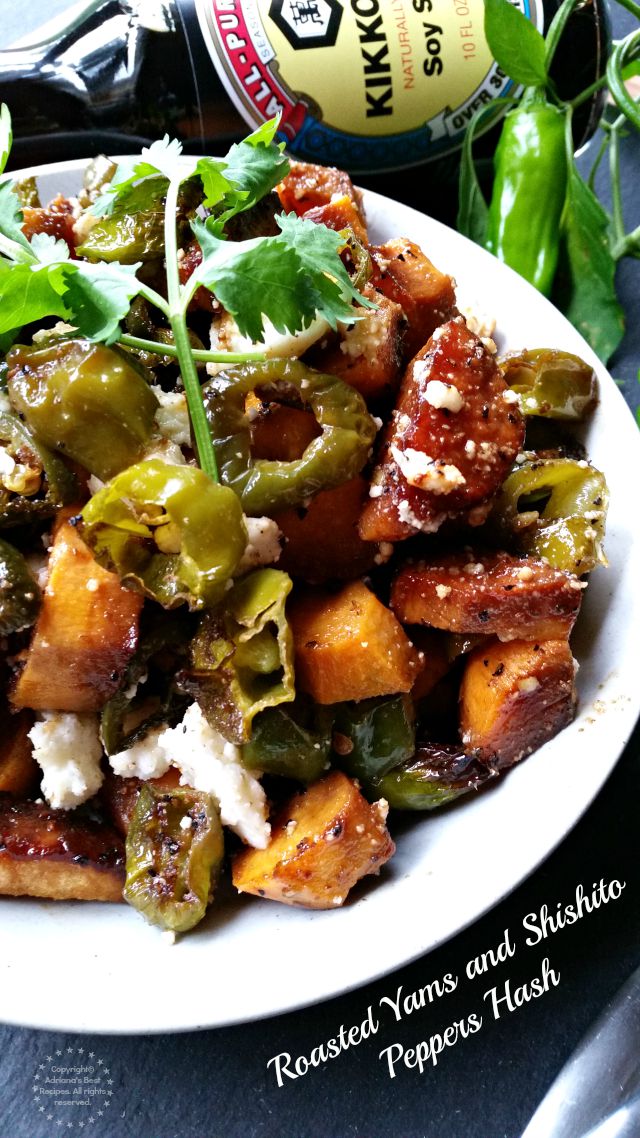 You can also serve this hash as vegetarian dish for making tacos, sopes and burritos. Or to add to a breakfast offering with scrambled eggs and toast instead of the traditional potato hash. If you love my recipe I invite you to follow Kikkoman Kitchen on their Facebook page where they post recipes and easy ideas on how to use Kikkoman Soy Sauce and grilling tips!
This is my entry to the Kikkoman Sabor recipe contest, wish me luck!
This is a sponsored conversation written by me on behalf of Kikkoman. The opinions and text are all mine.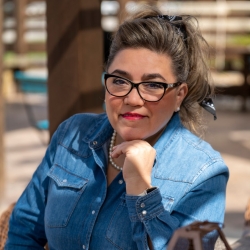 Latest posts by Chef Adriana Martin
(see all)