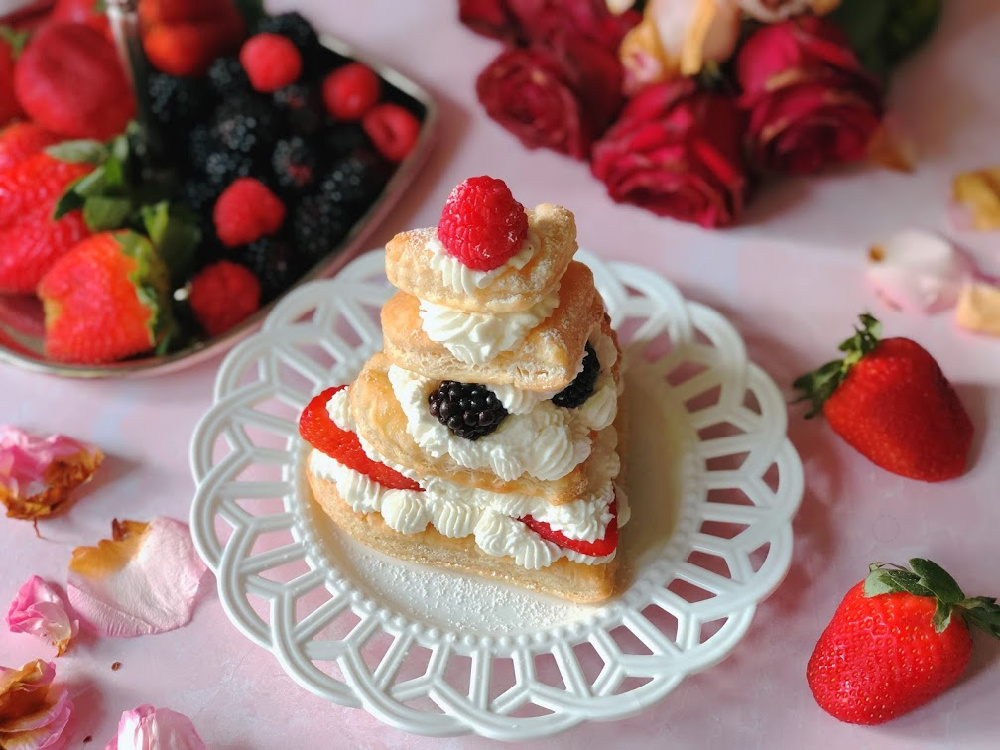 The day calls for a mixed berries mille-feuille with stabilized whipped cream and layers of phyllo dough.
Since February is the month for love we are so inspired to make fabulous desserts and using what is in season locally and adding whipped cream. A great example is this mixed berries mille-feuille called "Napoleon".
This recipe for the mixed berries mille-feuille contains Amazon affiliate links. As an Amazon Associate, we earn from qualifying purchases.
My husband's favorite dessert is classic napoleon so I prepared a fresh version at home using layers of phyllo dough cut into heart shapes, fresh mixed berries such as blackberries, raspberries, and strawberries. And made a homemade stabilized whipped cream with vanilla.
But was is the meaning of mille-feuille?
The words mille-feuille are French and their meaning is "a thousand sheets". The phyllo dough or puff pastry gives that layered effect creating a buttery flaky dough after baking.
The secret for perfect puff pastry dough is to add enough butter and keep it cold. As well as folding it several times to create that pillowy effect after baking.
Making phyllo dough is a serious thing and requires a lot of work so we are using ready to use dough from the bakery. Which we believe is perfect for this mixed berries mille-feuille recipe.
What is the difference between the classic mille-feuille and the Napoleon dessert?
Typically, a thousand layers or millle-feuille has pastry cream and topped with marbled glazed icing. And the Napoleon dessert uses whipped cream and pulverized sugar.
But in terms of flavor, both are fantastic. Some prefer the creamy vanilla flavor of the custard and others the homemade whipped cream with hints of vanilla.
The origin of the mille-feuille is unknown but the recipe was published first in 1733 by chef Vincent La Chapelle. However, the recipe is savory as it has layers of ham and jam instead of cream. Which by the way I think is irresistible too.
Later on, other chefs took this idea and transformed it into what we know today as a milhojas or mille-feuille. We took this classic recipe and made a mixed berries mille-feuille with homemade stabilized whipped cream and puff pastry cutouts using heart-shaped cookie cutters.
Why we recommend stabilized whipped cream for the mixed berries mille-feuille?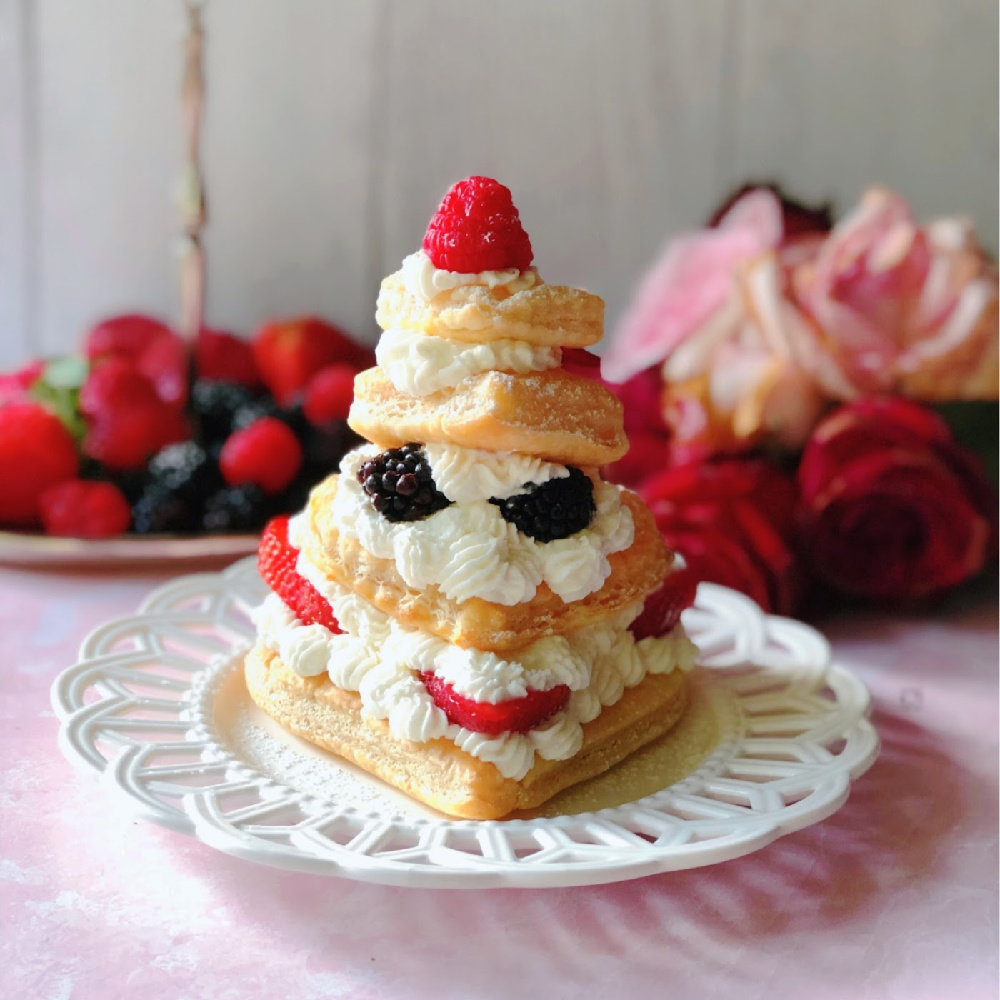 The stabilized whipped cream is what many professional bakers use to have a whipped cream that won't melt and allows for piping. The secret is using one teaspoon of gelatin. Among keeping the whipped cream and the utensils cold. And adding confectioners sugar and vanilla for the perfect sweet flavor.
How to make the mixed berries mille-feuille
Making the mixed berries Mille-Feuille it is easy because we are using ready to use puff pastry and fresh fruit. The whipped cream is fairly easy to make too. Below are tips and the recipe details on how to achieve the best results.
Defrost the dough following the instructions on the package. I like to place the dough in the fridge the day before. Allowing the dough to defrost but keep a cold temperature.
The puff pastry requires to stay cold as it has a high content of butter to create those beautiful layers.
Leaving the dough outside the fridge or managing it too much with the hands increases the temperature.
Cold puff pastry dough results in flaky layers when baked. While warm phyllo dough stays flat during the baking process and the flakiness is not achieved.
We recommend using stabilized whipped cream. The reason why is that classic whipped cream melts fast. When adding gelatine this helps the whipped cream to last for several days and use for decorating.
Professional bakers use stabilized whipped cream in many of their desserts.
Get all the details on how to make the stabilized whipped cream here.
Use your favorite berries on your Napoleon also called Mille-Feuille. We like strawberries, blackberries, and raspberries. You can use any fruit even canned peaches, guavas, or mango too.
Make each layer placing one puff pastry heart, then pipping the whipped cream, adding the fruit and covering it with more whipped cream. Repeat this process for each later until completing the stack.
The dessert serves two people, so share it with someone you love.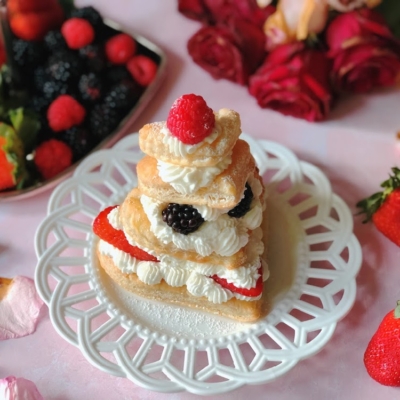 Mixed Berries Mille-Feuille
Inspired by the classic Napoleon, we made a Mixed Berries Mille-Feuille using layers of phyllo dough cut into heart shapes, fresh berries such as blackberries, raspberries, and strawberries. And a homemade stabilized whipped cream with vanilla.
Equipment
Heart-shaped cookie cutters

Baking sheet

Parchment paper

Mixer

Measuring Cups

Measuring spoons

Piping bag and tips

Mixing bowl

Powdered sugar duster

rolling pin
Ingredients
1

sheet

frozen puff pastry

16

ounces

heavy cream

1

teaspoon

unflavored gelatine

1/4

cup

water

1

teaspoon

vanilla extract

1/2

cup

powdered or confectioners sugar

1/2

cup

mixed berries

strawberries, blackberries, raspberries

1/2

teaspoon

confectioners sugar

for ganishing
Instructions
Follow the defrosting directions on the puff pastry dough package. Add some flour to a clean surface and flatten the dough evenly with a rolling pin. Cut three different shapes of hearts. These shapes need to go from big to small to achieve a perfect stack.

Place the puff pastry hearts on a baking sheet previously covered with parchment paper. Bake the dough for 7-10 minutes at 375 degrees Fahrenheit. When the heart shapes turn golden are ready to come out of the oven. Let the baked dough to rest and cool on a rack.

Prepare the stabilized whipping cream using chilled heavy cream. Chill the mixing bowl with ice or place inside the freezer along with the whipping tool for a few minutes. Pour the heavy cream and whip on high.

When the whipped cream doubles, add the powdered sugar in stages and the vanilla extract and whip again for less than a minute or two.

Add to the whipped cream one tablespoon of diluted non-flavored gelatin at room temperature. You can temper the gelatine adding some of the whipped cream before adding to the complete batch.

Whip again for another minute or two and the stabilized whipped cream is ready to use. Fill a piping bag with the cream, and get ready to assemble the stacked dessert.

On a plate, add the bigger heart shape and pipe with the whipped cream. Add berries and pipe again. Repeat the process until you have all the layers done. Dust with powdered sugar and enjoy. The dessert serves two.
Video
Nutrition
Calories:
700
kcal
Carbohydrates:
97
g
Protein:
15
g
Fat:
131
g
Saturated Fat:
64
g
Cholesterol:
120
mg
Sodium:
398
mg
Potassium:
266
mg
Fiber:
3
g
Sugar:
35
g
Vitamin A:
3334
IU
Vitamin C:
2
mg
Calcium:
160
mg
Iron:
3
mg
Shop for Heart-Shaped Molds and Cutters at the Amazon storefront.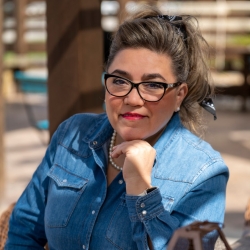 Latest posts by Chef Adriana Martin
(see all)