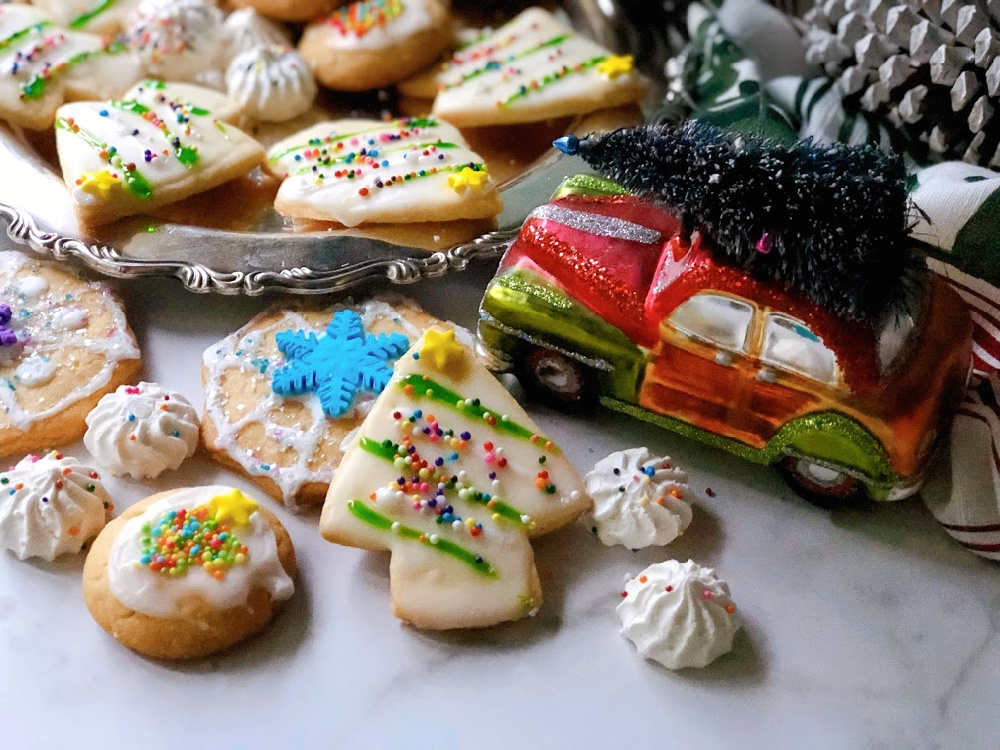 We made Christmas cookies simulating edible Christmas trees and snowflakes!
This recipe for the Christmas Cookies contains Amazon affiliate links. As an Amazon Associate, we earn from qualifying purchases.
Sugar cookies are simple to make and can be yummy too. We like to use a few colors and garnishes, plus almond extract is our secret for tasty Christmas cookies for Santa and for all the family.
The holidays are the perfect excuse for making sweet treats and baking Christmas cookies and other favorites. There is no doubt that this year my oven has been busy!
I have rediscovered my love for baking and bread making and feel unstoppable. My family and neighbors are getting sweet treats almost daily and everyone is loving it!
Shop for baking essentials at the Amazon storefront.
Baking and decorating Christmas cookies is easy. Follow the tips below.
I have to confess I am not an expert baker but have found that creativity has a lot to do to develop the skills as well as patience. Baking can be so therapeutic and a good activity to invite friends over or include the family in the baking and decorating process.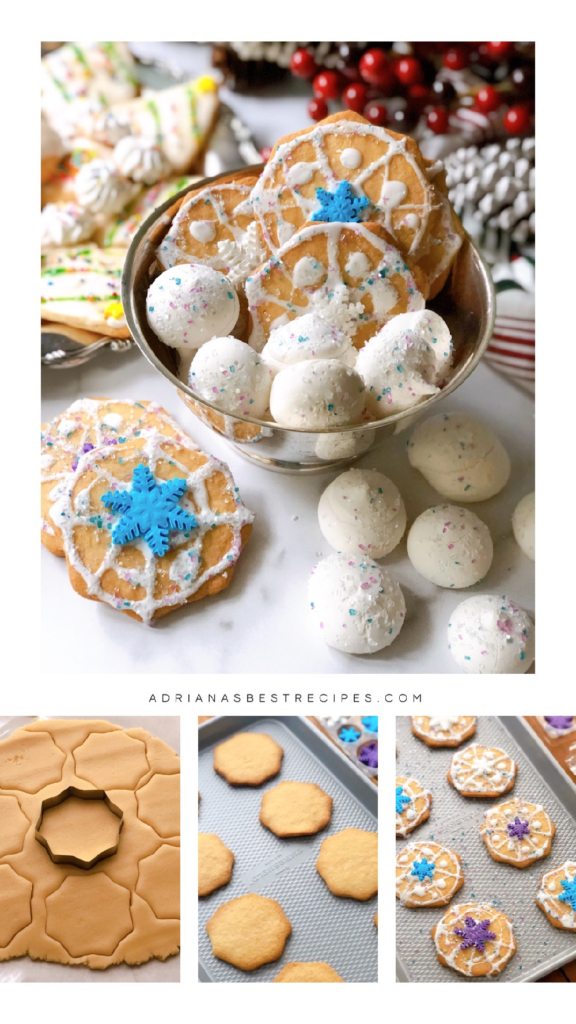 When decorating the Christmas cookies try not to go overboard and use a few colors.
Add to the cookie dough flavorings that will stand out against the sugar glaze. I use almond extract but you can use coconut, citrus, cinnamon, or vanilla.
Use themed cookie cutters, such as trees, stars, snowman, flurries, or simple rounds.
When the cookies are done let them cool in a wire rack before decorating otherwise the glaze will melt.
I like to freehand decorate but there are stencils that facilitate the process.
I have learned that cookie dough that has a butter base melts fast. Do not use your hands to manage it. I recommend the use of parchment paper to minimize the touching of the dough.
I also like to refrigerate the Christmas cookies before baking. This will allow the cookie to maintain its form while the baking process.
For the edible Christmas trees, I am using a white glaze, green gel, and colorful nonpareils.
For the edible snowflakes, I found sugar snowflakes and metallic decorating sugar at the store. The base is white sugar glaze and few drops of white gel.
For inspiration head over to the store and visit the baking aisle. I bought a lot of the ingredients and decorations on sale and use those to inspire my creation and color palette.
We made Christmas cookies simulating edible Christmas trees and snowflakes. These sweet treats are perfect for the enjoyment of Santa and the whole family!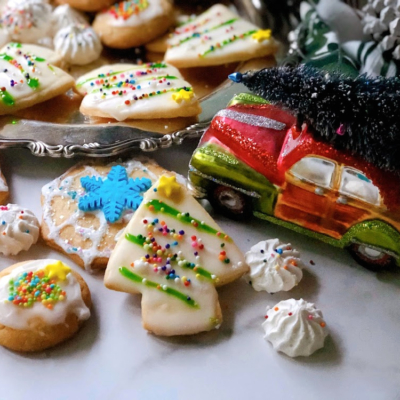 Christmas Cookies
We made Christmas cookies simulating edible Christmas trees and snowflakes. These sweet treats are perfect for the enjoyment of Santa and the whole family! These cookies have classic sugar cookie dough with almond flavor.
Equipment
Stand Mixer

rolling pin

Cookie sheets

Cooling rack

Parchment paper

Holiday cookie cutters

measuring cups and spoons

Mixing bowl
Ingredients
2

cups

all-purpose unbleached flour

1/2

teaspoon

baking powder

1/4

teaspoon 

salt

1/2

cup

unsalted butter

1

egg

3/4

cup

sugar

1

cup

icing

pre-made

1

teaspoon

vanilla extract

1/2

teaspoon

almond extract

lemon, orange, pecan or hazelnut if desired

1

container

Christmas sugar motifs

choose different colors and shapes

2

tubes

decorating gel

choose different colors aside from white
Instructions
Cream the butter in the stand mixer, and then add the sugar. Combine until getting a white-yellowish color. Add the egg and the vanilla and almond extracts. Mix again.

Sift the flour and add it to the wet mix. Mix until getting a playdough consistency. Place the dough in a parchment paper and place another parchment paper sheet on top.

Pass the rolling pin and extend the dough until forming a rectangle. Remove the parchment paper off the top but leave the one on the bottom.

Cut the cookie forms and remove the excess dough. This technique will allow to not touch the dough with your hands and you have the cookies ready to bake in the same parchment paper.

Place the parchment paper with the cookies in a baking sheet and refrigerate for 10-15 minutes before baking.

Bake at 350 degrees Fahrenheit for 10-12 minutes. Try no to overcook. Place the cookies in a wire rack and let them cool.

Now you can decorate the cookies following your creativity. I made Christmas trees covered with the white glaze and then added a star, green gel stripes, and nonpareils.

I also made snowflake cookies using sugar snowflakes and metallic sugar with blue, purple and pink colors.
Video
Nutrition
Calories:
167
kcal
Carbohydrates:
25
g
Protein:
2
g
Fat:
7
g
Saturated Fat:
3
g
Cholesterol:
20
mg
Sodium:
49
mg
Potassium:
30
mg
Fiber:
1
g
Sugar:
15
g
Vitamin A:
154
IU
Calcium:
9
mg
Iron:
1
mg
Have you tried this recipe? Snap a photo and tag us on Instagram and or Facebook using the handle @adrianasbestrecipes and this hashtag #ABRecipes Happy Eats!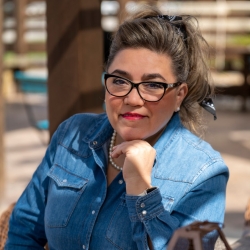 Latest posts by Chef Adriana Martin
(see all)