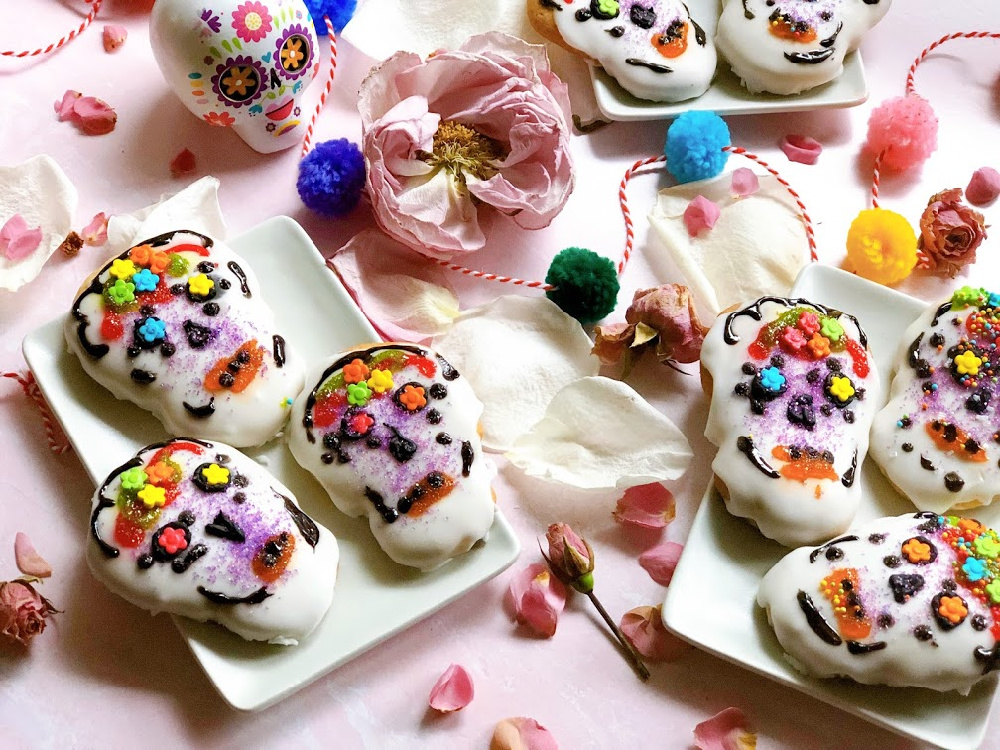 Homemade sugar skull cookies to remember the faithful departed.
The sugar skull is a symbol of the Mexican culture, that celebrates and remembers the departed with sweet memories. Based on that I prepared homemade sugar skull cookies to remember my Mexican traditions and teach my family about our Hispanic heritage and from where we come from.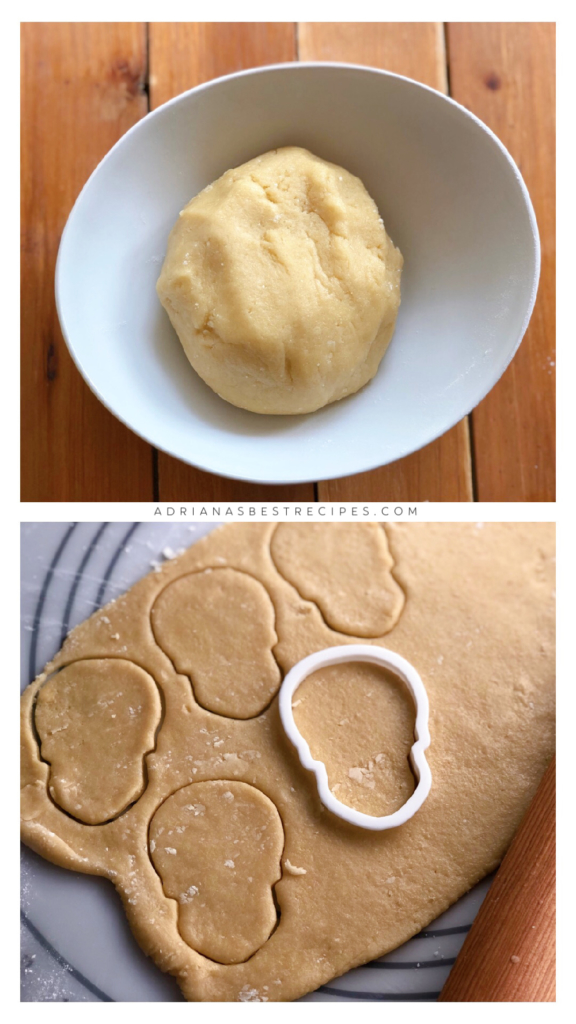 Making the dough for the sugar cookies is simple!
Tasty sugar skull cookies come together using sifted all-purpose flour, sugar, almond and vanilla extract, butter, baking soda, and a pinch of salt. For decorating we used royal icing, sugar flowers, colored sugar, and colored icing.
We used the mixer and our own hands for making the dough. The sugar cookies dough is pretty easy to make using your own hands, a manual whisk instead of a hand mixer, and a spatula. The cookie dough is tender so try not to work it too much. And use room temperature eggs and butter.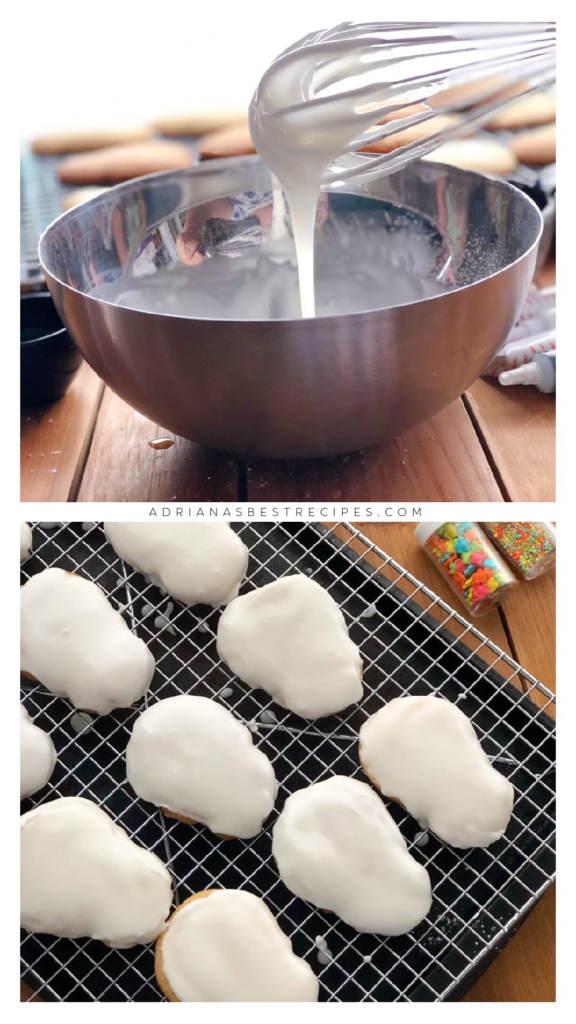 Pro-Tip – Let the sugar cookies dough rest inside the fridge covered for a few minutes. This will allow for easy cutting and shaping. Plus cookies will retain their shape while the baking process. Use a skull cookie cutter that it is easy to find at the store.
Tips for decorating sugar skull cookies.
I am not an expert in decorative sugar cookies but these skull cookies can be made by anyone. You do not have to be artistic or have too much skill.
That is why making these homemade sugar cookies with the kids is so much fun. Just need imagination and ready to use icing that has the tip. This will ease the work and make it so therapeutic and fun.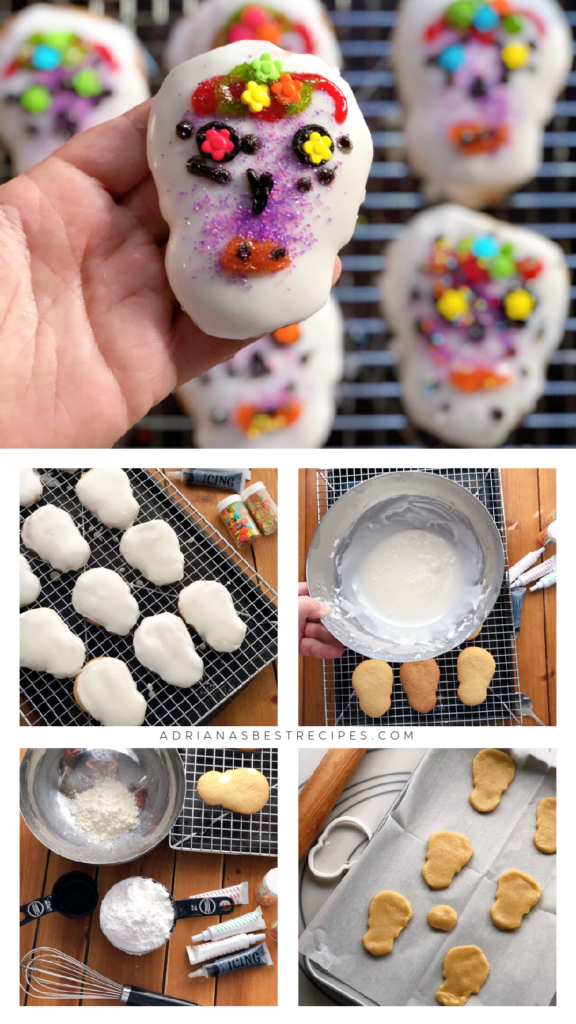 For decorating the cookies, I used ready to use royal icing, the one that just needs water and powdered sugar. And added a few drops of anisette extract for a classic touch.
Allow the sugar cookies to cold placing them in a rack.
The royal icing should be moderately runny to allow complete cookie coverage.
Allow the white royal icing to set and dry before adding the rest of the decorations.
Use colored gels and icing to decorate.
And use your creativity.
Pro-Tip – Choose bright happy colors to decorate the sugar cookies. Mexican sugar skulls show bright and festive colors and flower shapes.
History of the Sugar Skulls and Day of the Dead.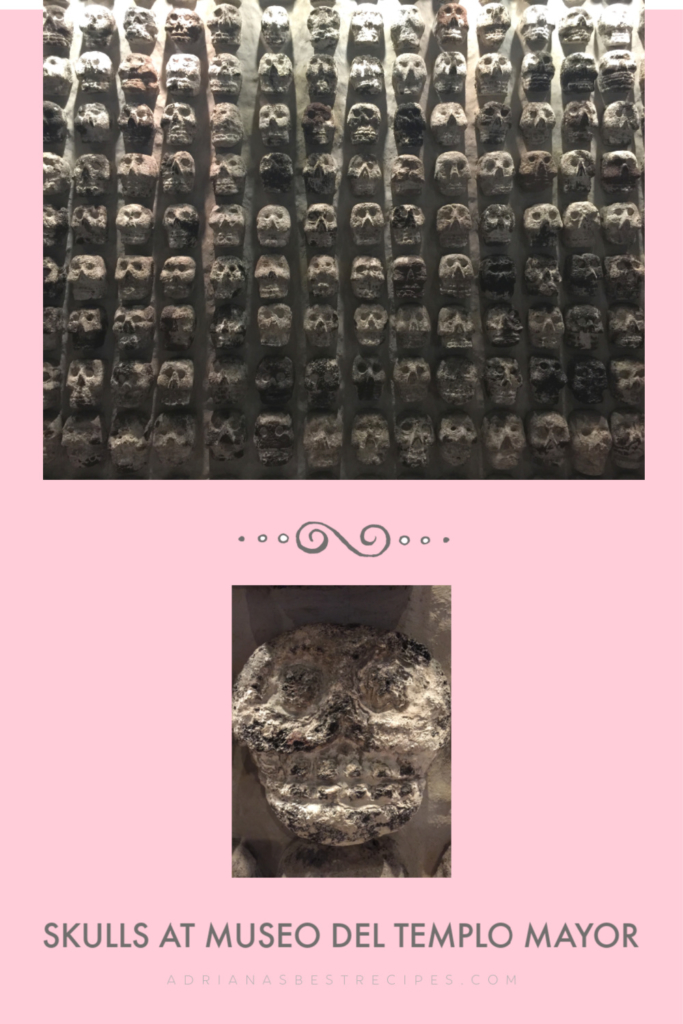 In the Mexica culture celebrating death was a tradition. There are remains of this practice in La Gran Tenochtitlan. A temple made of skulls can be seen at the Museo del Templo Mayor, in Mexico City.
After the conquest of the Spaniards, the evangelization commenced. The missionaries took elements of the pagan Mexica costumes to easily teach the Christian faith.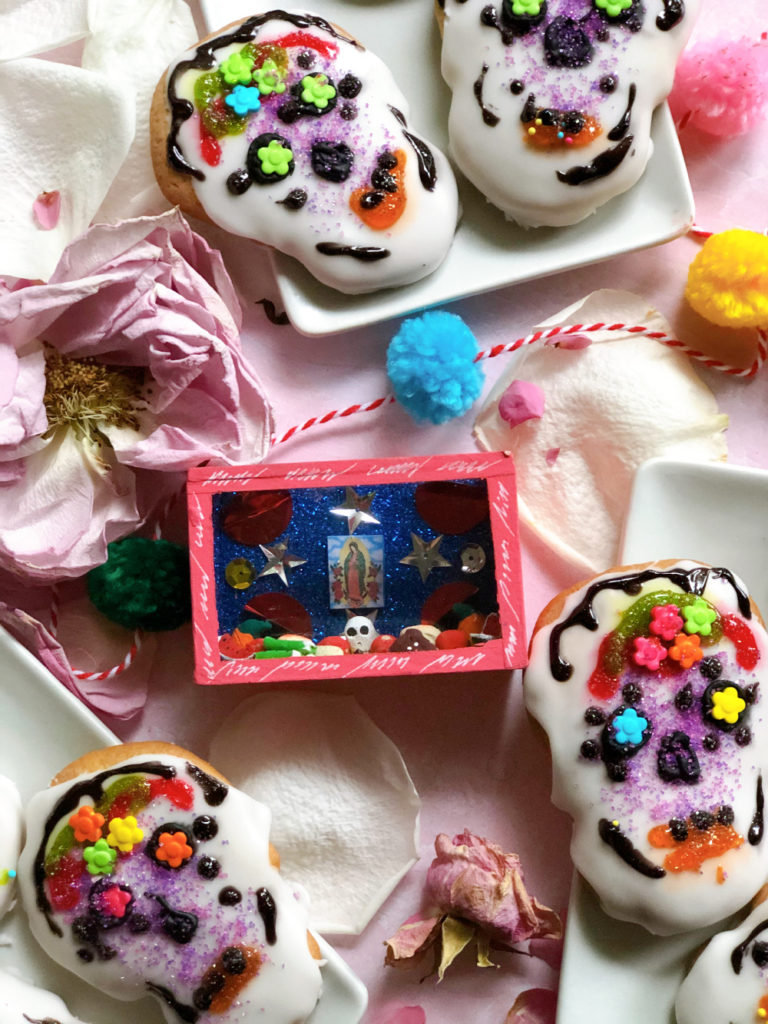 This initiated the acculturation of the feast of the underworld god with the celebration of the faithful departed. Giving a new way to celebrate those that have died and transforming the festivity onto what we called today "Dia de Muertos".
The Day of the Dead festivity has nothing to do with Halloween. The purpose of this celebration is to keep the memory of those that have passed alive and reunite again for one night.
Are you ready to bake the sugar skull cookies at home?
I hope you try our recipe for sugar cookies this season. It is the base for making Christmas cookies that will delight the whole family and perfect for Friendsgiving too.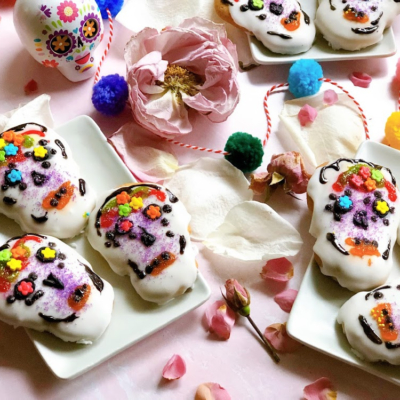 Sugar Skull Cookies
The sugar skull cookies are homemade sugar cookies baked to celebrate the Day of the Dead. These are tasty decorative edible cookies with colorful motifs.
Equipment
Hand mixer

Mixing bowls

Skull cookie cutter

Oven

Cookie sheets

Waxed paper

Cooling rack

measuring cups and spoons
Ingredients
2

cups

all-purpose unbleached flour (sifted)

used King Arthur flour

1/2

teaspoon

baking powder

1/4

teaspoon

salt

1/2

cup

unsalted butter

softened and cubed (1 stick of butter)

1

egg

at room temperature

3/4

cup

caster sugar

1 1/2

teaspoons

vanilla extract

1

teaspoon

almond extract

1

cup

colorful sugar motifs

flowers, sugars, etc

1

tube

colorful decorating gel

1

tube

black decorating icing
Royal icing
1/2

cup

royal icing mix

1

cup

confectioners sugar

sifted

2

teaspoons

water

could require more, add water one teaspoon at a time

1/4

teaspoon

anise extract

optional
Instructions
Cream the butter using the hand mixer and add the sugar, the almond and vanilla extracts, and the egg. Mix again until getting a uniform consistency. Add the sifted flour and combine using your hands. The dough will be ready when has a playdough consistency.

Place the dough in a bowl and cover with plastic. Refrigerate for a few minutes and take out. Add some flour and roll using the rolling pin. Do not work the dough too much, needs to be as cold as possible before cutting.

Use a skull cookie cutter and cut the forms. Place the cookies on a baking sheet previously covered with waxed paper. Bake at 350 degrees Fahrenheit for 10-12 minutes. Do not overcook. Take the cookies out of the oven and place them in a rack for cooling.

Prepare the royal icing combining all the ingredients on the list. Just be careful with the amount of water. The royal icing needs to be runny but not watery, so add the water slowly.

Begin covering the cookies with the withe icing and let them dry. When the royal icing has set start decorating first with the black icing, and then with the colored gel. Use colored sugar and sugar flower motifs for decorating.
Video
Notes
Have you tried this recipe? Snap a photo and tag us on Instagram and or Facebook using the handle @adrianasbestrecipes and this hashtag  #ABRecipes Happy Eats!
Nutrition
Serving:
1
cookie
Calories:
258.18
kcal
Carbohydrates:
43.58
g
Protein:
2.69
g
Fat:
8.22
g
Saturated Fat:
5.01
g
Cholesterol:
33.98
mg
Sodium:
55.8
mg
Potassium:
44.19
mg
Fiber:
0.56
g
Sugar:
27.33
g
Vitamin A:
256.16
IU
Calcium:
14.67
mg
Iron:
1.03
mg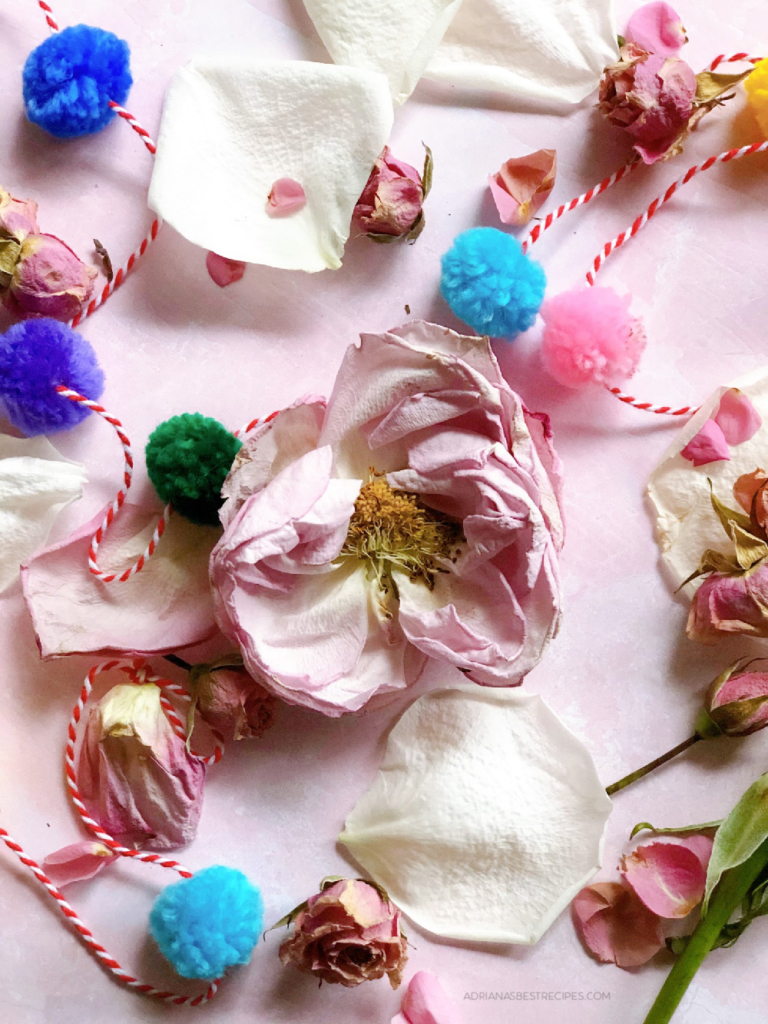 Follow us on Instagram @adrianasbestrecipes we publish yummy recipes every day!