This post is also available in: Español
Cooking Oven Roasted Chicken Breasts with tea!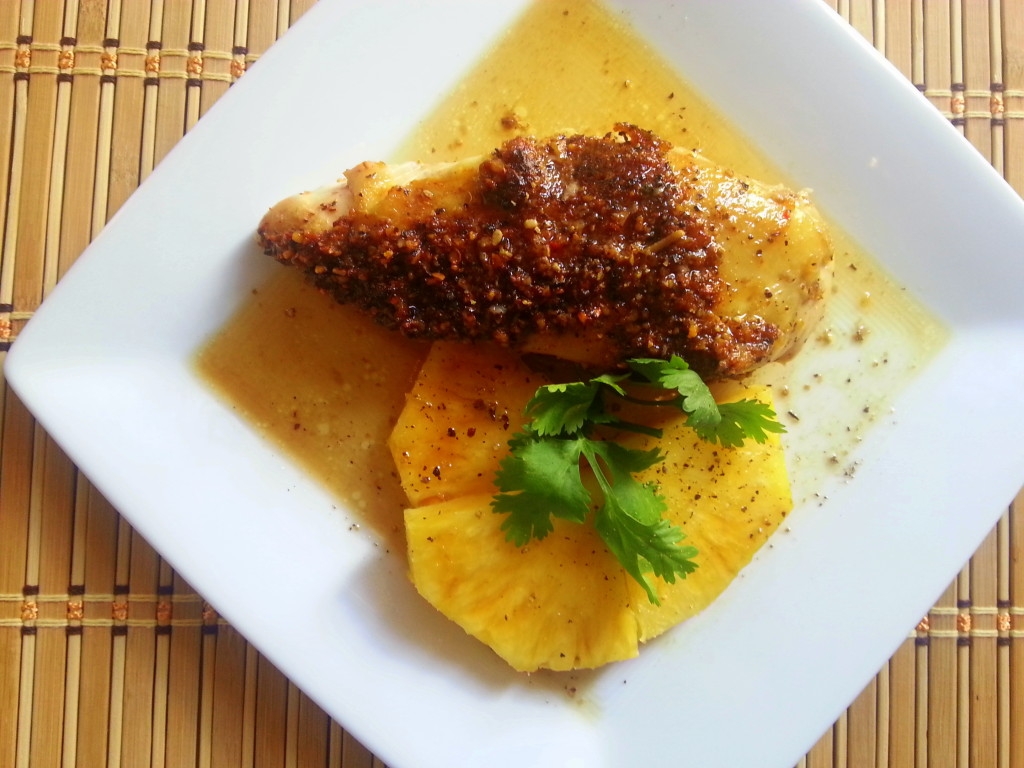 I recently received few samples of Brisk Honey Ginseng Iced Tea and decided to use the tea as the inspiration behind this delicious Oven Roasted Chicken Breasts recipe. Marinating chicken in tea and spices is a legendary tradition and a good way to infuse flavor and moist to the Oven Roasted Chicken Breasts. This is what you will need to prepare this recipe: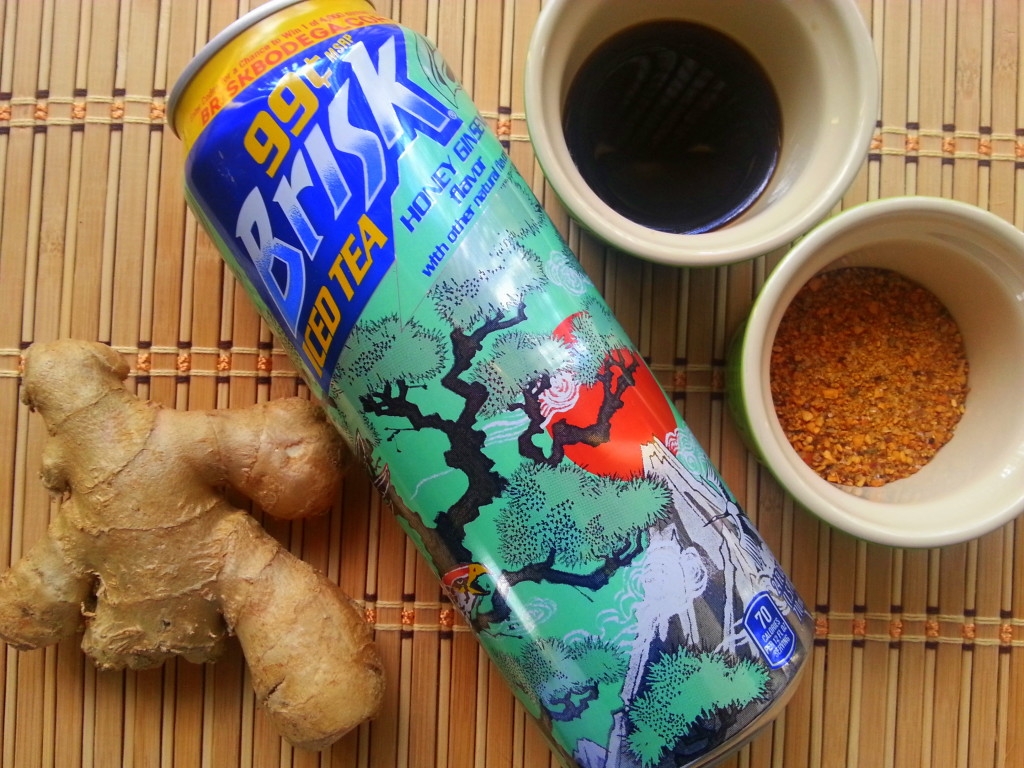 INGREDIENTS
4 chicken breasts with the bone and the skin
12 pineapple triangles
1 teaspoon of butter
 Cilantro florets
For the marinade:
12 ounces of Brisk Honey Ginseng Iced Tea (1 can)
1/3 cup of chopped fresh ginger
1 teaspoon of fresh lemongrass
1 chopped garlic clove
1 teaspoon of coarse sea salt
1 teaspoon of ground black pepper
For the rub:
1 teaspoon of dried ginger
1 teaspoon of paprika
1 teaspoon of red pepper
1 teaspoon of coarse sea salt
1 teaspoon of dried garlic
For the glaze:
2 teaspoons of spicy mustard
1 teaspoon of peach preserve
1 teaspoon of honey
1 teaspoon of soy sauce
1 teaspoon of  ponzu sauce
Preparation time: 45 minutes through the marinating process takes 5 hours. This recipe for the Oven Roasted Chicken Breasts serves 4 guests. Approximate cost per person $4.00 depending on local ingredients cost. You will need a roasting pan or a pyrex and aluminum foil to cover as well as bowls for preparing the rub and the glaze.
Clean the chicken breasts without removing the skin and the bone. Prepare the marinade combining all ingredients together. Place the chicken breasts inside a plastic container and add the marinade, close with a plastic lid and refrigerate for 5 hours. You can marinate overnight if desired. This process of letting the chicken absorb the marinade is important to have moisty meat since the breast is particularly dry.
Prepare the rub combining all the dry spices. Take the chicken out of the fridge and discard the marinade. Place the chicken breasts inside the Italian clay oven or a pyrex. Sprinkle the dry condiments to each chicken breast. Then prepare the glaze by combining all ingredients and brush the chicken breasts covering well. Add more of the rub to create a nice condiment crust. Cover the pyrex or roasting pan with a lid or aluminum foil. Roast inside a gas oven at 430 grades Fahrenheit and cook for 30 minutes. Then remove the aluminum foil and let the chicken breasts cook for another 10 to  15 minutes until golden brown. Saute the pineapple slices in butter for few seconds and serve alongside the Oven Roasted Chicken Breasts, drizzle with the chicken jus and decorate with a cilantro floret.
This recipe for Oven Roasted Chicken Breasts is a good option to surprise your family with a different flavor profile.
Enjoy!
Products from Amazon.com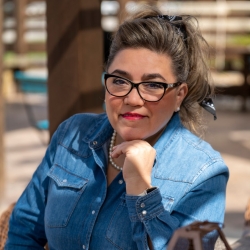 Latest posts by Chef Adriana Martin
(see all)