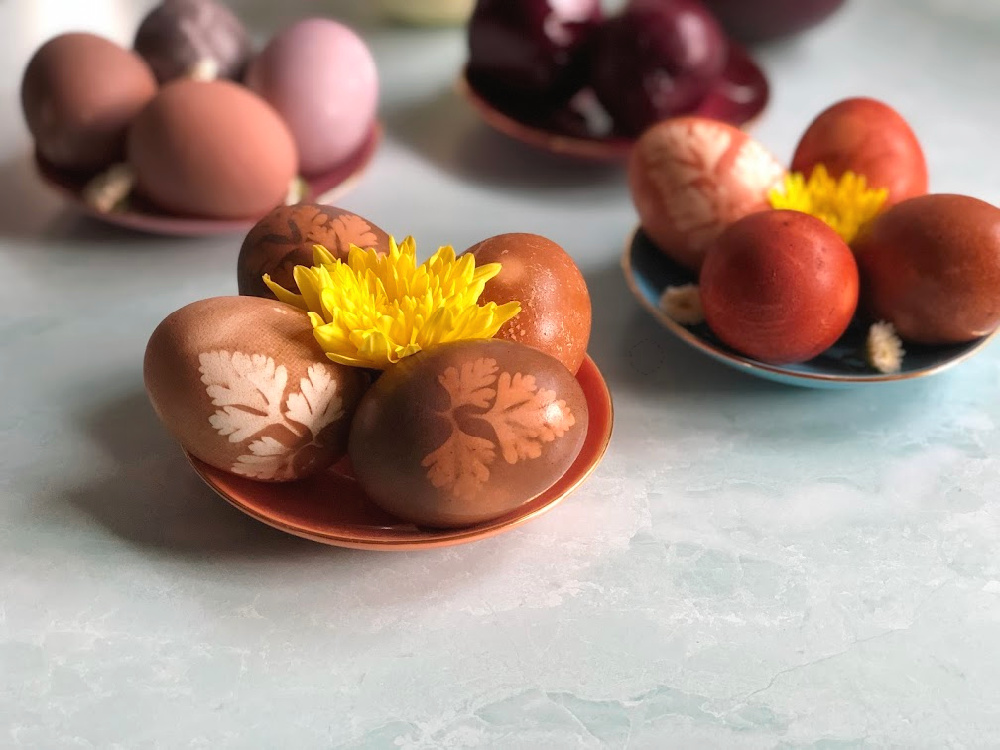 Learn how to dye Easter eggs using vegetables because kids love colored eggs!
Did you know you can dye Easter eggs using produce and scraps? Yes, in our kitchen, nothing goes to waste. We use the onion peels to make amber colors, beets, and purple sweet potatoes for pink and purple tones.
Many natural ingredients allow dyeing Easter eggs.
For beautiful blues and purples, many use purple cabbage and blueberries, for pink beets are a must. For orange hues, brown onion peels work great. And for yellow, turmeric is the way to go.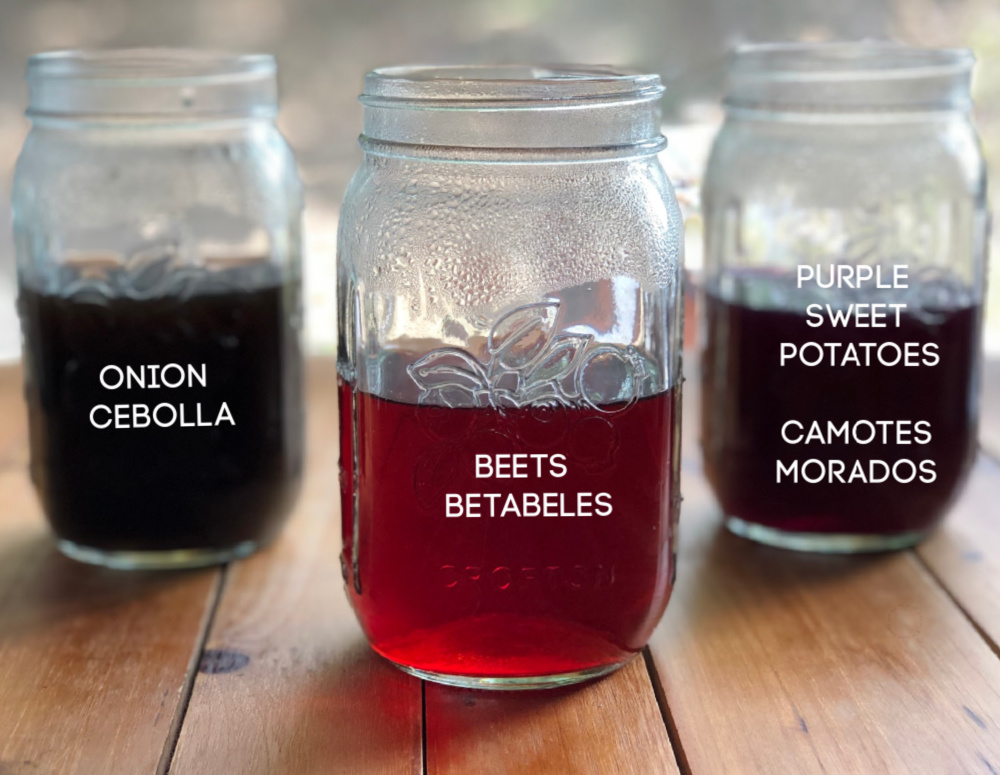 Matcha tea powder and spinach juice make soft green colored eggs. And wine and grape juice help when making emo eggs. There is a wide variety of natural dyes that we can use without adding chemicals to the food. Because, yes, we like to eat our colored Easter eggs.
Why dye Easter eggs, and how this tradition started?
Easter eggs are also called resurrection eggs and are a symbol of rebirth and fertility too. The origins of Easter eggs date from medieval times and some believe the tradition of the eggs started with the celebration of the Goddess Eastre. Apparently, these colored eggs were eaten at the festival as well as buried in the ground for fertilely.
Christian missionaries in Europe adopted the egg tradition to encourage Christian conversion. And the rest is history, now we love to dye the Easter eggs, and the activity became a family tradition.
Importance of Easter and Family Traditions
Easter is an important holiday for us Christians. Lent is the path to become better people, and Easter unites us to profess our faith. We attend the church that day, wear beautiful dresses, and come back home to enjoy an Easter meal. Including ham, green beans, mashed potatoes, salad, and Easter braided bread.
While growing up, my mom would love coloring eggs with us. The process was complicated as she would save the eggshells every time eggs were used, whether for breakfast or for making another dish.
She would break the eggs carefully from the top and clean with water to remove the membrane and the white. Then the eggshells will stay in an egg carton until getting a complete dozen. For coloring, we used food coloring instead of natural dye. And we stuffed the eggs with confetti and sealed with a colorful paper.
Those colored eggs were fun! We would play hide and seek, and the confetti eggs were a big part of the game. Our Easter egg hunt was a little bit different from what happens here in America; I miss those childhood days.
Tips to dye Easter eggs at home.
Choose white and brown eggs to achieve different color shades.
Use the cooking water for colored foods, such as beets and purple sweet potatoes.
Save the peels of purple and brown onions.
Use spices such as turmeric or wine for emo eggs.
Blueberries and grape juice are fabulous natural dyes too.
White vinegar is the agent that helps create natural dye. Use two teaspoons of vinegar per every three cups.
Leaves and flowers create shapes to give the effect of a painting.
Use cheesecloth or washed stalkings as well as rubber bands to help with the dying and decoration.
Cook eggs on the Instant Pot before dyeing.
Use mason jars for dyeing and for keeping the eggs inside the fridge to achieve intense colors.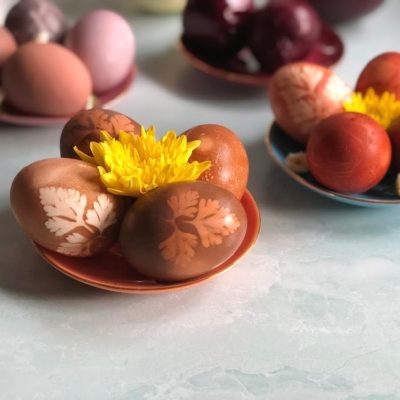 How to Dye Easter Eggs Naturally
Learn how to dye Easter eggs using vegetables. Fruits and produce allow dyeing Easter eggs naturally with no chemicals. An activity that can become a family tradition.
Equipment
Instant Pot

Mason jars

Strainer

Tongs

Spoons

Cheesecloth

Rubber Bands
Ingredients
5

white eggs

4

brown eggs

6

teaspoons

white vinegar

3

cups

onion peel water

made with purple and brown onion peels

3

cups

beet water

the cooking water used to cook the beets

3

cups

purple sweet potato water

the cooking water used to cook the sweet potatoes

4

parley leaves

4

cheesecloth squares

4

rubber bands

3

mason jars

large enough to fit tree eggs
Instructions
Cook the eggs in the Instant Pot for 5 minutes on high with one cup of water. Do a rapid release and place the eggs in iced water to stop the cooking process.

Prepare each tint using root vegetables. We used beets and purple sweet potatoes. Those cooked in the Instant Pot with 3-4 cups of water. Reserve the cooking water and set aside.

For the maroon color peel the onions and cook the peels with 3-4 cups of water. Simmer until getting a deep coffee maroon color. Strain and set aside.

Keep the tints hot and pour each color in a mason jar that can hold 3 cups of liquid. Add 2 teaspoons of vinegar to each color and mix.

Use parsley leaves to decorate the eggs. For that wrap the eggs with cheesecloth and place a leaf in the bottom. Secure with a rubber band.

Submerge the eggs in the natural dyes, place the lid, and keep the mason jars inside the fridge for a few hours. The more you steep the eggs the more intense the colors will be. I left mine overnight.
Video
Nutrition
Calories:
64
kcal
Carbohydrates:
1
g
Protein:
6
g
Fat:
4
g
Saturated Fat:
1
g
Cholesterol:
164
mg
Sodium:
63
mg
Potassium:
61
mg
Sugar:
1
g
Vitamin A:
238
IU
Calcium:
25
mg
Iron:
1
mg
Have you tried this recipe on how to dye Easter eggs? Snap a photo and tag us on Instagram and or Facebook using the handle @adrianasbestrecipes and this hashtag #ABRecipes Happy Eats!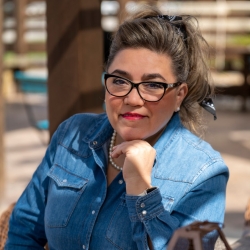 Latest posts by Chef Adriana Martin
(see all)