This post is also available in: Español
A cranberry tomatillo spicy salsa perfect for tacos and to enjoy with chips too!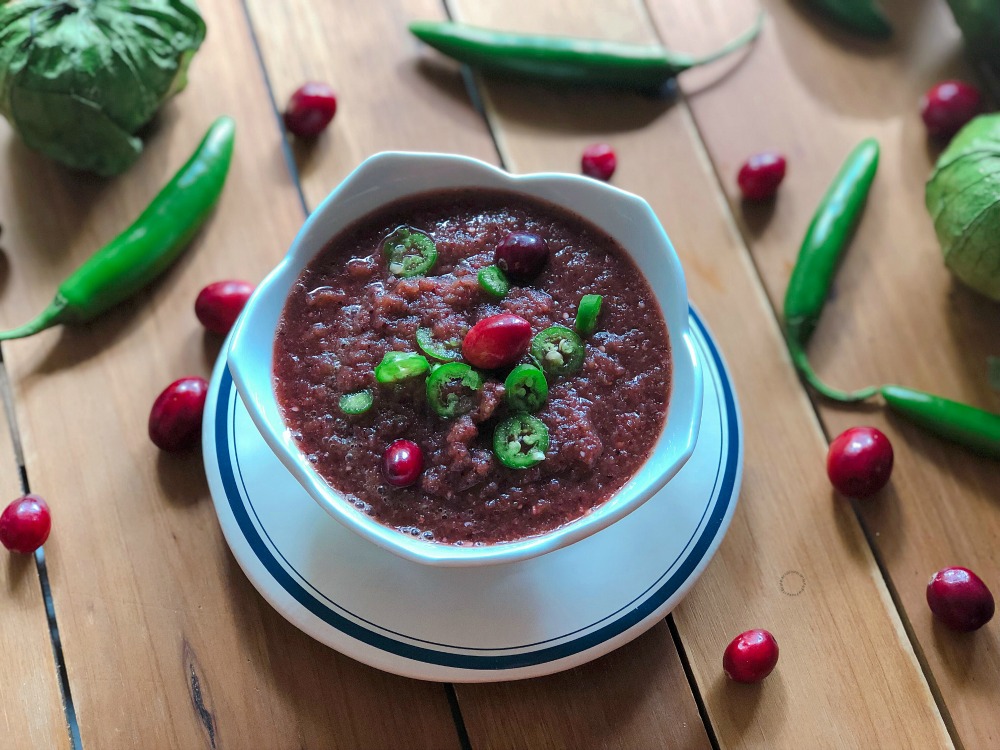 I love making spicy salsas to use as a garnish for many of the Mexican dishes I prepare for my family. Cranberries are tart and go very well when combined with fresh tomatillos, serrano peppers, cilantro, and cumin. The tartness of the fresh cranberries provides a good a balanced salsa that you can pair with so many different dishes even your turkey leftovers.
Making the cranberry tomatillo spicy salsa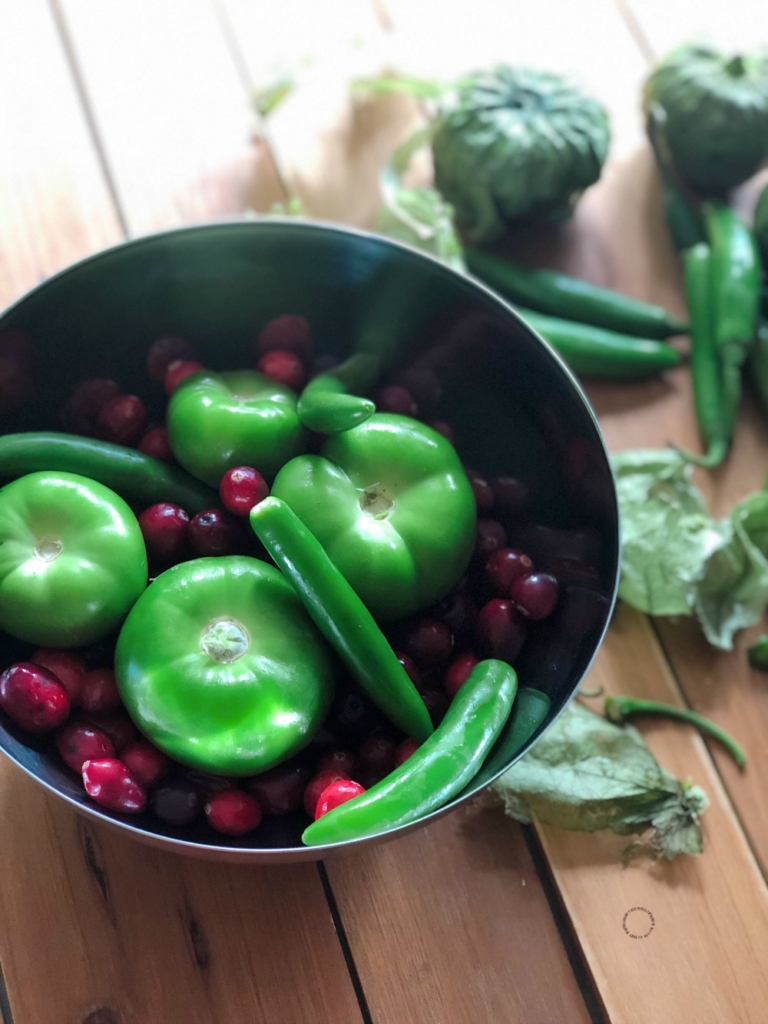 The process is very simple, you just need few fresh tomatillos, half cup of raw cranberries, serrano peppers (I like it spicy so I use 6 peppers). You can use fewer peppers depending on your taste buds. The cranberry tomatillo spicy salsa has pink salt and cumin to add more flavor as well as a bunch of fresh cilantro. Place all the ingredients in the blender with some water and the salsa is ready in less than ten minutes.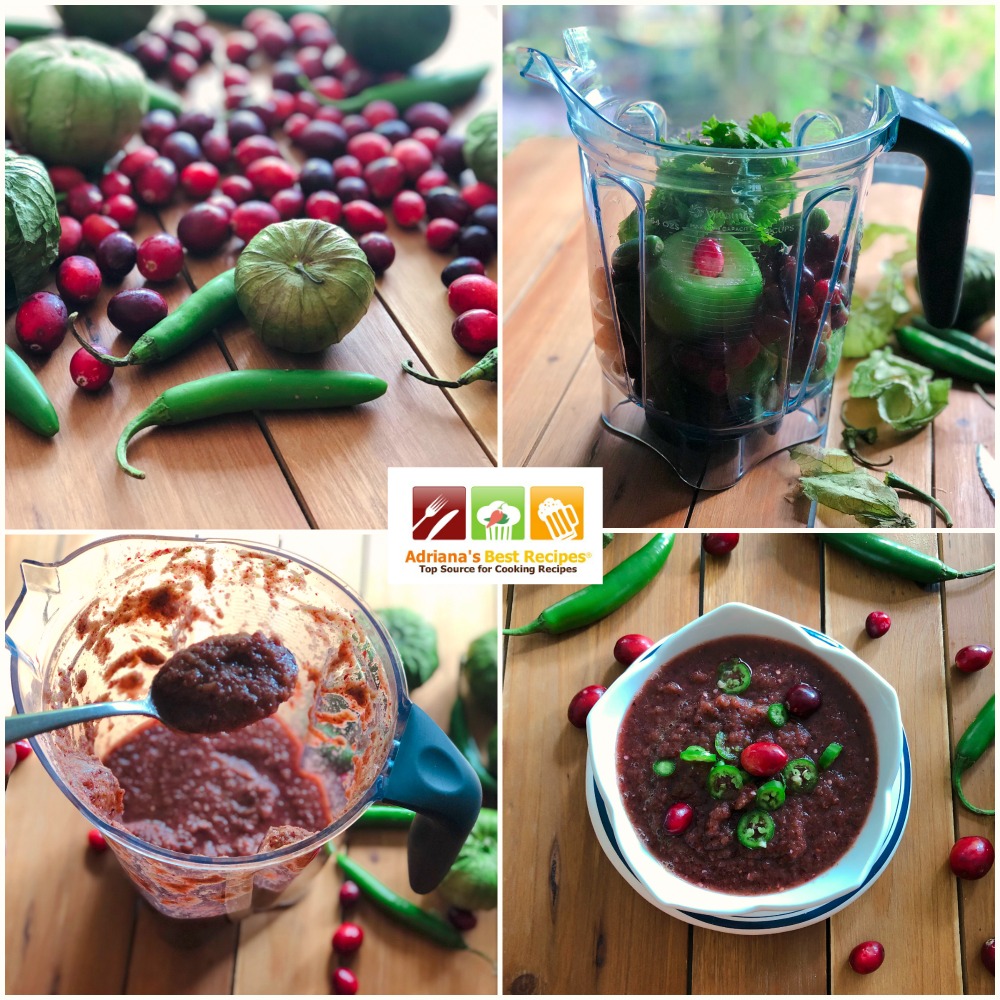 Roasting the tomatillos and adding roasted garlic is optional. I decided not to add garlic nor roast the tomatillos as I want a fresh raw salsa to use on grilled meats and to serve as a snack with avocado and chips.
How the cranberry tomatillo spicy salsa tastes like?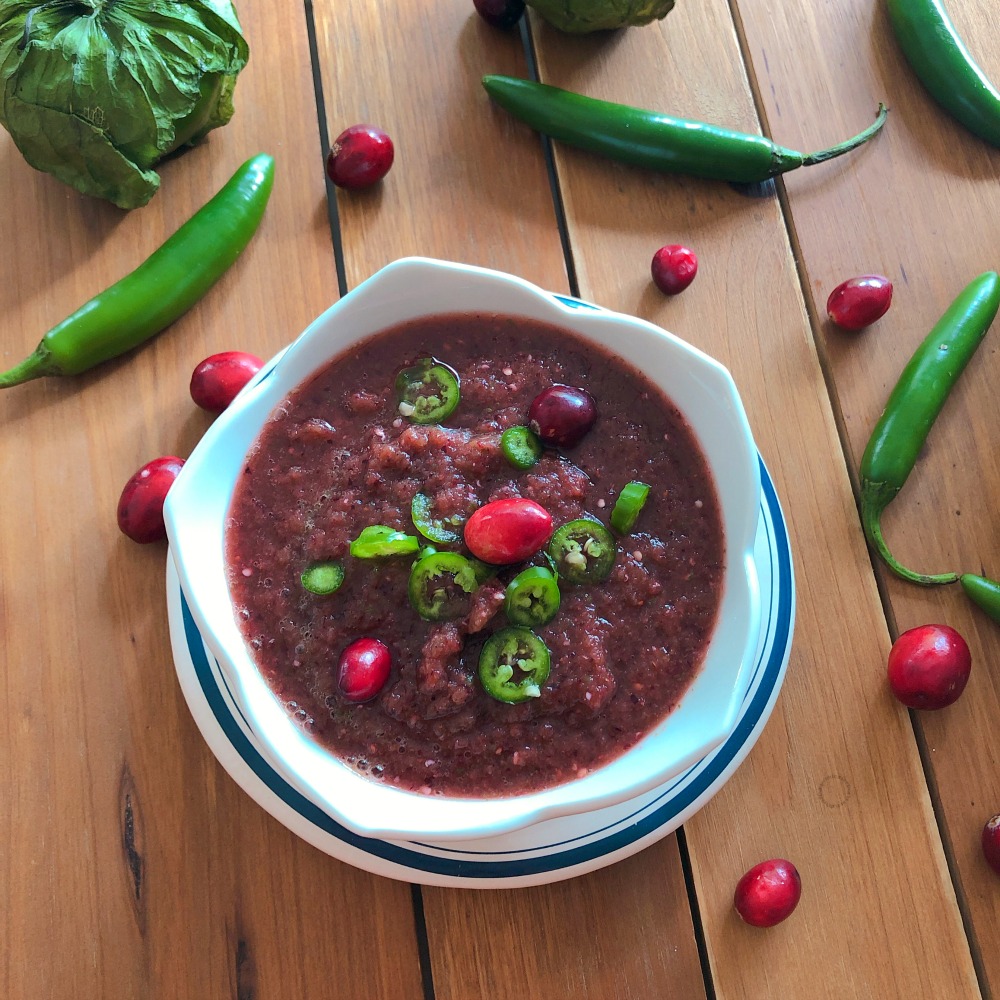 This salsa is delicious, you'll be surprised by the great flavor it has and how much brightness adds to the meals. Cranberries we use in cooked in sauces and jams, but raw cranberries are edible too. I grilled chicken and made tacos garnished with the cranberry tomatillo spicy salsa and everyone devoured them. Now I am planning to use this salsa with leftover turkey from Thanksgiving. I will saute the turkey meat on a skillet, add some spices and then serve with brown rice, beans, and greens. Topping the bowl with the cranberry tomatillo spicy salsa for a perfect finish.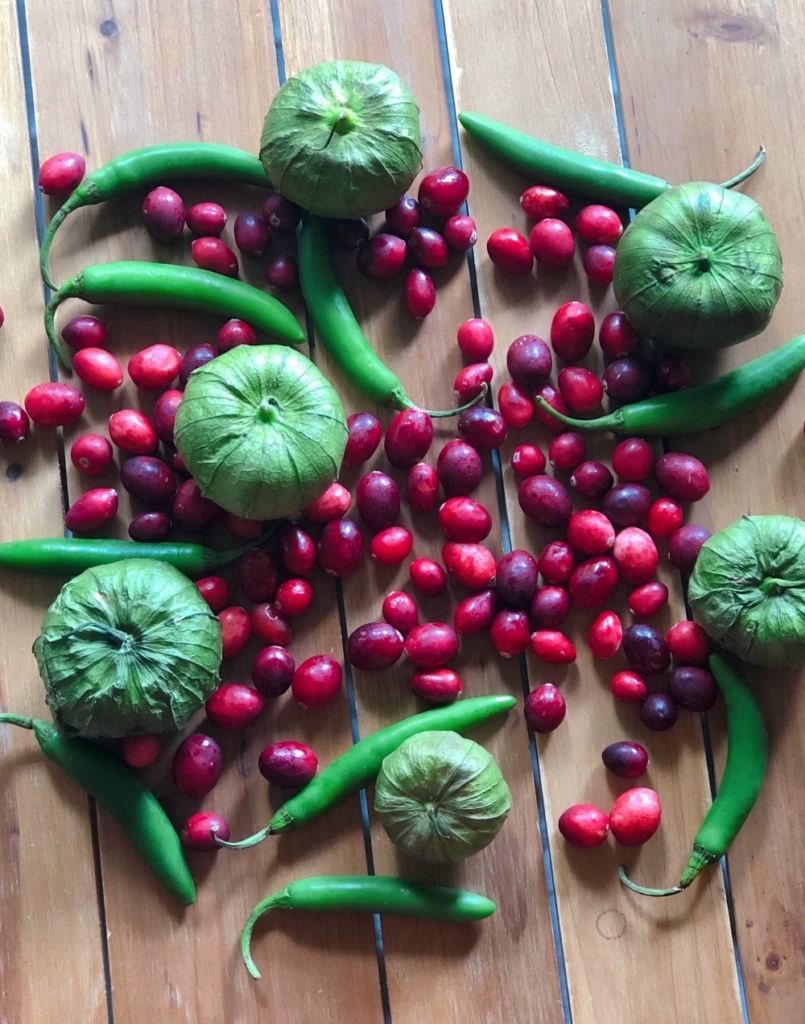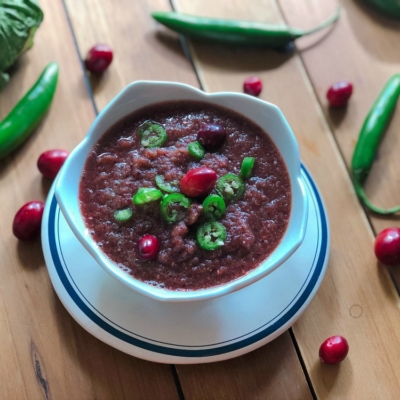 Cranberry Tomatillo Spicy Salsa
The cranberry tomatillo spicy salsa recipe has few ingredients; it is delicious and ready in less than ten minutes. You can garnish so many meals with it and enjoy as an appetizer with corn chips.
Ingredients
4-6

tomatillos

1/2

cup

raw cranberries

4-6

serrano peppers

1

bunch

fresh cilantro

1

tablespoon

pink sugar

1

teaspoon

cumin
Instructions
Clean the tomatillos by removing the husks. Remove the serrano pepper stems and add the cranberries along with the peppers and the tomatillos to a bowl to clean with running water.

Add all the ingredients and the condiments to the blender and blend until getting a chunky salsa consistency.

Pour the salsa into a bowl and enjoy with your meal or as an appetizer with chips.
Notes
Raw cranberries are edible. 
Can replace serrano peppers with jalapeños.
Keep the salsa refrigerated, will stay fresh for a week when kept in a proper container with a lid and kept inside the fridge. 
Nutrition
Serving:
0
g
Calories:
300
kcal
Carbohydrates:
0
g
Protein:
0
g
Fat:
0
g
Saturated Fat:
0
g
Polyunsaturated Fat:
0
g
Monounsaturated Fat:
0
g
Trans Fat:
0
g
Cholesterol:
0
mg
Sodium:
0
mg
Potassium:
0
mg
Fiber:
0
g
Sugar:
0
g
Vitamin A:
0
IU
Vitamin C:
0
mg
Calcium:
0
mg
Iron:
0
mg
Products from Amazon.com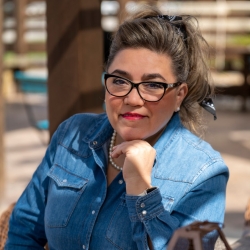 Latest posts by Chef Adriana Martin
(see all)