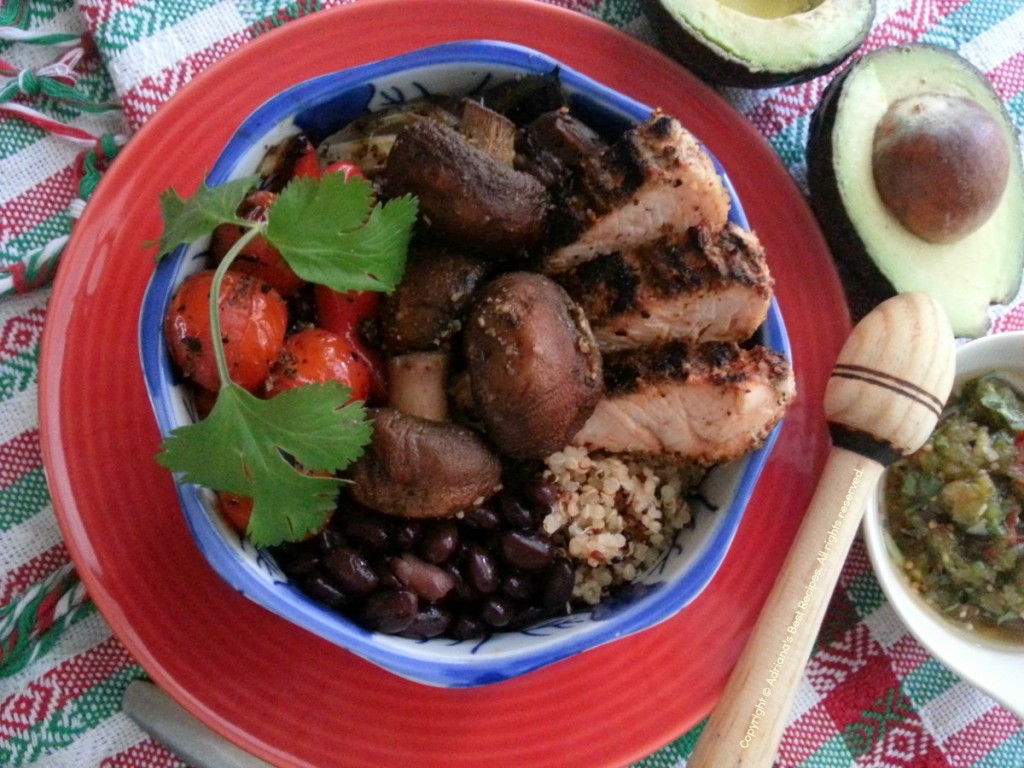 I love the Mexican Bowl offered at the local restaurant and decided to do a Mushroom Makeover of this dish using roasted crimini mushrooms, veggies, replacing the rice with quinoa and adding grilled chicken strips. This dish is now my favorite and my family loved it too, it is healthy, has a lot of fiber and it is low fat. The flavor of the roasted criminis is delightful and adds a great texture to the overall dish. That is why today I want to share my recipe for the Mexican Bowl re-imagined, let's cook!
INGREDIENTS
4 cups of cooked quinoa with garlic and olive oil
3 cups of cooked black beans
1 grilled chicken breast cut is strips
20 roasted crimini mushrooms
14  roasted cherry tomatoes
2 cups of roasted purple onion
2 cups of roasted sweet peppers
1 cup of fresh chopped cilantro
1 avocado hass
1 cup of homemade salsa verde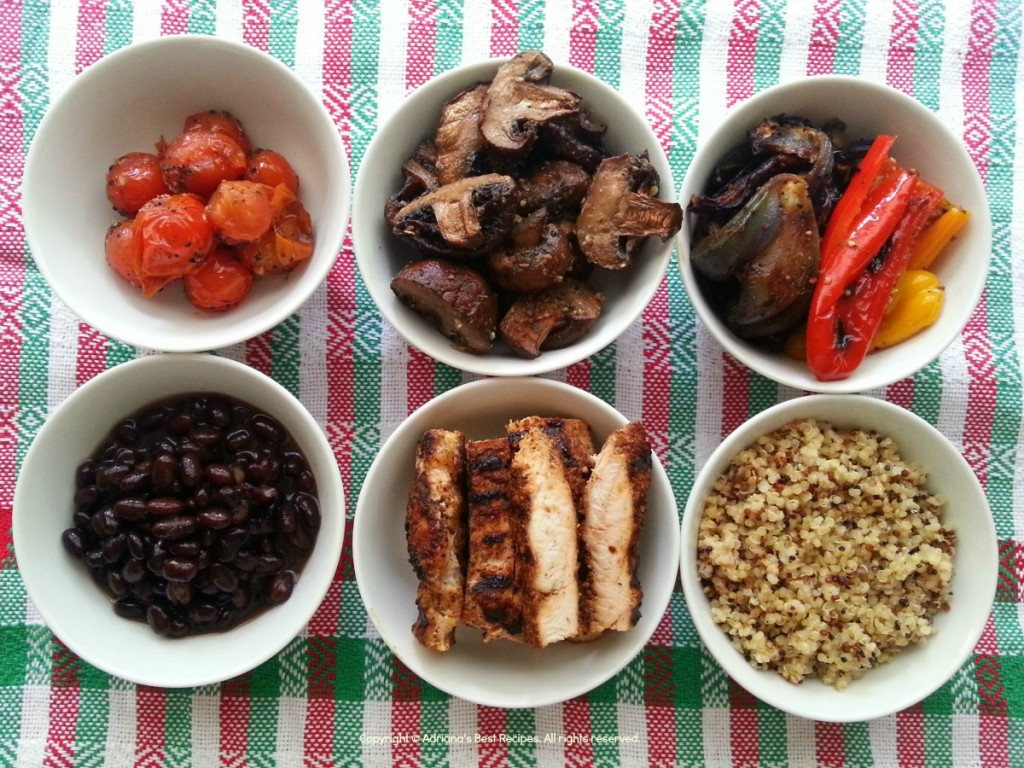 Preparation time: 45 minutes. Serves 4 portions. Cost per portion around $5.00 depending on the ingredients cost at your local supermarket. You will need 2 baking sheets, 1 cooking pan, tongs, spoons, measuring spoons and cups, chopping block and a knife.

Start by cutting your veggies and place them in the baking sheet. Drizzle with olive oil and fajita seasoning. It is recommended to roast each veggie separately to preserve the specific flavor of each component. Though you can roast the peppers and the mushrooms together. In the meantime you roast prepare the quinoa following the package instructions just add olive oil and garlic for flavoring. Condiment your chicken breast with fajita seasoning and grill. Let the chicken rest before cutting to avoid loosing the juices. You can use canned beans but I prefer to use homemade you can see how to make black beans here or click the image.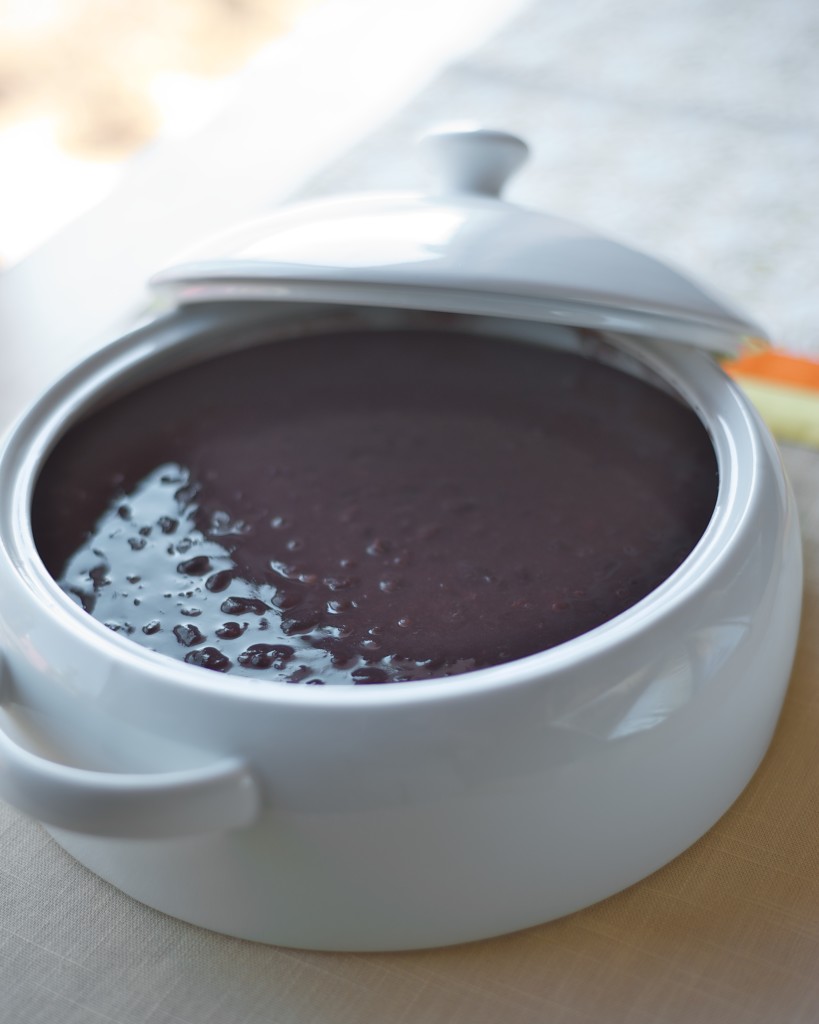 To serve the Mexican Bowl start by adding quinoa, then add the beans, and equal proportions of the roasted veggies and crimini mushrooms. Top the Mexican Bowl with salsa verde and cilantro and add chopped avocado hass.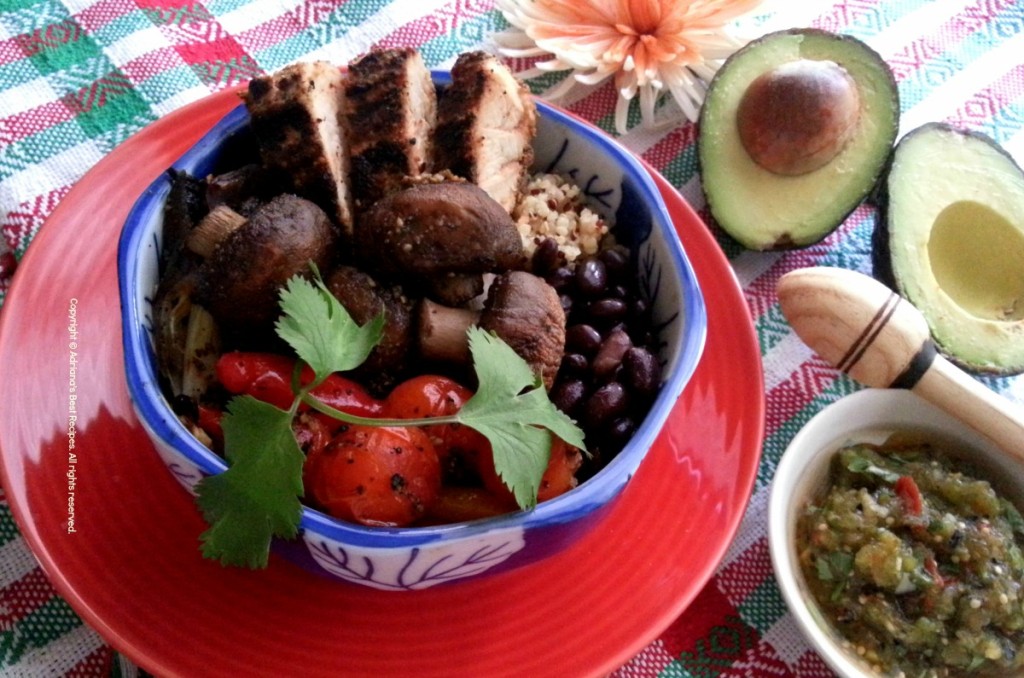 Remember that replacing the amount of meat with mushrooms is a healthy way to reduce calories. This dish is full of fiber and flavor I am sure you and your family will love it. The roasting of the veggies makes the difference as you can taste the true flavor of each ingredient making each bite a trip! Also Mushrooms bring important nutrients like vitamin D, potassium, B vitamins and antioxidants to the plate without adding significant calories, fat and cholesterol. To learn more about the Mushroom Council and mushrooms in general I invite you to connect with them in Facebook they post great ideas for "Mushroom Monday" .