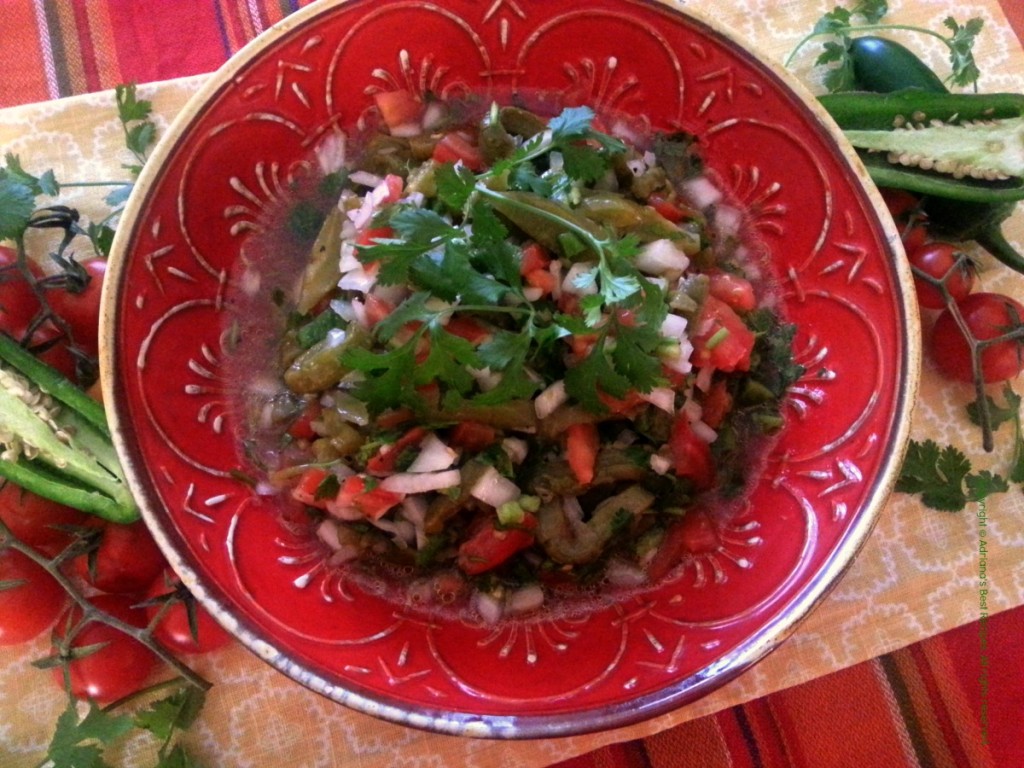 Cactus Nopalitos Salad is a traditional Mexican dish, and yes sounds strange but is is tasty and very healthy. The cactus nopal leaves are edible and produce flowers which at the end become a fruit known as prickly pear. The nopal is easy to cook, you just need to boil enough to remove the slime that has, the taste raw is somewhat like an okra. Here in the United States it is sold commercially (canned) and the slime is not present if buying the product ready to eat. Since this dish is vegetarian is a perfect addition to your lent menu or if you are simple looking to variety on the salads you have for dinner or lunch. I invite you to cook with me this Cactus Nopalitos Salad with me!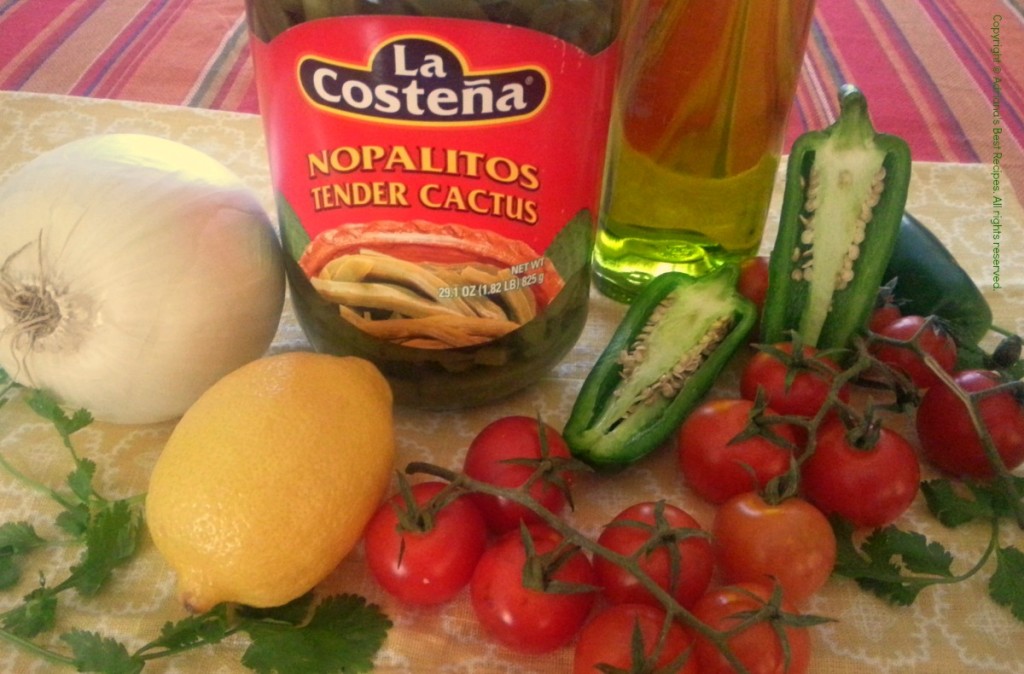 INGREDIENTS
825 grams of cactus nopal canned or cooked
1 cup of finely chopped cherry tomatoes
1 cup of finely chopped white onion
1 jalapeño chile finely chopped
1 cup of finely chopped cilantro
1/2 cup of lemon juice
2 tablespoons of olive oil
Salt and pepper
Preparation time: 20 minutes. Serves 4-6 portions. Cost per portion less than $1.50 depending on the cost of the ingredients at your local supermarket. You will need a chopping block, knife, a bowl and a spoon.
Start chopping the ingredients. Open the container of the cactus nopal and drain the water. Add the cactus nopal to the bowl and combine with the rest of the ingredients. Season with olive oil, the lime juice, salt and pepper. Eat immediately. You can serve on top of fresh lettuce, as a salsa to pair with tacos, tostadas or sopes or eat alongside a serving of grilled meat or chicken.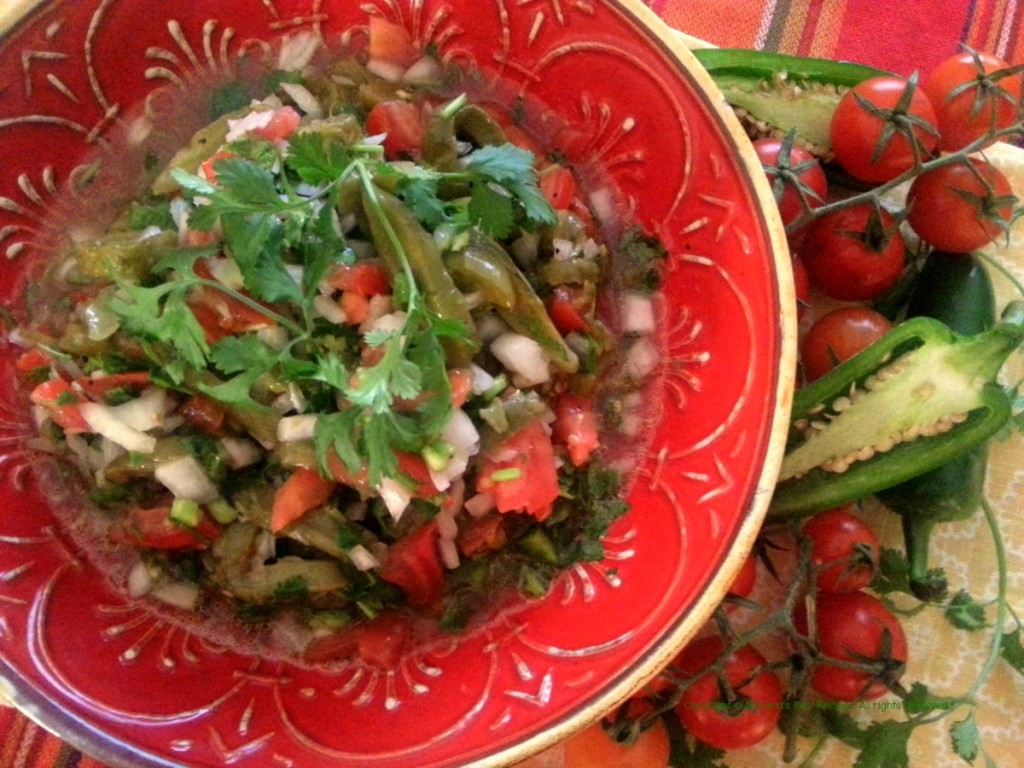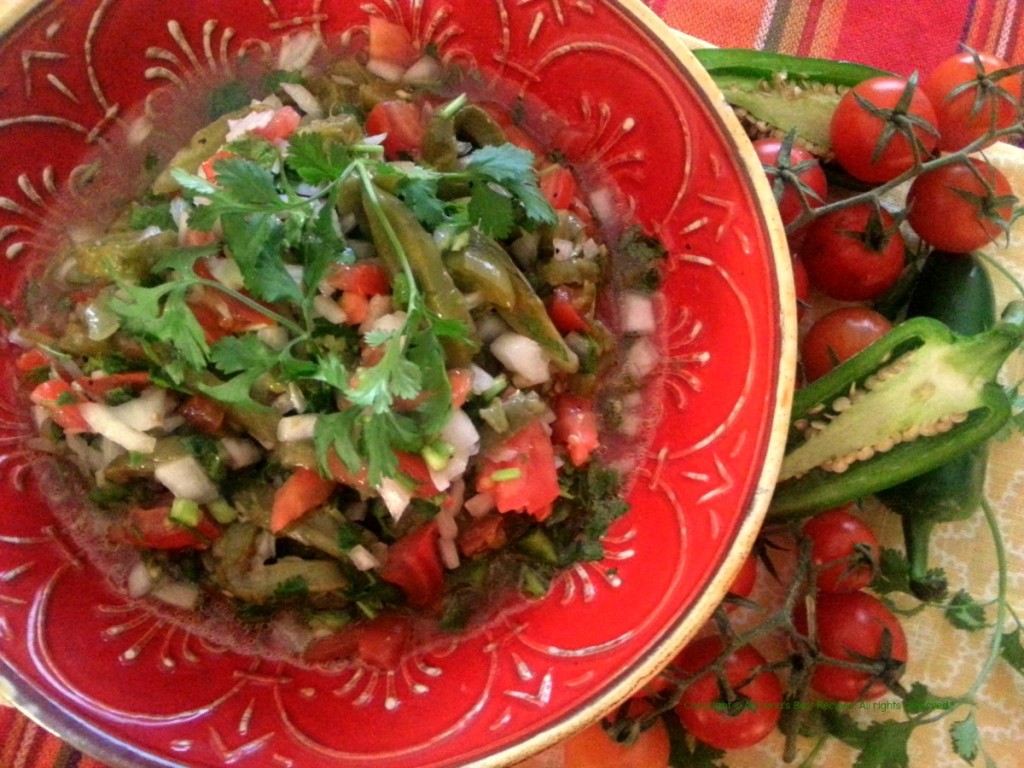 In Mexico we prepare cactus in several ways, you can grill  or boil and taste in salads, as a tortilla replacement for enchiladas verdes, in stews and appetizers like tostadas. Eating cactus nopal also provides health benefits since this plant has antioxidants, helps on blood sugar control and are high in fiber. I also use cactus nopal for juicing it is perfect for a morning smoothie to start the day. The cactus nopal is part of my Mexican heritage and my culture. At home we were used to eat it very often, it is one of those dishes that is always present in the family table no matter rich or poor we all enjoy this delicacy. The production of nopales in Mexico is proof that dessert and arid zones can be productive and feed families. Here it is a video that illustrates one of the biggest lands dedicated to the production of cactus nopal and the different prickly pear fruits that are sweet and can be green, purple or deep pink color.
I hope you liked my menu option serving cactus nopalitos salad is a great twist to the tasty pico de gallo and a good way to introduce your family to different dishes.
I invite you to visit my fellow Latina food bloggers who have great recipes for lent please visit Mama Latina Tips and our Lenten Recipes Pinterest board to get inspired!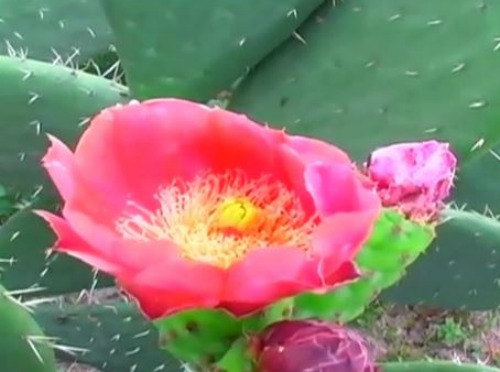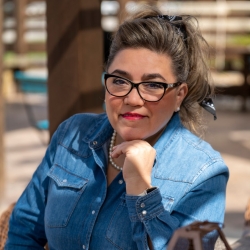 Latest posts by Chef Adriana Martin
(see all)