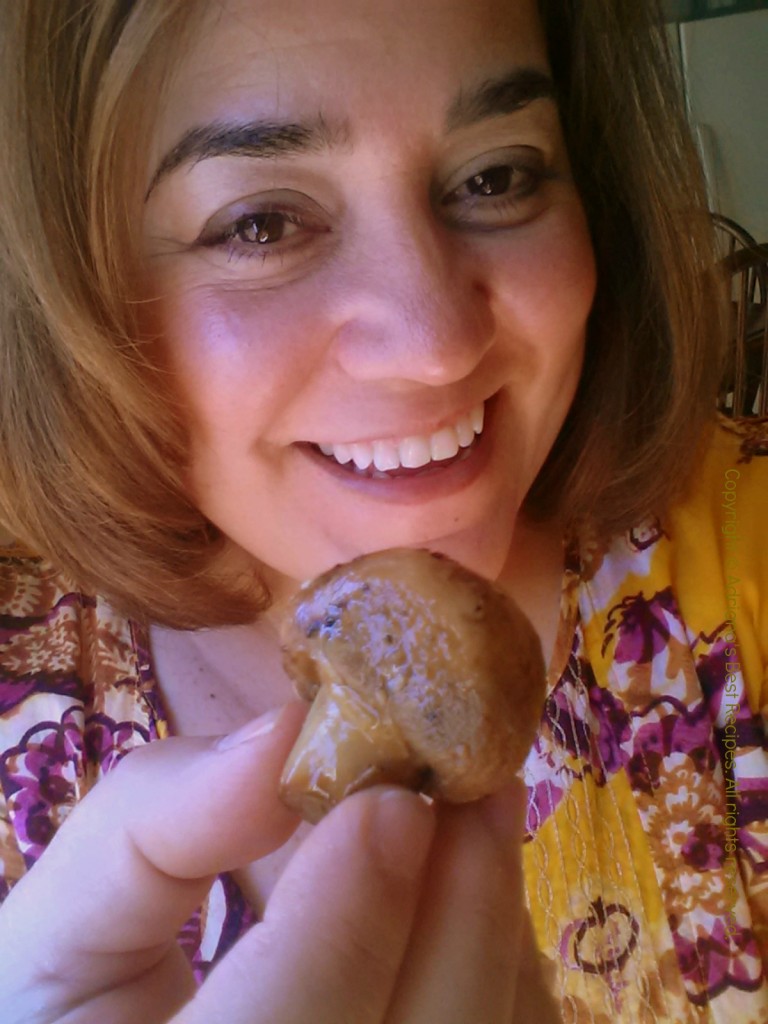 I can't believe it but we are already on week two on the #MushroomMakeover transformation. This week along with the delicious menu the focus has been making time for myself. Giving me permission to have my meals with no TV, phone, iPad, computer onsite. Just me, my delicious mushroom menu and music. In the beginning of the week this was so difficult to do. We women tend to be multitaskers and we never give time to ourselves, we are always giving our time to others and providing to our family, and also writing articles, blogging, staying on top of business and pretty much we are superwomen.
When Corinne Dobbas our nutrition coach told us we needed to relax and find the time to eat slowly and not have intrusion of all the daily stuff we do I was very anxious because I am used to do so many things at the same time and never find the time for me. She recommended me also to use a mediation app that is available on iTunes. I have been using it and let me tell you I feel more relaxed despite all the responsibilities I have and the tons of projects I juggle on my daily schedule. I have been also taking long walks with my dog and just enjoying the great weather we have now in Florida.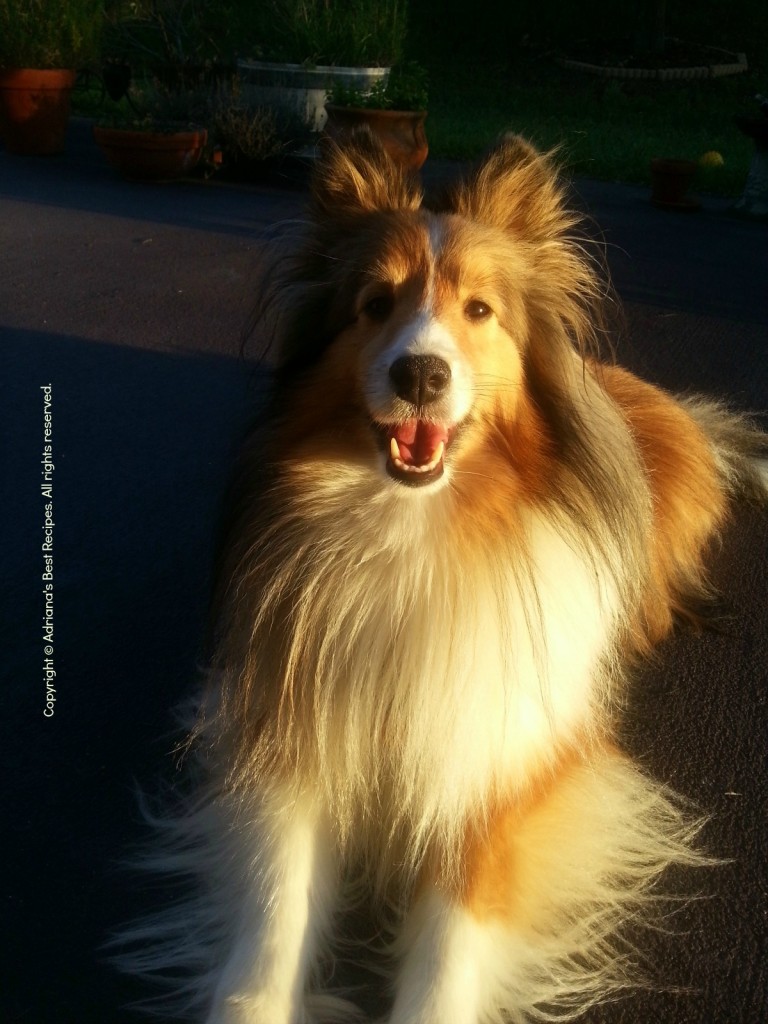 Aside from the regular boot camp of physical activity that Personal Trainer Mark Segedie,  Mr. BookieBoo has put together I have been doing zumba at home. I bought some DVDs and have been dancing my life away in front of the TV. Zumba for me is great to relax and also to feel happier. I don't know if it is the music but I just feel great when I do my zumba at home. I decided to do it at home to avoid intimidation of doing it at a zumba class in a gym; when I perfect my technique then I will enroll but for now the privacy of my home is great to practise my dancing moves.
In terms of my weight loss this week only 2 pounds, while my husband has lost already 9 pounds. I am happy for him he loves the food and has been also doing exercise though he is not into zumba that I do it on my own when he is at work to avoid distractions. Sometimes it is hard to balance the workouts, the zillion steps i have to do, and cooking the food, all while trying to maintain my normal life. But if I can do it you can do it too!
Learning from this week is: "My success isn't measured on the scale, my success is based on my happiness level and feeling like a million box!
Now you have been wondering what was the menu I had this week, here are my delicious options: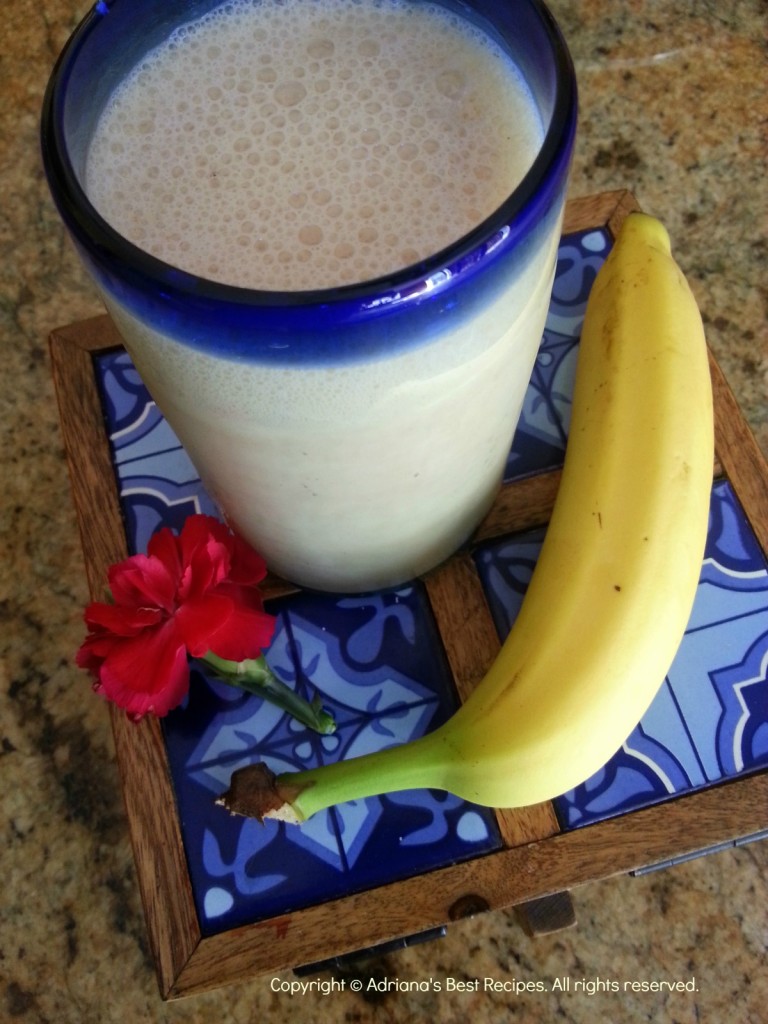 Banana Peanut Protein Shake – Bananas are so inexpensive and good for you. At Pike's Place when I visited Seattle few months ago I discovered a new product: powdered peanut butter. This makes a great protein shake for starting the morning. To flavor the shake I added also organic maple syrup and this made a divine shake that is also filling.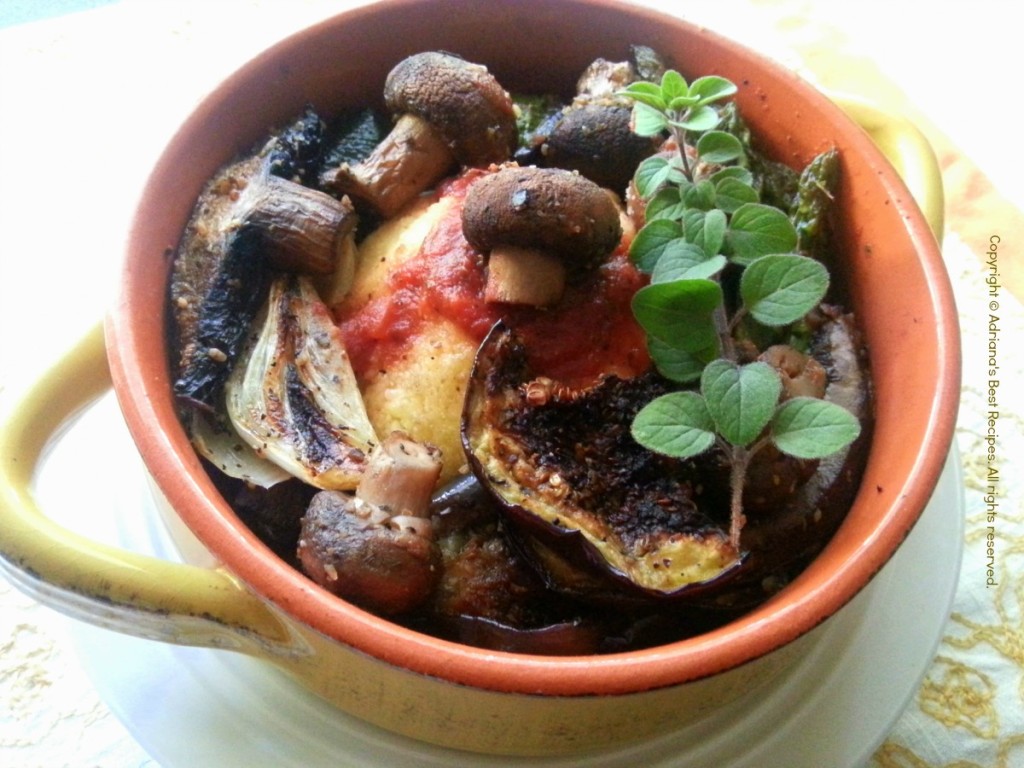 Roasted Mushroom Veggie Bowl – I love Italian flavors and  roasting veggies so I decided to put together a Roasted Mushroom Veggie Bowl with the flavors of Italy and using fresh seasonal ingredients like crimini mushrooms, asparagus, zucchini, eggplant and vidalia onions served over a bed of creamy polenta and drizzled with Italian red sauce with fresh oregano and spices.
Mushroom Kale Egg Burrito – I am catholic so I observe lent and I don't eat any meat on Friday, and I made this yummy burrito with eggs, serrano peppers, purple onions, chopped kale and of course mushrooms. I served the egg scramble on a whole grain tortilla very low carb and added slices of avocado and some fresh salsa verde.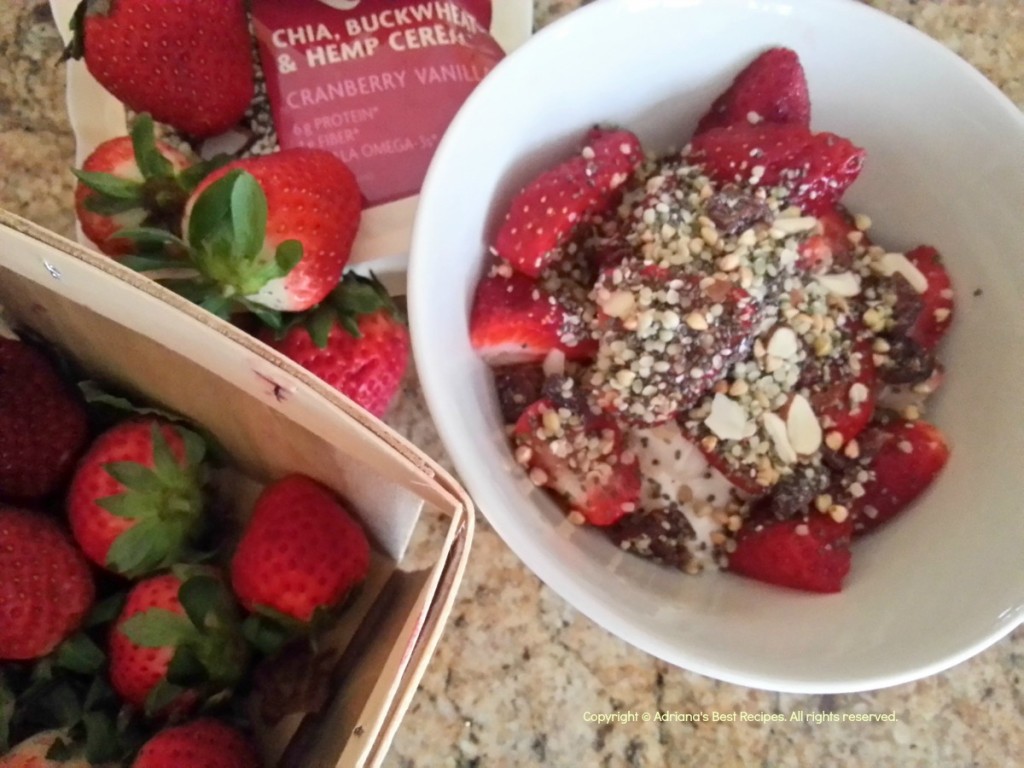 Strawberries and Chia Parfait – I prepared this as a suggestion from Corinne Dobbas and had it as breakfast using organic strawberries which are now in season, Greek yogurt,  and chia cereal with almonds, buckwheat, hemp and cranberries. You don't need to have eggs everyday for breakfast, you can incorporate seasonal fruit and protein like good Greek yogurt to have diversity in the foods you consume.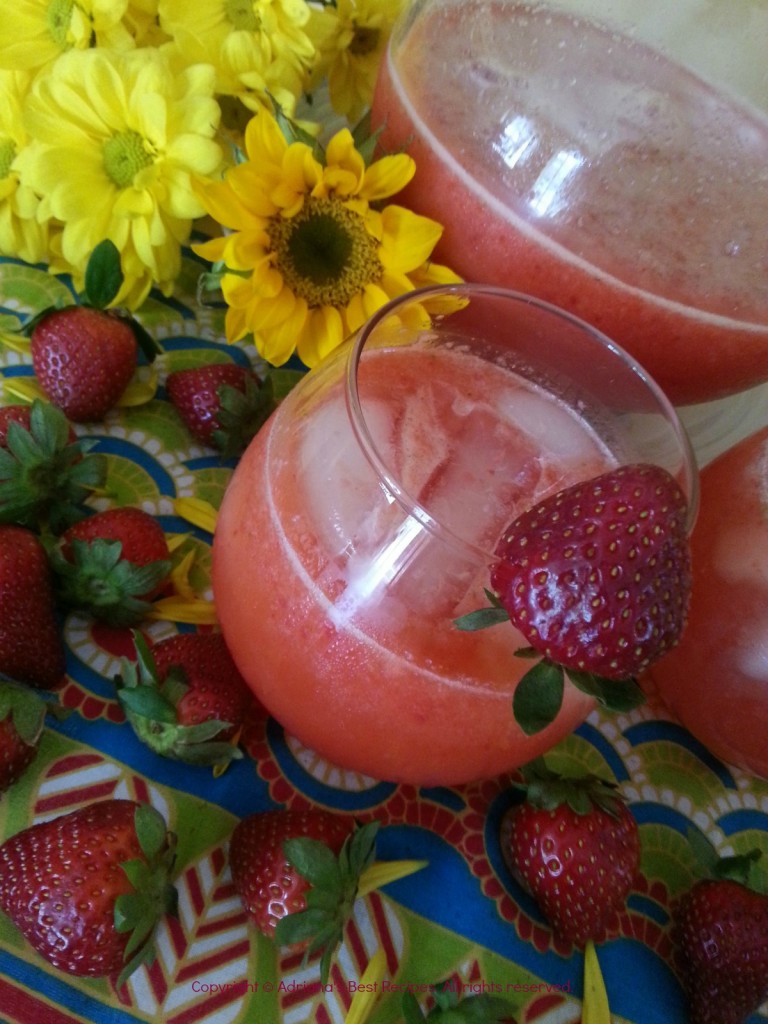 Strawberry Lemonade Agua Fresca – To avoid inflammation I am not drinking soda neither drinks that are sugar free. I decided to go old school and embraced what I was used to drink as a child: "agua fresca" using fresh fruit and very little sugar. This drink is healthy and packed with vitamin C not to mention very refreshing.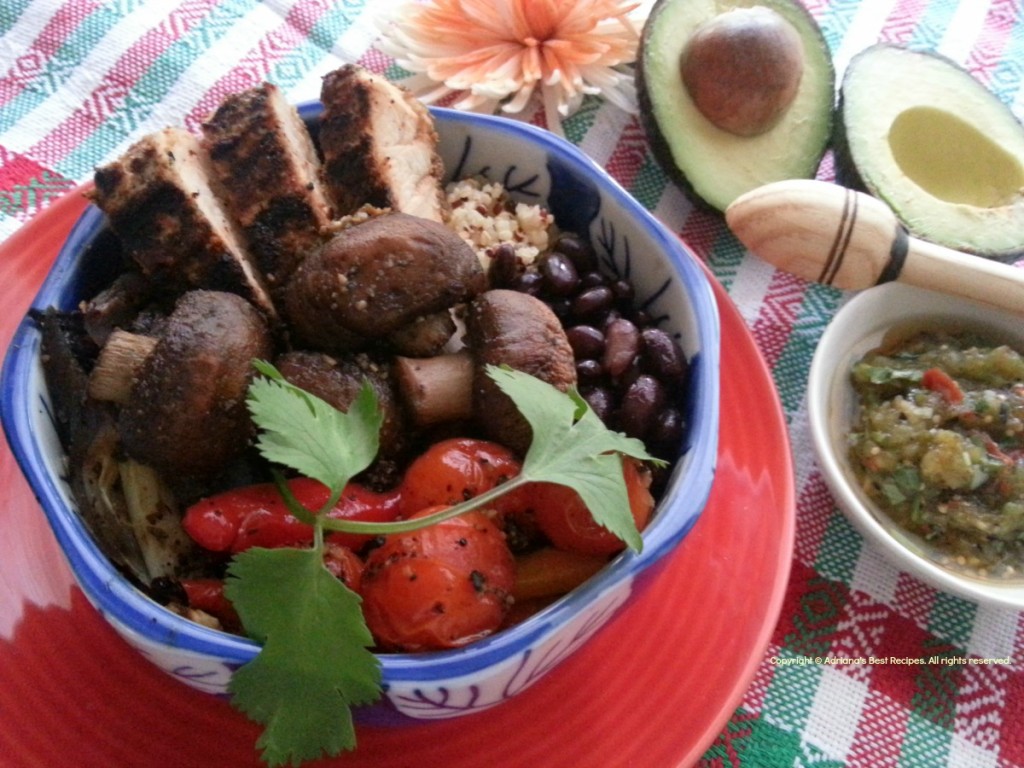 Chicken Mushroom Mexican Bowl – This was inspired by the Chipotle chicken bowl served at the restaurant but with a twist instead of using rice I am using quinoa, black beans, roasted mushrooms, peppers, purple onions, and cherry tomatoes. Instead of guacamole just fresh slices of avocado. Topped with grilled chicken strips and homemade salsa verde and cilantro. This dish is also low fat and low in sodium.
Few mushroom tips!
Mushrooms are the one ingredient that you can easily use in virtually any dish to bring flavor and nutrition to the plate.

Mushrooms will be fresh for up to a week in the refrigerator.

To maximize shelf life, keep mushrooms in original packaging until ready to use.

You can freeze sautéed mushrooms for up to one month this is a great tip to save!
I Invite you to continue following me on my journey, I am excited to go for Week Three!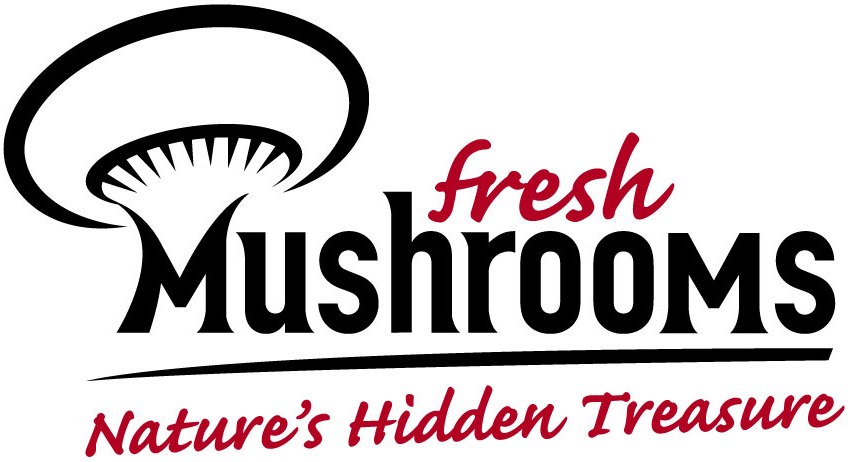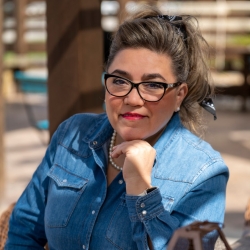 Latest posts by Chef Adriana Martin
(see all)