This post is also available in: Español

The roasted tomatillo salsa verde is another staple of the Mexican cuisine and a sauce that never fails in my table. My husband is Cuban but after he tried my salsa verde he asks for it on every meal, breakfast included. The roasted tomatillo salsa verde is super easy to make. The trick is to roast the tomatillos, the garlic and the serranos using a comal
. The roasting provides a smoky rustic flavor adding spice to any meal.
This roasted tomatillo salsa verde can be used to garnish almost anything! I like it to make green huevos rancheros and enchiladas. For garnishing cheesy refried beans tacos. After you taste my salsa verde you will get hooked and I can bet this one will be a regular condiment in your table too.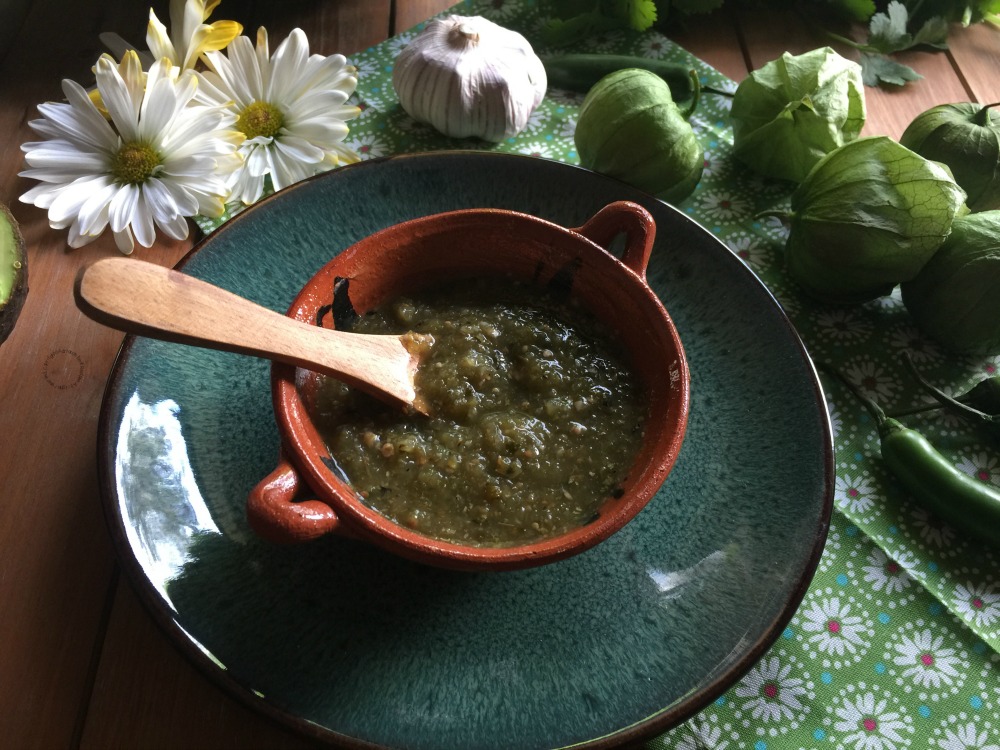 But don't confuse tomatillos with tomatoes. Tomatillos are green to light green, or green purple color and have a husk. This fruit is also known as the Mexican husk tomato. The planting originated in Mexico and was cultivated throughout the pre-Columbian times. Making it an important component to many classic Mexican dishes. 
The taste of the green tomatillo is rather tart though purple tomatillos tend to be sweeter excellent to use in jams. You can eat the fruit raw. I have a tomatillo salad with mango that you might want to try too. It is perfect combination of sweet and tart. My mom was used to combine green tomatillos with smoked ham cubes, chopped jalapeños, and dressing with lime juice, black pepper and olive oil. Then served over a corn tostada. Truly delightful.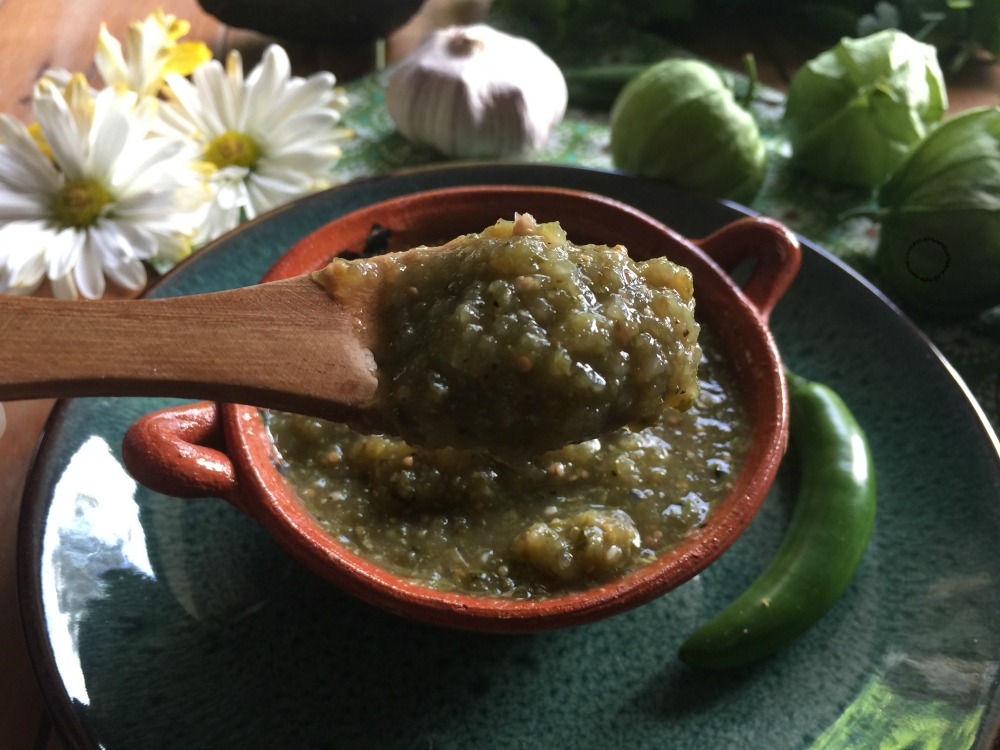 There are many versions of the roasted tomatillo salsa verde. I made mine in the blender but you can use a mortar or molcajete for a more traditional approach. This sauce is chunky and so flavorful. With a pleasant hint of heat and a lot of goodness.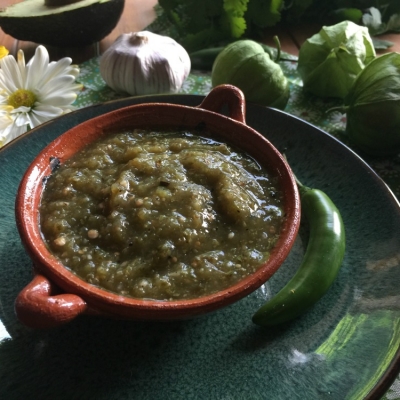 Roasted Tomatillo Salsa Verde
The roasted tomatillo salsa verde is a staple of my Mexican cuisine. Made with green tomatillos, serranos, garlic, and cilantro. Perfect garnish!
Ingredients
10

green tomatillos

clean and without husks

5

serrano chiles

2

garlic cloves

1

bunch

cilantro

sea salt

1/3

cup

water
Instructions
In a comal place the tomatillos, the serranos and the garlic. Toast until getting a good roasting.

Add the roasted vegetables to the blender along with the water and the fresh cilantro. Blend until getting a chunky salsa.

Season with sea salt to taste and preserve inside a mason jar inside the fridge.
Notes
This salsa will last fresh for a week when properly refrigerated.
While blending you can add a pinch of oil to get a creamy sauce.
The number of serranos used depends on the level of spiciness desired.
Products from Amazon.com