This post is also available in: Español
Make this delicious strawberry mosaic jello Mexican style!
In Mexican cuisine, gelatine desserts are paired with a slice of cake or offered to be eaten as a fresh dessert option since many kinds of Mexican jello desserts include seasonal fruits and even milk.
When attending a birthday party in Mexico, you will find an array of tasty foods and a jello dessert never fails to join the dessert party options.
What is a mosaic or stained glass jello?
One of the favorite jello desserts in my country is the one called Mosaic Mexican Jello or also named as Broken or Stained Glass gelatin. That name is attributed because the gelatine has different colors simulating glass and the milk jello has condensed milk.
The mosaic effect is achieved by making different flavors of jello. Typically the flavors are grape, lemon, pineapple, and strawberry.
Each color pours into square or rectangular molds and refrigerated. When the jello sets this is cut into cubes and then added to a round pan. Then the mold is filled with white milk gelatin and allowed to set inside the refrigerator for a few hours.
When cutting the jello, all the different colors look like stained glass or a mosaic — inspired by this classic recipe we made a Strawberry Mosaic Mexican Jello.
Grab a spoon and enjoy the Strawberry Mosaic Mexican Jello!
This recipe is simple and works well for parties. It is prepared ahead of time and will be a cool addition to any party or brunch. We recommend single servings as well as drizzling the jello with a homemade berry sauce.
In our opinion jello desserts sometimes are underestimated. Gelatin is suitable for bone development, and kids need this nutrient while growing up. Gelatin has nutritional value too and allows for creativity and addition of fruits that we wouldn't eat.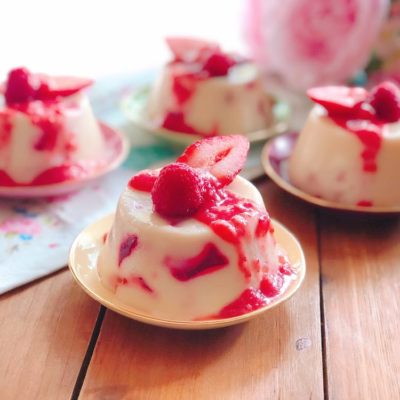 Strawberry Mosaic Mexican Jello Dessert
Make the recipe for the strawberry mosaic Mexican jello dessert. It has strawberry and milk gelatin and garnished with a strawberry sauce and fresh berries. A classic Mexican gelatin dessert you need to try.
Equipment
Jello molds

Pot

Measuring cup
Ingredients
For the strawberry gelatin
1

box

strawberry flavored jello

3 oz

1

cup

cold water

1

cup

boiling water

vegetable oil in spray
For the milk gelatin
1

can

condensed milk

12oz

1

teaspoon

vanilla extract

1/2

cup

water

at room temperature

1

cup

warm water

12oz

2

packets

unflavored gelatin
For the strawberry sauce
1

cup

fresh strawberries

clean and sliced

1/3

cup

sugar

1/4

cup

water
Instructions
Start by making the flavored strawberry jello following the instructions on the package. You will need to dissolve the flavored jello with boiling water and whisk until achieves a transparent color. Then add the cold water and whisk again.

Use a square or rectangular pan and spray vegetable oil. This action will allow for easy jello release. Refrigerate the strawberry jello until firm. Will take around 3-6 hours. Do not rush the process as the gelatine will be cut in squares and needs to be hard enough not to melt or giggle.

When the strawberry jello is set and ready to cut start making the milk jello. Start by dissolving the unflavored gelatine in a small bowl with a half a cup of water at room temperature. Let the gelatine bloom to assure jello will set.

Use a blender and add 1 cup of warm water, the condensed milk, the vanilla extract, and the bloomed gelatin. Blend in high speed.

Use a cupcake mold and add spray with vegetable oil. Add the strawberry jello squares in each space. Pour the milk jello on top slowly and refrigerate for 6 hours or more until set.

Prepare the strawberry sauce same day you will be using it. Blend all ingredients in the list using a blender. Make sure to liquify the fruit until getting and sauce.

Serve the Strawberry Mosaic Mexican Jello Dessert with fresh raspberries and strawberries and drizzle some strawberry sauce.
Nutrition
Serving:
0
g
Calories:
180
kcal
Carbohydrates:
0
g
Protein:
0
g
Fat:
0
g
Saturated Fat:
0
g
Polyunsaturated Fat:
0
g
Monounsaturated Fat:
0
g
Trans Fat:
0
g
Cholesterol:
0
mg
Sodium:
0
mg
Potassium:
0
mg
Fiber:
0
g
Sugar:
0
g
Vitamin A:
0
IU
Vitamin C:
0
mg
Calcium:
0
mg
Iron:
0
mg
Few tips for best results when making jello desserts.
Use good quality gelatin and the brand that fits your diet needs.
Dissolve the gelatine and let it bloom before using it. This action will help the jello to set correctly.
Grease the pans with cooking oil or cooking spray for easy release.
Let the jello set inside the fridge for several hours.
Be patient!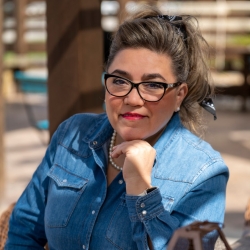 Latest posts by Chef Adriana Martin
(see all)