This post is also available in: Español
Mexican Avocado Toast is inspired by the online food trend and the colors of the Mexican flag.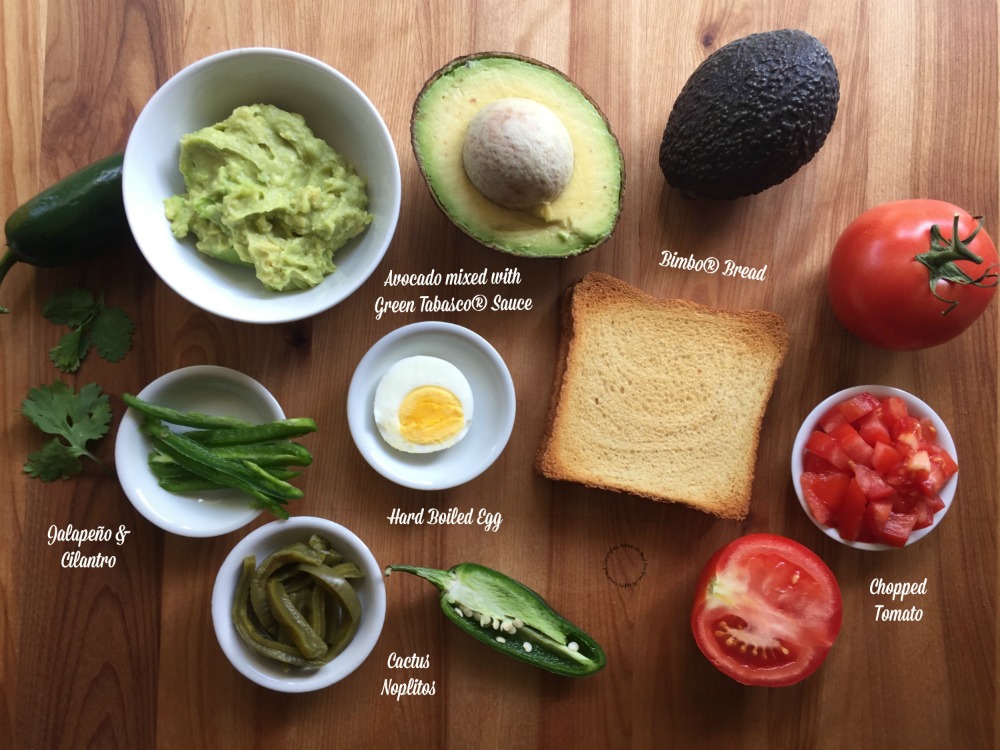 This Mexican avocado toast is the perfect bite to start the day with a yummy breakfast or to enjoy for a quick lunch or after working out. It has become a food trend in the United States and everywhere else.
We made the toast with Hass avocados, toasted bread, a hard-boiled egg cut in slices, chopped red tomato, julienned jalapeño, cooked cactus nopalitos, and Tabasco Green Jalapeño Sauce. It is an explosion of flavor and has enough ingredients to satisfy and tame hunger.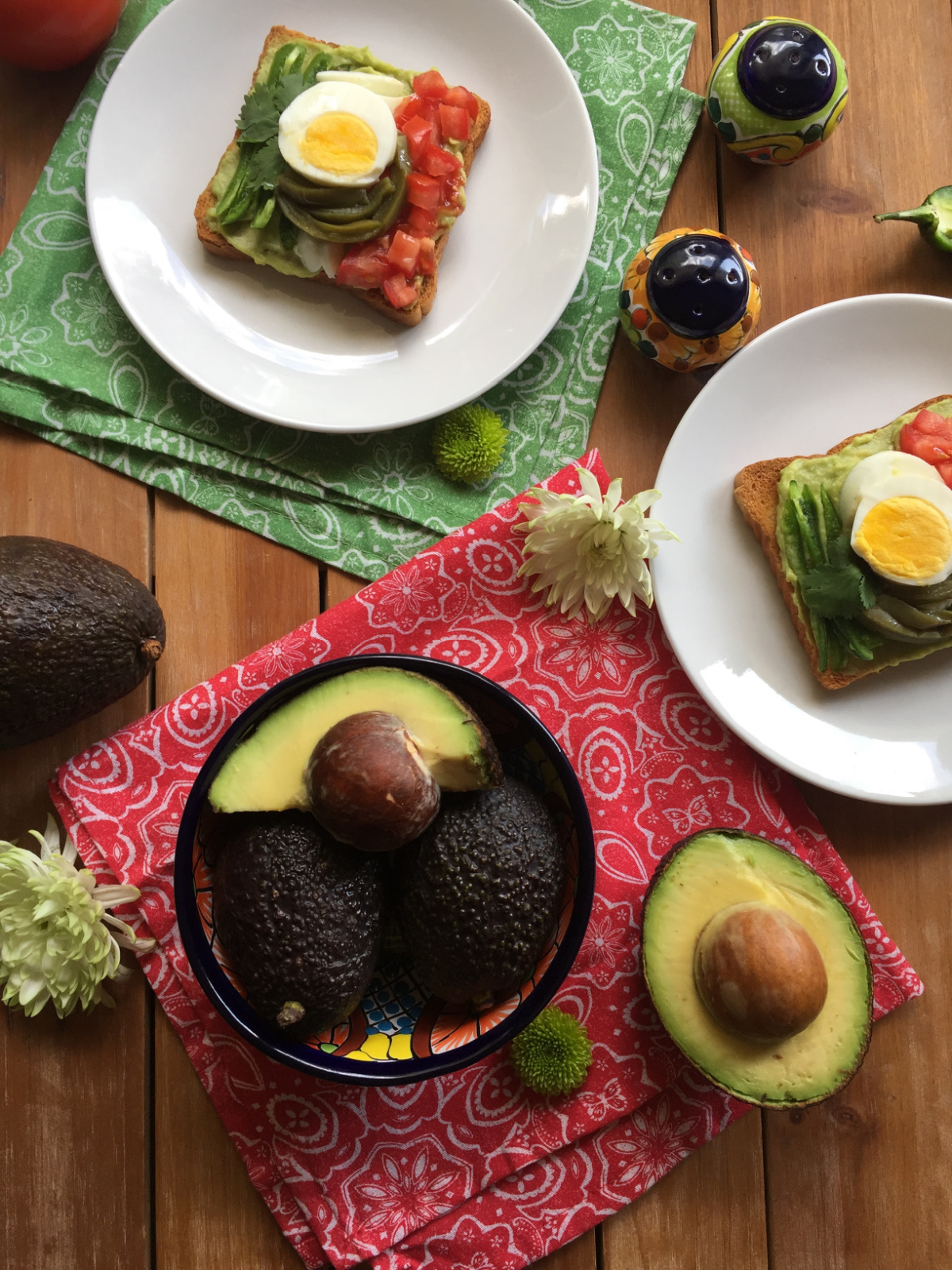 The original food trend started a few years back, and we decided to make a twist and add our own Mexican flavor and join the avocado toast craze.
This bite is inspired by the tasty avocado toast trend but merges my Mexican culture and its authentic flavors with the representation of my country's flag.
It is important to recognize Hispanic Heritage month as it is the perfect time to educate my family about Mexican culture and traditions. And there is no better way than to do it with delicious food.
Creating easy recipes like this Mexican Avocado Toast allows the opportunity to step outside of the box and make something creative. In this case, the Mexican flag is a patriotic symbol that is very important for us Mexicans.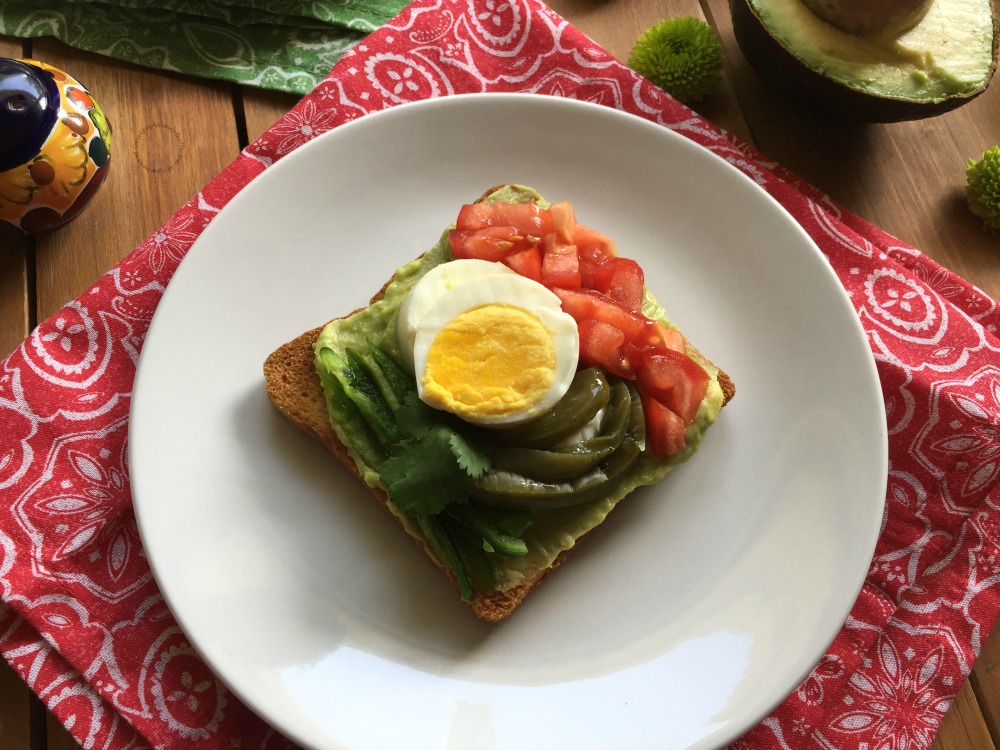 Only yummy ingredients for this Mexican Avocado Toast!
The Mexican flag has three colors: Green, represented by avocado mash, and jalapeño. White, made with slices of cooked egg whites. And red, using chopped red tomatoes.
And the symbol of the eagle eating a snake and perched on top of a cactus plant is represented by the hard-boiled egg, the nopalitos, and the cilantro.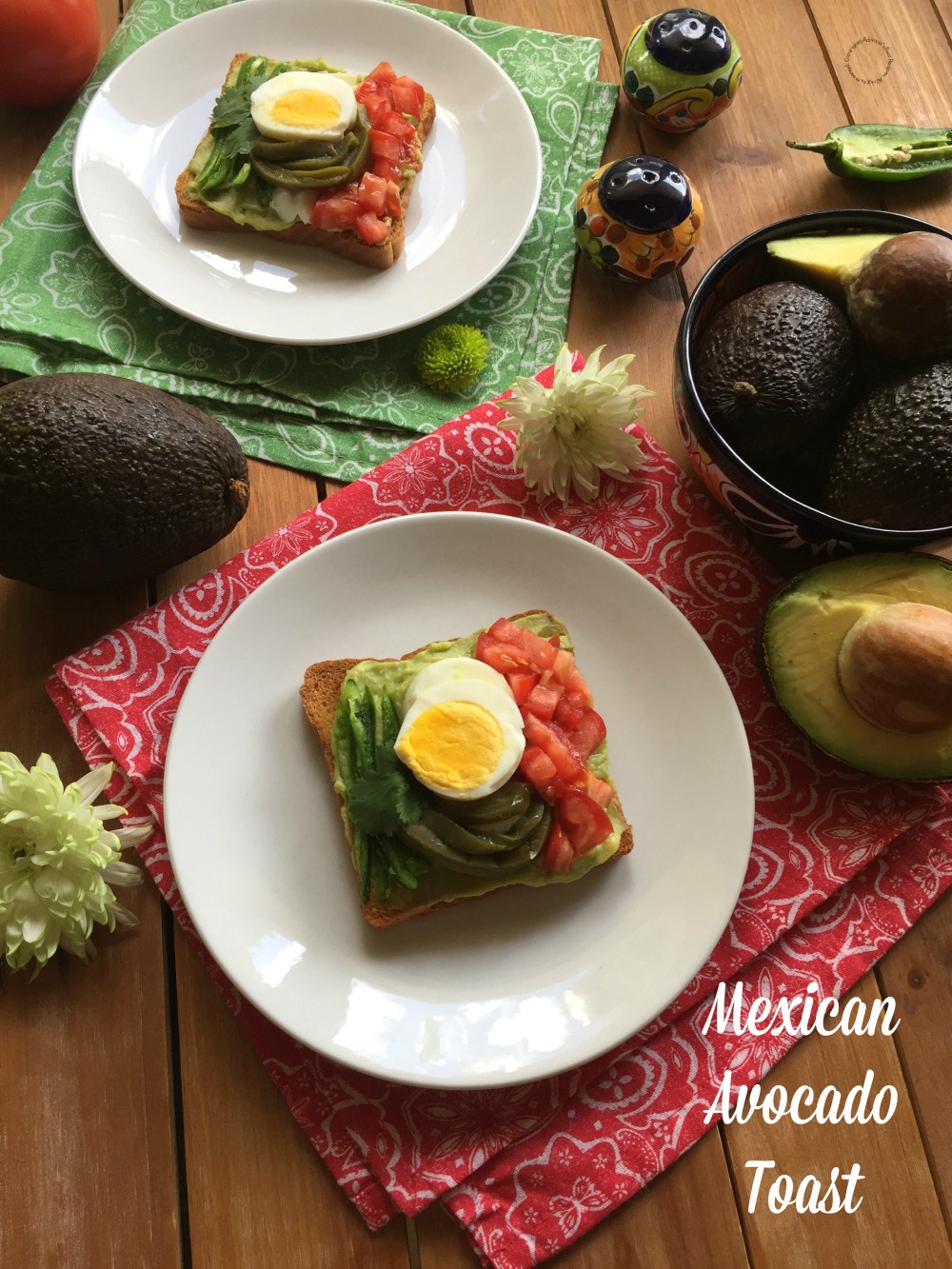 A fun avocado toast inspired by the colors of the Mexican flag!
The flavors on this avocado toast go well together. And then adding avocado combined with Tabasco Green Jalapeño Sauce makes for a bright and delicious bite with a mild spicy note.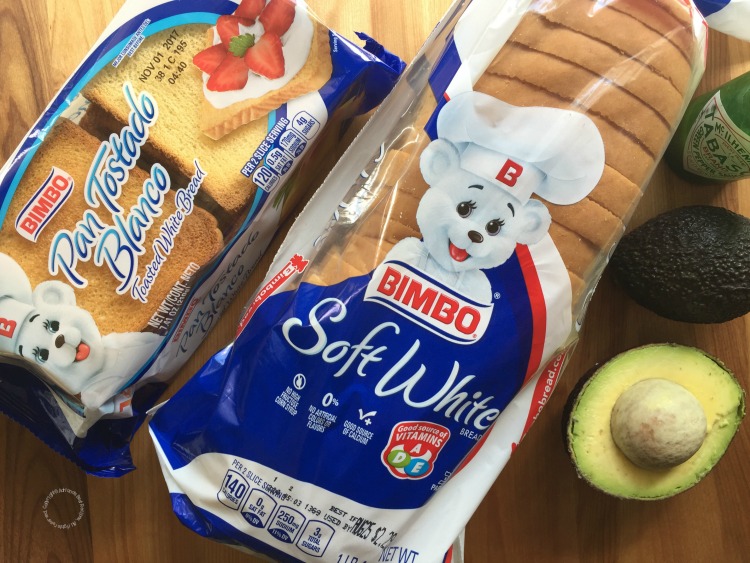 For the toast, Bimbo Bread is a must. I grew up with this brand in Mexico, and it provides the authentic flavor of my favorite Mexican classics. I remember my mom preparing my lunch box using this bread for my school sandwich.
This Mexican Avocado Toast is a good idea for entertaining at home too!
There is no doubt that avocados are delicious and so versatile. Always there to help us celebrate our culture and traditions. In Mexican cuisine, the use of avocados is diverse. We use it as the main ingredient, as a garnish, and for preparing guacamole and sauces.
Who doesn't love a shrimp cocktail served inside an avocado? Or avocado fries to complement a meal? Avocado Hass is my favorite because it is firm and so creamy.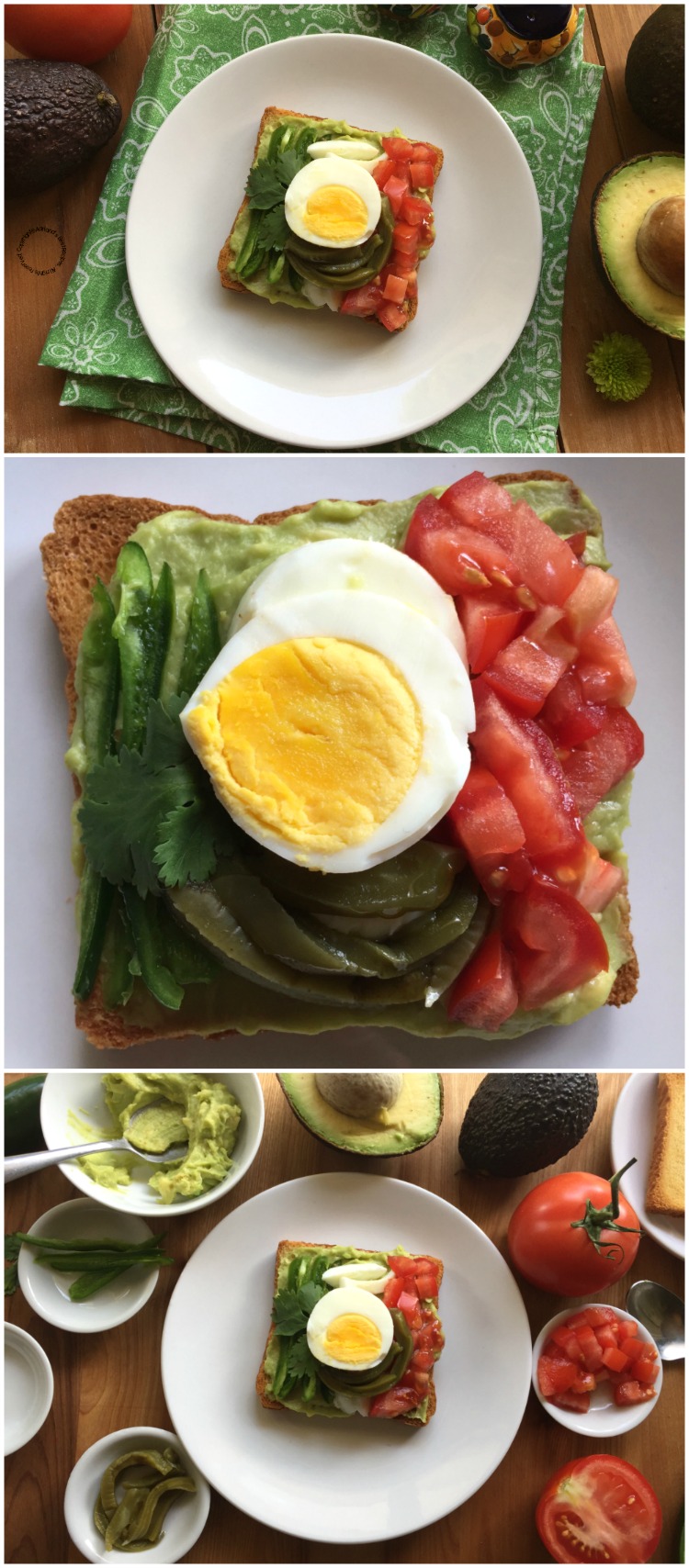 When the avocado toast trend started?
Gwyneth Paltrow included an avocado-toast recipe in her 2013 cookbook, which soon became an online fixation. Some say the avocado toast was created in Australia, but others say it is a product of LA in California. I know my ancestors loved avocados and ate avocado tacos before the conquistadors arrived in America.
With the introduction of wheat by the Spaniards, bread baking became popular, with it the arrival of "tortas." A Mexican sandwich that includes avocado mash as a spread. So I guess we Mexicans have been eating avocado toast in tortas for a long time. I share Mexican culinary history in my latest cookbook, "The Best of Mexican Cooking" you can find it available on Amazon.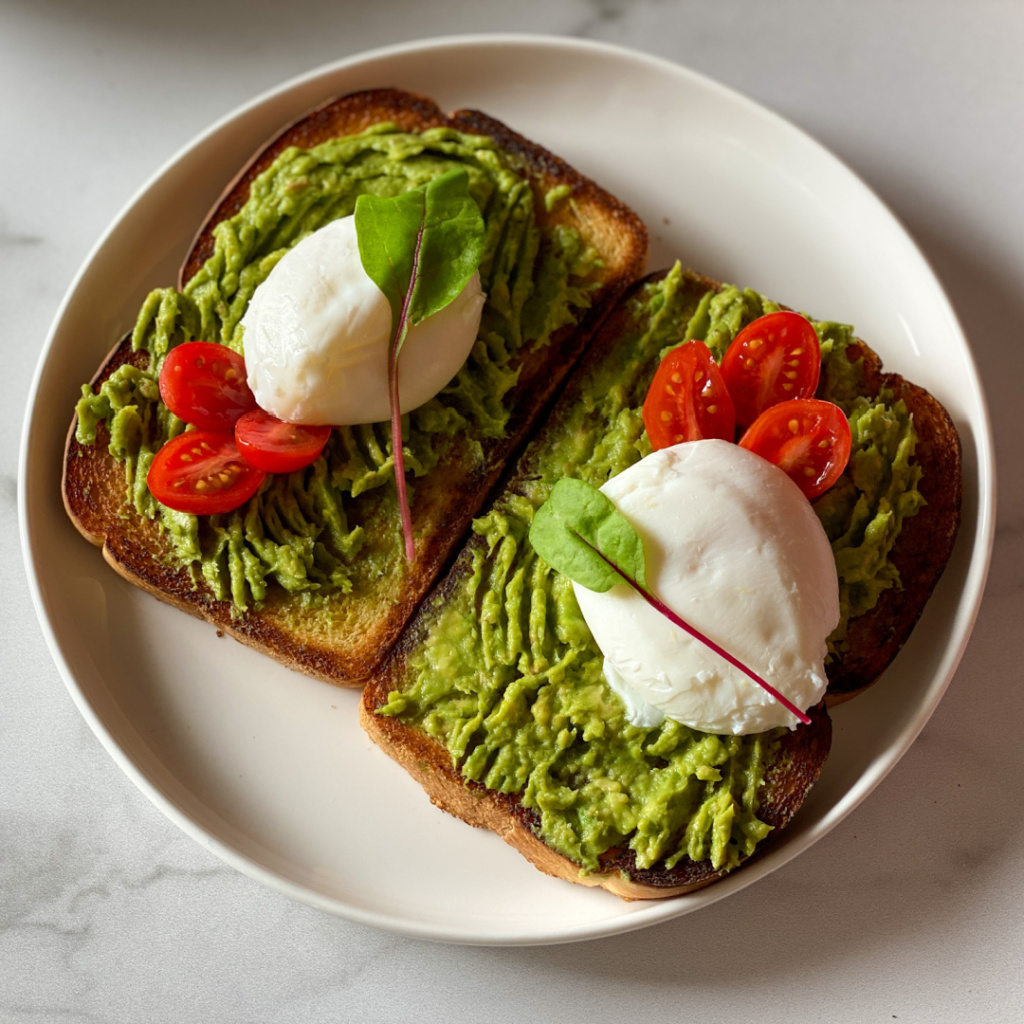 Nutritionists embraced the avocado toast food trend by pairing the avocado with eggs, and it became a sensation among health nuts and the millennials. The avocado toast recipe per Google started trending in 2016 when the online searches started increasing, and since then, everyone now enjoys avocado toast. This bite is also part of the Millennial culture.
Restaurants have embraced the trend and have added this option to their menus, and on Instagram, you still see different options and toppings added to the famous toast. We could not miss making our own and showing our creativity by making one with the Mexican flag colors.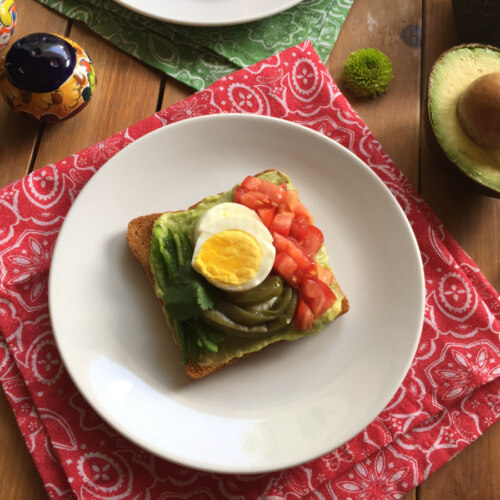 Mexican Avocado Toast
The Mexican Avocado Toast is made with avocado, toasted bread, hard-boiled egg cut in slices, one chopped red tomato, jalapeño juliennes, cooked cactus nopalitos, and Green Tabasco sauce.
Equipment
Mixing bowl

Masher

Cuttring board

Knife

Spreader

Spoons
Ingredients
1

avocado

1

teaspoon

Green Jalapeño Sauce

2

slices of bread

toasted

1

jalapeño

cut in juliennes

1

hard boiled egg

peeled and cut in slices

1

red tomato

chopped

1

tablespoon

cactus nopalitos

cooked

2

cilantro leaves
Instructions
Cut the ripe avocado in halves and scoop the flesh of one into a plate. Mash using a fork. Add Tabasco® Green Jalapeño Sauce for a dash of spice.

Toast the bread slices and spread equal amounts of the avocado mash to each.

Start forming the Mexican flag colors by adding the jalapeño juliennes, then the hard-boiled egg whites, and finally the chopped tomato.

For the symbol add in the middle a slice of hard-boiled egg, garnish with cactus nopal strips and finish with a cilantro leaf.

Repeat the same process for the second toast and enjoy with your favorite family member or friend.
Video
Notes
This Mexican Avocado Toast is a good idea for entertaining at home too. You can place all ingredients on the table and let your family put together their own toast for a fun-filled dining experience.
Nutrition
Calories:
280
kcal
Carbohydrates:
24
g
Protein:
8
g
Fat:
18
g
Saturated Fat:
3
g
Polyunsaturated Fat:
3
g
Monounsaturated Fat:
11
g
Trans Fat:
1
g
Cholesterol:
93
mg
Sodium:
252
mg
Potassium:
627
mg
Fiber:
8
g
Sugar:
3
g
Vitamin A:
519
IU
Vitamin C:
23
mg
Calcium:
78
mg
Iron:
2
mg
¡Viva México!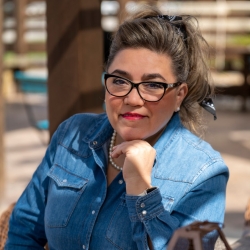 Latest posts by Chef Adriana Martin
(see all)