This post is also available in: Español
This recipe for the Homestyle Fettuccine with asparagus is a sponsored conversation written by me on behalf of Ronzoni® Pasta. However, the opinions and text are my own.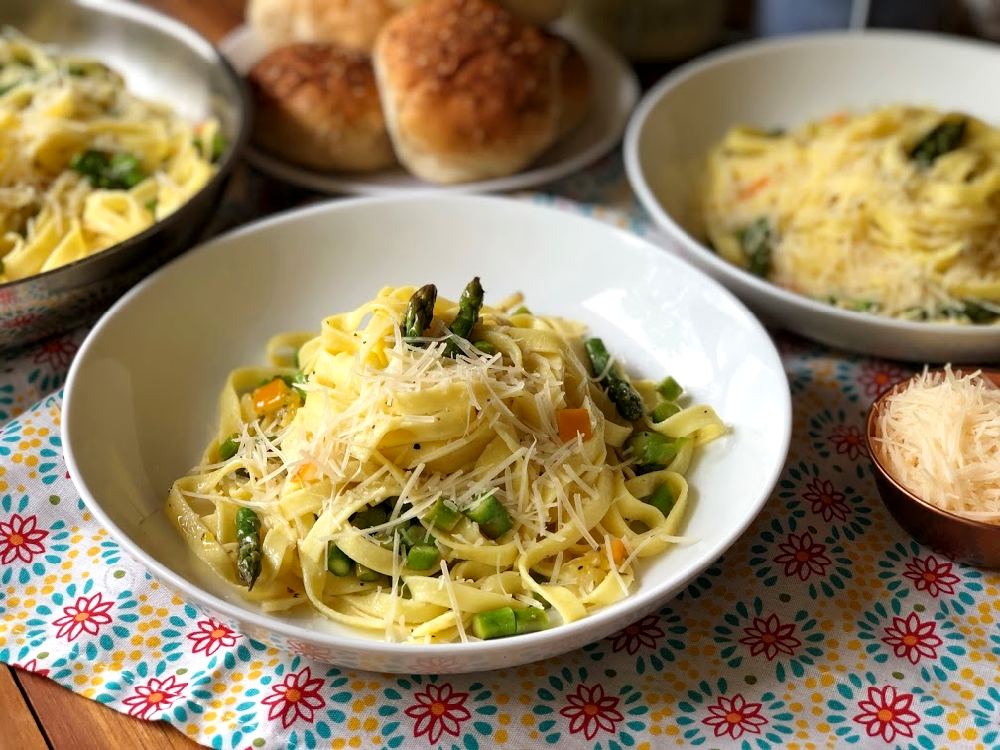 Celebrate Memorial Day with a pasta dish made with Ronzoni® Homestyle™ Fettuccine. It is delightful!
If you haven't tried the Ronzoni brand, you need to head over to Publix and buy Ronzoni Homestyle Pasta. It comes in two different shapes; penne, and fettuccine. Both are so delicious, versatile, and perfect for including in your weekly menu and the upcoming Memorial Day festivities.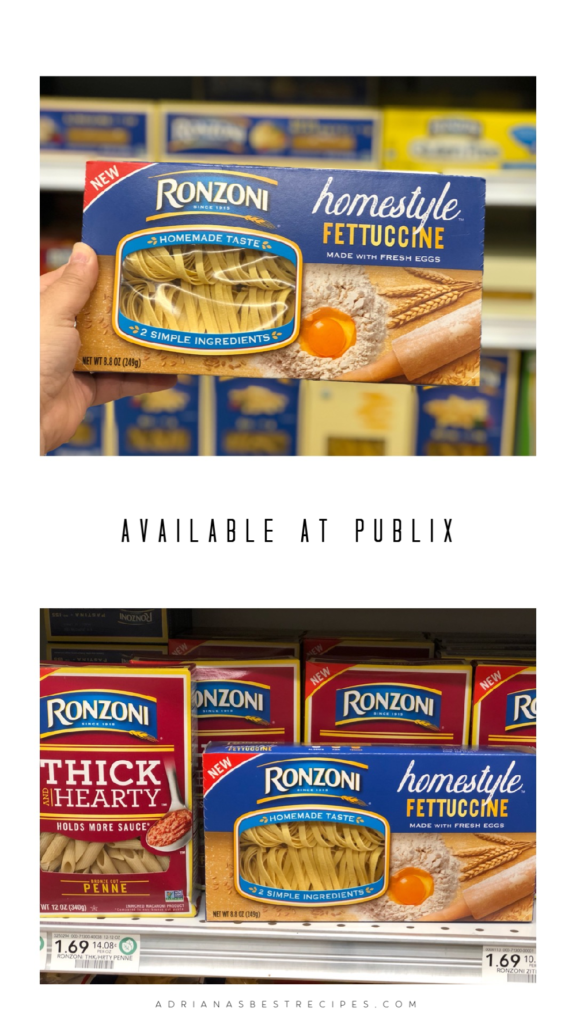 Ronzoni Homestyle Pasta has only two ingredients: high-quality semolina wheat flour, and fresh eggs. That is why I chose this pasta brand to make the delicious homestyle fettuccine with asparagus, preserved lemons, olive oil, and garlic.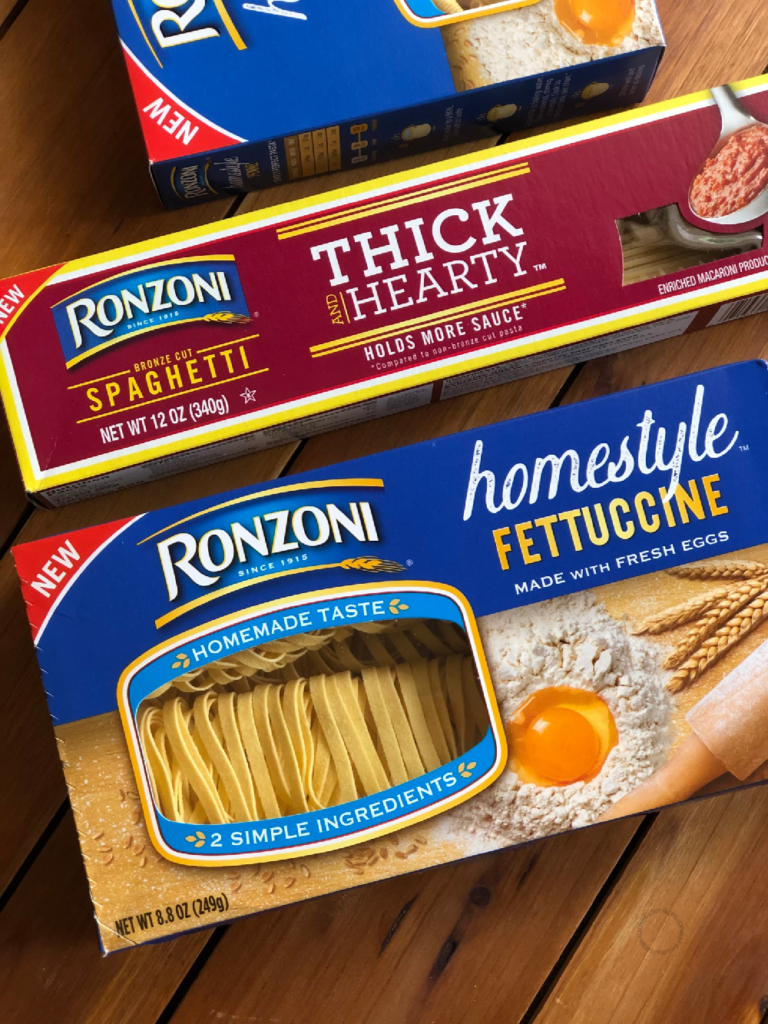 A simple dish with few ingredients served hot or at room temperature and an excellent addition to a summertime menu. It is flavorful, with a light texture, citrus notes, and a perfect balance.
Ronzoni Homestyle Pasta won the BrandSpark International 2019 Best New Product Award, which makes it a winner on my list too so that I can make an award-winning dish also.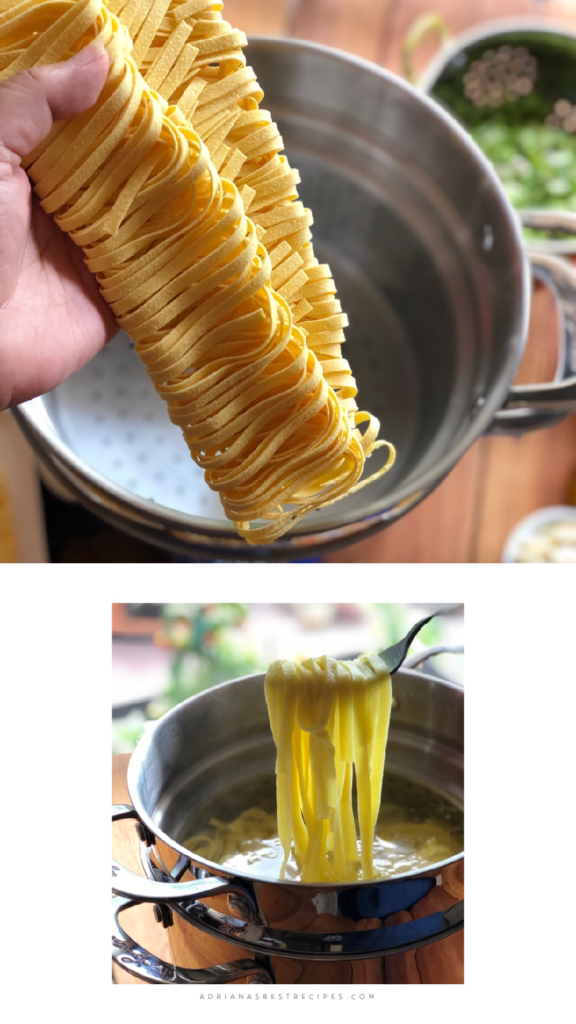 Now if you love thick and hearty pasta I recommend Ronzoni® Thick and Hearty™ Spaghetti or Penne. Showcasing a bronze die thick cut that allows the sauce to fill the nooks and crannies of the pasta and not the bowl!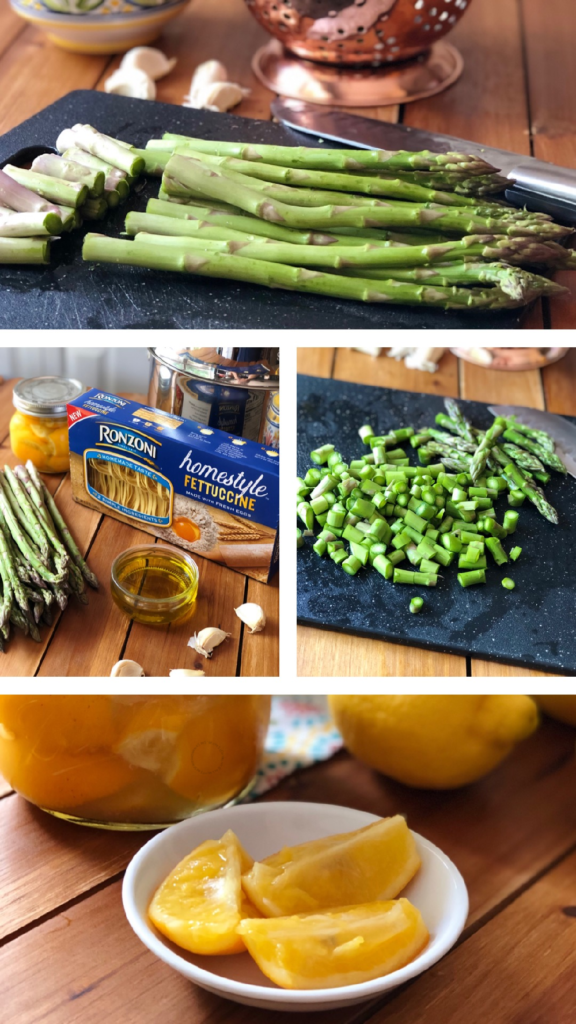 The Thick and Hearty option is perfect for a chunky marinara or a creamy sauce. Just add Parmesan cheese and you are in for a yummy bowl of goodness, leaving no sauce on the plate. You can find this pasta style at Publix too!
Cooking the best Homestyle Fettuccine with Asparagus Pasta Dish!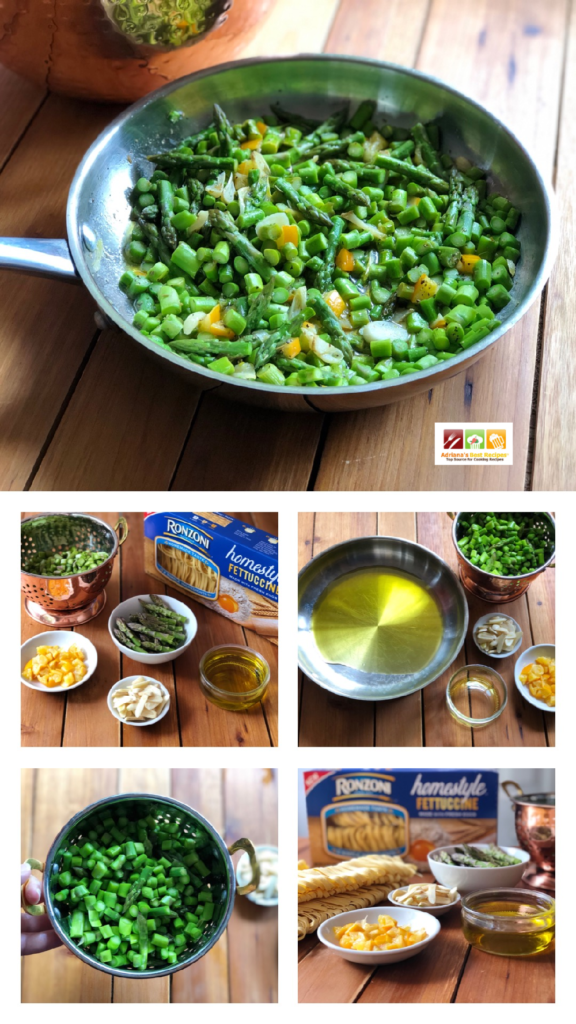 My family loves simple recipes and in my kitchen, I like cooking with quality ingredients. This fettuccine is one of the favorite meals that has won my family's taste buds.
The fettuccini pasta is not heavy and has a homemade taste that everyone enjoys. Using fresh asparagus combined with garlic and preserved lemons elevates the dish to another level of yumminess.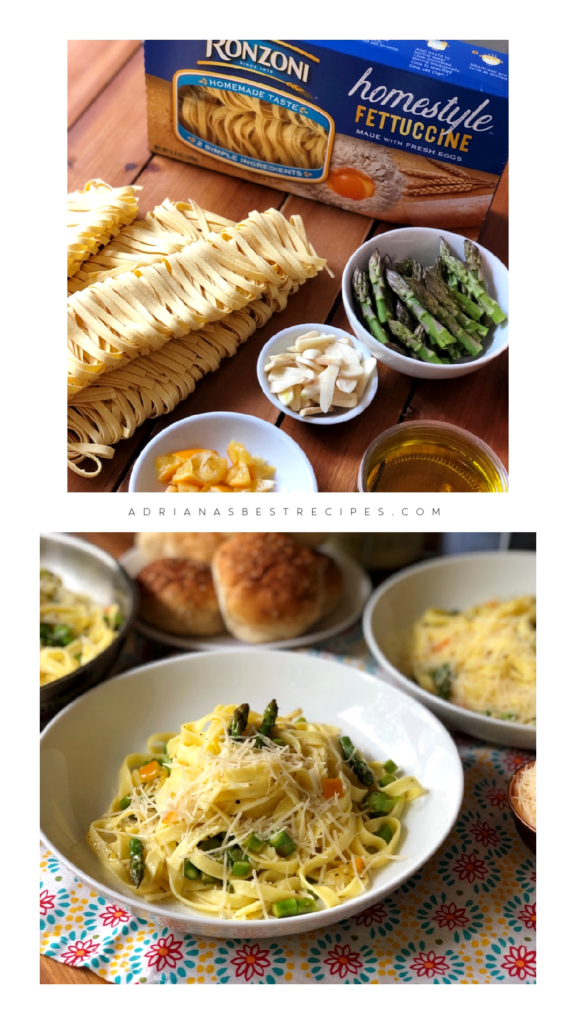 Plus, I am topping off the dish with outstanding Parmesan cheese. This cheese has a nutty, mellow, sweet flavor that complements the fettuccine dish to perfection.
In order to preserve the asparagus' gorgeous green color, I am blanching the veggie first and then adding it to the pasta once it's cooked.
For extra notes of flavor, I am sautéing the garlic in extra virgin olive oil and seasoning the pasta with Mediterranean spices and a pinch of salt.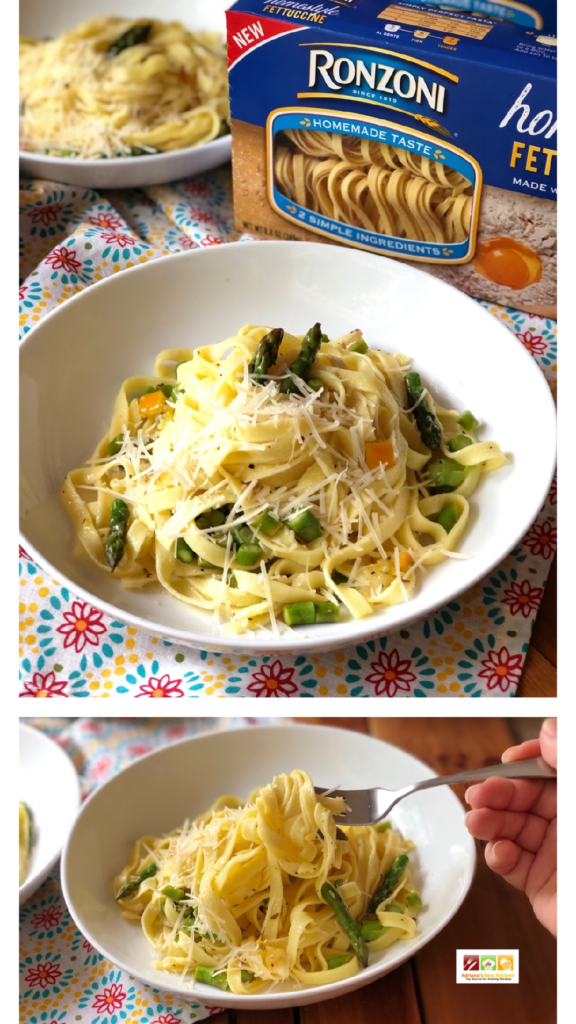 I am also using preserved Meyer lemons. I enjoy this citrus a lot, so when it is in the season I use the Mediterranean method of preserving lemons — using a canning jar, salt, and lemon juice.
The preserved lemons are all edible, including the pulp and the rind. Chopping some and adding them to the Homestyle Fettuccine brightens up the dish with a pleasant sour note, making the meal even more special.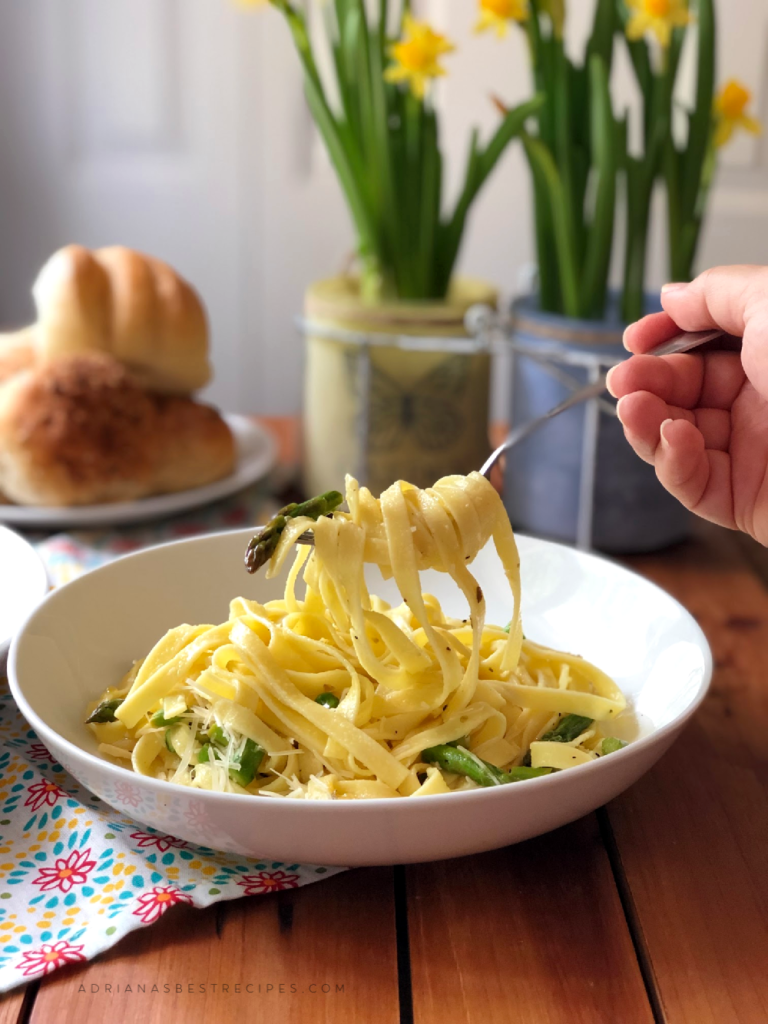 I have to confess, I love cooking but not spending too much time in the kitchen. I could prepare my pasta dough and make the pasta, but when there are already options that are made with few quality ingredients, I do not see the need to prepare my own pasta dough.
That is the reason why I recommend Ronzoni Homestyle Pasta. It meets the criteria for a great pasta to use when cooking meals at home. You get fantastic results and perfectly cooked pasta while saving time in the kitchen too.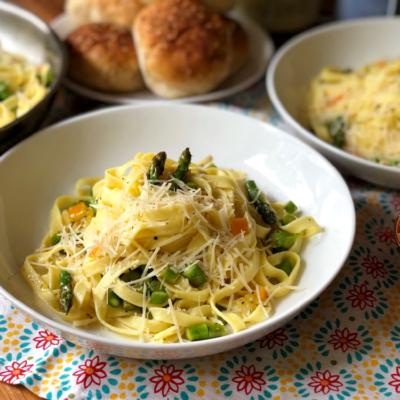 Homestyle Fettuccine with Asparagus
Celebrate Memorial Day eating a pasta dish made with Ronzoni Homestyle Fettuccine, asparagus, preserved lemons, and garlic. It is delightful!
Ingredients
1

package

Ronzoni® Homestyle™ Fettuccine Pasta

8.8 ounces

3

quarts

boiling water

1

tablespoon

sea salt

1

tablespoon

extra virgin olive oil

4

cloves of garlic

sliced

1

pound

green asparagus

cut and blanched

1/2

preserved lemon

chopped

1

teaspoon

mediterranean spice mix

with oregano, parsley, thyme, marjoram, salt, and black pepper
Instructions
Clean and slice the asparagus. Make sure to remove the ends as those have rough fibers. In a big soup pot add 3 quarts of water and let it boil. Add a pinch of salt and add the asparagus. Blanch for 5-7 minutes, do not overcook. Remove with a strainer spoon and temper with ice water. Set aside.

In a pot add 3 quarts of water with salt. Once it comes to a boil, add the complete box of Ronzoni Homestyle Fettuccine Pasta. Cook the pasta for 10-15 minutes until al dente. Remove the water and temper with cold water to stop the cooking process. Set the cooked pasta aside.

Slice the garlic and chop the preserved lemon. Include the rind and the pulp of the lemon as both are edible.

In a sauté pan add the olive oil and let it warm. Sauté the garlic slices with the asparagus. Season with the Mediterranean spice mix, add the preserved lemons and add this to the fettuccine.

Mix the fettuccine with the ingredients gently and serve with freshly shredded Parmesan cheese.
Video
Notes
The Ronzoni Homestyle Fettuccine Pasta has high-quality semolina wheat flour and fresh eggs, which makes it a perfect choice for the asparagus fettuccine.
Blanching the asparagus preserves the bright green color and achieves a better presentation.
This pasta dish can be served hot or at room temperature; making it a good option for parties, grilling gatherings, picnics, and Memorial Day weekend.
Nutrition
Serving:
0
g
Calories:
492
kcal
Carbohydrates:
86
g
Protein:
19
g
Fat:
9
g
Saturated Fat:
2
g
Cholesterol:
95
mg
Sodium:
644
mg
Potassium:
516
mg
Fiber:
6
g
Sugar:
4
g
Vitamin A:
927
IU
Vitamin C:
7
mg
Calcium:
97
mg
Iron:
5
mg
Have you tried this recipe? Snap a photo and tag us on Instagram and or Facebook using the handle @adrianasbestrecipes and the hashtag #ABRecipes Happy Eats!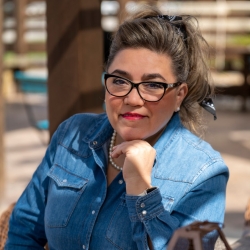 Latest posts by Chef Adriana Martin
(see all)