This post is also available in: Español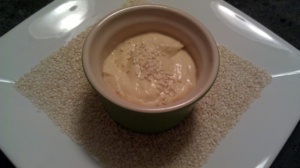 If you are a Mediterranean food junkie like me this recipe you will find useful, you could save money and time since Tahini has a long life when stored appropriately. Tahini has a nutty delicious flavor that provides depth or that "aha" moment to many dishes.
INGREDIENTS
5 cups sesame seeds
1 ½ cups of quality olive oil (prefer Lebanese or Greek but you can use Italian or Spanish too)
Preparation time: 60 minutes. Makes a lot of servings, around 4 cups. Approximate cost per person $0.15 depending on olive oil market price. You will need a pan or baking sheet, food processor and glass containers for storing purposes.
Preheat oven to 350oF. Toast sesame seeds for 5-10 minutes, tossing the seeds frequently with a spatula. If decide to use the stove you can place the seeds in a pan and move constantly. The trick is to not allow the seeds to brown as they could become bitter. Cool for 20 minutes or until there are cold.
Next step pour the sesame seeds into your food processor and add the olive oil. Blend for 2 minutes. Check for consistency. The goal is a thick, yet pourable texture. Add more oil and blend until desired consistency.
To preserve Tahini keep refrigerated in a tightly closed container, preferably glass. If stored appropriately you will be able to use and enjoy for up to 3 months. Tahini can be used to prepare Hummus, Babaganoush , Falafel, Halvah and many Mediterranean recipes. I you have peanut allergies Tahini paste can replace peanut butter in dishes that call for this ingredient.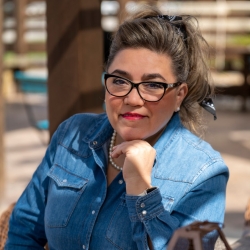 Latest posts by Chef Adriana Martin
(see all)