This post is also available in: Español
This is one of my husband's personal favorite, he's an Italian at heart. This recipe is a quick easy way to use fresh tomatoes and basil to prepare a healthy meal yet not compromising with the flavor and comfort sensation you get when eating pasta.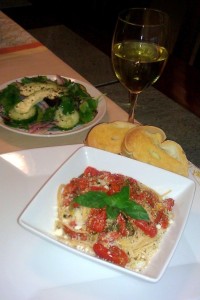 INGREDIENTS
1 box of your favorite Angel Hair pasta (could be whole grain if desired)
1 small box of fresh cherry tomatoes (cut in halves)
1 bunch of fresh basil
3 garlic gloves (finely chopped or minced)
½ glass of white wine
Grated parmesan cheese (preferably pecorino romano)
Italian olive oil, Italian spices, pepper and salt
Preparation time: 20 minutes. Makes 4 generous servings. Approximate cost per person $2.00 depending on ingredients market price. You will need a pan for cooking and straining pasta, and another one to prepare the sauce.
Fill your pan for cooking the pasta with water and a pinch of salt; I prefer not to add oil as pasta will absorb better the sauce. Let the water boil and then add the pasta. Angel hair cooks very quick be careful in not over cooking. While this process is going on, cut the cherry tomatoes in halves, chopped the garlic finely. In a pan add olive oil wait till it becomes hot, add garlic salt, pepper and the Italian spices, then add the tomato halves. Let simmer, add the white wine and reduce; taste and add salt if needed, and then add fresh basil cut in juliennes. When pasta is ready place it in the pan where the sauce to incorporate and let it simmer for few seconds. Serve hot, dust with parmesan cheese and place a floret of the fresh basil to decorate. You can accompany with a nice chardonnay or pinot grigio, garlic bread and green salad.
This recipe is for any occasion as cherry tomatoes are available mostly year round; the cherry tomato is low in sodium and a good source of vitamin E, thiamin, niacin, vitamin B6, folate, magnesium, phosphorus and copper as well as a great source of dietary fiber. For this dish cherry tomatoes can be replaced with grape or plum tomatoes if desired.
Buon appetito!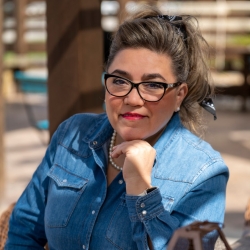 Latest posts by Chef Adriana Martin
(see all)