This post is also available in: Español
Sunny Side Up Doughnut Breakfast is what we suggest!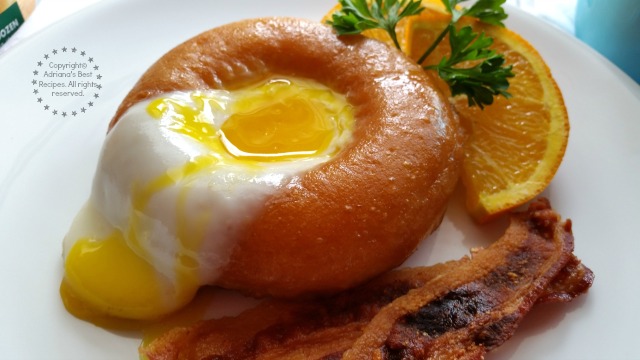 I love my new recipe for Sunny Side Up Doughnut breakfast in my opnion is the perfect pair with fresh eggs, doughnuts and of course bacon. Who doesn't love starting the day with a happy sweet and savory breakfast.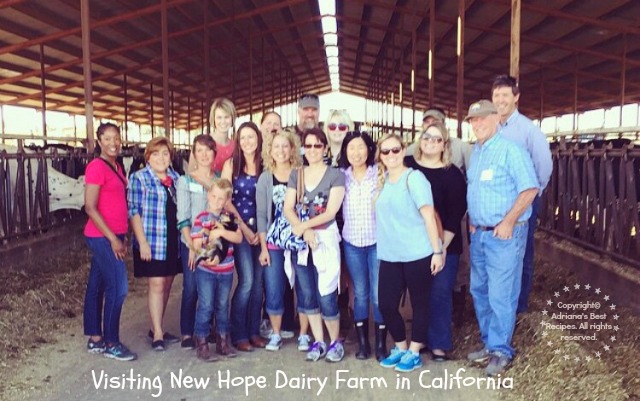 Few days ago I met a new friend at the TASTE15 event organized by Best Food Facts. Krista she's a food writer like me, owner of a dairy farm in Seattle and we share the same love for doughnuts and good food.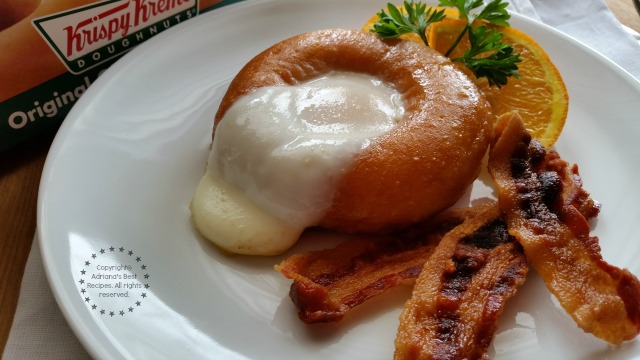 When visiting a dairy farm in California we were told part of the foods that cows eat there are leftover doughnuts donated by bakeries to help control food waste in the area.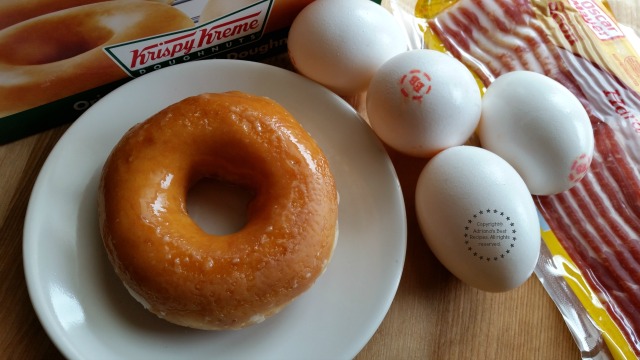 When riding back in the bus we started craving doughnuts and bouncing ideas on how to incorprate leftover doughnuts into our meals. And she gave me the challenge to develop a creative breakfast combining sunny side up eggs and our favorite: doughnuts!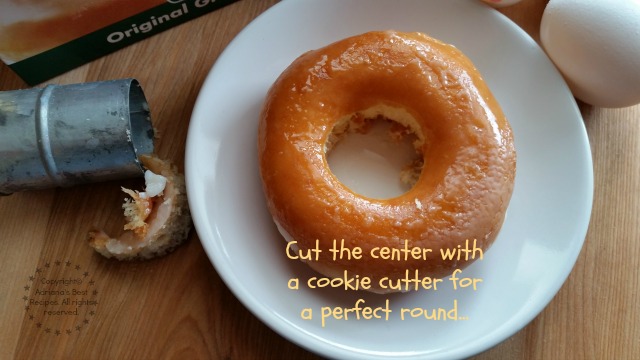 I took the challenge and went to my local supermarket to buy the ingredients for cooking a delightful Sunny Side Up Doughnut Breakfast.
INGREDIENTS
1 glazed doughnut (you can use leftover from prior day)
1 egg
2 bacon strips
oil spray
1 teaspoon of water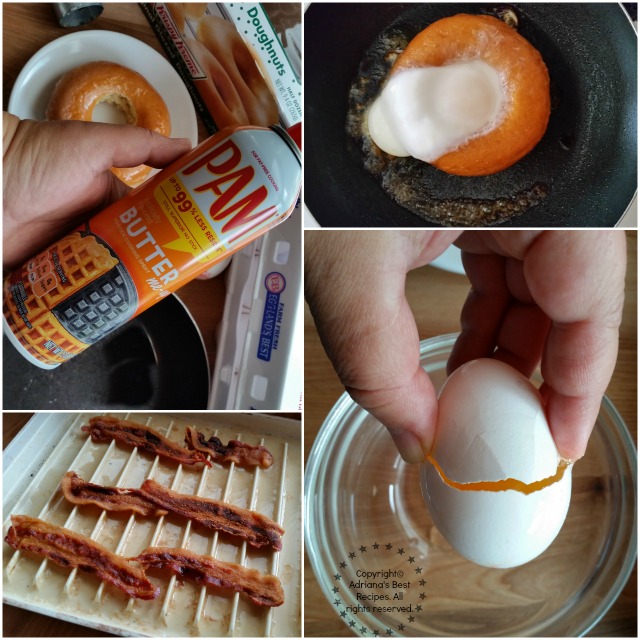 Preparation time: 20 minutes. You will need a skillet with a lid, a round cookie cutter and cooking utensils. This recipe makes one portion.
Follow these step by step instructions for preparing the Sunny Side Up Doughnut Breakfast or watch the above video:
Using around cookie cutter cut the center of the doughnut to make it perfectly round. That will serve as the base for the egg.
Spray non stick oil in the skillet and turn on the stove using low flame.
You will be cooking with low temperature to achieve the perfect sunny side egg.
Place the doughnut in the skillet, crack the egg open and pour it on a small bowl.
Pour the egg inside the doughnut hole and cook the egg covered for five minutes. Then uncover and add the water and cover again until egg becomes white.
Cook some bacon on the microwave up to a crispy consistency.
Take the sunny side up doughnut out of the skillet and serve with bacon strips.
You can garnish with orange wedges and a parsley floret.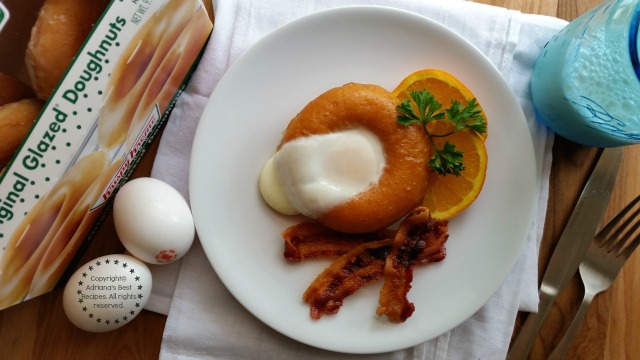 Enjoy this Sunny Side Up Doughnut Breakfast dipping the bacon into the egg yolk and make the perfect bite by getting a piece of the douhnut with the egg and the bacon to get the full sweet and savory experience.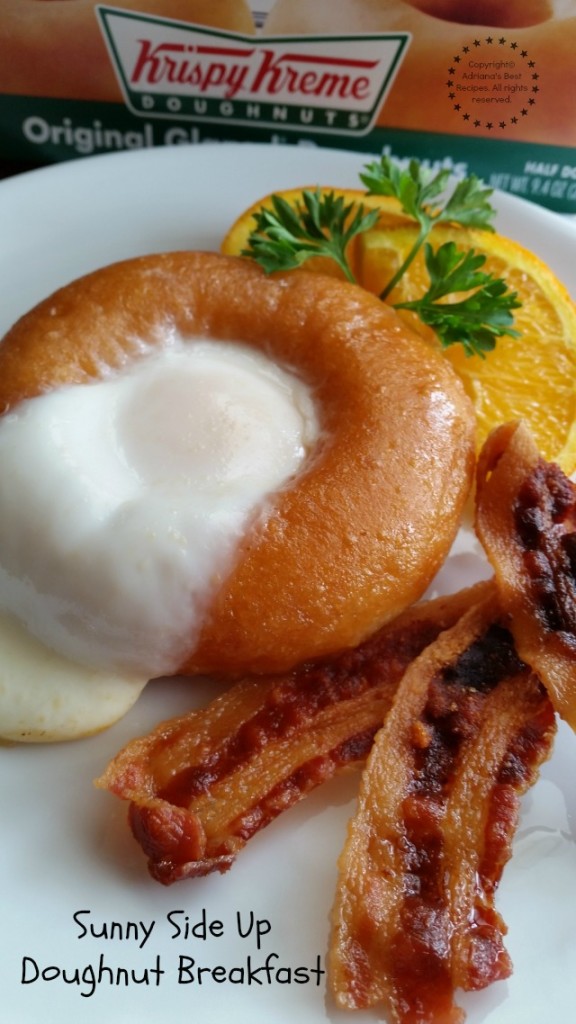 I think this Sunny Side Up Doughnut Breakfast would be great to celebrate father's day with a creative breakfast that includes foodie favorites of all times. And I am sure this breakfast and will become another Saturday brunch favorite for everyone in the family.
Happy Father's Day!
Products from Amazon.com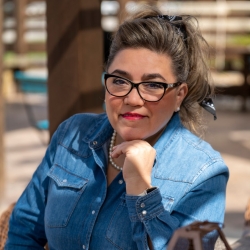 Latest posts by Chef Adriana Martin
(see all)