This post is also available in: Español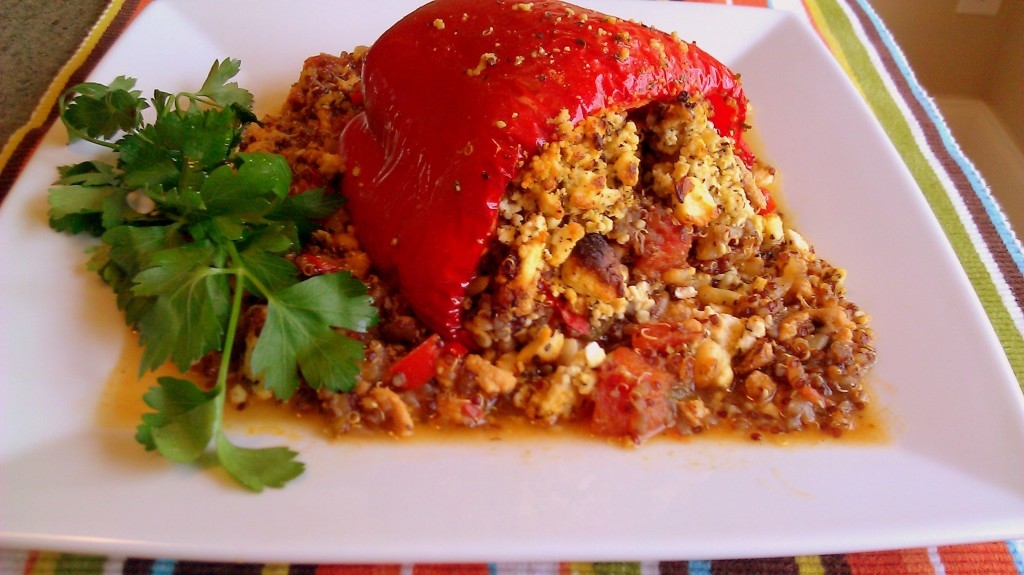 As you know I cook by inspiration and I found this fabulous red peppers which go great with quinoa the super grain. I invite you to prepare this dish you will score an A+, so let's cook!
INGREDIENTS
4 big peppers or 6 medium size peppers (cut off top)
1 pound lean turkey meat
1 cup cooked red quinoa
½ large chopped onion
1 cup of tomato cubes (can be replaced with canned tomato)
1 small chopped green pepper
2 cloves of garlic chopped
1 teaspoon chipotle sauce
2 teaspoon cumin
1/3 cup feta cheese
2 tablespoon toasted pine nuts
Parsley for garnish
Salt
Pepper
Olive oil
Preparation time:  45 minutes. Serves 4-6 people. Approximate cost per person $4.00 depending on ingredients market price. You will need a sautéing pan, a deep pan, a pyrex, a wooden spoon, knife, aluminum and a chopping block. Cook the red quinoa as directed on the package using the deep pan, toast the pine nuts and keep aside. Turn on the oven and pre-heat at 425oF. Turn on your stove and place the sautéing  pan, add olive oil, fry the lean turkey, add the rest of the chopped ingredients, the red quinoa and the condiments, let is simmer. When ready stuff the peppers with this preparation and place them in a pyrex, add the feta cheese and cook in the oven for 15 minutes covered with aluminum foil. Take off the foil and cook 15 minutes more or until brown. Garnish with chopped parsley and serve, you can pair with a red full bodied Spanish wine.
This meal is very satisfying and healthy. If you want a vegetarian or vegan option replace the pound of turkey with 3 cups of quinoa. Quinoa is known as the super grain as it is high in protein, and the protein it contains is complete, which means it includes all nine essential amino acids.
Be sure that after you serve this dish your family and friends will give you an A+ and will ask you for more!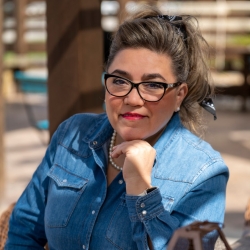 Latest posts by Chef Adriana Martin
(see all)