This post is also available in: Español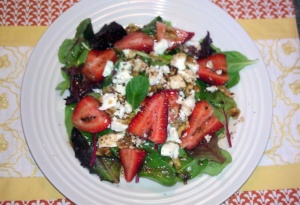 I love strawberries and to combine salty with sweet. When in season this fruit makes a great combination with spinach or spring mix and feta cheese. Definitely if you have a sweet tooth or want to change the flavor of your normal salad fair this is a great option for lunch or a picnic with friends and family.
INGREDIENTS
1 bag of field greens, spring mix or baby spinach
6-8 medium size strawberries washed and cut in halves
Chopped walnuts
Crumbles of feta cheese
Preparation time: 10 minutes. Serves 4 people. Approximate cost per person $3.00 depending on walnut oil and balsamic vinegar market price. Check for local market availability and buy when in season or on sale. You will need salad plates and a bowl or a dressing mixing bottle/shaker.
FOR THE DRESSING
½ cup of good walnut oil (if not available can change for hazelnut oil)
½ cup extra virgin olive oil light
¼ cup of raspberry puree (10 raspberries aprox.)
½ cup of balsamic vinegar
Cracked black pepper, salt
How to prepare the dressing:
Add all ingredients together into a mixing bowl or a dressing mixing bottle/shaker. Make sure all ingredients are well incorporated and taste. If needed more salt or pepper now is the time to do it. Remember the secret to a good dressing is to have 2 portions of oil for one of vinegar and to use fresh and good quality products.
STAGING THE SALAD
Take a salad plate place the field greens, the strawberry slices, the feta cheese crumbles and the walnuts evenly for a nice presentation. When ready to eat drizzle with the fresh raspberry walnut dressing and enjoy a healthy low calorie salad. You can add grilled chicken or turkey, or eat as a side salad with a sandwich of your choice. If you are feeling fancy serve yourself a glass of Prosecco, sparkling white wine or even champagne, cheers!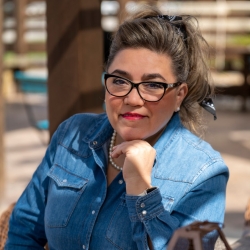 Latest posts by Chef Adriana Martin
(see all)