This post is also available in: Español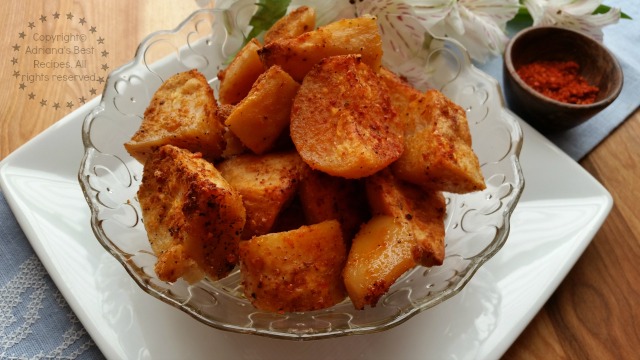 Who doesn't love potatoes, butter and Sriracha sauce. I love the three ingredients and decided to create a Sriracha Buttered Potato Bites recipe inspired in the flavors of the hot chicken wings yet with a vegetarian twist and using the sous vide technique.
INGREDIENTS
4 russet potatoes peeled and cut in quarters
4 teaspoons of butter
2 tablespoons of Sriracha powder or Sriracha sauce
1 teaspoon of garlic powder
1 teaspoon of sea salt
Preparation Time: 2 hours. Yields 8 – 10 servings. You will need a water oven or sous vide, vacuum sealer and plastic bags intended to cook in a water oven. A chopping block, peeler, measuring spoons and a chefs knife.
See the video tutorial to learn how to make my Sriracha Buttered Potato Bites recipe step by step and follow this instructions:
1.- Start by peeling and cutting the potatoes.
2.- Place the potatoes inside the plastic bag and add the butter and the spices.
3.- Seal the bag and cook in the sous vide at 180 grades Fahrenheit for 2 hours.
4.- When ready open the bag and place the cooked potatoes on a baking pan and roast them for 5-10 minutes until golden brown.
5.- Serve the Sriracha Buttered Potato Bites on a bowl and eat as an appetizer or finger food.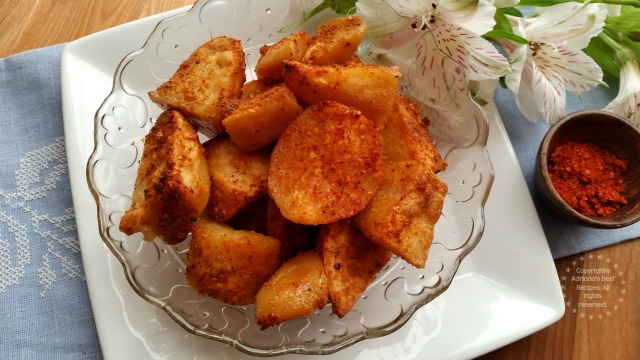 These Sriracha Buttered Potato Bites are flavorful and are perfect for entertaining at home, to eat as a snack for happy hour or use as a side dish. This recipe is different and could be a good option for vegetarian eaters and potato lovers like me. The sous vide technique while it takes longer for the food to cook the results are fantastic. The vacuum sealer helps enhancing the flavor of the spices and the potatoes will be tender and delectable.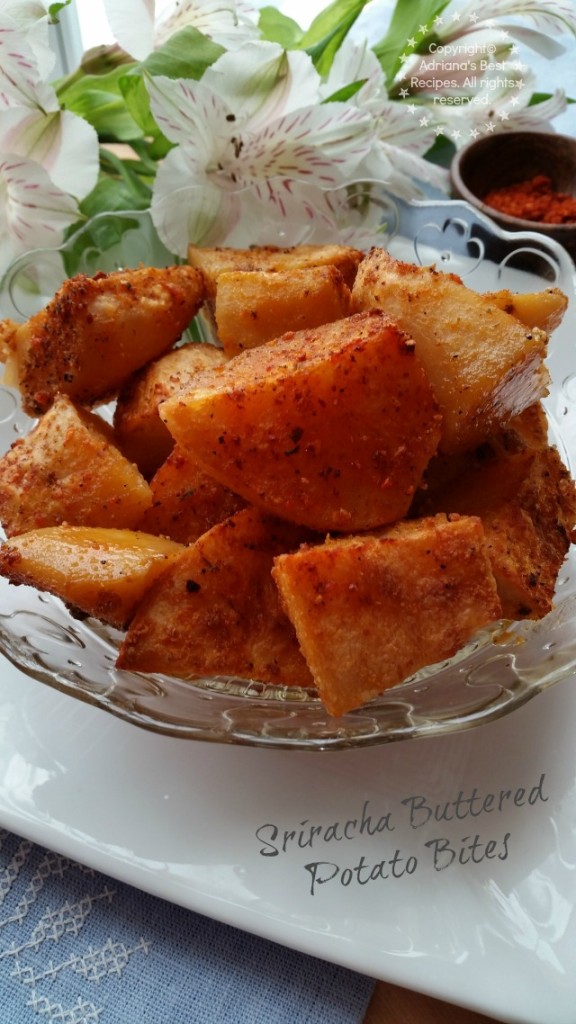 You can prepare these Sriracha Buttered Potato Bites a day in advance and then roast in the oven minutes before serving. If you like the idea of the mimicking the flavors of the hot wings you can serve the potato bites with a side of blue cheese dressing and celery sticks.
Are you ready to party?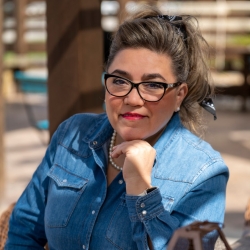 Latest posts by Chef Adriana Martin
(see all)