This post is also available in: Español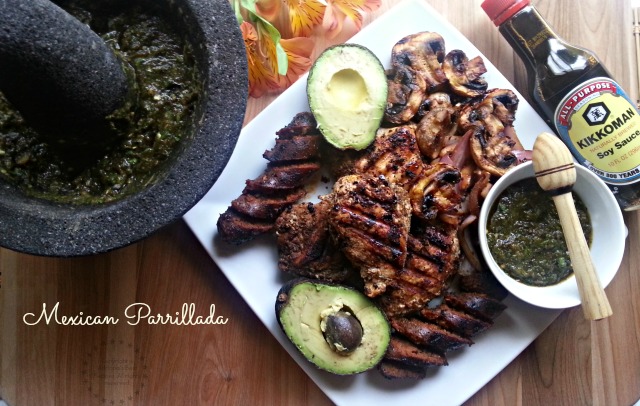 This is a compensated campaign in collaboration with Kikkoman and Latina Bloggers Connect
I grew up with the tradition of Sunday's Parrilladas at home. "Parrilladas" are cookouts we do with the family after church on Sunday afternoon and I have wonderful memories of that time. Traditional menu was carne asada, grilled chicken, chorizo, grilled veggies, fresh corn tortillas and famous salsa macha specially crafted for the brave and spicy sauce diehards with chiles serranos toreados, roasted garlic and salt. Now that I live here in Florida grilling is one of my passions and I like to introduce my  family and friends to the flavors of a Mexican Parrillada with all the fixings and a little bit more. That is why today I want to share with you ideas for a Mexican parrillada infused with the delicious flavor of the Kikkoman soy sauce which complements great with my latino flavors because Kikkoman soy sauce is a versatile ingredient that can be used to cook many different types of cuisines, so let's start grilling!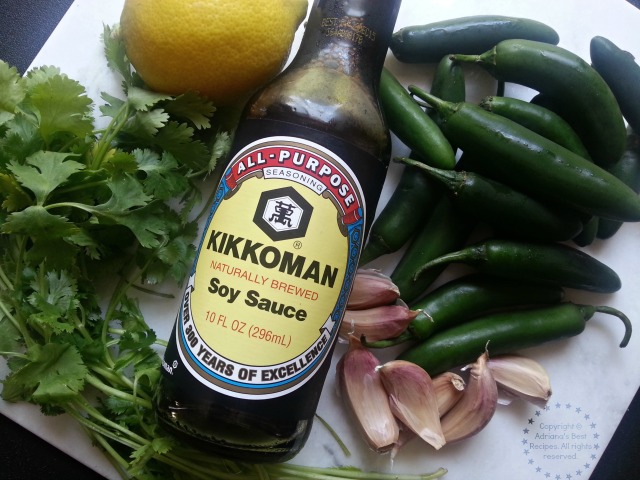 INGREDIENTS
For the Mexican Parrillada:
4 chicken breasts (seasoned with cumin, pepper, paprika and 1 teaspoon of Kikkoman soy sauce)
2 Mexican chorizo sausages
1 pint of fresh white mushrooms cut in halves
1 large purple onion cut in juliennes
1 avocado Hass
For the Salsa Macha:
10 serrano chiles roasted
3 garlic cloves
1/4 cup of hot water
1/3 cup of Kikkoman soy sauce
1 yellow lemon juiced
1/2 cup of fresh cilantro chopped
Preparation time: 45 minutes. Serves 4 guests. Cost per person is less than $6.00. You will need a grill or a grilling skillet, a grilling basket for veggies, a molcajete or mortar, a chopping block and kitchen utensils.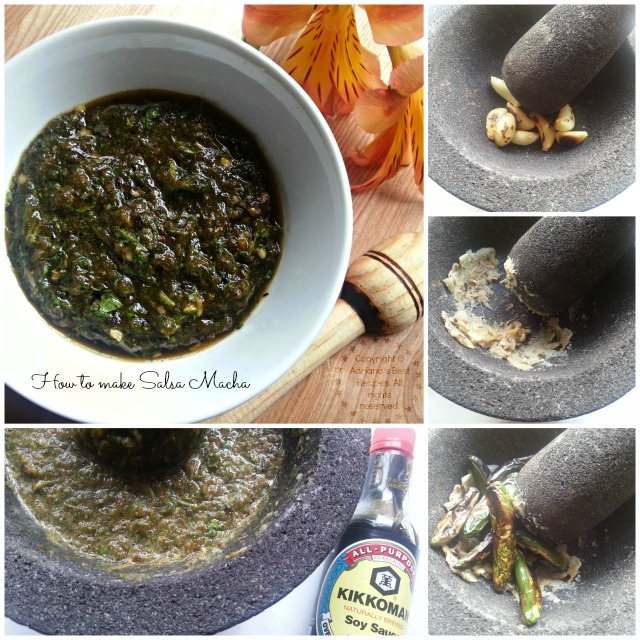 Start by seasoning the chicken using the ingredients of the list and  let it marinate for at least 30 minutes before cooking. Please refrigerate the seasoned chicken covered with a lid observing food safety precautions.
Then start preparing the salsa macha by roasting the chiles and the garlic in a roasting pan. When ready place the roasted garlic cloves first in the mortar or molcajete and smash until having a garlic puree. Then add the roasted serranos and mash along with the garlic puree. Pour some of the hot water and continue mashing the ingredients until getting a thick sauce.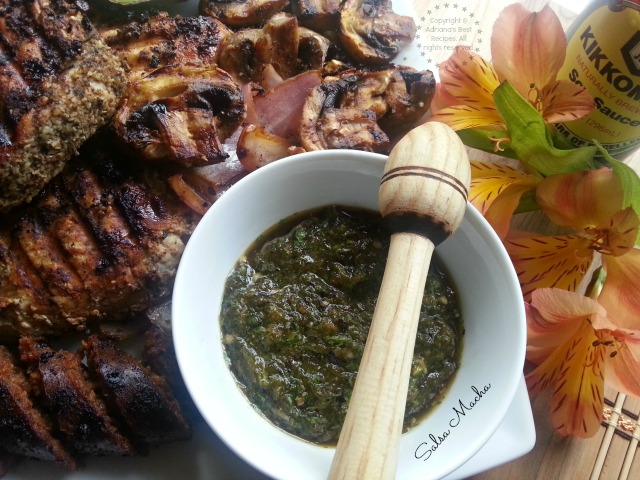 For seasoning add the soy sauce and the lemon juice and combine all together. To finalize the sauce add the fresh cilantro and stir again. Soy sauce is great replacement of salt, the original salsa macha recipe calls for a teaspoon of salt but instead I am using soy sauce. By using 1/2 tsp. Kikkoman Soy Sauce in place of 1/2 tsp. table salt, the sodium content of the recipe is cut by 1000 mg giving also a great smoky flavor which is a perfect complement to this serrano chiles sauce.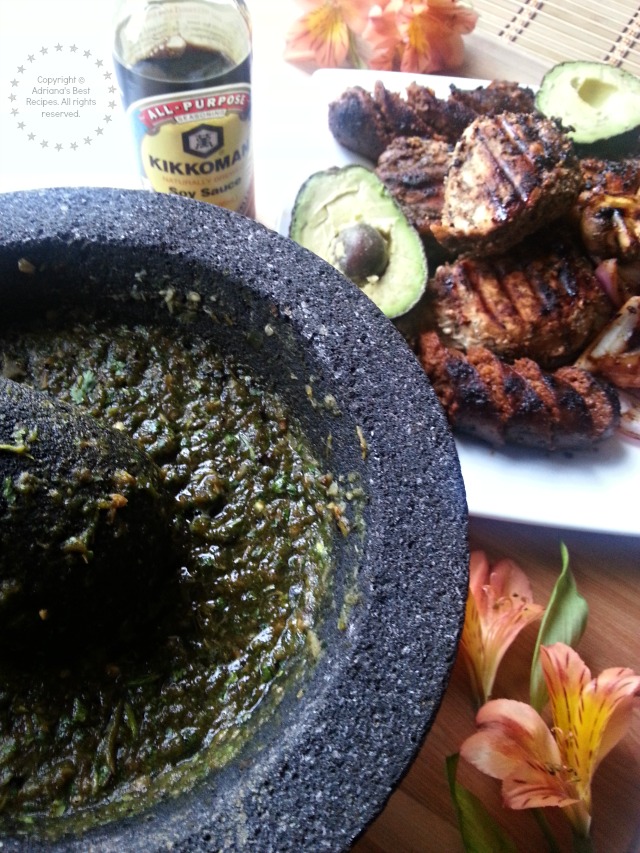 Heat the grill and cook your chicken first, then the chorizo and finally the mushrooms and the onions using the grilling basket for easy handling. Place the grilled meat and the veggies in a serving platter. Serve with warm corn tortillas, avocado and salsa macha. It is also suggested to place a bottle of Kikkoman soy sauce in the table for those wanting to add a bit more of the soy sauce flavor.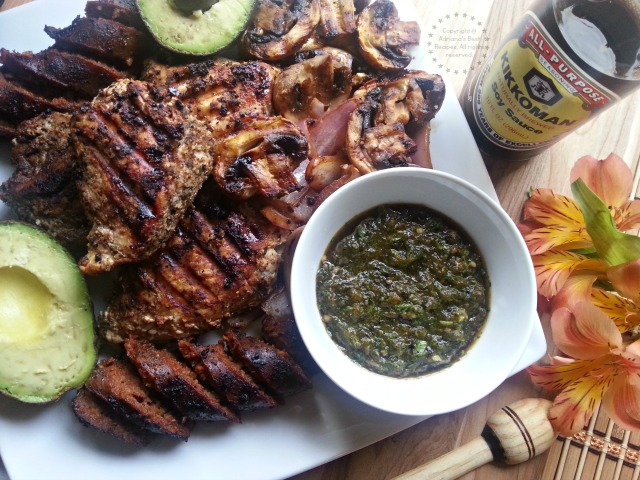 This meal is delicious and I am sure everyone in the family would agree that Kikkoman flavor adds umami to this Mexican Parrillada.
About Kikkoman: Kikkoman was started by a woman in a time when women didn't start companies. The company has been governed for 19 generations, not by a corporate policy, but by a family philosophy – Isogaba maware, a Japanese axiom that translates into "Make Haste Slowly." It means to advance and grow, but to do so with tremendous thought and care. From its meticulous six-month natural brewing process to a heritage that dates back to feudal Japan, Kikkoman has exemplified this philosophy since its humble beginnings in the seventeenth century. A family business to this day, Kikkoman's growth has been inspired and guided by a family creed, a set of 16 articles passed down for nineteen generations. This creed speaks to the core values that have enabled Kikkoman to survive and thrive for more than 300 years. Follow Kikkoman on Facebook and Twitter to learn more about their products and special offers.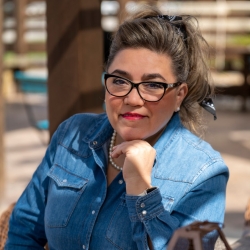 Latest posts by Chef Adriana Martin
(see all)