This post is also available in: Español

What a delicious dip, full of protein goodness and a flavor combination that is a nutty tasty adventure. One of my favorite meals is the Mediterranean fair, healthy, simple ingredients but what a trip for your mouth. Here my interpretation for Hummus.
INGREDIENTS
2 garlic cloves
2 cups canned chickpeas or garbanzo beans, drained
1/3 cup Tahini (sesame paste)
Juice of 2 freshly squeezed lemons
2 tablespoons water or liquid from the chickpeas
2 tablespoons of good olive oil (prefer Lebanese or Greek but you can use Italian or Spanish too)
Salt, paprika and roasted pine nuts
Preparation time: 15 minutes. Serves 1-15 people. Approximate cost per person $0.35 depending on Tahini paste, olive oil and pine nuts market price. Check for local market availability and buy when in season or on sale. Tahini can be found in specialty supermarkets or gourmet shops. If you decide to do it yourself check out my recipe for Tahini. For this recipe you will need a blender or food processor, a pan to roast the pine nuts and a bowl to serve.
Put all ingredients on the blender or food processor excluding the paprika and the pine nuts. The consistency should be thick, open processor to check consistency and taste. If needs more salt now is the time to add more, blend again. Pour preparation in a serving bowl, splash top with olive oil. Roast pine nuts in a pan, do not brown just let them develop the flavor. Add as decoration and sprinkle paprika.
Hummus is great for vegetarian and vegan diets and is high in iron and vitamin C, has significant amounts of folate and vitamin B6. You can enjoy with pita bread, crackers, raw baby carrots, crostini, you name it. Great option for cocktail hour too.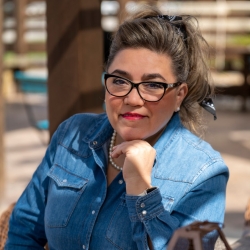 Latest posts by Chef Adriana Martin
(see all)