This post is also available in: Español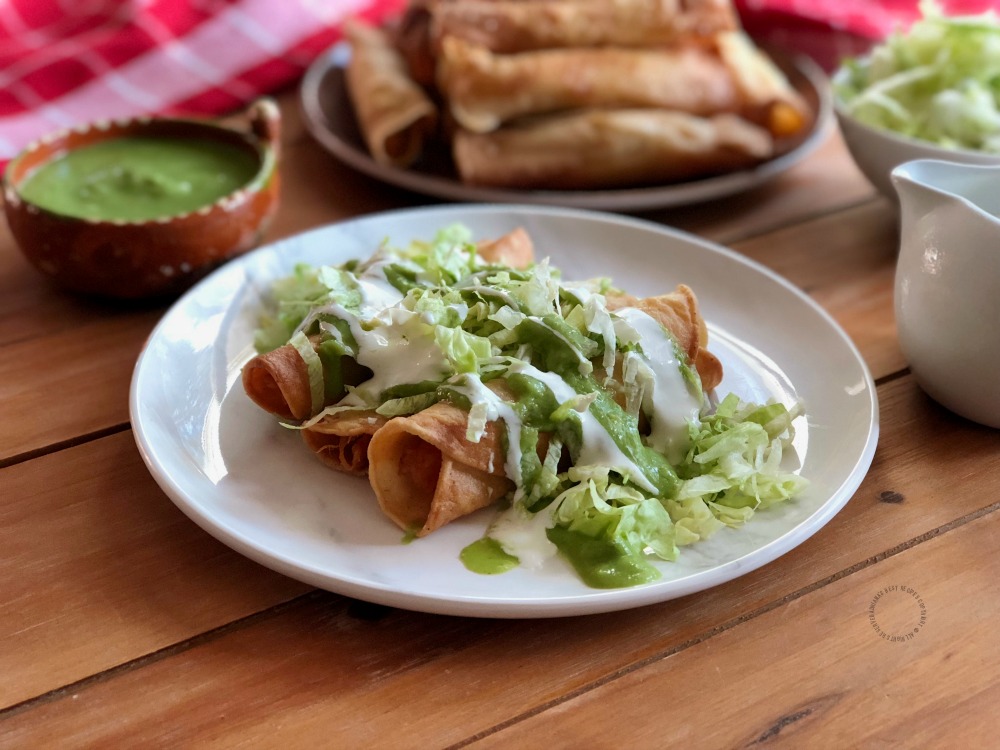 The Crispy Chicken Taquitos or Flautitas are always welcome in a celebratory menu or for a family dinner at home. Everyone enjoys tacos and more if they are made like authentic Mexican taquitos dorados. Made with corn tortillas, shredded chicken and fried to perfection for crispy texture.
Watch the video so you know step by step how to prepare this recipe for the Crispy Chicken Taquitos.
These taquitos are also known as flautitas. The normal flautas are long but these are small and a fun appetizer to offer as a snack in a special event, the BIG game football fiesta or at party at home. These taquitos are excellent option to take to a potluck at work or to enjoy at a friend's home before dinner.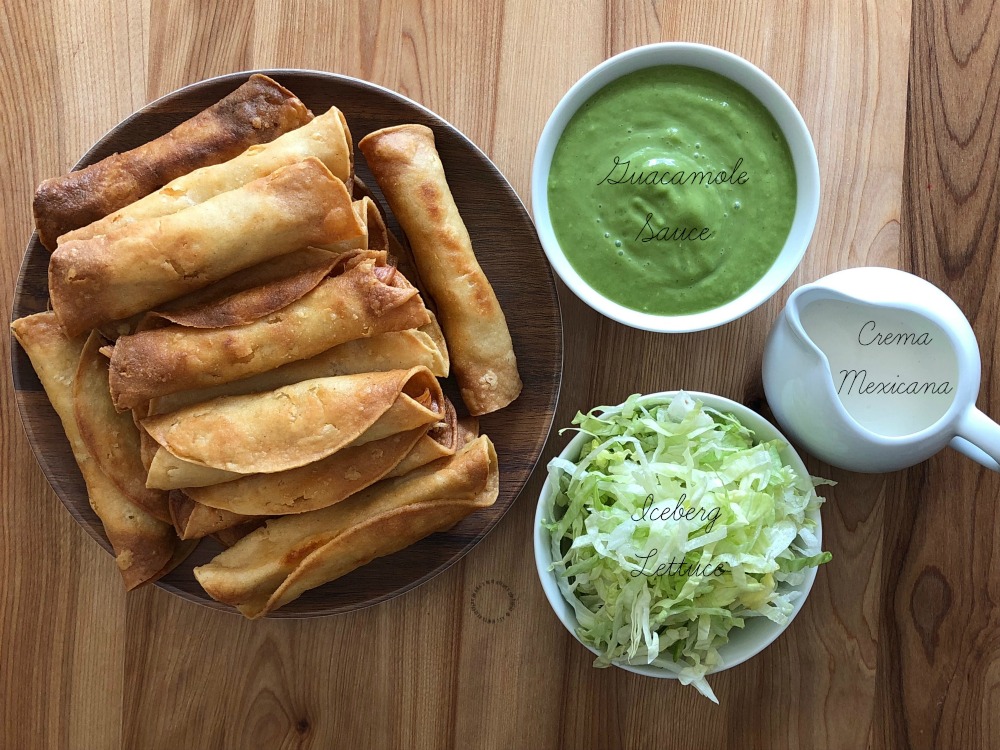 The taquitos are served with finely sliced iceberg ​​lettuce, the real deal guacamole sauce and Mexican cream or crema mexicana. A perfect dish to pair with a refreshing agua fresca or with an iced cold beer.
The secret to succeed when preparing the crispy chicken taquitos is to warm or fry the tortillas first. This is necessary because the tortillas that are sold in the United States are cold and brake easily if try to rolling them up for taquitos. The tortillas need to be hydrated or warmed so that roll up perfectly to become a taquito.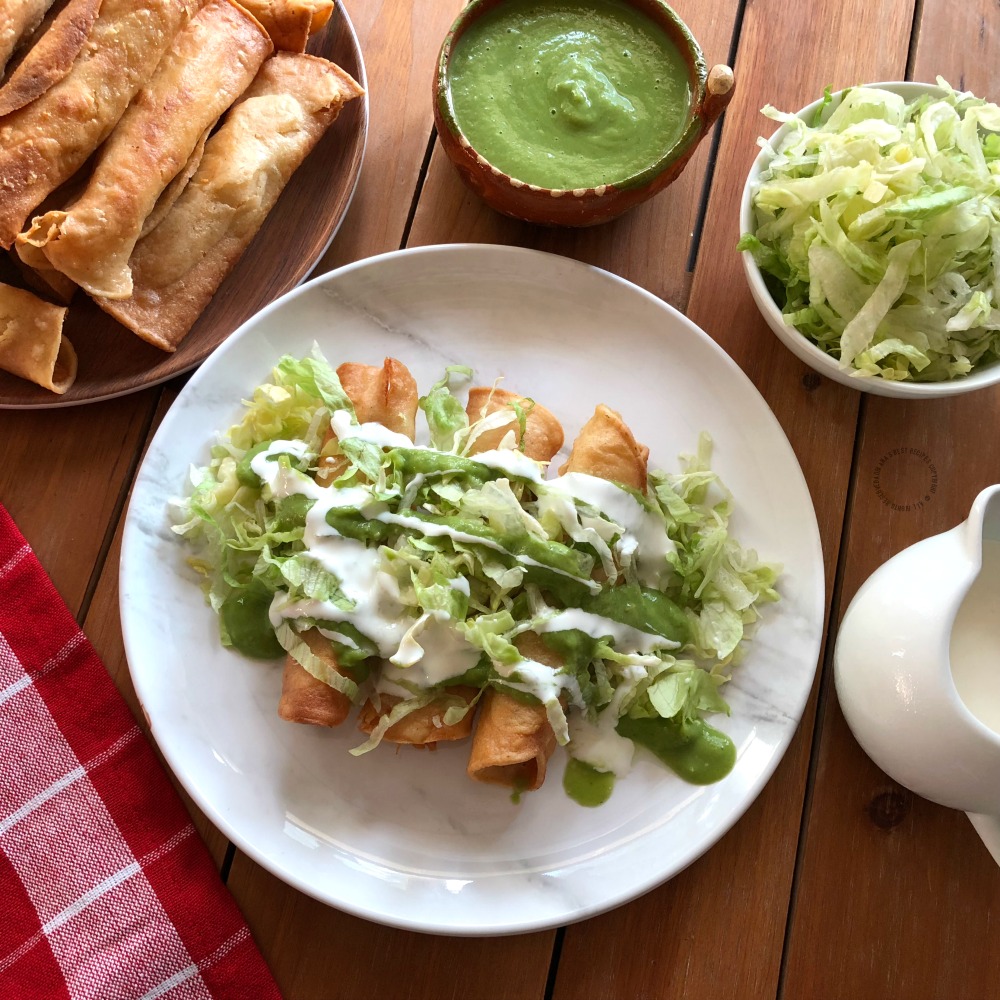 Another option is to make your own tortillas but if you can not make them, the commercial tortillas work if you follow the recipe details shown in the video. Since my family enjoys these taquitos a lot, I prepare enough and freeze them. I wrap them in parchment paper and place them inside a plastic container with a lid. Freeze for 24 hours and when frozen the taquitos will fry easier and won't break in the hot oil.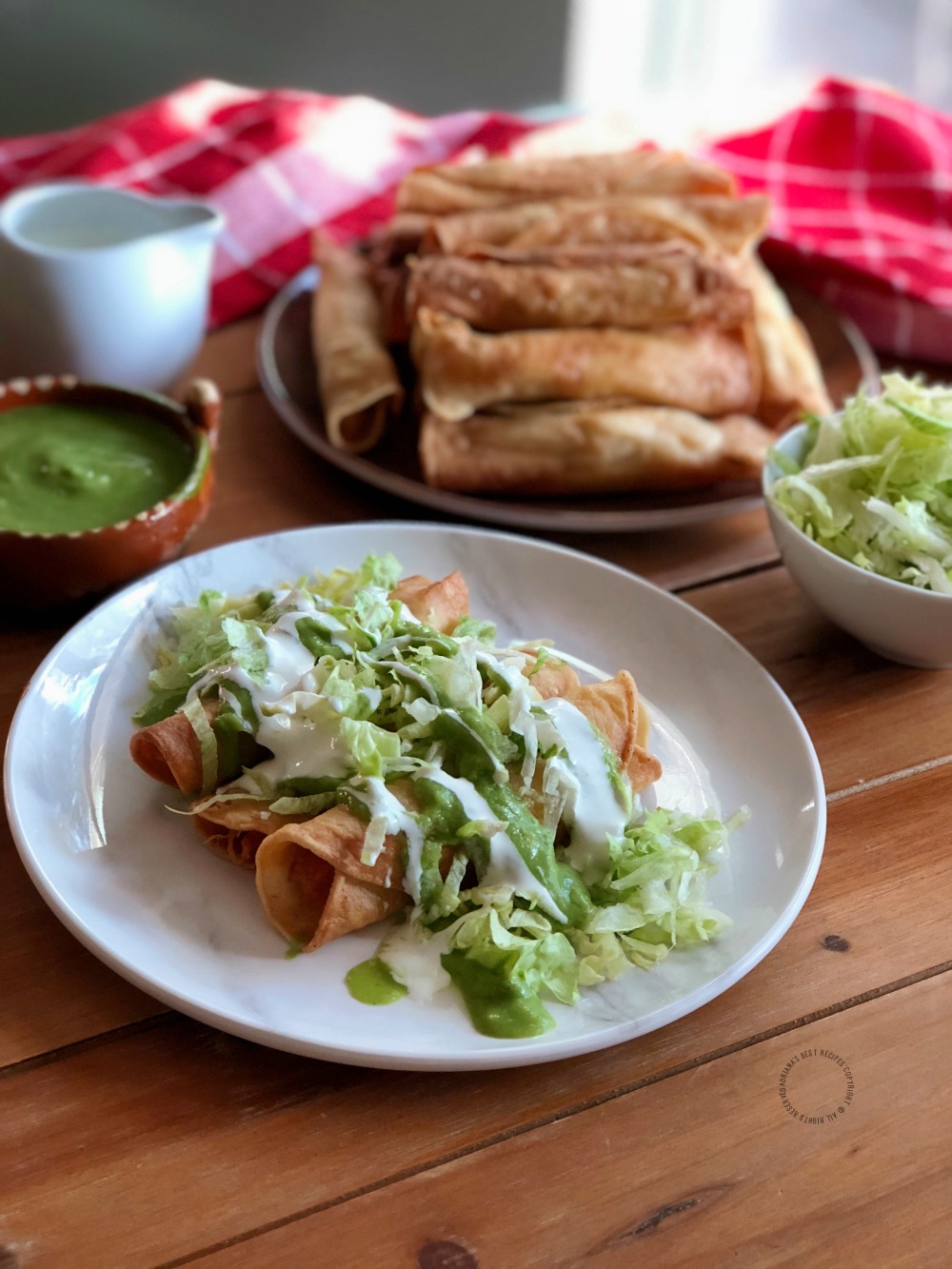 For frying, I like to use a combination of peanut and corn oil. That way I can achieve even frying results. But if you do not have peanut oil you can use corn oil. Just make sure the oil is hot enough as well as use a deep frying pan or a fryer.
Are you are ready to delight your family and friends with these crispy chicken taquitos. They are finger-licking good!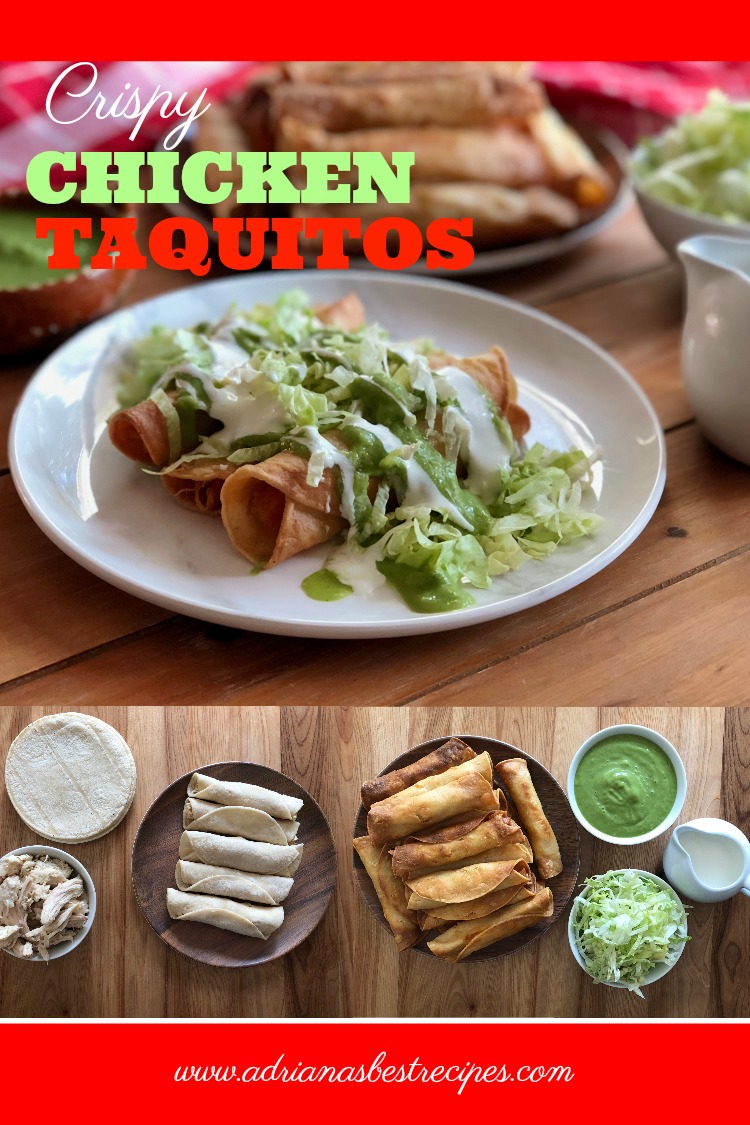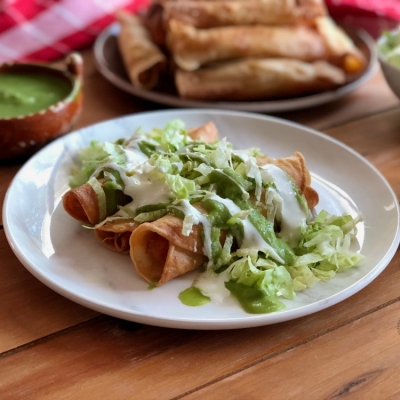 Crispy Chicken Taquitos
The authentic crispy chicken taquitos are made with corn tortillas, shredded chicken and served with finely sliced iceberg lettuce, real deal avocado sauce and Mexican cream.
Ingredients
12

corn tortillas

1

cup

shredded chicken

1

cup

corn oil

1

cup

peanut oil
Instructions
Fry the tortillas in corn oil on both sides. This frying is quick only to warm and hydrate the tortillas so they can be rolled easily without breaking.

Stuff each tortilla with shredded chicken and roll until you get a taquito. Place on parchment paper and pack well. Put the package inside a plastic container with lid and freeze for at least 24 hours.

In a fryer or in a deep frying pan add a part of corn oil and another part of peanut oil. Let it heat up and when it is hot, fry the taquitos until golden brown.

Place the taquitos on a paper napkin to absorb the oil and serve hot garnished with finely sliced iceberg lettuce, real deal avocado sauce and Mexican cream.
Notes
It is recommended to prepare and freeze the taquitos 24 hours in advance for better results.
Products from Amazon.com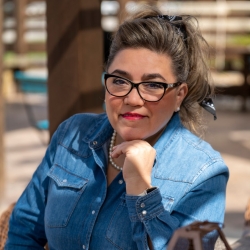 Latest posts by Chef Adriana Martin
(see all)