This post is also available in: Español
The overnight chia and oats recipe idea is a collaboration with The Power Your Lunchbox Promise by Produce for Kids®, which runs through Feb. 18.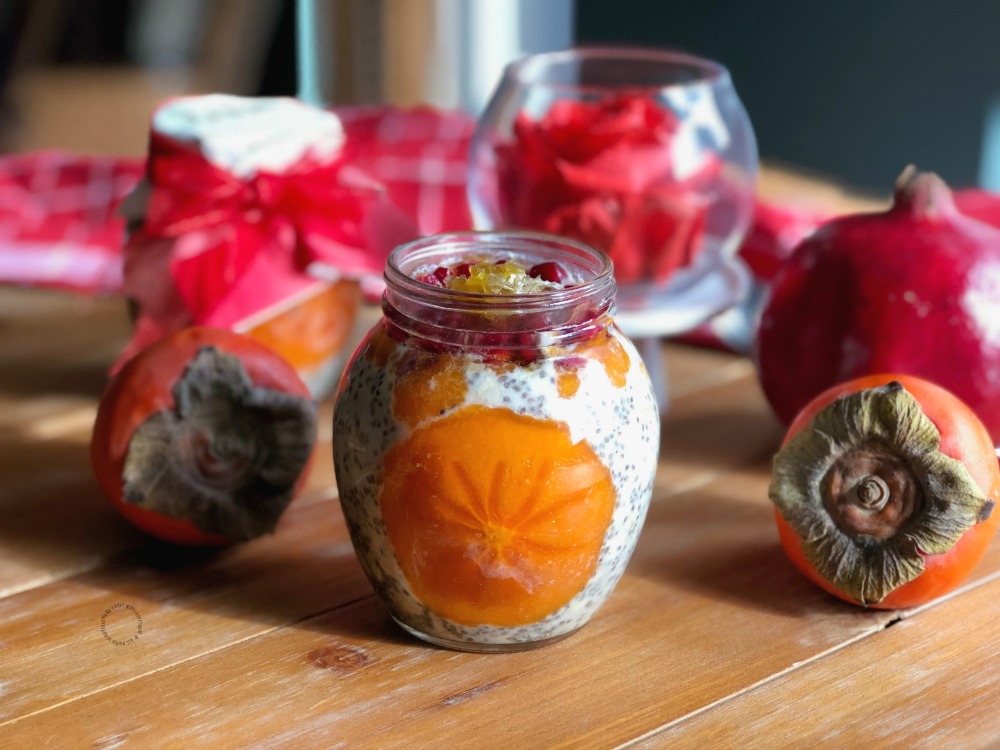 Breakfast is the most important meal of the day, having an easy recipe for breakfast on the go is important to add in the lunchbox for everyone in the family. Including the kids, mom and dad. The overnight chia and oats paired with pomegranate jewels and persimmon. And sweeten with honey and the honeycomb. This is not only delicious but a great way to add fiber and fresh fruit to either breakfast or to eat as a snack or as a wholesome dessert.
Watch the step by step recipe video tutorial and see how easy it is to make this yummy overnight chia and oats with fresh fruit.
Having wholesome options like this overnight chia and oats is a great way to celebrate February, the month for love. And start the year right  eating more nutritious lunches and making healthy choices when returning from winter break. We all have new year's resolutions and ours is to eat better and love our body.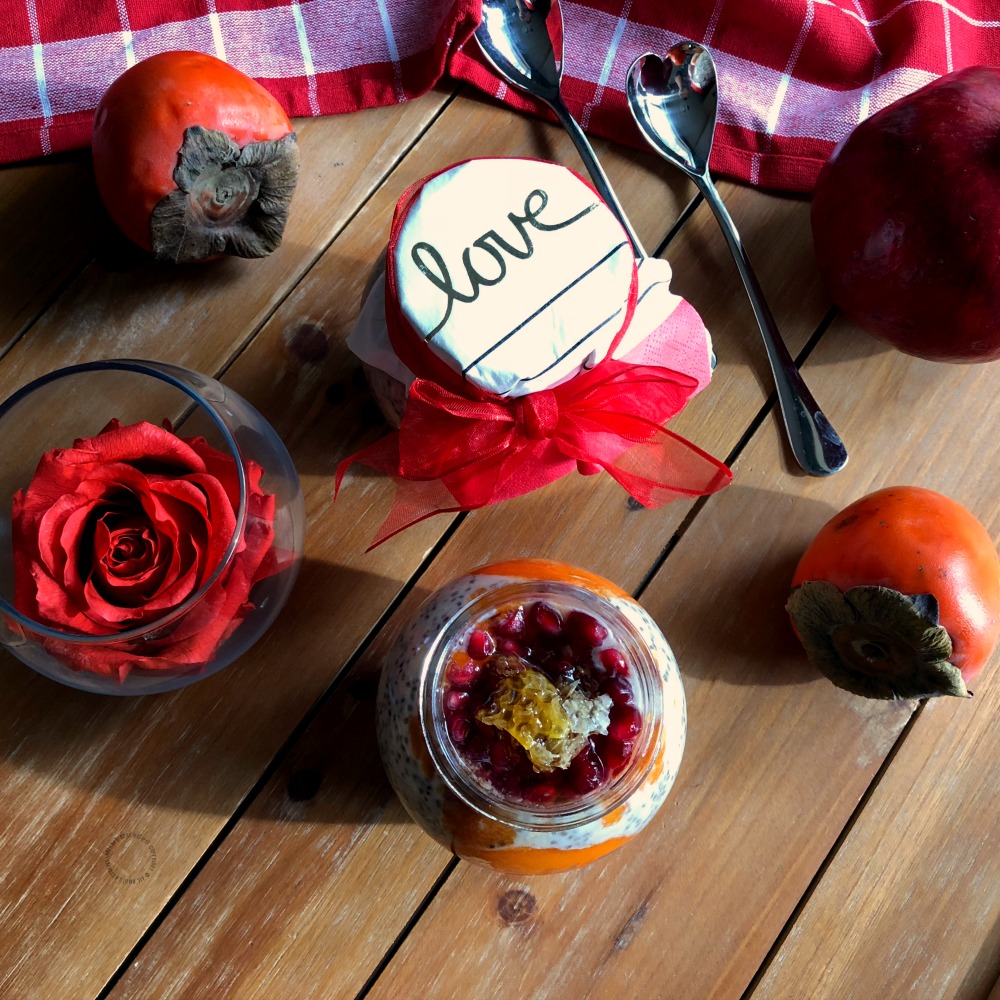 Seeking a healthier wholesome lifestyle helps in so many ways. And we can inspire our family by including registered dietitian-approved lunchboxes, snacks and easy weeknight dinners featuring fresh produce. Sometimes we can feel overwhelmed and decide to buy snacks or food options that are not the best. But making easy recipes like the overnight chia and oats allows for time, as we can prepare a day in advance. And even include the kids in the preparation process.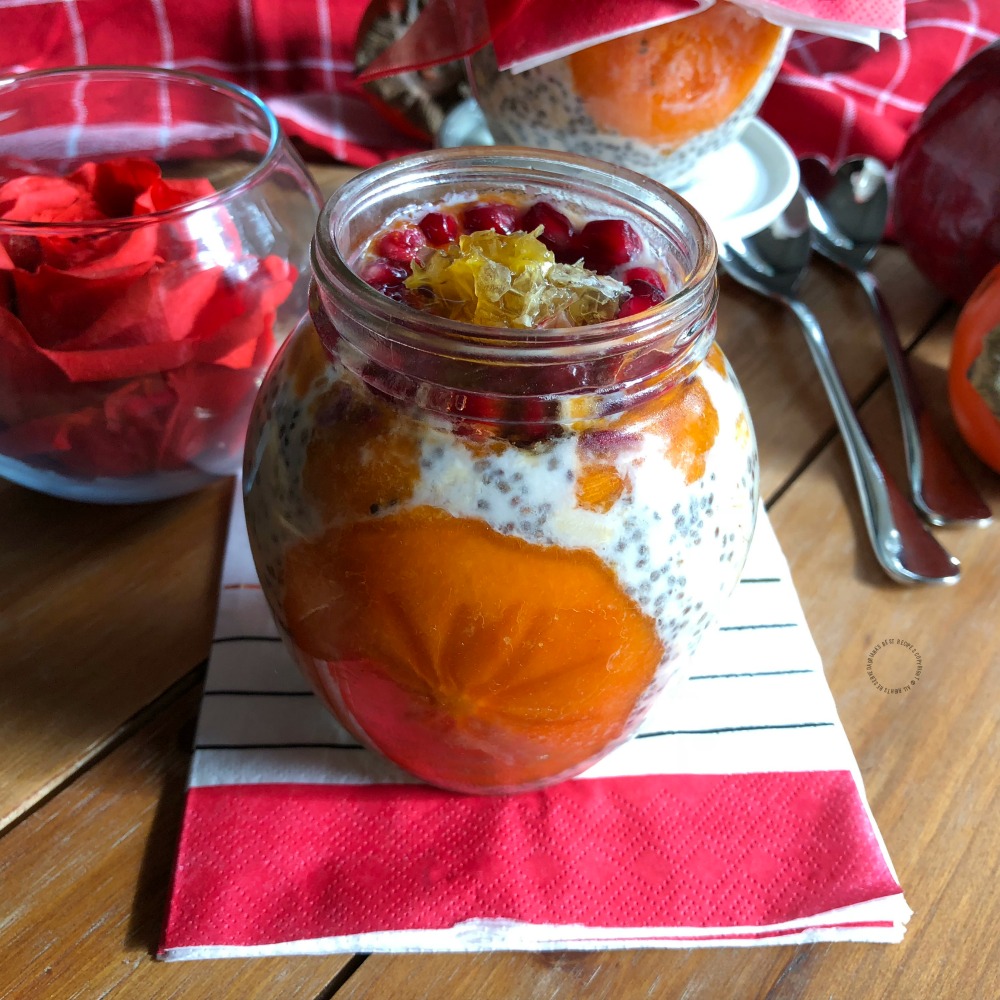 To make it more fun this overnight chia and oats I have packaged in a nice recycled glass container and decorated with Valentine's motifs. I opted for red and gold accents to present it as a present. Adding this beautiful container to the lunchbox really makes the difference because we are showing our kids and hubby we love them.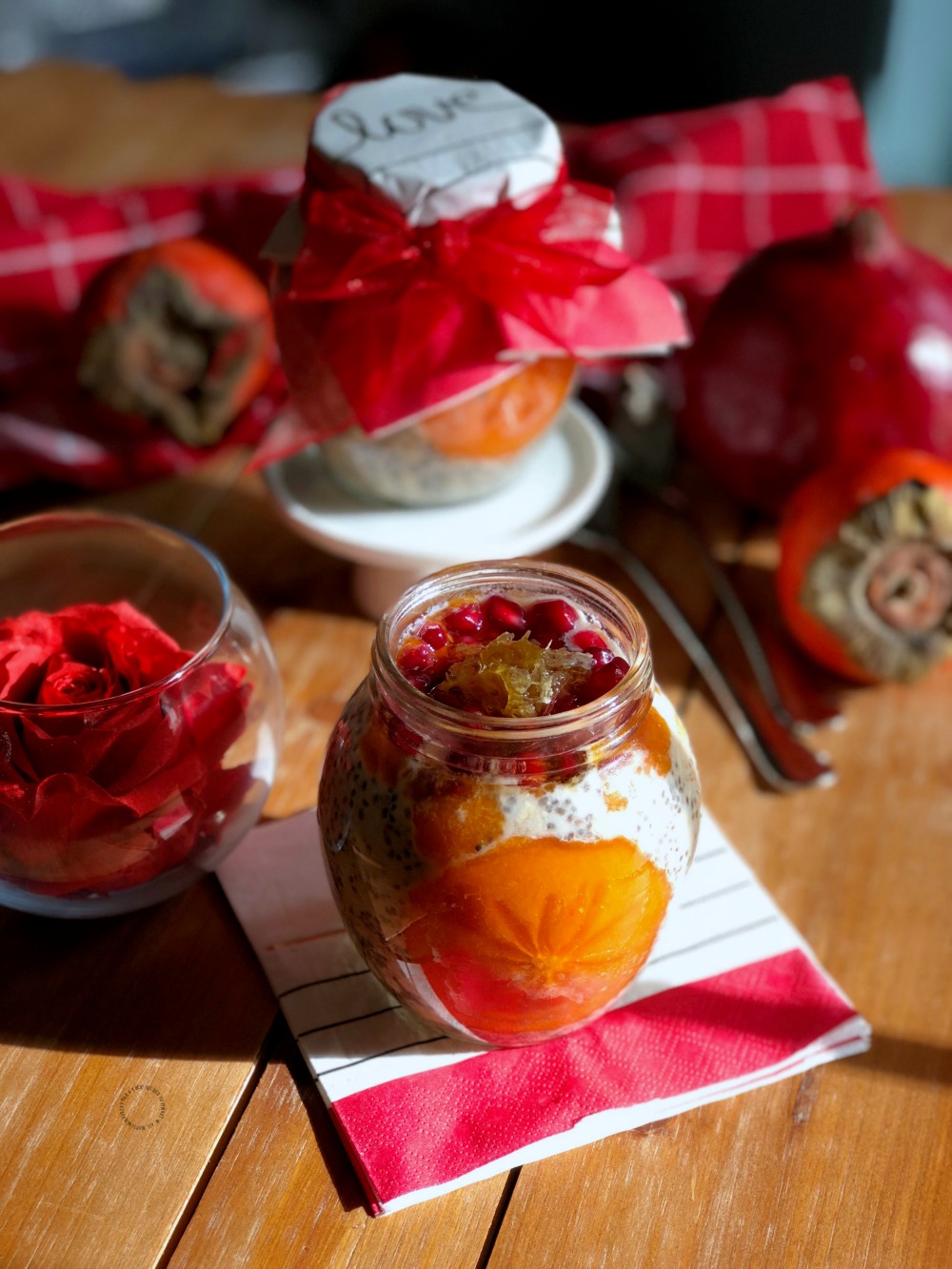 I am very happy to be part of the Produce for Kids team and supporting the Power Your Lunchbox campaign. Since 2014 Produce for Kids has donated nearly 1 million meals to those in need through campaigns benefitting Feeding America. While the Power Your Lunchbox Promise encourages families to eat healthier, it is also important to recognize the many families living with food insecurity who are in need of the donation provided by Power Your Lunchbox Promise sponsors. Like Avocados From Mexico, Bee Sweet Citrus, Crispy Green®, Earthbound Farm®, Pero Family Farms® and Wish Farms®.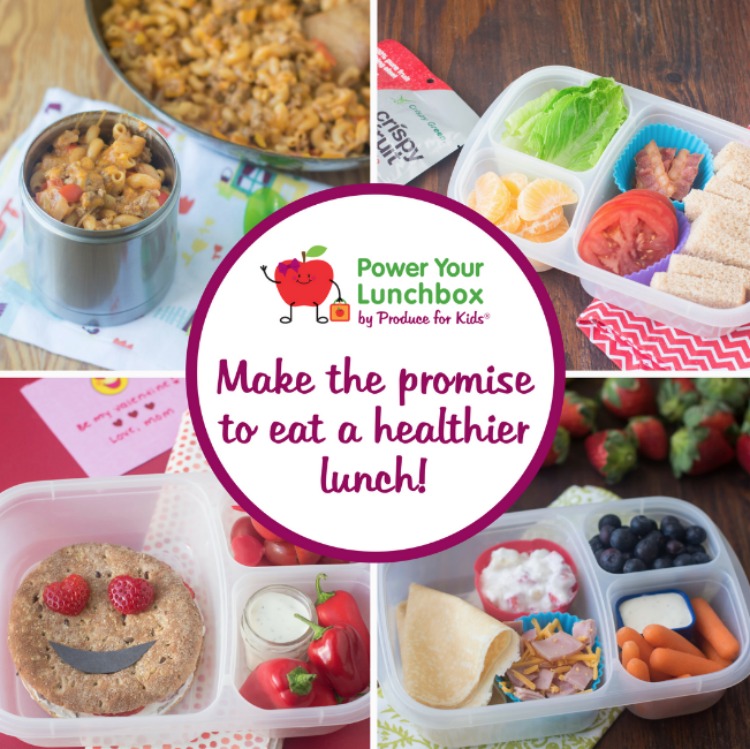 Now is your turn, are you ready to make the promise? Visit poweryourlunchbox.com. There you will find kid-friendly lunchbox, snack and dinner recipes, all registered dietitian-approved!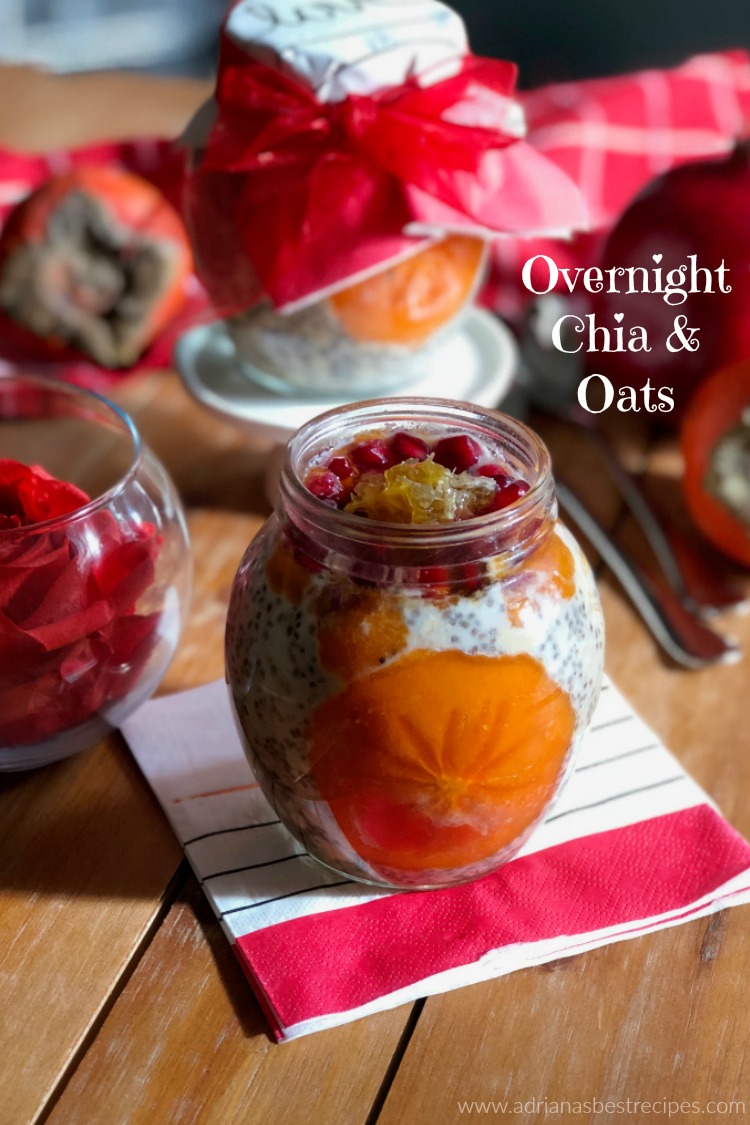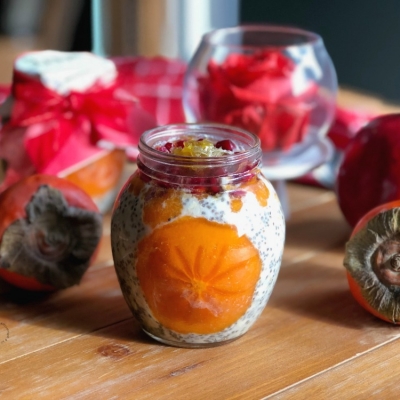 Overnight Chia and Oats with Fruit
A delightful overnight chia and oats paired with pomegranate jewels and persimmon. And sweeten with honey and the honeycomb. Perfect for breakfast, midday snack or a wholesome dessert.
Ingredients
2

cups

oats

1

cup

chia seeds

2

cups

milk

1

persimmon

2

tablespoons

pomegranate jewels

2

teaspoons

honey

2

pieces of honeycomb
Instructions
Use two recycled containers or mason jars and add first the oats and then the chia seeds. Add the milk and sweeten with honey. Close the container and place inside the fridge. Let the chia and the oats soak overnight.

Prepare the fruit by peeling and slicing the persimmon and also by mashing some of the persimmon to make a puree. The pomegranate jewels you can use fresh or frozen. Cut few pieces of honeycomb and set aside.

Take out of the fridge the overnight chia and oats. Open the container and with a spoon make pockets to be able to add the fruit.

Add first the persimmon rounds, one per side. Then top with persimmon puree and add the pomegranate. Top with pieces of honeycomb. Close and decorate with ribbon and a napkin.

Keep the container in the fridge and when ready to pack the lunchbox include an ice pack to preserve the temperature and avoid spoilage.
Notes
The pomegranate jewels you can use fresh or frozen. What I do is I buy enough pomegranates, remove the seeds and then freeze for many uses and enjoy after season is over.  Enjoy the overnight pats for breakfast, as a snack or for dessert.
Products from Amazon.com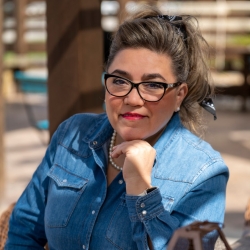 Latest posts by Chef Adriana Martin
(see all)