This post is also available in: Español
This recipe for the Chipotle Pork Loin Alambres is part of a sponsored collaboration with the National Pork Board. All opinions are 100% mine.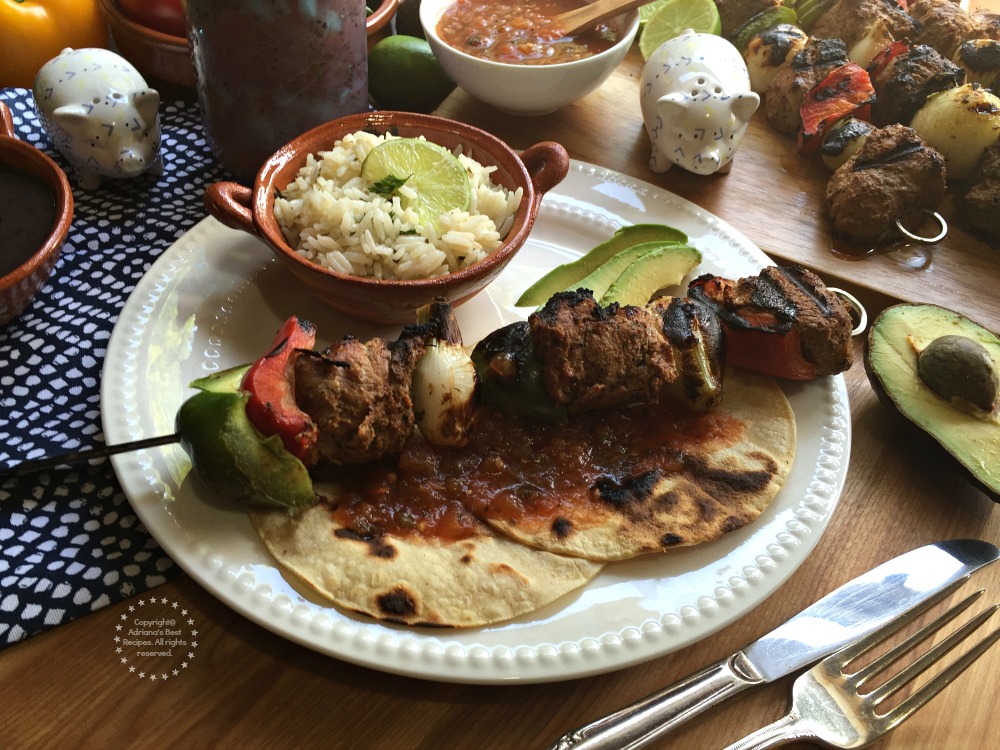 You can ignite the taste of summer with this recipe for Chipotle Pork Loin Alambres. A simple but delicious dish that you can make in just 20 minutes. With this recipe I am sure you will have a summer to remember. Because cooking grilled pork is a healthy option. Besides this meat is tender, juicy and so yummy. Pork certainly adds a new dimension and unexpected flavor to my grilling events.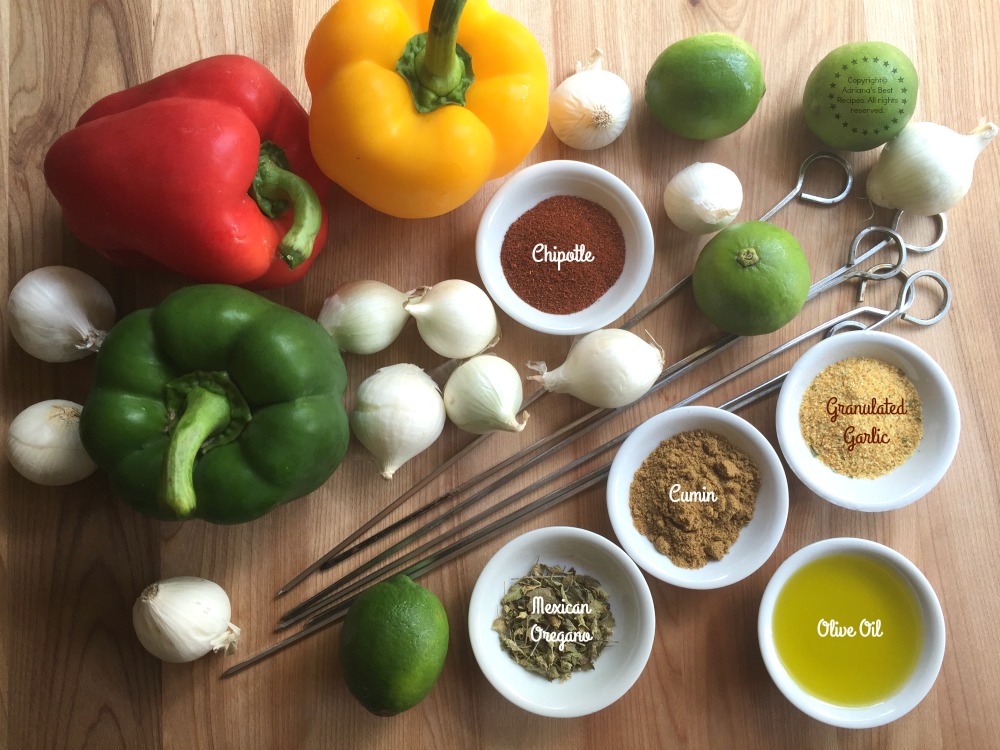 Alambres is the name in Spanish for "brochettes or skewers". In Mexico every Sunday at my mom's there was a grilling party in the backyard. Where my family was used to prepare this recipe for chipotle pork loin alambres. This dish was served with cilantro lime rice, black beans, avocado slices, corn tortillas and homemade salsa. It was a party for the senses and the tastebuds!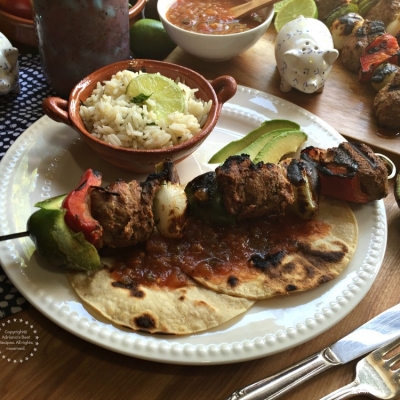 Chipotle Pork Loin Alambres
You can ignite the taste of summer with this recipe for Chipotle Pork Loin Alambres, a simple but delicious dish that you can make in just 20 minutes.
Ingredients
1

pound

of juicy fresh pork loin cut in medium size cubes

1

tablespoon

of chipotle powder

you can use sauce or canned chipotle

1

tablespoons

of granulated garlic

1

tablespoon

of Mexican oregano

1

tablespoon

of cumin

2

limes

1

teaspoon

of olive oil

2

in

peppers cutcubes

1

pound

of grilling onions cleaned

4

metal skewers
Instructions
Prepare the marinade combining the spices with the lime juice and the olive oil and add the pork to this sauce. Let the pork marinade for 10 minutes.

Using the metal skewers start inserting one cube of pork meat, then one onion and one piece of peppers. Repeat this until having 8 skewers.

Warm your grill to reach a 160 degrees Fahrenheit temperature and grill the pork alambres for 7 minutes each side.

Pork will be ready when reaching an internal temperature of 160 degrees Fahrenheit. Have a thermometer in hand to assure best results.

Place the alambres on a serving tray and let them rest for three minutes. Serve the Chipotle Pork Loin Alambres family style and pair with cilantro lime rice, black beans, corn tortillas, avocado slices and homemade salsa.
Notes
You can prep the pork the night before and marinade the meat in the fridge overnight. The flavors will be more intense however marinating overnight is optional.
Pork is my preferred meat for grilling because it is a healthy option. You don't need to add extra calories to your meals you can use easy cooking methods like grilling. To add more flavor you can also use spice rubs, fat-free marinades or citrus juices without adding extra fat.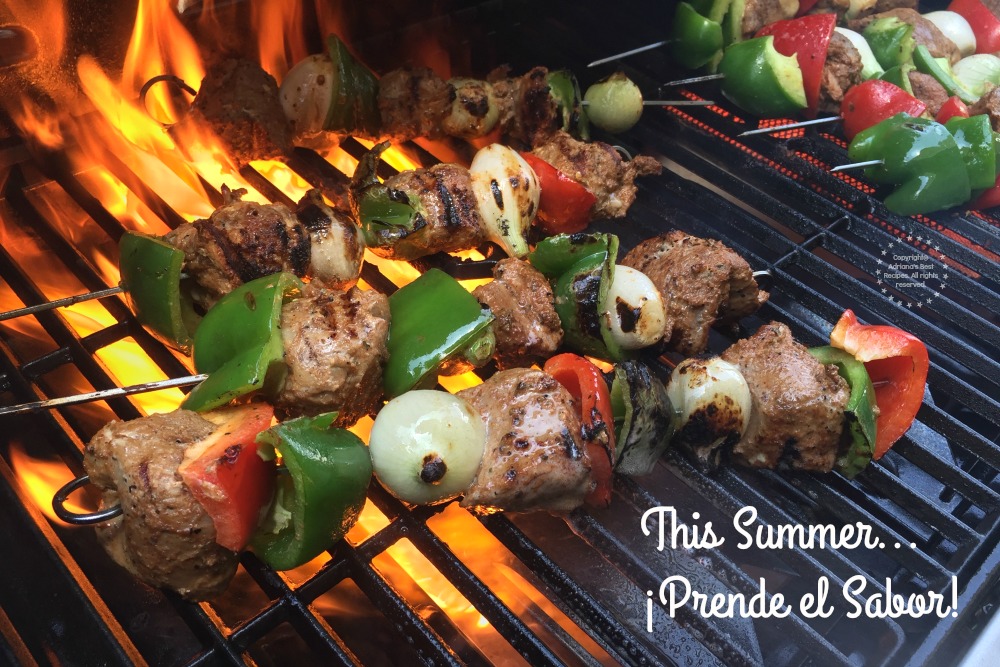 Just like I did for the chipotle pork loin alambres recipe where I am using a  homemade marinade made with lime juice, chipotle pepper, garlic, cumin and oregano and then finished with few drops of olive oil. Watch the video below and check out the grilling process.
Alambres are great for adding veggies, like onions and peppers which complement very nicely the pork meat and are also yummy ingredients to cook on the grill. Pork is so versatile, it allows you to get creative in your outdoor kitchen.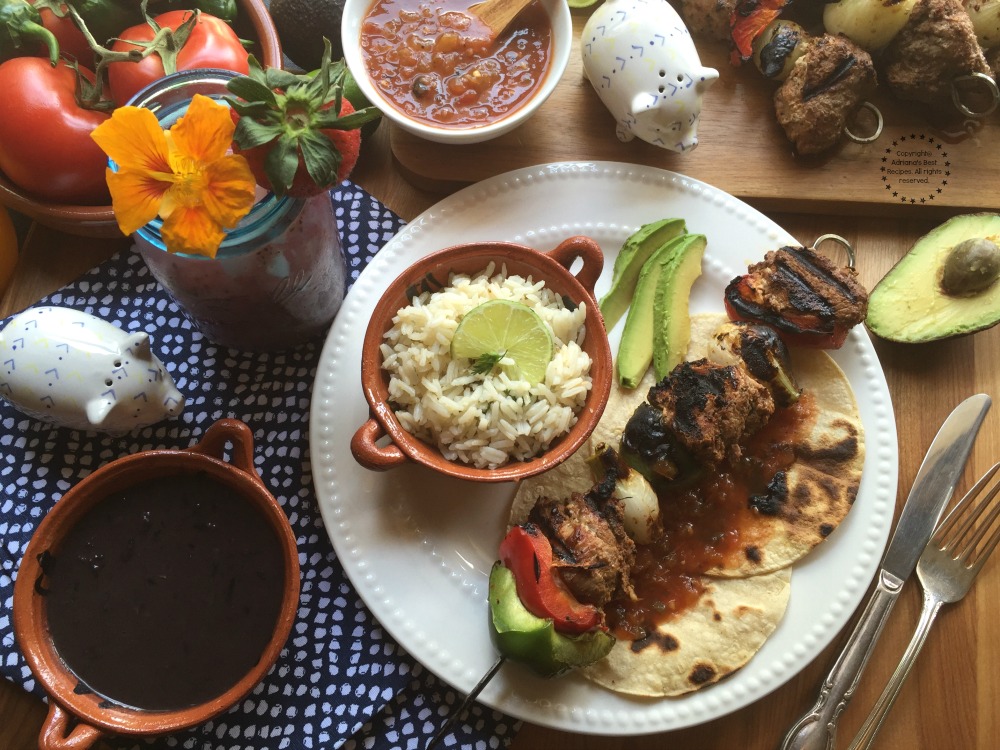 There are many flavors that go with pork, and it is very easy to get creative on the grill this summer for your everyday meals. At my home grilling is a must-do activity in the summer and being able to share new and delicious grilling options with pork is a great way to celebrate this time of year. Because who says that us ladies cannot grill. We are master grillers too!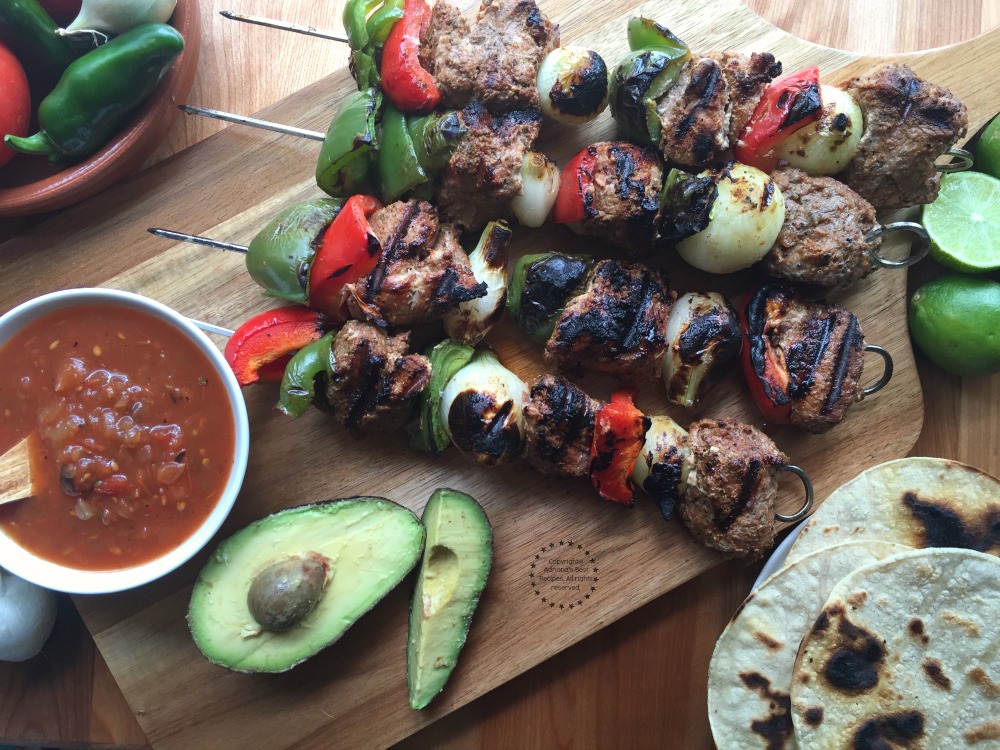 I just love everything about grilling good food and entertaining the family and friends. And nothing keeps them coming back like delicious, flavorful dishes – with pork. And now that the National Pork Board is launching a new campaign ¡Prende el Sabor! I want you to meet "Gloria" the neighbor grill. Voiced by renowned Mexican actress, comedian and singer Angelica Vale. Gloria appears in a series of videos as the pork expert who's the hostess with the mostess and a modern Latina home chef who's always in charge and wastes no time to show off her grilling skills every day. After meeting Gloria I think we have a lot in common!
This summer, Gloria will embark on a pork-grilling journey across the country to encourage everyone to grill tender, juicy and flavorful pork. Throughout the adventure, she will introduce you to her neighbor, The Grill, voiced by actor and comedian, David Koechner also known on Twitter as @GrillForIt. Who also will be traveling this summer from coast to coast encouraging people to give their grills a thrill with pork. To turn up the flavor this summer, let Gloria help you add flavor to your grill with pork and delicious recipes from PorkTeInspira.com/PrendeElSabor. You will also find grilling tips and videos to inspire you to grill at home with pork.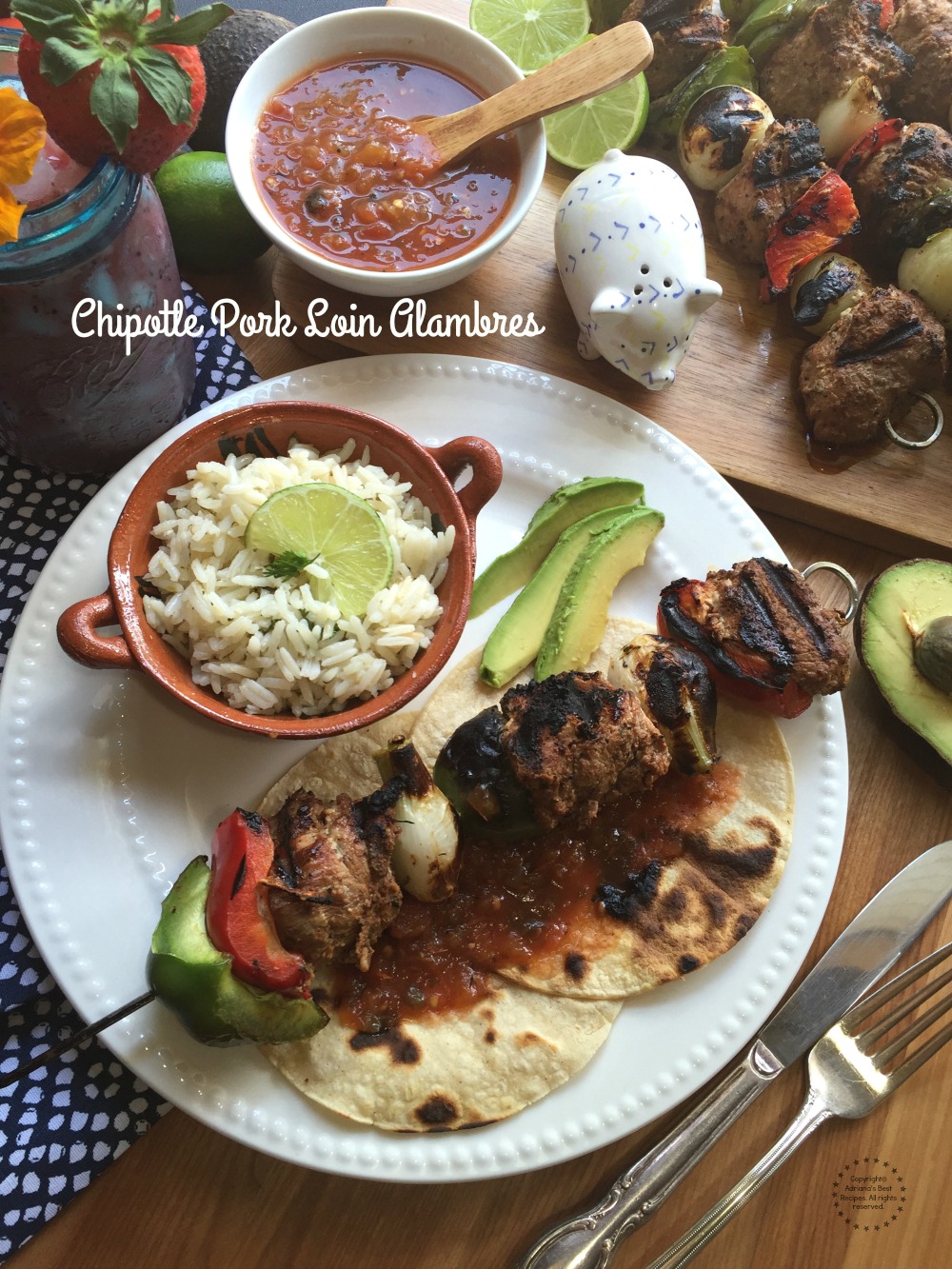 But in the meantime, enjoy my recipe for the Chipotle Pork Loin Alambres. A flavorful dish to enjoy in the upcoming summer holidays, like Memorial Day Weekend, 4th of July, Father's Day, and Labor Day.
Happy Grilling with Pork!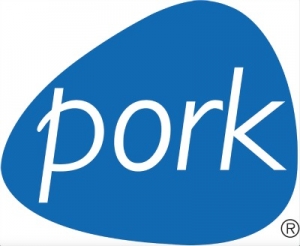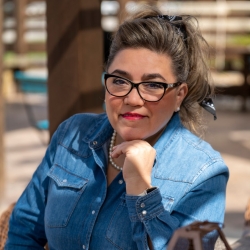 Latest posts by Chef Adriana Martin
(see all)