This post is also available in: Español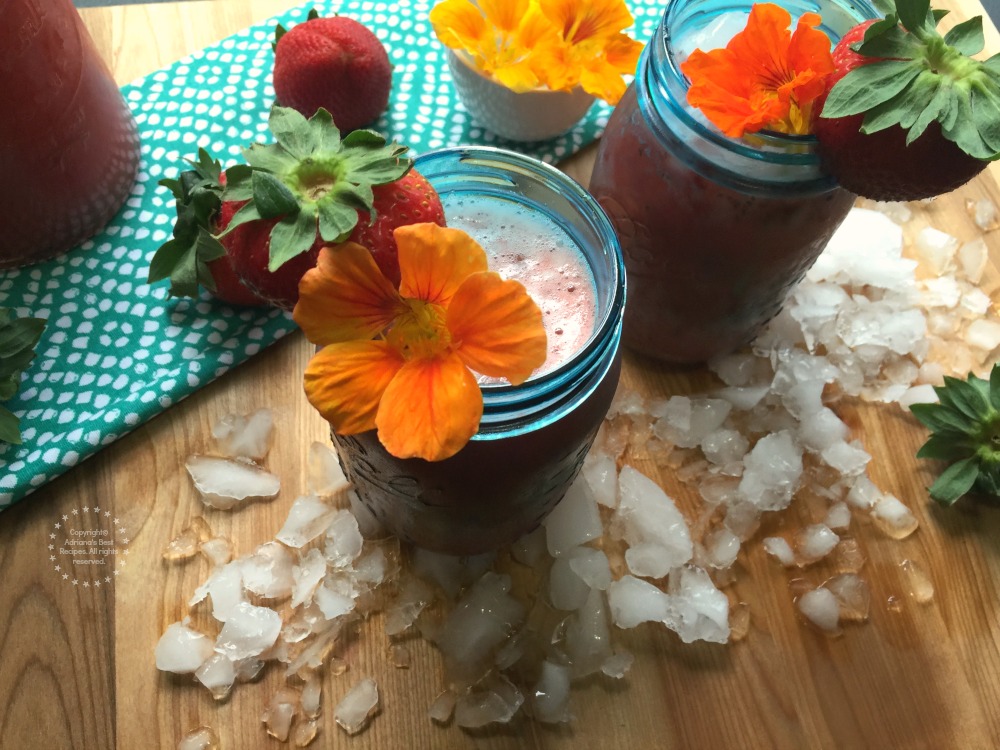 A kid friendly Strawberry Chia Agua Fresca is my suggestion for your next grilling party or to offer a refreshing drink to your family this holiday season. Drinking agua fresca is a tradition that I grew up with. My mom always offered us agua fresca to pair with our meals. She always used fresh natural fruits to prepare agua fresca in so many yummy flavors.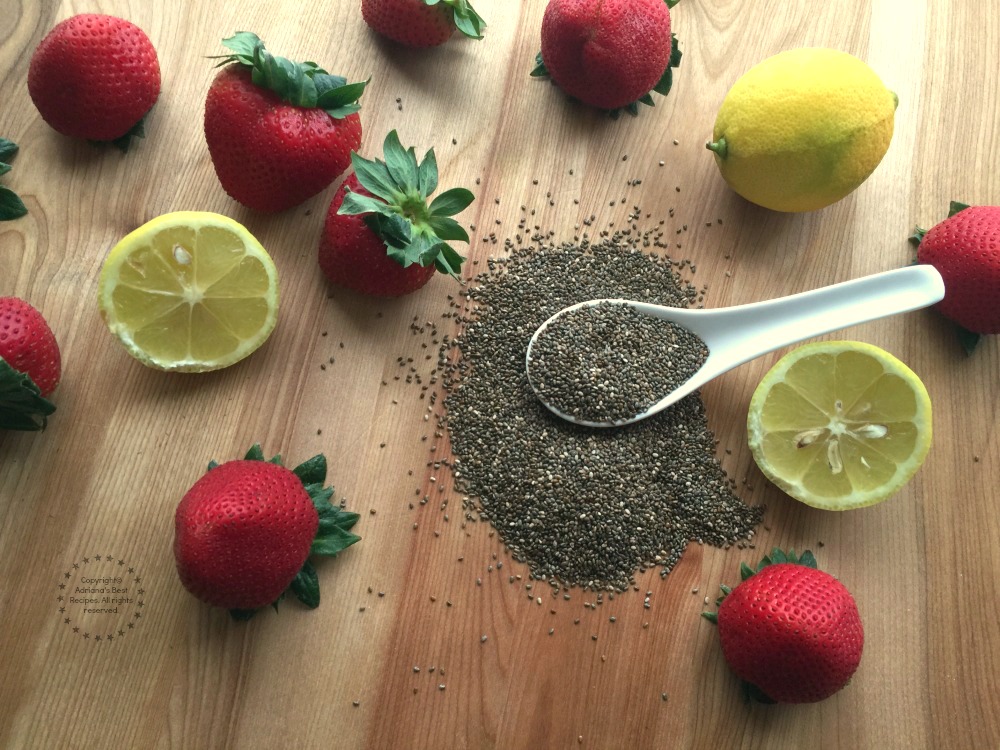 And since strawberries are still in season I thought preparing a refreshing strawberry chia agua fresca would be a welcomed idea. Chia is a wonderful seed that when you soak it, it plumps up and provides a nice texture to your drinks. Plus chia offers nutritional benefits as they have fiber, protein and few calories.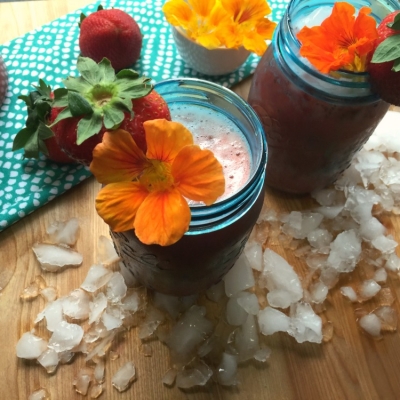 Strawberry Chia Agua Fresca
A kid friendly Strawberry Chia Agua Fresca is my suggestion for your next grilling party or to offer a refreshing drink to your family this holiday season.
Ingredients
16

fresh strawberries

2

yellow lemons

6

cups

of fresh cold water

Sugar or sweetener to taste

optional

2

tablespoons

of chia seeds

1/2

cup

of warm water

6

nasturtium flowers

2

cups

of crushed ice
Instructions
Clean 10 of the strawberries by removing the stem and cutting them in halves. Juice the yellow lemons and combine with the strawberries.

Add the strawberries halves with the lemon juice in the blender and add 6 cups of fresh water.

Sweeten to taste, you can use sugar, raw sugar, agave nectar or sugar free sweetener such as stevia.

In a small bowl add the warm water and soak the chia seeds until plumped (aprox. 5 minutes)

To serve the agua fresca add crushed ice, 1 tablespoon of plumped chia seeds, pour the strawberry lemon mix and garnish with a whole strawberry and a nasturtium flower.
If you have picky eaters at home, using strawberries in the agua fresca combined with the chia seeds it is a good way to introduce them to new things without overwhelming their palate. Strawberries have little seeds too and can camouflage the chia seeds in the water making it a kid friendly beverage that has much needed fruit and fiber.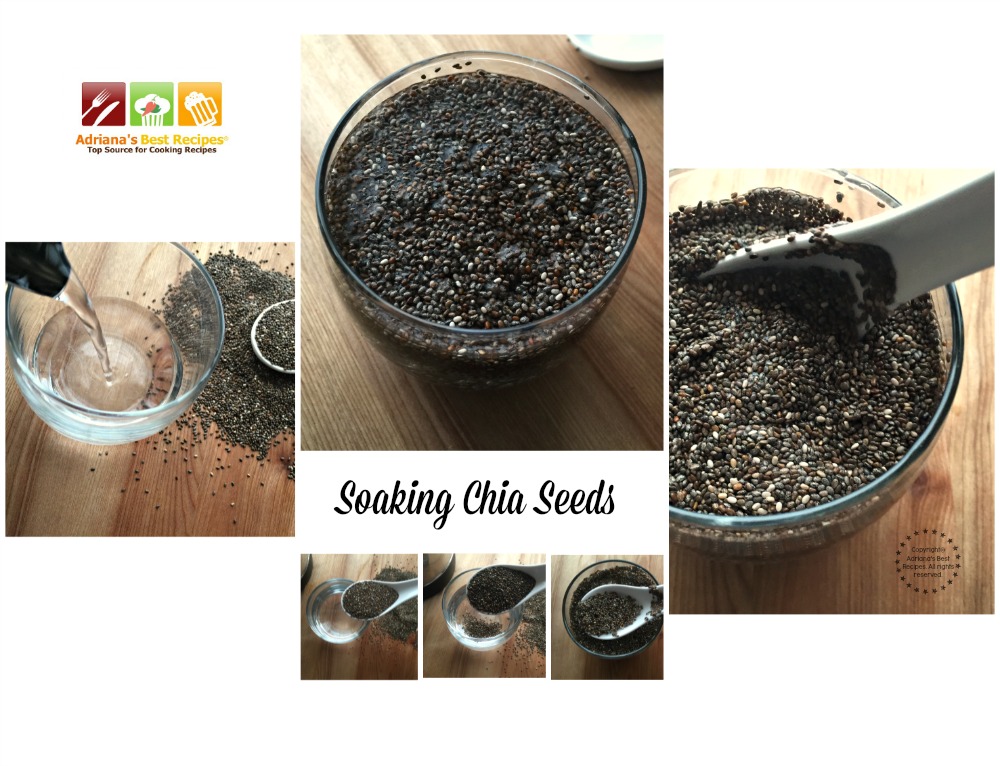 Making agua fresca it is also a nice way to use leftover fruits or to repurpose those fruits that nobody wants to eat because they do not look pretty but still are edible. In my kitchen we always use everything and we try not to waste.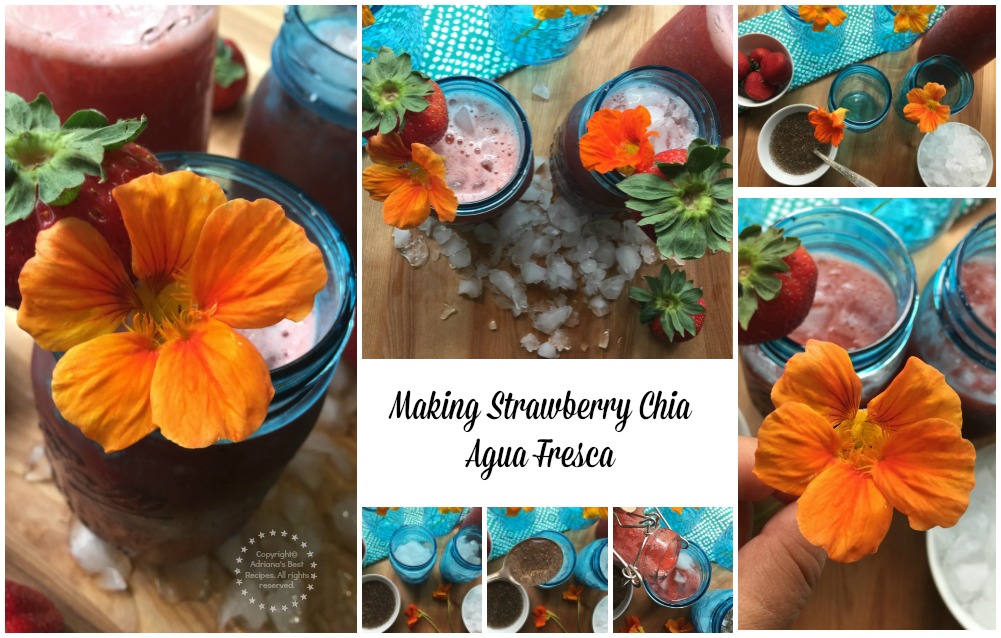 For this strawberry chia agua fresca recipe I am also using a special garnish that came from my edible garden. I absolutely love edible flowers and nasturtiums are a beautiful flower that comes in bright colors.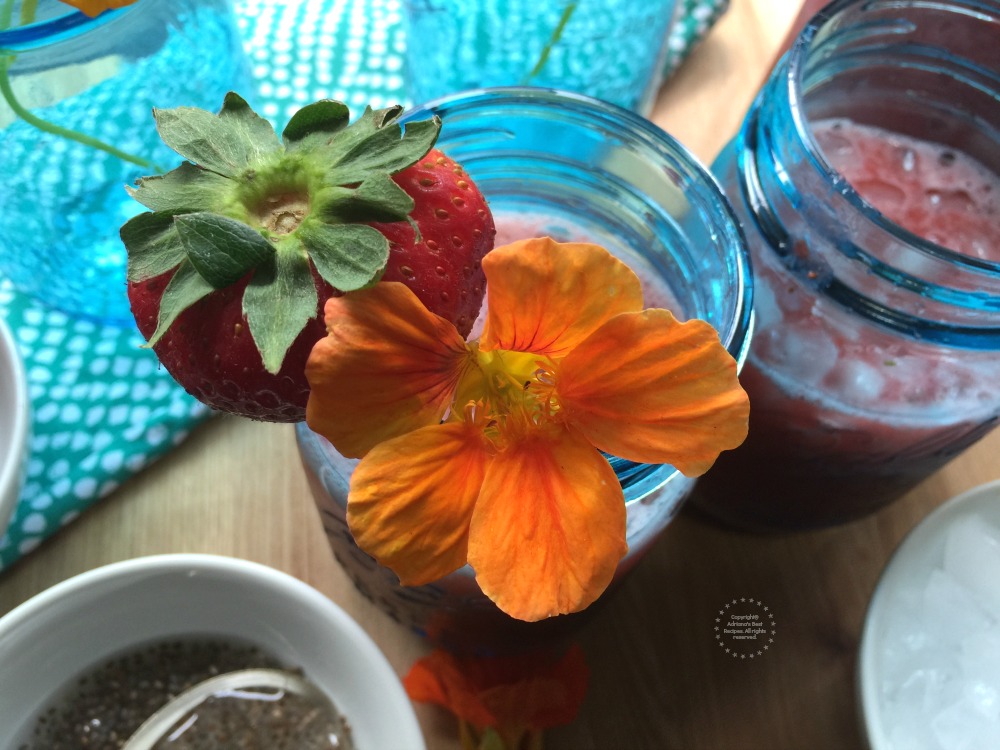 Like bright yellow and orange with red tones. I grew these flowers from seeds and now the plant is blooming. Looks so pretty in my garden, it is like a splash of happiness to the eye. When buying edible flowers or seeds please make sure to buy those that are for human consumption and not for ornate purposes. Edible flowers must say in the label that are organic grade and for human consumption.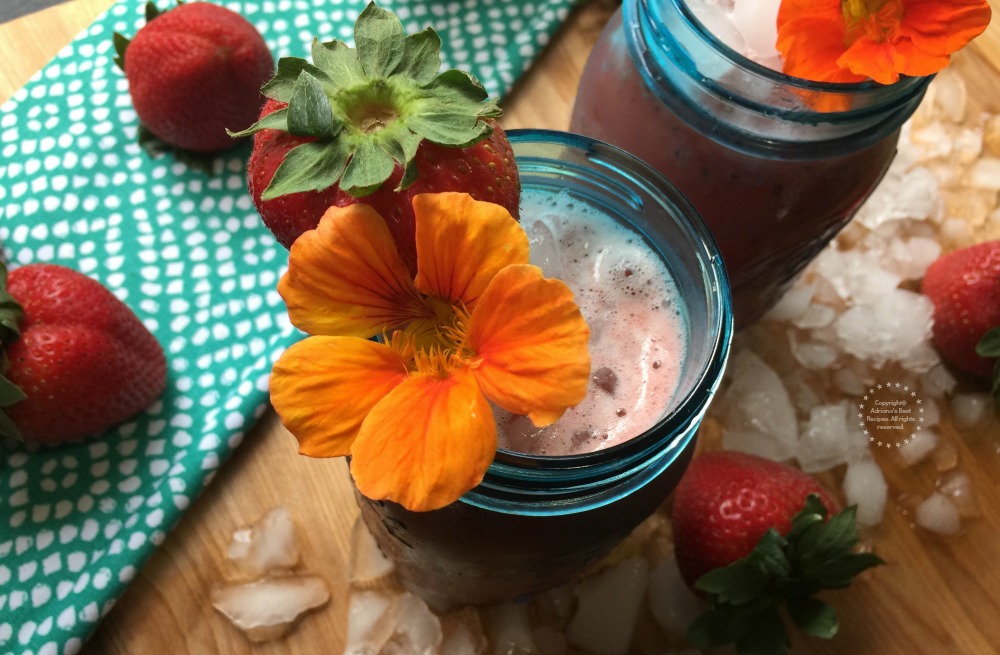 The nasturtium flowers are used by many chefs to garnish not only beverages but salads and other dishes. The plant is all edible including the leaves. Adding flowers to your beverages makes a beautiful presentation when entertaining at home or for special celebrations.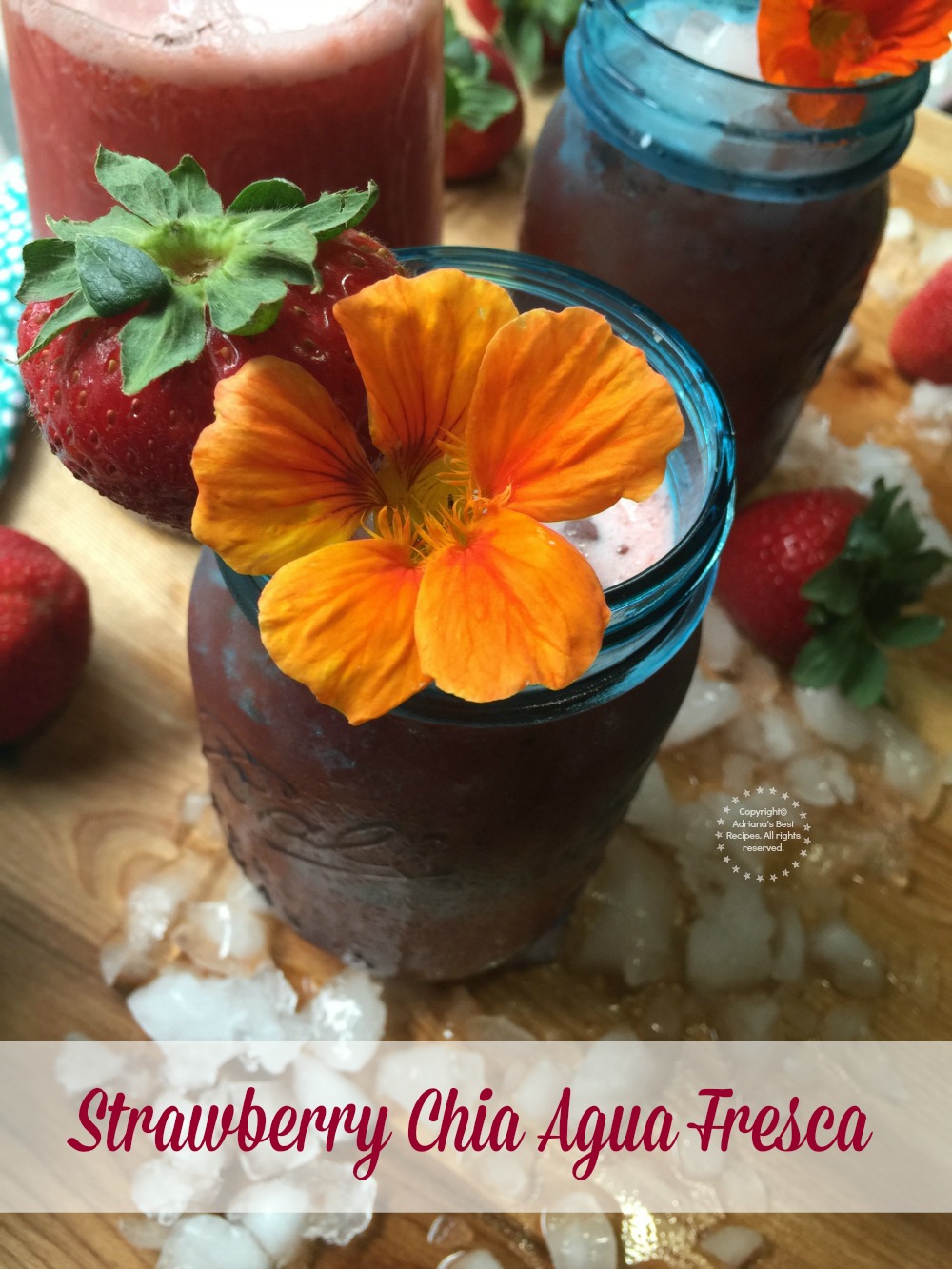 I hope that you enjoy this recipe and that you will try in your next meal. Adding a refreshing strawberry chia agua fresca is the perfect pairing to any meal.
Cheers!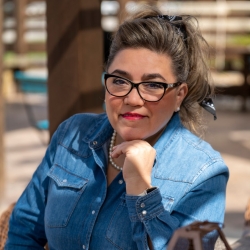 Latest posts by Chef Adriana Martin
(see all)