This post is also available in: Español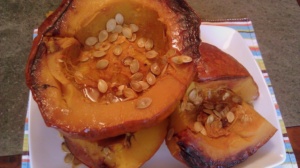 Many of you have asked me about how to cook pumpkin easy and avoid the use of canned product. I have found that the best easy way is to cook it in the oven.
Here my trick:
Wash and cut the pumpkin in half, use a baking sheet and spray with some oil. Place the pumpkin facing down; do not need to take the seeds out. Cover with aluminum foil and cook for 30-45 minutes at 420oF.
When ready take off the aluminum foil and let rest. When cold carve the pulp or cut in cubes. You can use some and the rest divide and place in proper freezing Tupperware for future enjoyment. This cooked pumpkin can be used for soups, stews and even for sweet dishes like pumpkin pie, empanadas, bread and more.
By using the oven as a cooking method you avoid the use of boiling water, all vitamins will be kept and the flavor will be enhanced.
Pumpkins are loaded with vitamin A and fiber, and are low in calories. Now you know that pumpkins are not only for Halloween can be enjoyed year round if your preserve them correctly.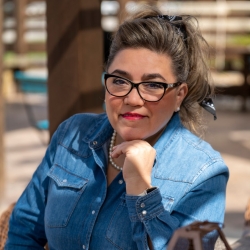 Latest posts by Chef Adriana Martin
(see all)