This post is also available in: Español
This dessert is part of the traditional fancy dishes of the past, nonetheless great option for using ripe bananas and vanilla ice cream, two ingredients that most households have available any time. Here my special recipe dedicated to all my 70s and the 80s readers when this dessert was in fashion and prepared table side in most first class restaurants.
INGREDIENTS
2 Ripe Bananas
½ stick of butter
½ cup of sugar on the raw
2 teaspoons of vanilla extract
½ shot of Frangelico, Kalhúa or Amaretto liquor
½ shot of spiced rum
Ground cinnamon
Non-stick oil spray
Mint floret for decoration
Preparation time: 15 minutes. Serves 2 people. Approximate cost per person $1.50 depending ingredients market price. Check for local market availability. You will need an oven, Pyrex, aluminum foil and plate for serving.
Spray the Pyrex with non stick oil, place the bananas, and cover evenly with the sugar on the raw, chunks of butter, the vanilla extract and the shot of Frangelico liquor and rum. Sprinkle the cinnamon. Cover the Pyrex with aluminum foil and bake in the oven for 10 minutes at 430oF, uncovered and grill at the highest temperature for 5 minutes or until sugar is brown. You can use a hand torch if desired to get the caramelizing and the flambé going if that is your choice then wait until this time to pour the rum. Plate and serve with a scoop of vanilla ice cream, use some of the sauce to glaze and place the mint floret for decoration.
This dessert is the perfect ending for any meal, enjoy!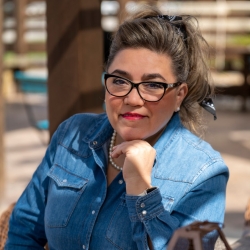 Latest posts by Chef Adriana Martin
(see all)