This post is also available in: Español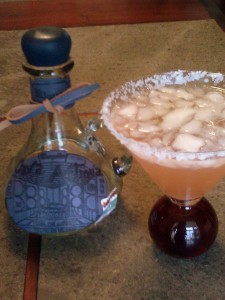 Few months ago I discovered blood orange combination with pomegranate juice and thought this would be a great twist to a traditional Margarita. Here my trendy recipe that could be the special cocktail for your happy hour.
INGREDIENTS
Good quality Tequila
1 bottle of chilled blood orange juice
1 cup of "POM" pomegranate juice
2 lemons or bottled lemon juice
Crushed iced
Salt
Preparation time: 5 minutes. Serves 4-5 people. Approximate cost per person $2.00 depending ingredients market price. Check for local market availability. You will need a pitcher, a plate and Martini or Margarita glasses for serving.
Place the crushed ice in the pitcher, pour 4-5 portions of tequila (measurement is 1 tequila shot per person or less), add 1 bottle of blood orange juice, 1 cup of pomegranate juice and the juice of 2 lemons. Stir well. Take the Martini or Margarita glass and use one of the lemon halves to wet the rim, place salt in a dish and roll the rim in the salt. Serve the spooky refreshing cocktail and say "cheers" with your friends.
Salud!
Please drink responsibly and do not drink and drive.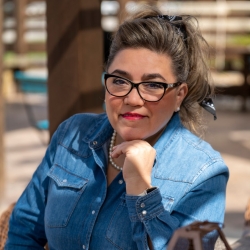 Latest posts by Chef Adriana Martin
(see all)