This post is also available in: Español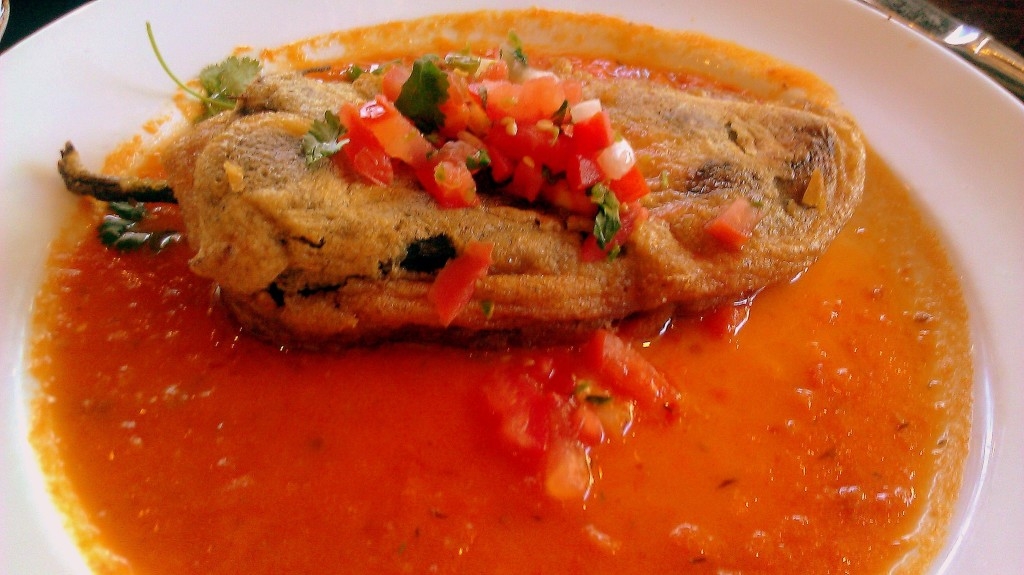 Stuffed poblano peppers or chiles rellenos were part of my family's traditional menu for Lent. Many happy memories come to my mind with this recipe which I'm about to share with you on the "7 Weeks of Lenten Recipe series".
INGREDIENTS
8 Poblano peppers (roasted, peeled and deveined)
4 cups of shredded Manchego cheese or Monterrey Jack
2 eggs
1 cup of all purpose flour
Canola oil
For the sauce:
3 cups of tomato puree
1 cup of water
1 cube of chicken bouillon
salt and pepper
1/2 teaspoon of sugar
For garnishing:
1 cup of chopped tomatoes
1 cup of finely chopped white onion
1/2 cup of finely chopped cilantro
Preparation time: 1 hour, serves 4-6 guests. Approximate cost $2.50 per person depending on your local market price. You will need a mixer, 1 frying pan, a sauce pan, 2 bowls, and a roasting pan. You can prepare a day in advance, this dish is a little laborious but it is worth it.
Roast the poblano peppers in a roasting pan, a "comalito" or directly in the flame of your stove, when ready place them in a plastic bag for ten minutes to allow them to sweat, this process helps the next step which is peeling and scraping out the seeds and the pepper veins to get a medium spicy flavor, just do it gently to keep the peppers intact for stuffing and do not remove the stem. Stuff the poblano peppers with the shredded cheese. Place all purpose flour on a plate or in a shallow dish, roll each pepper on the flour prior dipping in the egg batter. This process allows the egg to stick to the pepper.
For the batter separate the yolk from the whites. Beat the whites using your mixer until getting soft white peaks same as you do for meringue. Add the yolks one by one and incorporate together, the color of the egg batter will be soft yellow. Then take each poblano pepper by the steam and dip in the batter, make sure to cover generously.
In a frying pan have ready hot oil for deep-fry around 350°F, fry the poblano peppers after dipping them on the egg batter until getting golden color. Let them rest on paper towels to remove excess oil and set aside. You can place inside the oven to keep them warm.
In a sauce pan add the tomato puree and the condiments and let it get to a boil at low flame. For garnishing prepare a quick fresh tomato salsa using the chopped tomatoes, the onion and the cilantro combine using a mixing bowl and add some salt.
To serve, place one poblano pepper in a nice dish, ladle some tomato sauce and garnish with fresh salsa. While this recipe is a little laborious your family will enjoy a lot I'm sure it is going to be one of their favorites. When not celebrating Lent you can stuff the poblano peppers with "picadillo" ground meat; or get creative and try other flavors like stuffing with fish, shrimps or refried beans.
Happy week!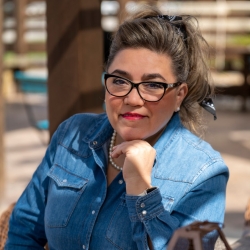 Latest posts by Chef Adriana Martin
(see all)