This post is also available in: Español
Delightful strawberry chocolate cupcakes for Valentine's Day!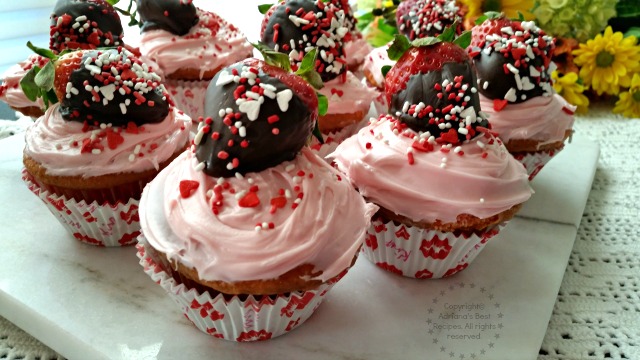 Who doesn't love strawberries, chocolate and cupcakes, me myself I cannot resist a good dessert that is why I decided to make this easy Strawberry Chocolate Cupcakes, small treats for my husband's peers at his office. Friendship is very important and recognizing those special co-workers that spend most of your day with you I thought would be a nice gesture so my husband took with him today a tray full of this delicious Strawberry Chocolate Cupcakes and seems everyone loved since that tray came back empty.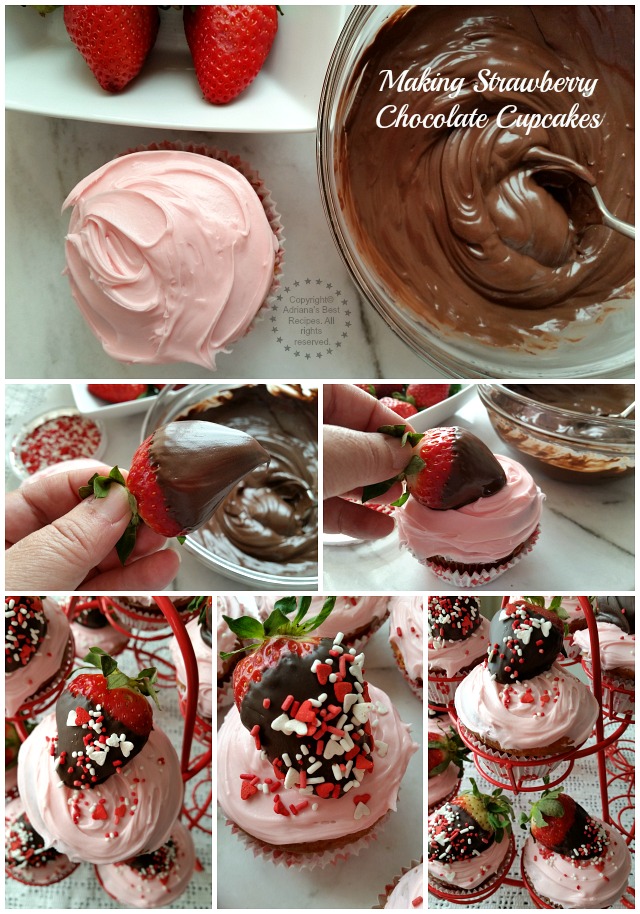 INGREDIENTS
1 package of cake mix (strawberry, vanilla or white)
3 eggs
1/2 cup of milk
1/2 cup of vegetable oil
1/2 of low sugar strawberry jam
2 cups of ready to use frosting pink color
12 fresh Florida strawberries
2 cups of dark chocolate pieces those intended for melting
3 tablespoons of sugar decorations or sprinkles red, white and pink color
12 cupcake liners with Valentines prints
Preparation time: 60 minutes. Makes 12 cupcakes. Cost per cupcake less than $2.00 dollars depending on the cost of the ingredients at your local supermarket. You will need a cupcake baking pan, mixing bowl, a mixer, measuring cups.
1.- Heat the oven at 350 degrees Fahrenheit, place the cupcake liners in the baking pan.
2.- In a mixing bowl add the cake mix, the eggs, the milk, the vegetable oil, and the strawberry jam. Beat until getting a smooth and uniform batter.
3.- With a spoon pour the batter into the cupcake liners and bake the cupcakes for 20-30 minutes until golden brown. Take them out of the oven and let them rest for few minutes to allow for them to get cold. When at room temperature cover with the pink frosting.
4.- Melt the chocolate pieces in the microwave for 30 seconds or more, just be careful on not burning the chocolate. Stir with a spoon and chocolate will be ready to use.
5.- Clean the strawberries and cover with the melted chocolate and place a strawberry on top of each cupcake. Sprinkle with the sugar decorations. See above video for details.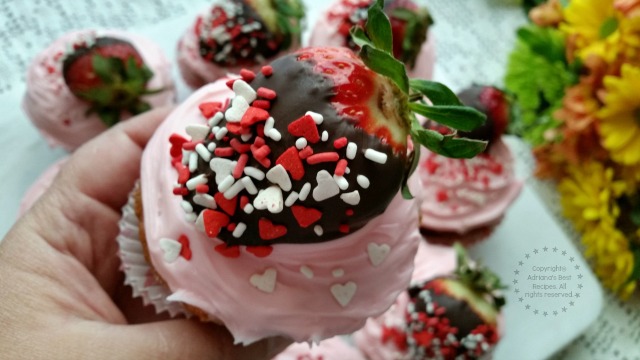 Place the Strawberry Chocolate Cupcakes on a cupcake stand or on a nice plate and enjoy. This is a very easy treat that you can make also to bring for the kids at school, to a girls night out party or to serve for afternoon tea.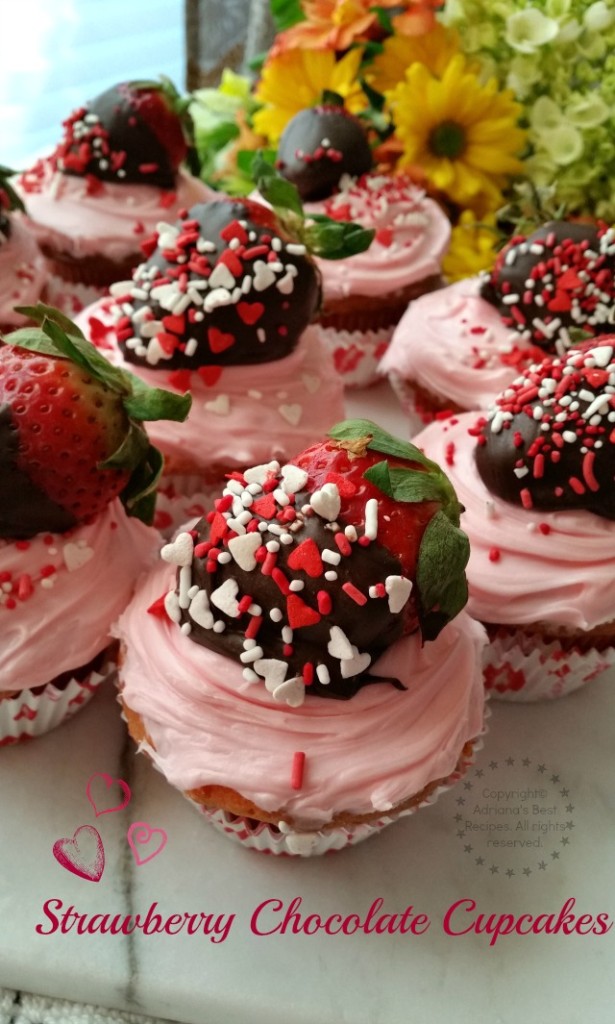 I am sure everyone will love this Strawberry Chocolate Cupcakes because those were baked with love.
Happy Valentine's Day!
Products from Amazon.com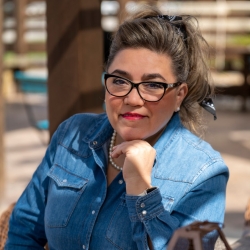 Latest posts by Chef Adriana Martin
(see all)