This post is also available in: Español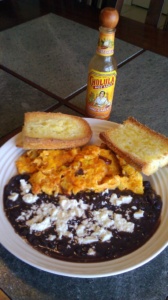 Love breakfast during the weekend it is like a special treat for me and my family, no hurry, having everyone gather around the table; enjoy conversation accompanied with a nice cup of hot coffee and a flavorful breakfast prepared with love. Chorizo is one of those things that immediately brings me home and reminds me of those times when my mother was used to prepare breakfast for us on a Saturday morning. Here you have my recipe for what I called Spanish Breakfast.
INGREDIENTS
2 eggs per person, lightly beaten
1 link medium size of Spanish chorizo per person cut in rounds (can be replaced with Mexican style chorizo too just take it out of the casing)
½ cup of finely chopped white onion
Preparation time: 10 minutes. Serves as many people as you would like just have enough eggs and chorizo. Approximate cost per person $1.50 depending ingredients market price. Check for local market availability. You will need a non-stick skillet, mixing bowl, a fork and a spatula.
Turn on the stove place the non stick skillet, place the chorizo rounds and leave until brown about 2 minutes. No need to add oil chorizo has a lot of fat. Remove some of the fat, add the chopped onion let it saute with some pepper and salt, add the lightly beaten eggs stir occasionally until set, about 3 more minutes.
Serving suggestion: Serve in a plate with black refried beans topped with crumbles of cheese. Cholula Garlic Chili is an excellent companion for this dish. You can accompany with toasted buttered baguette.
Buen provecho!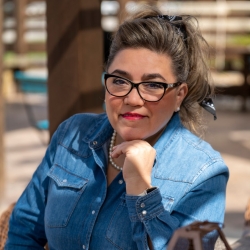 Latest posts by Chef Adriana Martin
(see all)