This post is also available in: Español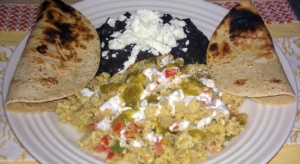 As you know I love breakfast during the weekend and always look for different ways to surprise my husband who loves all about Mexican dishes. Here you have my recipe for "Huevos a la Mexicana" or what I called Mexican Breakfast.
INGREDIENTS
2 eggs per person, lightly beaten
½ cup of diced onion
½ cup of diced tomato
1 or 2 serrano chiles depending on how hot you like your dish
Preparation time: 15 minutes. Serves 3 to 4 people, I calculated 2 eggs per person. Approximate cost per person $1.50 depending ingredients market price. Check for local market availability. You will need a non-stick skillet, mixing bowl, a fork and a spatula.
Turn on the stove place the non stick skillet, add one or 2 teaspoons of oil could be canola, corn, soy. Place the onion and the serrano chile, season with salt add the diced tomato leave until about 3 minutes to let sauce marry the flavors. Add the lightly beaten eggs stir occasionally until set, about 3 more minutes.
Serving suggestion: Serve in a plate with black refried beans topped with crumbles of cheese, drizzled the eggs with some liquid sour cream and green salsa. You can accompany with corn tortillitas. Maseca is great option just follow the recipe on the back of the package. You will surprise your family by giving them fresh tortillitas!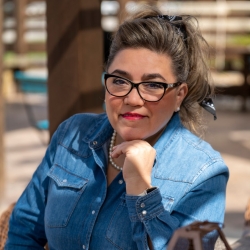 Latest posts by Chef Adriana Martin
(see all)